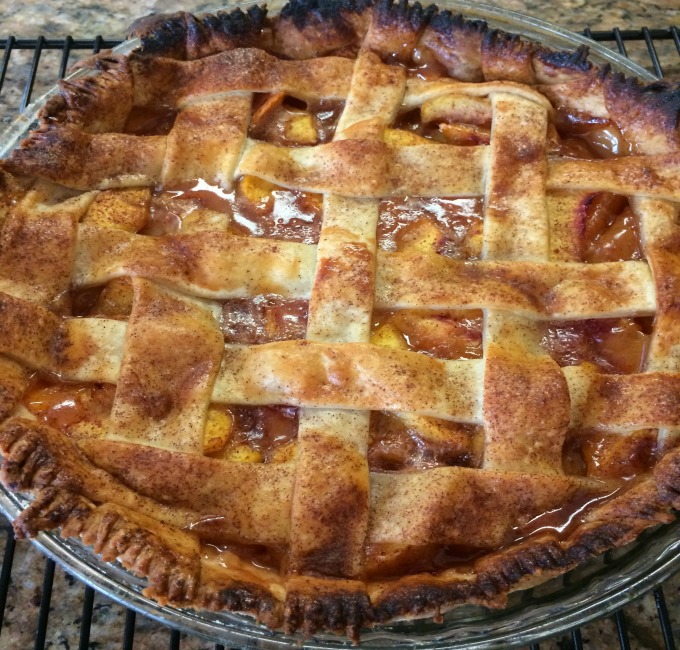 Days with toddlers can be long.  Days with toddler twins can be really long so I'm always on the lookout for fun activities to do with the kids.  Last week the Margate Community Farmers Market held a peach pie contest and we entered.  You will have to read through to the bottom of the post to see how we did.
I have to be honest, I had never made peach pie before.  But I have a tried and true pie recipe that I make with apples at Thanksgiving and strawberry and rhubarb in summer so I decided just to swap out the fruit and it was a wise decision to stick with a trusted recipe.  We had to have the pie at the famers market by 9:30 am.  I wanted to cook it the day of the contest so luckily with the early rising that occurs in my house, this was perfectly feasible.  My son and I were up at 6:30 to get things started.
I have always loved making pies.  I can totally relate to Keri Russell's character in the movie Waitress (adorable movie, by the way).  It takes some patience but the results are well worth it.  I have some important rules when it comes to making pie and here they are:
1.  Know your fruit.  We are in the middle of a fantastic peach season here in South Jersey.  The only problem is that when you pick them up at the farmers market, they aren't ripe yet and you can't bite into them right away.  Ripened peaches work well in this recipe so you need to know how long it will take your fruit to ripen.  My peaches needed 3-4 days from the time I bought them to be perfect.
2.  Make your own dough.  If you have dough-making anxiety, let me help you because good pie dough is crucial and I will show you how to do this.  Sure, you can use store bought dough but homemade dough makes a huge difference.  A food processor makes this quick and easy.
3.  Let your fruit filling sit for about 15 minutes before putting it in the crust.   This is a really important one.  Once you make the filling you want to let it sit so that the liquid can accumulate at the bottom of the bowl.  Then you should use a slotted spoon to scoop the filling into the pie shell so that the liquid does not make your pie soggy.
4.  Use the right baking dish.  I have several baking dishes including a beautiful ceramic one but I love my standard, no frills glass baking dish.  The sides are the perfect height and it always cooks evenly.
5.  Keep an eye on the edges during baking.  I cook my pie for a total of one hour but usually put an aluminum foil tent over it about halfway though.  This is to prevent the edges from burning.  My pie last week got a little burned around the edges.  I was worried how this would impact the judging of it, but apparently burned edges don't affect taste.
When we arrived at the farmers market with our pie and I saw the other 12 entries I became worried.  There were 3 judges and after they each tasted all of the pies, the winners were announced and we….won 2nd place!  The kids are I were so excited.  After the winners were announced, farmers market customers were able to pay $1 for a taste of the pies and all of the proceeds went to a fantastic foundation founded by Cookie Till called A Work in Progress Foundation.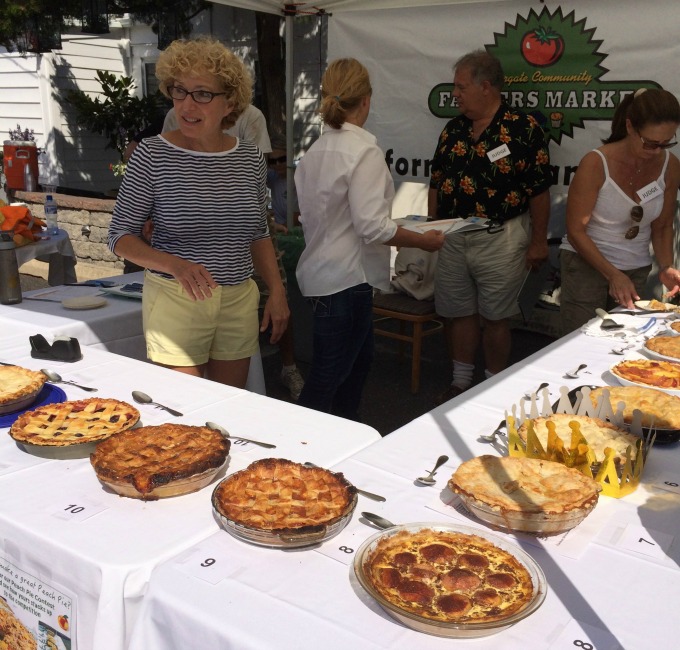 Some people go to Disney after winning something big, but not us.  After our big win we spent four hours at Storybookland.  Did I mention that days with toddlers are long?  But I wouldn't trade it for anything in the world.
Happy pie making!

Award Winning Peach Pie
Ingredients
Crust:
2½ cups all purpose flour
1 tablespoon sugar
¾ teaspoon salt
10 tablespoons (1¼ sticks) chilled unsalted butter cut into ½ inch pieces
⅓ cup chilled solid vegetable shortening, diced
6 (or more) tablespoons of ice water
Filling:
8-10 ripened peaches (depending on size), skins removed and sliced into ½ inch pieces
½ cup packed light brown sugar
½ cup sugar
¼ cup cornstarch
1 teaspoon ground cinnamon
¼ teaspoon salt
1 large egg yolk beaten blended with 1 teaspoon water (for glaze)
2 tablespoons of sugar combined with 1 tablespoon of cinnamon
Instructions
For crust: Blend flour, sugar and salt in food processor. Add butter and shortening and pulse until mixture resembles coarse meal. Add 6 tablespoons ice water and pulse until moist clumps form, adding more water by tablespoonfuls if dough is dry. Gather into ball and divide into 2 pieces. Flatten each disk, wrap in plastic and chill at least 2 hours. Can be made 2 days ahead. Let dough soften slightly before rolling out, usually about 15-20 minutes.
For filling: Preheat oven to 400. Combine all filling ingredients and let sit for about 15 minutes. Roll out one dough disk on a lightly floured surface and transfer to a 9-inch-diameter glass baking dish that has been greased. Using a slotted spoon, let the juices drain out and spoon filling into crust. Roll out second dough disk and using a pizza cutter (or knife) cut 10¾-inch-wide strips. Form lattice by placing over and under one another, usually 5 in each direction. Using a fork, pinch sides and remove excess dough. Brush lattice and outer edges with egg wash glaze. Sprinkle with cinnamon sugar.
Bake 20 minutes and then lower temperature to 350. Bake for a total of one hour, putting an aluminum tent around pie about half way through if edges browning too quickly. Cool on rack for about an hour.