When our kids were babies, eating out was pretty easy. They stayed in their infant seats, slept most of the time and didn't throw food. Almost every Friday night we took them to our favorite restaurant, TJ's (we were still living in Malvern, PA at the time). Sometime around the age of one and half, we banned eating out with them. It was just an awful experience. It was nearly impossible to get through a meal without a floor covered in food, screaming kids who needed to be walked around the restaurant and plates of untouched food. Our twins are now four and while we still breathe a sigh of relief when we have successfully completed a meal in a restaurant, it has gotten a lot easier.
It's helpful to identify kid-friendly restaurants and here is a round-up of our favorites around the shore. It really does make a difference attending a restaurant that is fully equipped for children rather than trying to accommodate small children to a dining place that isn't ready for them. We only try to attend restaurants that are fully equipped with the right cutlery (from websites such as Nella Online) and a broad menu for the kids to choose from. We are a cost-effective family so we often try to visit a restaurant that is included in the perks of our American Express Gold card. The $10 statement credits can make it so much more affordable for a young family like ourselves. Find out more here if this of interest to you.
Restaurants equipped with security cameras and door sensors might be an advantageous option. These types of restaurants can be kid-friendly if your child likes to roam in the restaurant. The security systems can be easily found in your nearby locality and can be used as a home security measure also. For instance: Verisure Smart Alarms UK provides a home security system equipped with sensors, wireless detection, mobile accessibility, etc. that might be a beneficial precaution.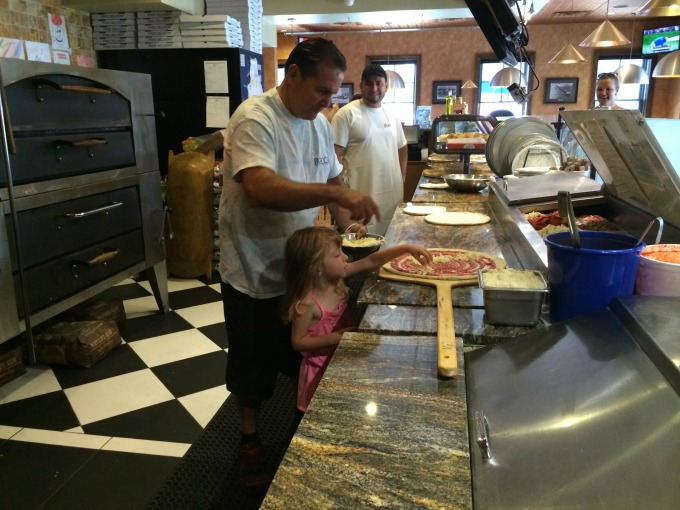 Bocca (year-round)
Bocca in Margate tops the list for so many reasons. My mama friends and I like to go to storytime at the Margate library and we frequently go to Bocca afterwards for lunch. Yesterday we walked in with 12 kids (including 4 set of twins) and they welcomed us warmly. The owner, Lou, is so nice and goes above and beyond to make us comfortable. Usually they give the kids pizza dough to play with but yesterday he actually let each kid go behind the counter to help make pizza (photo above). Besides being accommodating to the kiddie crowd, the food is fantastic and they offer more than just pizza. Their entrees are delicious and they serve alcohol, which is always a bonus in my book.
El Coyote (year-round)
El Coyote in Egg Harbor Township is a favorite of ours and not just because the guacamole is so good. The food is fantastic, it's extremely reasonable and they take reservations. Mary, the owner, is so sweet and always present overseeing the operation. The kids love the fajitas and eat well when we go there. The portions are huge and we usually end up taking home a good amount of leftovers.
Venturas (year-round)
Ventura's Offshore in Northfield is always a winner with the kids. My son's favorite part of going there is the self-serve popcorn which he likes to snack on while waiting for a table or for our food. They give crayons to the little ones and have a kids menu. They offer nice appetizer specials if you go from 4-6 pm, which we tend to do, and overall the food is always good.
Jon and Patty's (year-round)
Jon and Patty's in Ocean City is one of our favorite lunch spots. They are so sweet to the kids and always offer them crayons. The food is extremely fresh and innovative. In some ways it reminds me of the food you would find at a country inn- delicious pancakes, quiches, salads and sandwiches. I've heard that they have a killer homemade veggie burger, but it's only offered as a special sometimes and of course never when I'm there. This place gets really crowded in summer as it's right on Asbury Avenue but worth a visit.
Margate Dairy Bar & Burger (seasonal)
Margate Dairy Bar has been around for decades, but they recently added a burger bar to the mix. This is one of the only places at the Jersey shore that makes their own veggie burger (what a novel idea to not heat up a frozen patty) and it's delicious, made of lentils and quinoa. You can sit outside or inside and on most Sunday nights in the summer they have an entertainer, Chad Juros, making balloons for the kids. When everyone has gotten their fill of food, you can hop next door for ice cream.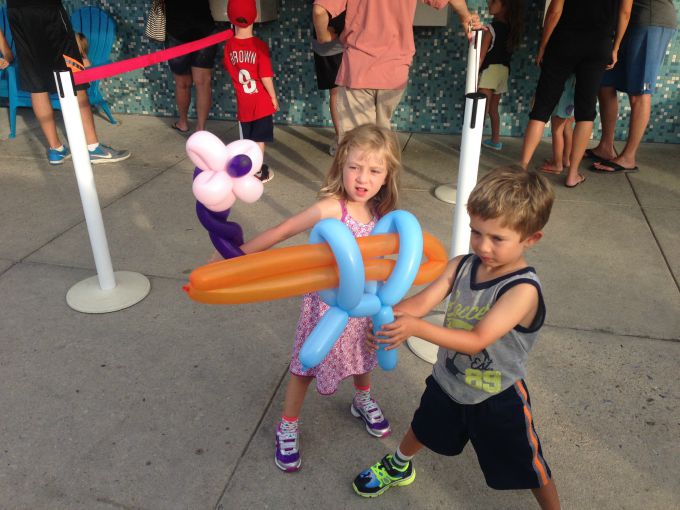 Clam Bar (seasonal)
I'm not sure how it's possible that I've been coming to the Jersey shore my whole life and only recently discovered the Clam Bar in Somers Point. This is a great place to take the kids because not only is the food delicious, it's an anything goes kind of place. It's noisy so even if your kids are loud, no one will really notice. The clam chowder and mahi fingers are favorites of my little ones. The lines here are super long so I wouldn't take a hungry kid here without snacks or coloring books. Get there early and even if you do have to wait, the kids will love checking out the boats on the dock outside.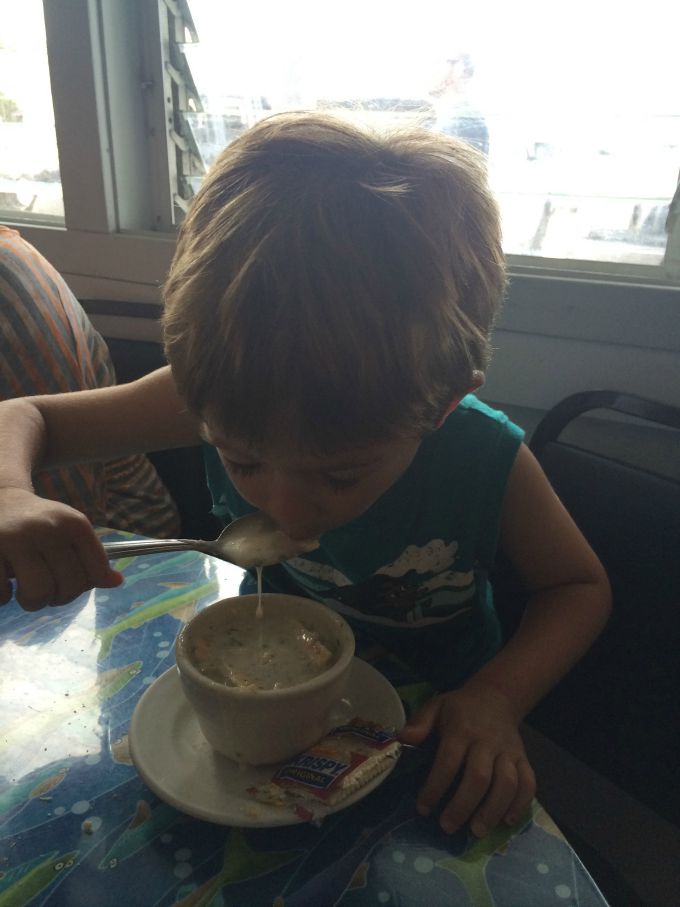 Honorable mention goes to Chido Burrito in Northfield for always being fresh even though it's fast food. On Sundays kids meals are $1.99 which is a great bargain, especially with multiples. Hula Restaurant on the Ocean City Boardwalk is also a winner because the seafood is fresh and delicious. If you are doing the Ocean City rides with your family, it's nice to have real food (not that funnel cake isn't real food). Ocean City is a really fun place! If you want to spend some more time there, then you can stay somewhere like these OCNJ Rentals and have a holiday with the whole family.
There you have it, my round-up of kid-freindly restaurants at the shore. If you are a local or a shoobie (not familiar with term, see definition here) I hope this is helpful next time you are planning to eat out with little ones. I would love to hear about your favorite spots for eating out with kids at the shore too!
If you like this post, you should also read about the Best Coffee Shops at the Shore.