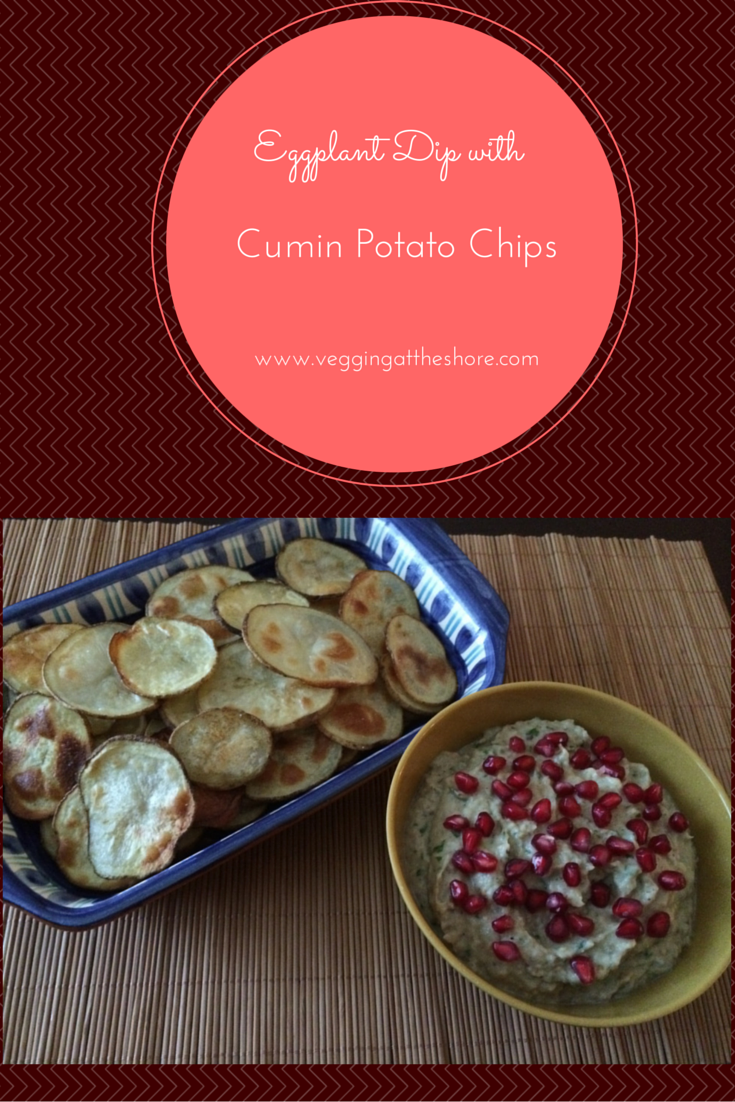 I am the youngest of three girls.  My dad was really hoping that I would be a boy.  So much so that he picked out a boy's name-Matthew Lydell.  You may be wondering if Lydell is a family name.  Nope, Lydell Mitchell was a football player at Penn State in the 70's and I was going to be named after him.  Nice, right? As fate would have it, I turned out to be a girl and was nameless for many days.  Even more disappointing to my father was that I didn't attend Penn State and don't particularly like football.  But I do love the big game coming up for one reason only-food!  If you are hosting a party for the game or going to a party, this recipe for eggplant dip with cumin potato chips needs to be on your menu.
You start by piercing three eggplants and broiling them for an hour, turning every twenty minutes.  After an hour under the broiler they will collapse and be completely soft inside.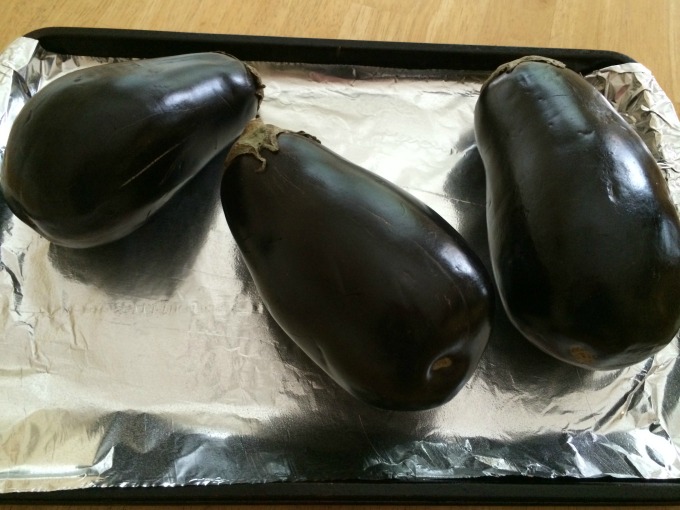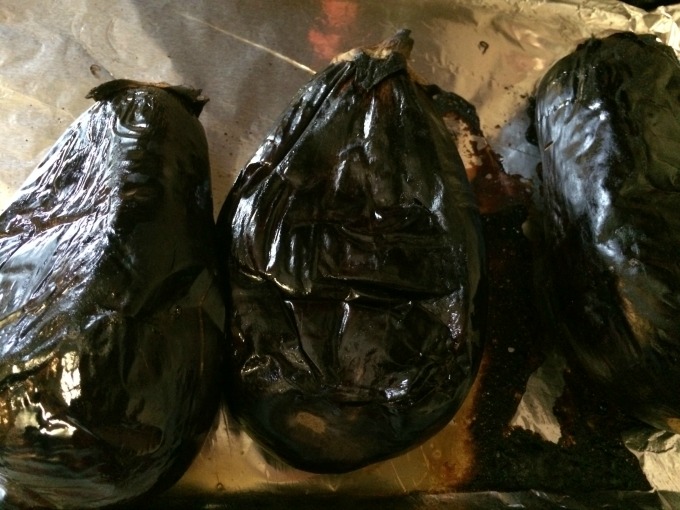 Cut those open, scoop out the middle and let that cool in a colander.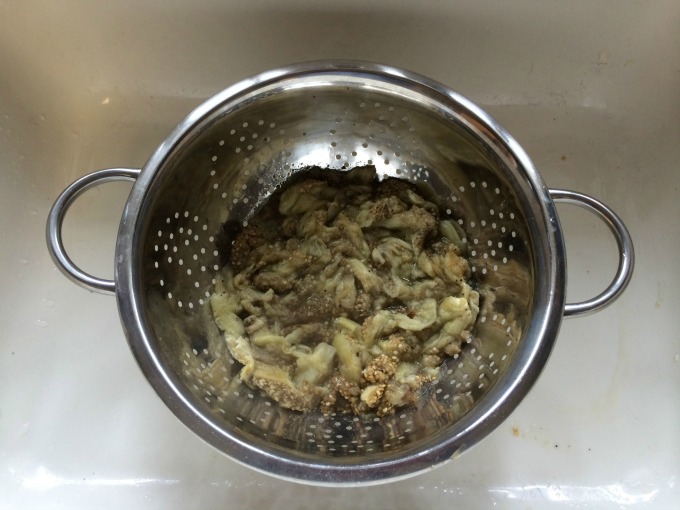 When it has cooled transfer the eggplant to a food processor and add tahini (I used my favorite brand, Soom), garlic, lemon juice, parsley, salt and pepper.  Process it until it is creamy and smooth, adding more lemon juice, garlic and salt to taste.  What results will be eggplant heaven!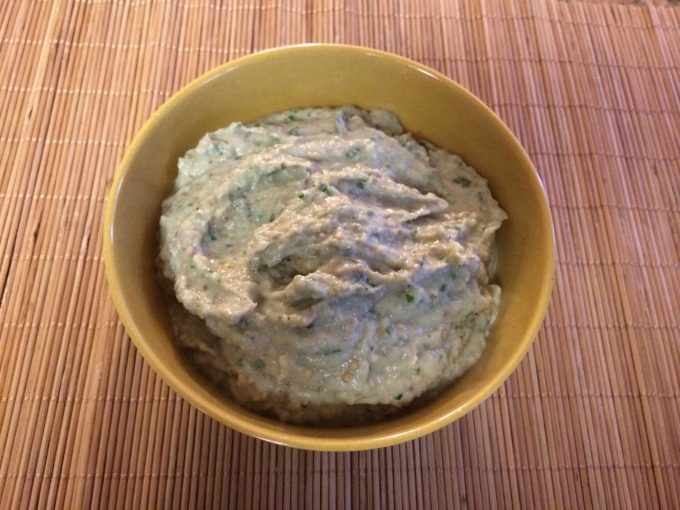 I've heard from a lot of readers lately that they follow a gluten-free diet or are doing a special diet like Whole 30 which prohibits bread.  Normally I would serve this dip with pita chips but tried something new, making my own potato chips.  They were so easy and were a perfect accompaniment.  After cutting the potatoes into thin slices, I tossed them with olive oil, salt and cumin.  One of my helpers assisted by transferring them to a baking sheet.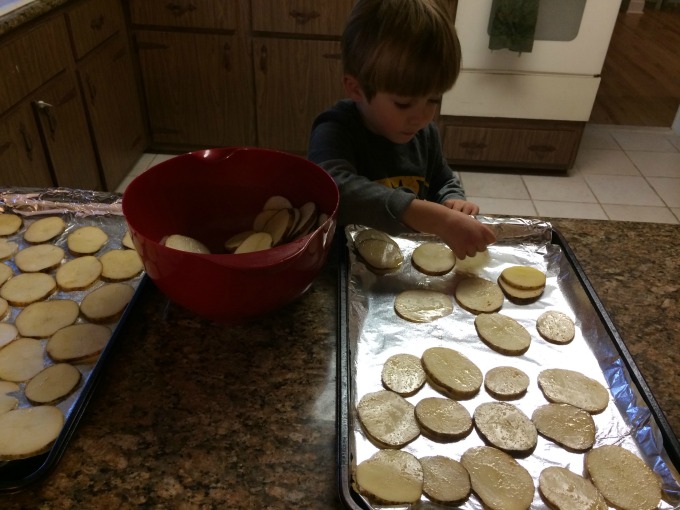 When the potatoes are done cooking, transfer them to parchment paper to let them crisp up even more.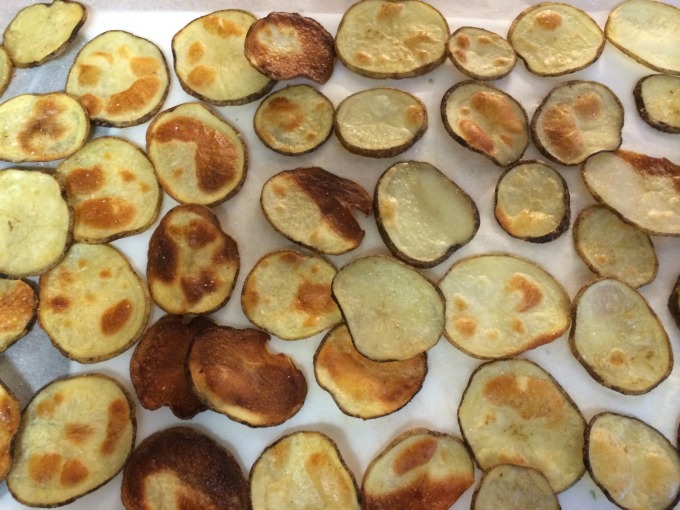 My favorite appetizer at a party last weekend was baba ganoush topped with pomegranate seeds.  I fell in love with that combination so I topped my dip with pomegranate seeds as well.  This gives the dip a sweet burst in your mouth that is balanced out by the salty potato chips.  When my husband tasted what I had made, he declared this "insane".  I would have to agree.  Whether you prepare this for the big game coming up or to have it in pita sandwiches (our dinner for tomorrow night with a chopped cucumber salad), you can not go wrong.  It is a winner!
Eggplant Dip with Cumin Potato Chips
Ingredients
Eggplant Dip
3 large eggplants
¼ cup tahini
3 tablespoons chopped parsley
1-2 garlic cloves, depending on your taste
juice of one lemon
salt and pepper to taste
¼ cup pomegranate seeds
Potatoes
4 russet potatoes
2 tablespoons olive oil
1 tablespoon cumin
1-2 tablespoons salt
½ teaspoon pepper
Instructions
Preheat broiler on high. Using sharp knife make several small cuts around eggplants and place on baking sheet. Cook for 1 hour, turning every 20 minutes. Remove from oven. Slice down middle and scoop out flesh and place in colander for about 30 minutes. Transfer to a food processor with parsley, garlic, lemon juice, salt and pepper. Adjust garlic, lemon, salt and pepper to taste. Top with pomegranate seeds.
Adjust oven to 450. Slice potatoes thinly, about an ⅛ inch thick (I used a knife but you could use a slicer). Toss with olive oil, cumin, salt and pepper. Lay out on foil lined baking sheet coated with cooking spray. Cook for about 20-30 minutes, until crispy. When you remove from oven, transfer potato chips to parchment paper to crisp up even more. Add more salt if necessary. Serve chips with dip.
Notes
Eggplant dip adapted from Plenty by Yotam Ottolenghi