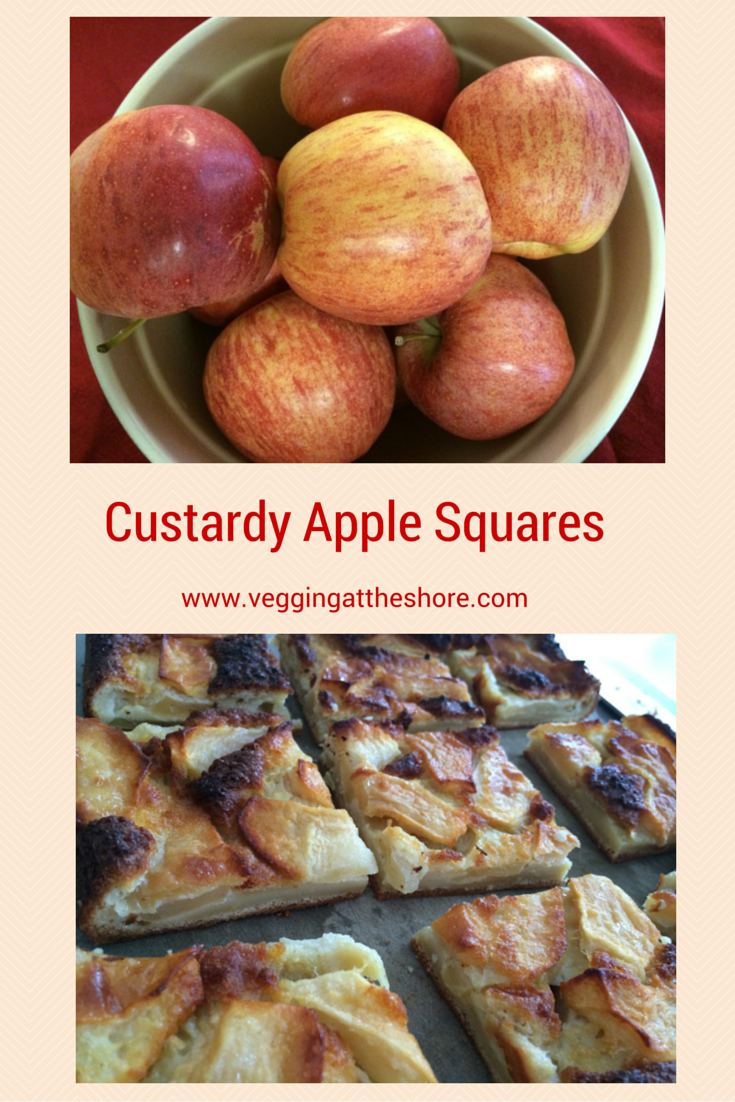 Dorie Greenspan is one of my favorite cookbook authors.  She is brilliant and her recipes are fantastic.  One of the cookbooks I received over the holiday was her new one, Baking Chez Moi.  I've had my eye on this recipe for Custardy Apple Squares for awhile.  Today was a perfect day to make them as it is snowy and cold.  This recipe is crazy easy and if you keep apples in your house, which I always do, you should have all of the ingredients on hand.  I made this before heading out to go sledding with the kids.  When we came in from the cold, the house smelled amazing and it was a perfect treat to warm us up.
You start by peeling three sweet, juicy apples.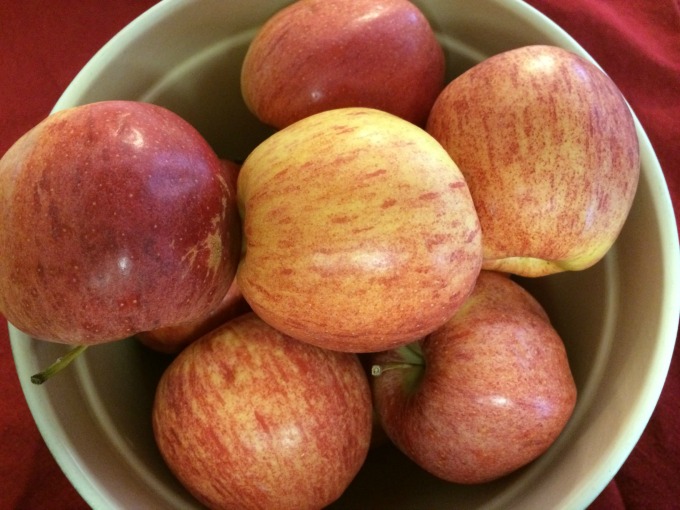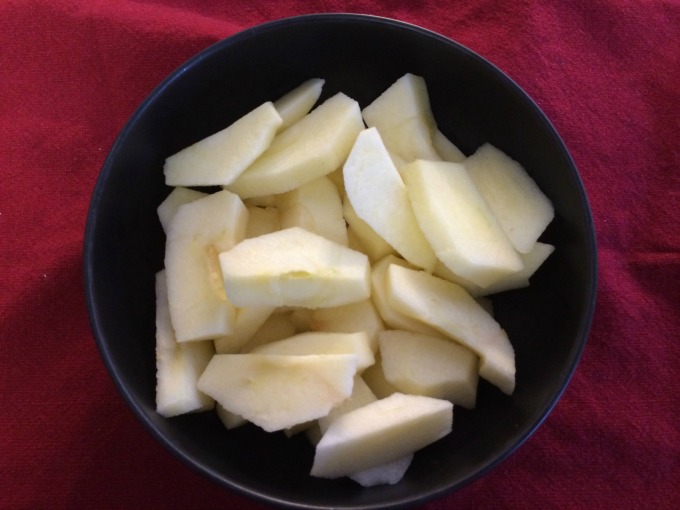 Next you mix together flour and baking powder in one bowl.  In another bowl you mix together eggs, sugar, salt, vanilla extract and milk.  You combine all of those mixtures and then fold in the apples using your favorite biking spatula (or whatever you spatula you like to use).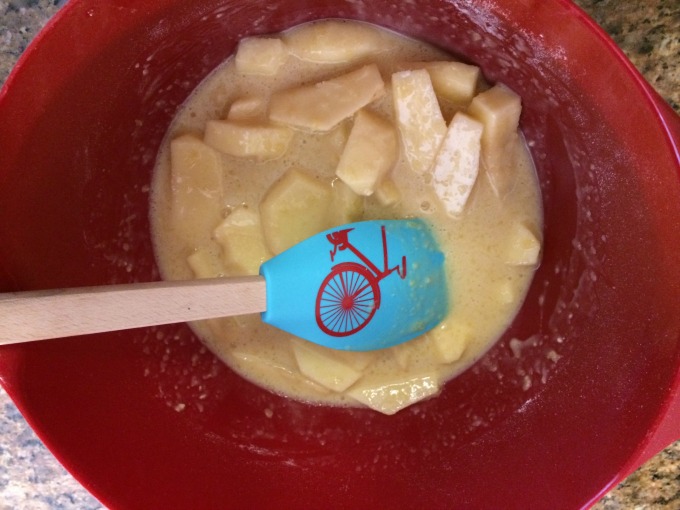 Scrape that into an 8-inch baking dish and cook for forty to fifty minutes until the top is golden brown.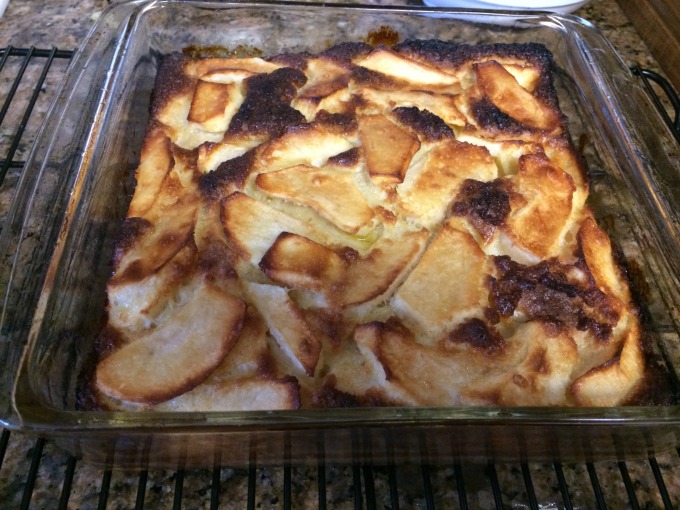 After it cools for fifteen minutes, cut it into nine squares and you will have a sweet, perfect and delicious treat, perfect for a cold snowy day.  Who are we kidding, this is perfect for any day.  Stay warm and enjoy!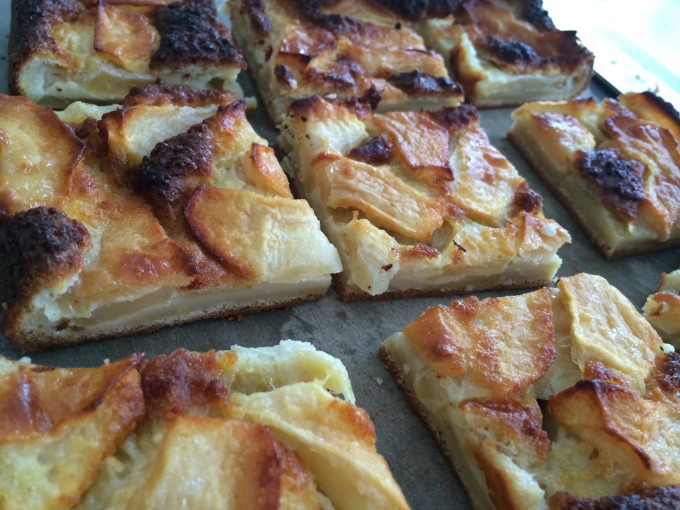 Custardy Apple Squares
Ingredients
3 medium sweet apples, such as Fuji or Gala, peeled
½ cup all-purpose flour
1 teaspoon baking powder
2 large eggs
⅓ cup granulated sugar
pinch of salt
2 teaspoons vanilla extract
6 tablespoons milk (I used 1 %)
2 tablespoons unsalted butter, melted and cooled
Instructions
Preheat oven to 400 degrees. Butter or spray an 8-inch square baking pan or dish.
Slice apples thinly, about 1/16th inch thick. They should be thin but not transparent and fragile.
Whisk flour and baking powder in small bowl.
In large bowl, whisk eggs, sugar and salt for about 2 minutes, until sugar dissolved and eggs pale. Whisk in vanilla, followed by milk and melted butter. Turn flour into bowl and stir with whisk until batter smooth. Add apples and switch to flexible spatula to gently fold apples into batter. Gently turn apples so all coated. Scrape batter into pan and smooth top as evenly as possible, there will be bumps.
Bake for 40 to 50 minutes, or until golden brown. Make sure middle done by inserting knife to make sure it comes out clean. Allow to cool for 15 minutes and cut into 9 squares.
Notes
Barely adapted from Dorie Greenspan's Baking Chez Moi