A few years ago my husband had a mushroom grilled cheese at a restaurant in Philadelphia.  He wanted to recreate it and I gladly sat back and watched while he worked his magic.  Everything had to be right including the kind of bread, thickness of the bread slices and variety of mushrooms.  What he produced was magnificent.  I have watched him make this sandwich enough times that I now can do it on my own.  Though I make it quite often, it always tastes better when he is the chef.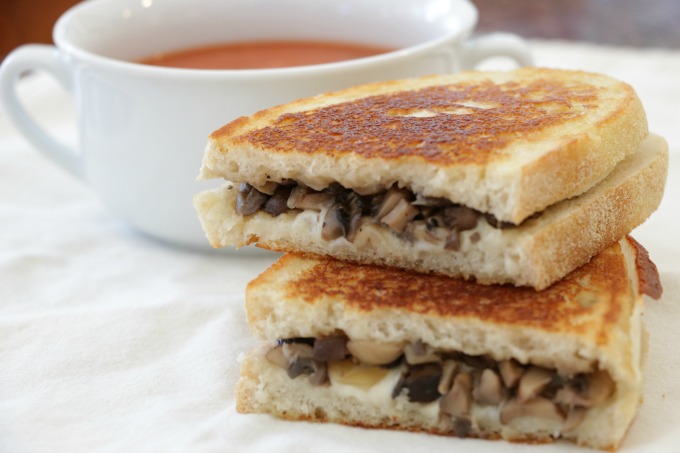 First you want to start by chopping a variety of mushrooms.  We usually buy a blend of cremini, white and shiitake mushrooms.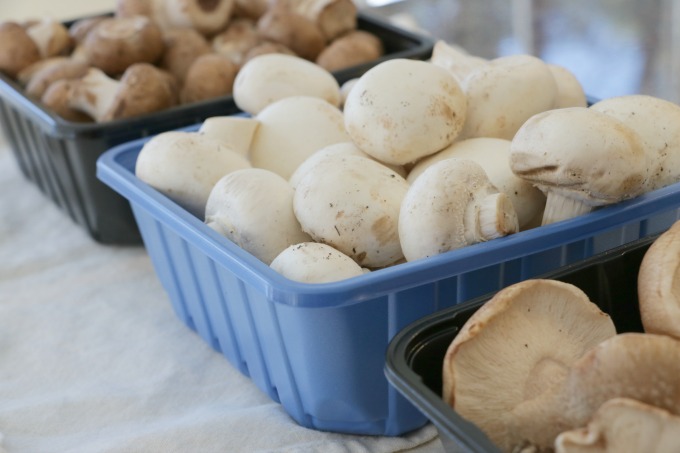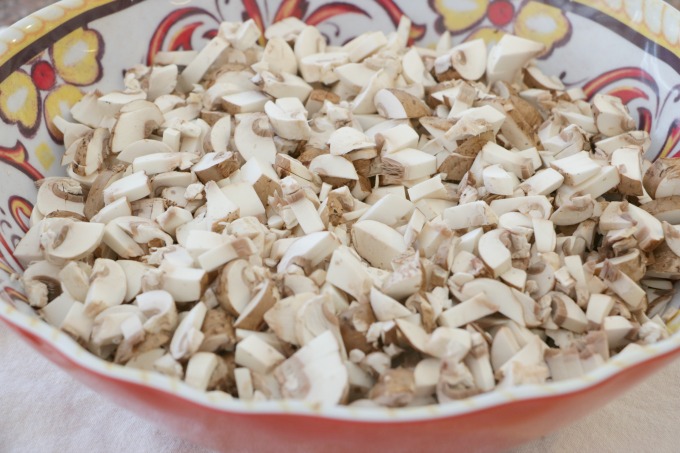 This recipe is flexible so buy whatever you can get your hands on that looks good.  Chop all of the mushrooms as well as an onion.  Heat up some olive oil and cook the mushrooms for about 15 to 20 minutes.  If you aren't familiar with cooking mushrooms, they require a bit of patience.  They will first release liquid and then absorb the liquid.  Seasoning the mushrooms is key in this recipe.  You can use whatever seasonings you prefer, we typically go with salt, pepper, garlic powder and oregano.
Another vital component to this recipe is selecting the right bread.  Yes, you can shop in the bread aisle at your supermarket but why do that when you can select a fresh bread?  I usually go to the bakery of my supermarket and choose a round Italian loaf which I ask them to slice at a thickness of about 1/4 inch.  I like a bread that is crusty on the outside and soft on the inside.  If you have a favorite bakery, it's worth it to make a special trip.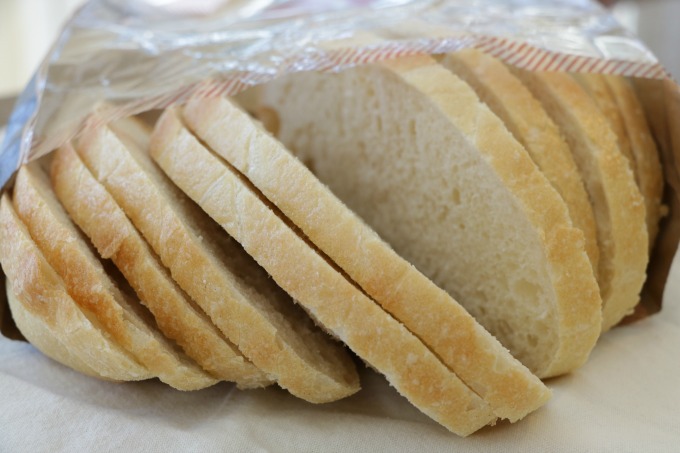 Your next consideration is cheese.  We've tried a variety of cheeses on this sandwich and my favorite is a thinly sliced provolone.  It melts well and is not too strong to take away from the mushroom flavor.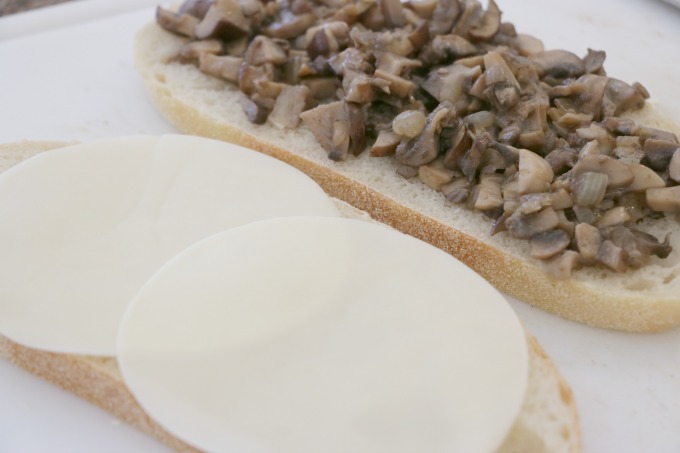 Assemble your grilled cheese before setting it on the griddle or panini maker.  I like to spread butter on the outer sides of the bread which helps it achieve the perfect crispy texture.  You can also spread mayonnaise on the bread.  Cooking on a griddle is the easiest way to make multiple sandwiches at once.  I bought a griddle a few years ago and now often wonder what took me so long.  I use it for everything from grilled cheese to pancakes.  This no-frills griddle is the one I like.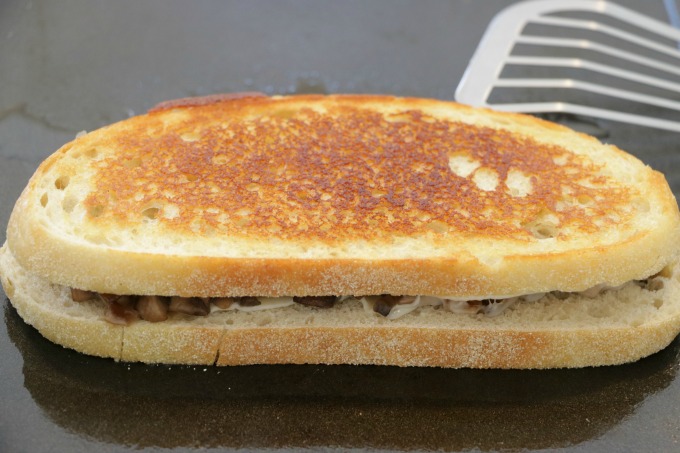 Knowing when to flip the grilled cheese is also very important.  I cook mine on a medium heat for about 3-4 minutes per side.  You want the bread to be crispy but obviously not burnt.  While we are on the subject of grilled cheese flipping, I need to recommend using a fish spatula like this.  It is flexible, making it perfect for any size bread.
My daughter took a little while to come around to mushrooms.  Luckily I didn't give up on her and now she loves them.  This recipe is a favorite that everyone in the family enjoys.  Add some curly fries or soup on the side and you will have the perfect meal!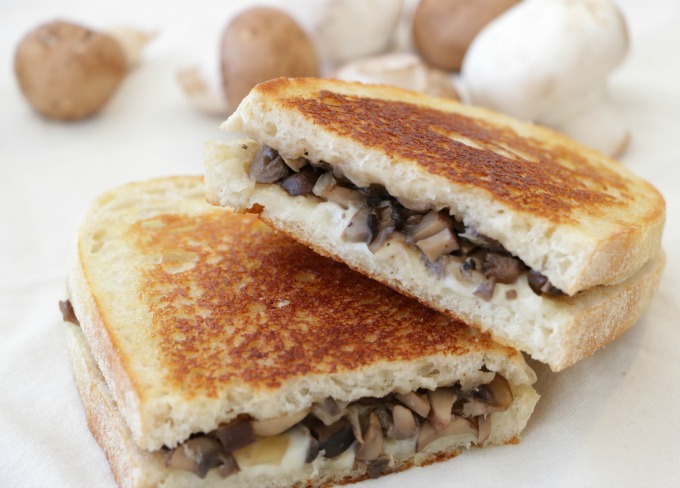 Ingredients
2 lbs of mushrooms, stems removed (combination of white, cremini and shiitake)
1 white onion, peeled and chopped
2 tablespoons olive oil
1-2 teaspoons of salt
1 teaspoon black pepper
1 teaspoon garlic powder
1 teaspoon oregano
8 slices crusty bread
butter or mayonnaise for spreading on bread
cheese of your choice (provolone, cheddar or gouda work well)
Instructions
Heat oil in a large skillet over medium heat. Add mushrooms and onion, stirring occasionally. Cook until liquid has been absorbed and mushrooms are softened, about 15 minutes. Season with salt, pepper, garlic powder and oregano, adjusting to your liking. Set mushrooms aside. Butter one side of each bread slice. Assemble sandwiches by adding mushrooms and cheese and topping with a bread slice, with buttered sides facing out. Heat griddle over medium-low heat. Cook sandwiches for 3-4 minutes per side.
7.8.1.2
114
http://veggingonthemountain.com/2018/02/mushroom-grilled-cheese/