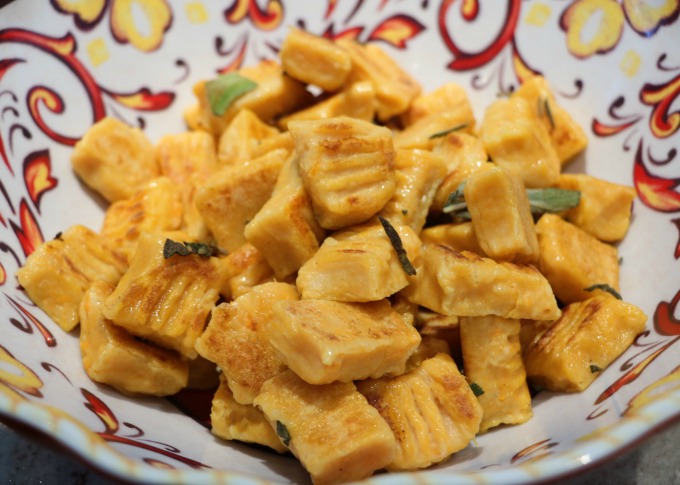 I will never forget my first rock star moment in the kitchen when I thought to myself, wow, I actually made that!  It was around 2002 when I was living in New York City and for a supper club gathering I made an apple pie.  From scratch.  Lattice and all.  It was before the time of social media and smart phones so I couldn't even take pictures and share it with the world (I do miss those simpler days).  This recipe for maple sweet potato gnocchi gave me much of the same feeling.  It felt like I made a restaurant quality dish that my family couldn't get enough of.  The extra time it takes to make this recipe is worth it and luckily the recipe makes a lot so half will head to the freezer.  It's a perfectly filling fall dish for those cool nights.
I've been loving on my Instant Pot for years now.  Do you have one?  I recently discovered the ease of cooking potatoes in the Instant Pot which cuts down on time and makes life so much easier.  If you don't have one you can roast the sweet potatoes in the oven.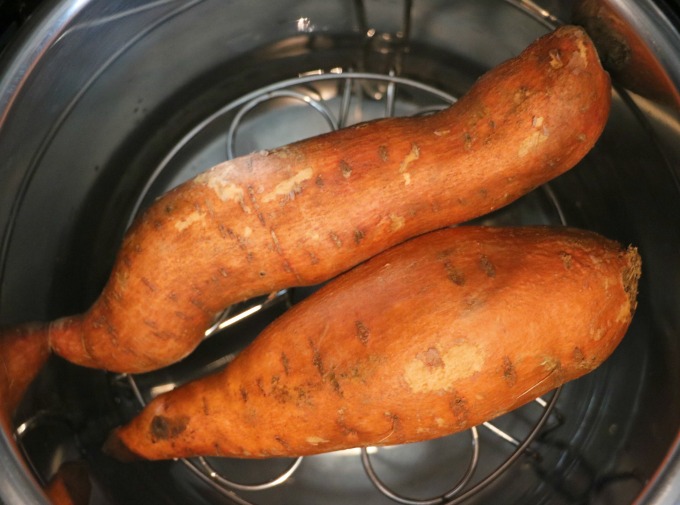 After pressure cooking the potatoes for fifteen minutes and letting the pressure release naturally, you will have perfectly cooked sweet potatoes that you can easily scoop out the insides from.  After mashing the sweet potato in a bowl, add ricotta cheese, parmesan cheese, maple syrup, salt and nutmeg.  Most sweet potato gnocchi recipes call for brown sugar but I always try to incorporate pure maple syrup for sweetening when possible.  Slowly add the flour until you get a dough that can be formed into a ball without sticking to your fingers.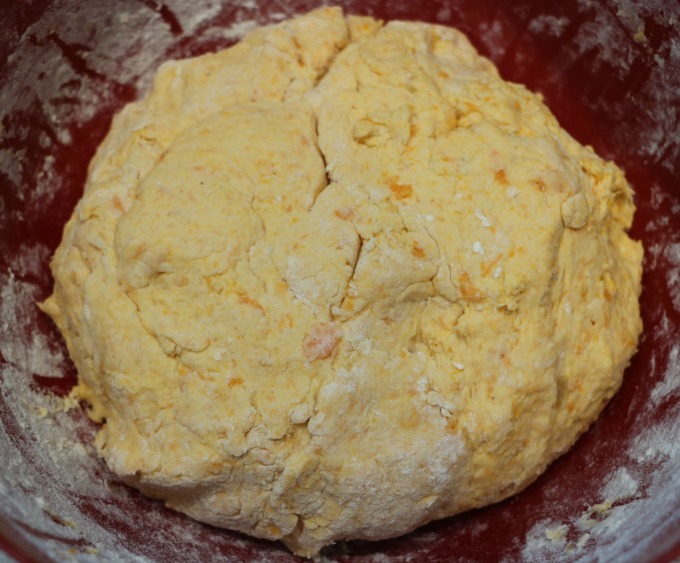 Cut the dough into six pieces and working with one piece at a time, roll the dough into a long strand and cut the strand into one-inch pieces.  You should get about fifteen to twenty pieces per strand.  Roll the tines of a fork over each piece and then place them on a baking sheet.  You can refrigerate or freeze them at this point or just move on to cooking them.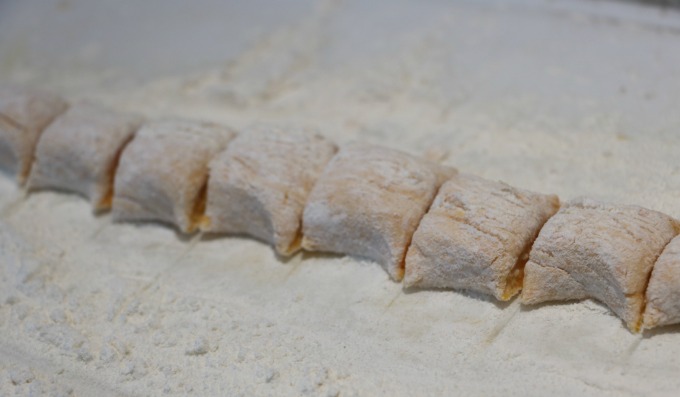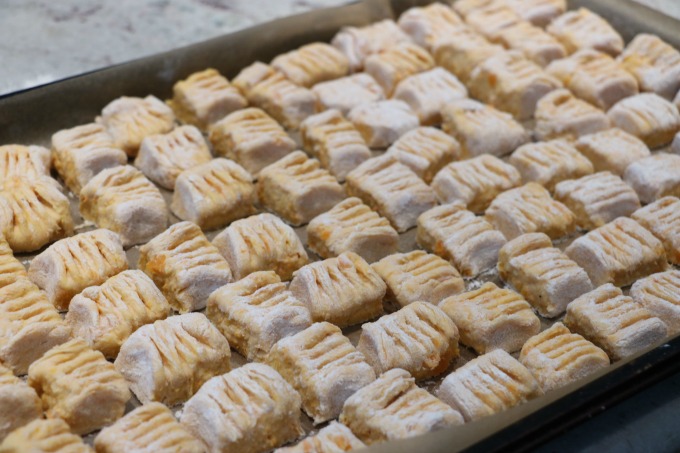 Much like when you make stir-fry and need everything in place for quick cooking, the same is true for these gnocchi.  You will need a pot of boiling water and a non-stick skillet for pan-frying the gnocchi, each heated at the same time.  I cook about ten gnocchi at a time in the boiling water.  Once they rise to the top, I use a strainer and move them to a rack over a baking sheet to drain for a minute.  Then I add them to a saute pan heated with cooking spray or oil and cook them until they are browned on each side, about five minutes total.  You can top the gnocchi however you want.  I have topped them with fresh tomato sauce.  My preferred topping is fried sage leaves.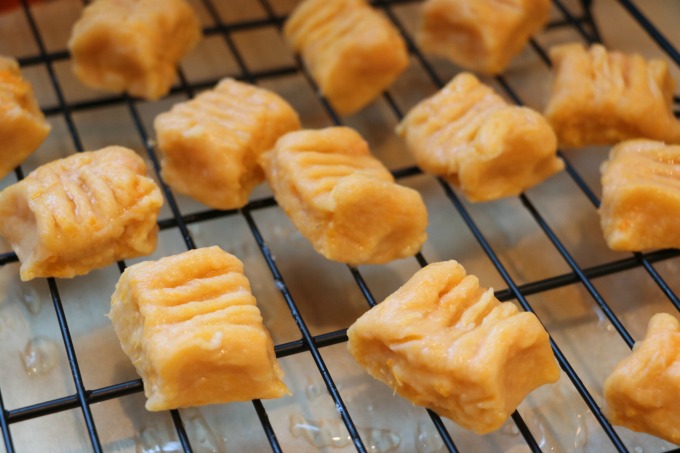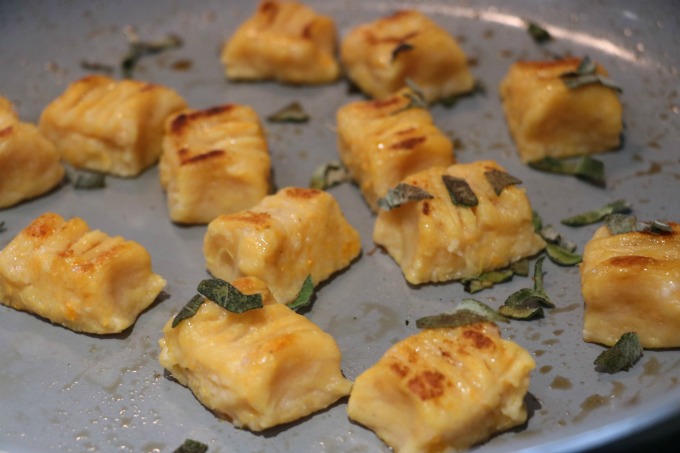 Gnocchi does not have to be an only order in restaurants kind of dish.  You can easily make them at home using sweet potatoes cooked in your Instant Pot.  With Thanksgiving coming up, I get a lot of questions about vegetarian main dish recipes. Here you go, this would make a perfect holiday main dish!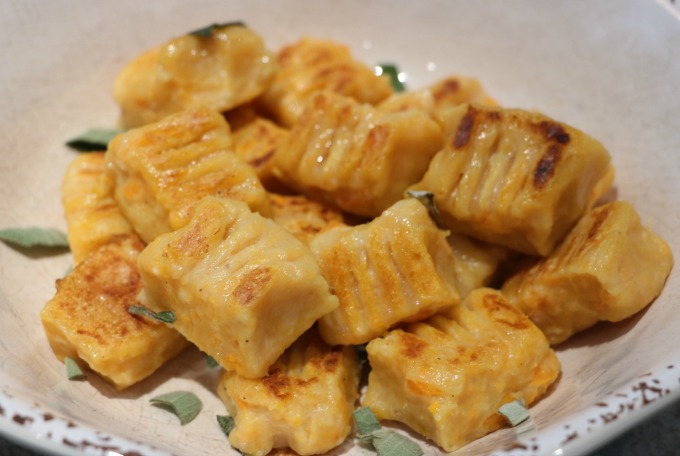 Maple Sweet Potato Gnocchi
Ingredients
2 medium to large sweet potatoes
1.5 cups ricotta cheese, drained
1/2 cup freshly grated parmesan cheese
2 tablespoons pure maple syrup
1.5 teaspoons salt
1/2 teaspoon nutmeg
3 cups all-purpose flour
olive oil or cooking spray
bunch of chopped fresh sage
Instructions
Using a fork, poke sweet potatoes several times and cook until soft. This can be done roasting in oven for an hour or can be done in Instant Pot. To cook in Instant Pot, pour a cup of water into pot, place potatoes in a basket (not touching water) and cook for 15 minutes, letting pressure release naturally. When potatoes have cooled, scoop out insides, add to a large bowl and mash with a fork or potato masher. Add ricotta cheese, parmesan cheese, maple syrup, salt and nutmeg to the bowl. Stir to combine. Slowly add flour, 1 cup at a time, and stir until combined. You want to form a dough that can handled to the touch without sticking to your hands. Form into a ball and cut into six pieces. Working with one piece at a time on a floured cutting board, roll each piece into a long strand, adding more flour if necessary. Cut each strand into 1-inch pieces, you should get 15-20 out of each strand. Use the tines of the fork to roll over each piece, place on a parchment lined baking sheet. You can refrigerate or freeze for later. When ready to cook, heat a large pot of water and bring to a boil. Also heat a non-stick skillet with cooking spray over medium heat. When water is boiling, gently add 10 to 15 gnocchi. When they float to top, use a strainer to place on a rimmed sheet. Once they have drained for a minute, add chopped sage to the non-stick skillet and add gnocchi. Cook for about 3 minutes per side or until crispy on each side. Remove to a bowl and repeat with rest of gnocchi or how much you want to cook at that time. I usually freeze half. Serve as is or with tomato sauce or sour cream.
7.8.1.2
196
http://veggingonthemountain.com/2019/10/maple-sweet-potato-gnocchi/
Vegging at the Shore is a participant in the Amazon Services LLC Associates Program, an affiliate advertising program designed to provide a means for website owners to earn advertising fees by advertising and linking to amazon.com. There are links on this site that can be defined as "affiliate links". This means that I may receive a small commission (at no cost to you) if you subscribe or purchase something through the links provided.