I will keep this short and to the point because it's a few days before Thanksgiving and who has time to be reading long blog posts? If you have never tried a Brussels sprout (yes, there are people out there!) or are on the fence about them, this recipe for panko parmesan crusted Brussels sprouts will make a believer out of you.  I promise.  We made this recipe in an adults cooking class last week and everyone went nuts for them.  They are that good.  I'm sorry if you already did your holiday food shopping because you will need to go back and get the ingredients for this recipe.  It will be perfect as an appetizer or side dish for Thanksgiving or anytime of the year.
Start by trimming the ends off of the Brussels sprouts and cutting them in half.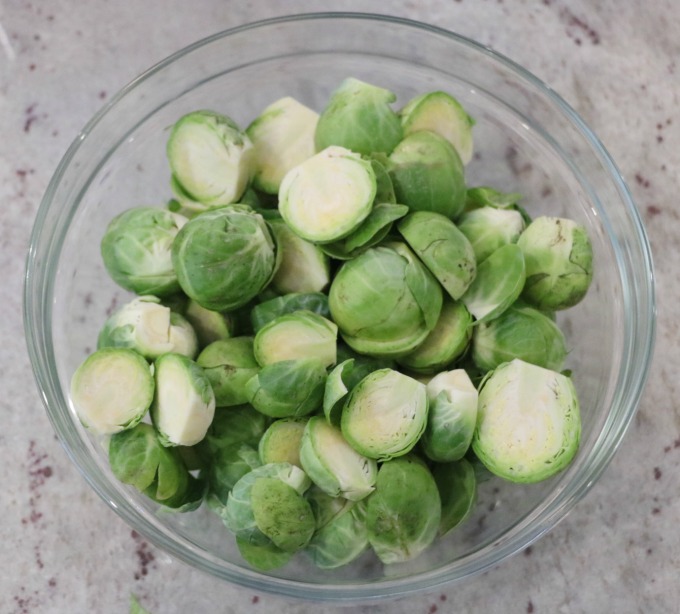 Next prepare three bowls.  One will have flour, one will have eggs lightly beaten and the third will have seasoned panko breadcrumbs combined with parmesan cheese and olive oil.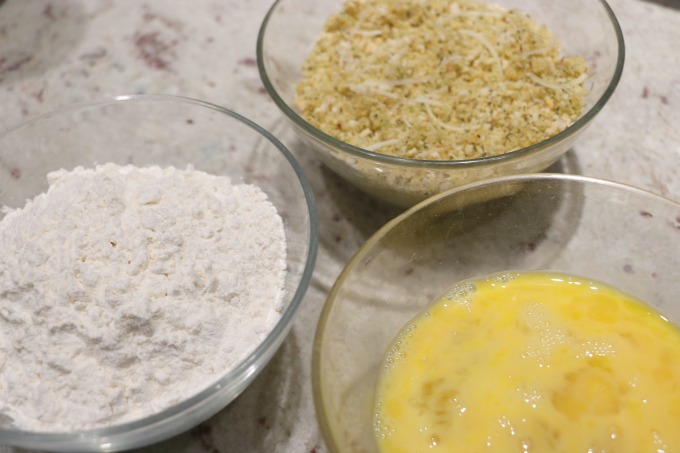 If you use plain panko, you can just add seasonings like salt and garlic powder but I like to skip that step by using seasoned breadcrumbs.  By mixing olive oil with the panko, you are ensuring that the coating will stick to the sprouts.  Once they are all breaded, cook them for 25 minutes.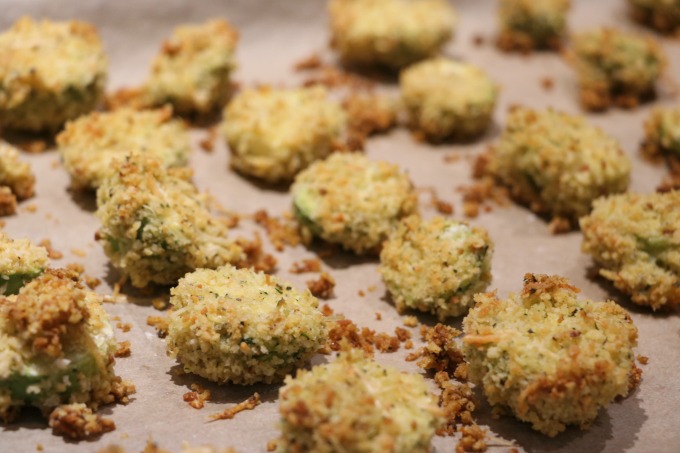 You can certainly eat them as is, but why not make a delicious and easy dipping sauce?  Simply mix together mayonnaise with a bit of sriracha for an irroestiable and beautifully colored sauce.  Just when I thought roasted Brussels sprouts were everything, these breaded Brussels sprouts came along and made me fall even more in love with the vegetable.  I hope you have a happy and safe holiday!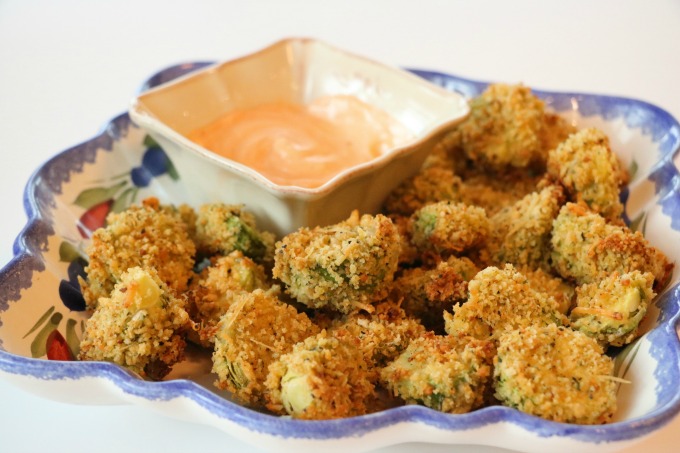 Panko Parmesan Crusted Brussels Sprouts
Ingredients
1 lb brussels sprouts, trimmed and halved
1/2 cup flour
2 eggs, beaten
1 cup seasoned panko breadcrumbs
1/4 cup freshly grated parmesan cheese
2 tablespoons olive oil
1/2 cup mayonnaise
1-2 tablespoons sriracha
Instructions
Preheat oven to 400. Line a baking sheet with parchment paper. In first bowl, add flour. In second bowl, add eggs. In third bowl, combine panko, parmesan and olive oil. Working in batches, toss Brussels sprouts in the flour and then dunk in eggs. Next dredge in panko mixture and place on baking sheet. Bake until crisp, about 25 minutes. In a smalll bowl mix together mayonnaise and sriracha. Serve alongside Brussels sprouts.
7.8.1.2
199
http://veggingonthemountain.com/2019/11/panko-parmesan-crusted-brussels-sprouts/