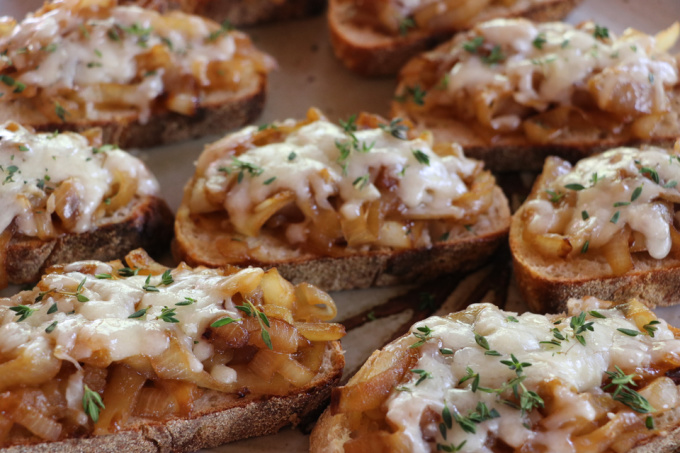 I am a seasonal cook.  In winter I like all the heavy soups and stews while in summer I prefer using all the local produce I can get my hands on.  So what happens if you miss winter recipes in summer? You deconstruct them and make them more seasonal!  That's exactly what I did here with this French Onion Crostini recipe.  With the help of sourdough bread from my Wildgrain subscription bread box, I took a family favorite recipe for French onion soup and made it into the perfect dish for entertaining in spring and summer.
In recent years I have tried to get away from multiple trips during the week to the supermarket.  How do I do this?  By filling my pantry and freezer with enough staples to get me through the week. Wildgrain is perfect for this goal because you receive a box filled with the most delicious breads and pastas from small-batch bakers across the country using ingredients you can feel good about.  While I love making my own bread, it's not realistic for me to always do so due to our busy schedules. Breads and pastas from Wildgrain are the next best thing to homemade breads and pastas.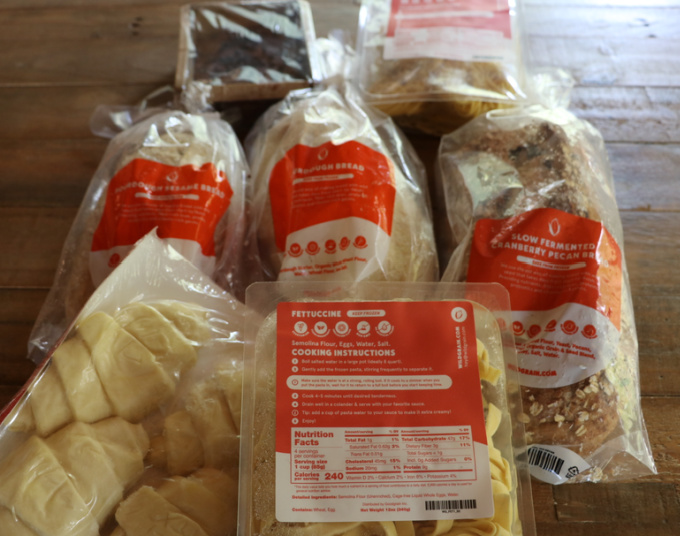 So let's talk French onion crostini!  Start with Wildgrain sourdough.  Read the directions carefully, making sure to cook and cool the bread before slicing it.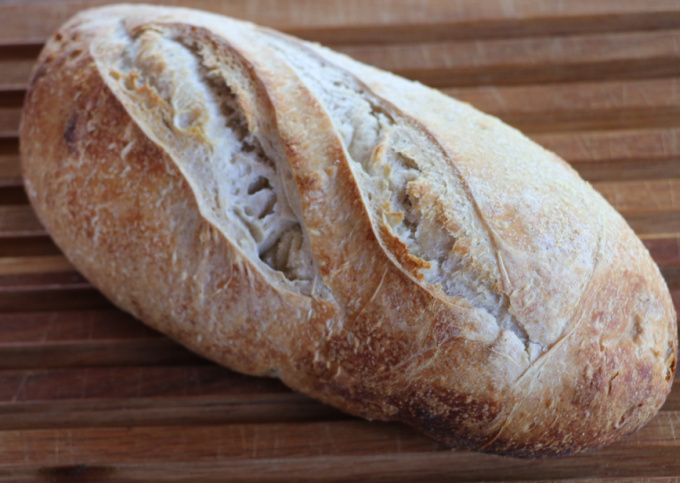 While the bread is cooling, start on your onions.  Slice about 4 large yellow onions and cook them in olive oil or butter on a medium-low heat until they are caramelized and starting to turn darken in color.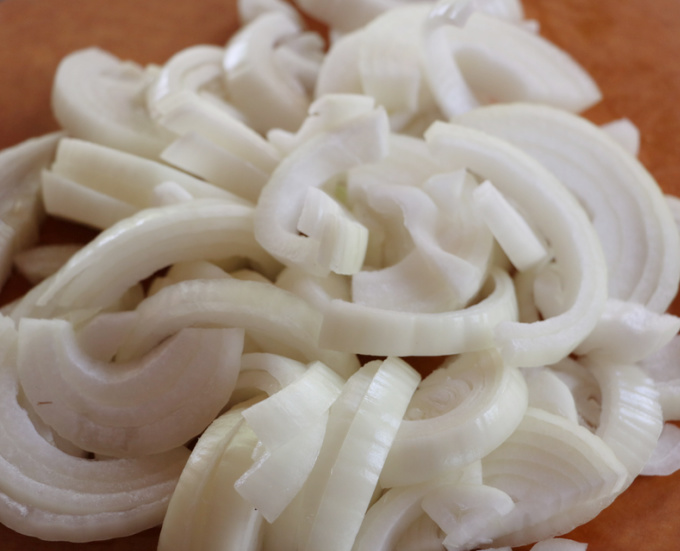 This should take about 30 to 40 minutes.  To add more depth of flavor to the onions, next you will add balsamic vinegar, brown sugar and salt.  Scrape up any bits on the bottom of the pan.  Typically I stop at this point when I'm making caramelized onions but since we want some juice to soak into the bread, add about a 1/4 cup of broth.  I only cook with vegetable broth, but feel free to use beef or vegetable broth.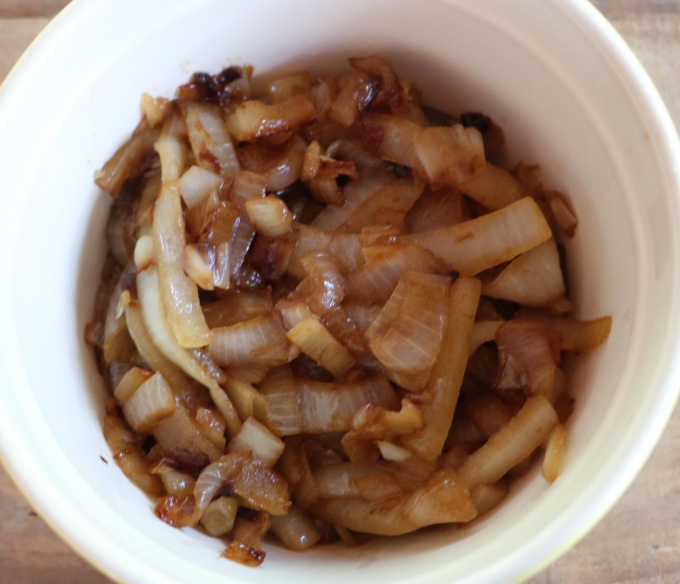 Once your sourdough is cooled, cut it into 1-inch slices and top each slice with a couple heaping spoonfuls of the caramelized onions.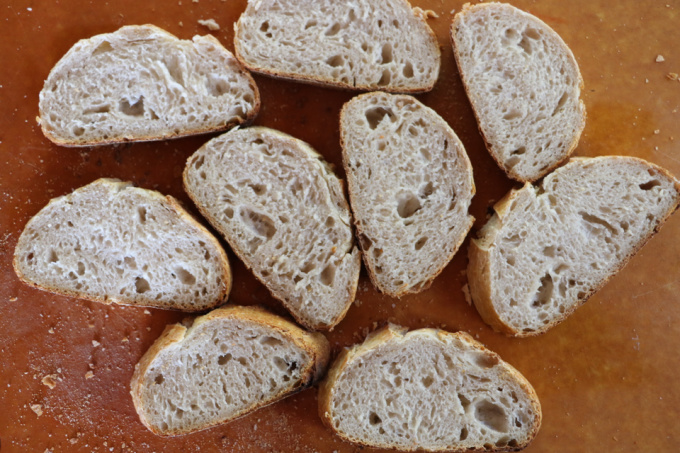 Next up is cheese.  Typically French onion soup is topped with Gruyere or Swiss cheese, neither of which are my favorites.  So I went to my favorite local cheese chop and asked them to recommend the perfect cheese to top my crostini.  I went with a nutty and fruity cheese that melts well.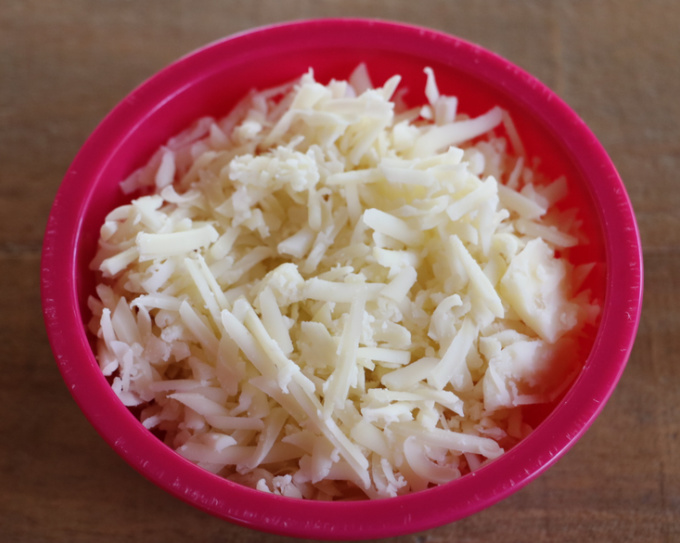 Go with a cheese that you love, no rules here!  And for the final burst of flavor, top the crostini with fresh chopped thyme or your fresh herb of choice.
Besides sourdough bread, my Wildgrain subscription box was filled to the brim with so many other goodies including fettuccine, cranberry pecan bread, sourdough sesame bread, croissants and brownies, all of which were delicious!  If you are a fan of small-batch baked goods like me, a Wildgrain subscription bread box is for you.  Want to try it out?  You can learn more here and enter the code Vegging at checkout to receive $10 off.  Happy entertaining this spring and summer.  Make sure your menu includes French onion crostini next time you have friends over or are invited to a gathering!
Ingredients
2 tablespoons extra virgin olive oil or butter plus more for brushing bread
4 yellow onions thinly sliced (about 5 cups)
1 tablespoon balsamic vinegar
1 tablespoon brown sugar
1/2 teaspoon kosher salt
2 tablespoons broth (vegetable, chicken or beef)
1 cup shredded cheese of choice (Swiss, Gruyere, Fontina, Mozzarella)
2 tablespoons chopped fresh thyme
1 sourdough loaf, cut into 1/2-inch slices
Instructions
Heat oil in a Dutch oven or deep saucepan over medium-low heat. Add onions and cook stirring often until caramelized, about 30 minutes. Onions will begin to brown. Add balsamic vinegar, brown sugar and kosher salt. Cook for 5 more minutes and add broth. Scrape browned bits from bottom of pan. Set aside.
Preheat oven to 425.
Line a baking sheet with parchment paper. Brush each bread slice with olive oil and arrange on baking sheet. Top each bread slice with a heaping spoonful of caramelized onions, about 1/4 cup. Top with cheese, about 2 tablespoons per slice. Cook for 5 minutes or until cheese is melted. Top with chopped thyme and serve.
7.8.1.2
204
http://veggingonthemountain.com/2023/05/french-onion-crostini/