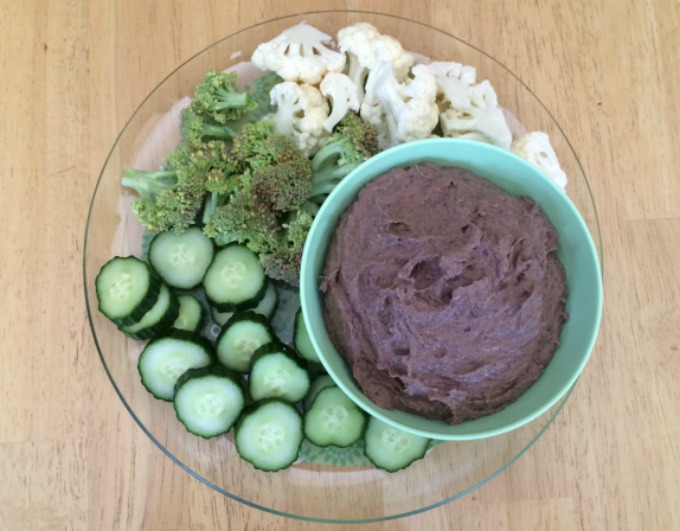 I was recently invited to a going away party in my friend's backyard.  When I asked what I could bring she suggested something for the adults.  I had to think about this one.  It was a really hot day so I didn't want to bring anything with dairy.  I needed something easy for people to eat that would hold up well in the heat.  I went to one of my favorite cookbooks, Totally Dairy Free Cooking, and knew instantly what I wanted to bring-Black Bean Hummus.  The ingredients in this recipe are ones that I almost always have on hand.  It whips up quickly and my kids loved helping me with it.  My son was eager to help me drain and rinse the beans.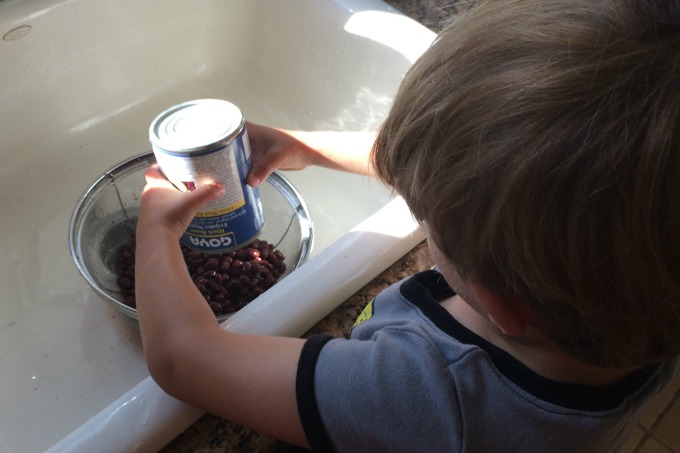 My kids both love using the food processor.  It goes without saying but I'll say it anyway, I would never let them use it unattended.  They know the difference between the on, pulse and off buttons and love to take turns pushing the buttons (okay they don't love taking turns but tolerate it).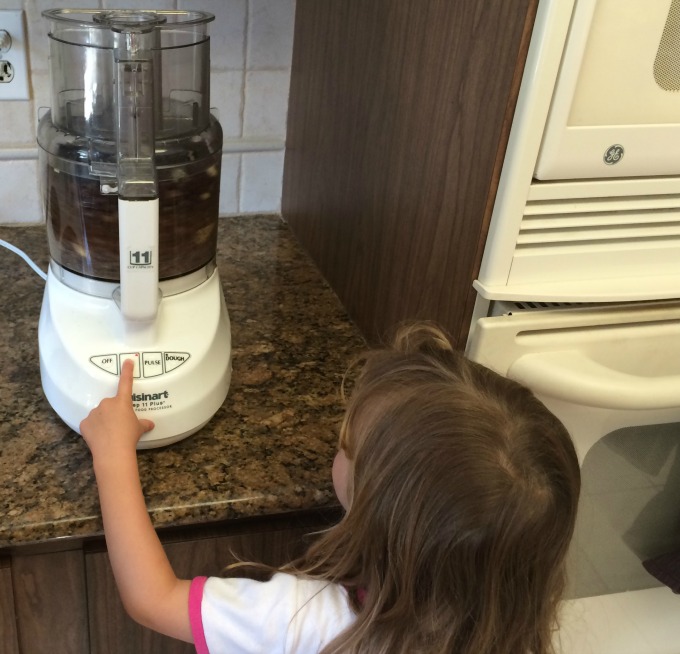 I added some vegetables (broccoli and cucumber from Jah's) and had a great, easy dish to bring.  This recipe is way better than store bought hummus and the black beans are a nice variation on traditional chickpea hummus.  It's definitely a crowd pleaser. Enjoy!
Black Bean Hummus
Ingredients
1 cup cooked or canned black beans, rinsed and drained (cooking or canning liquid reserved)
1-2 teaspoons minced garlic (depending on your taste)
1 tablespoon freshly squeezed lemon juice
1 tablespoon soy sauce
1 tablespoon tahini
1 teaspoon honey
2 dashes hot sauce (less or more according to your taste)
salt and freshly ground pepper
Instructions
Add all the ingredients to a food processor. Blend until you get a smooth consistency, adding some of the bean cooking or canning liquid if necessary. Season with salt and pepper to taste. Store, covered, in refrigerator for up to 7 days.
Notes
Adapted from Totally Dairy-Free Cooking