Last year I tried out Door to Door Organics in an effort to find a good source for organic produce and instantly fell in love with it.  A box of organic fruits and vegetables arrives at my door once a week and it's always fresh and beautiful.  A week before your delivery you receive a list of what's coming so you can customize your order by swapping out for things you prefer.  I've always just stuck with fruits and veggies but recently started adding things on to my order like the cinnamon raisin bread featured in my Chai Spiced Apple Butter recipe.  They have a great line of grocery products in addition to organic produce.
Since the temperatures started falling I've been craving comfort food.  To me comfort food means soup.  Soup is so easy to make and pairs perfectly with a grilled cheese for lunch or dinner.  I came up with this recipe for Cauliflower Cheddar soup that my family loved.  Almost all of the ingredients are straight from Door to Door Organics.  The soup was ready in less than forty-five minutes.  My only regret is that I didn't make a double batch because it only lasted us two days.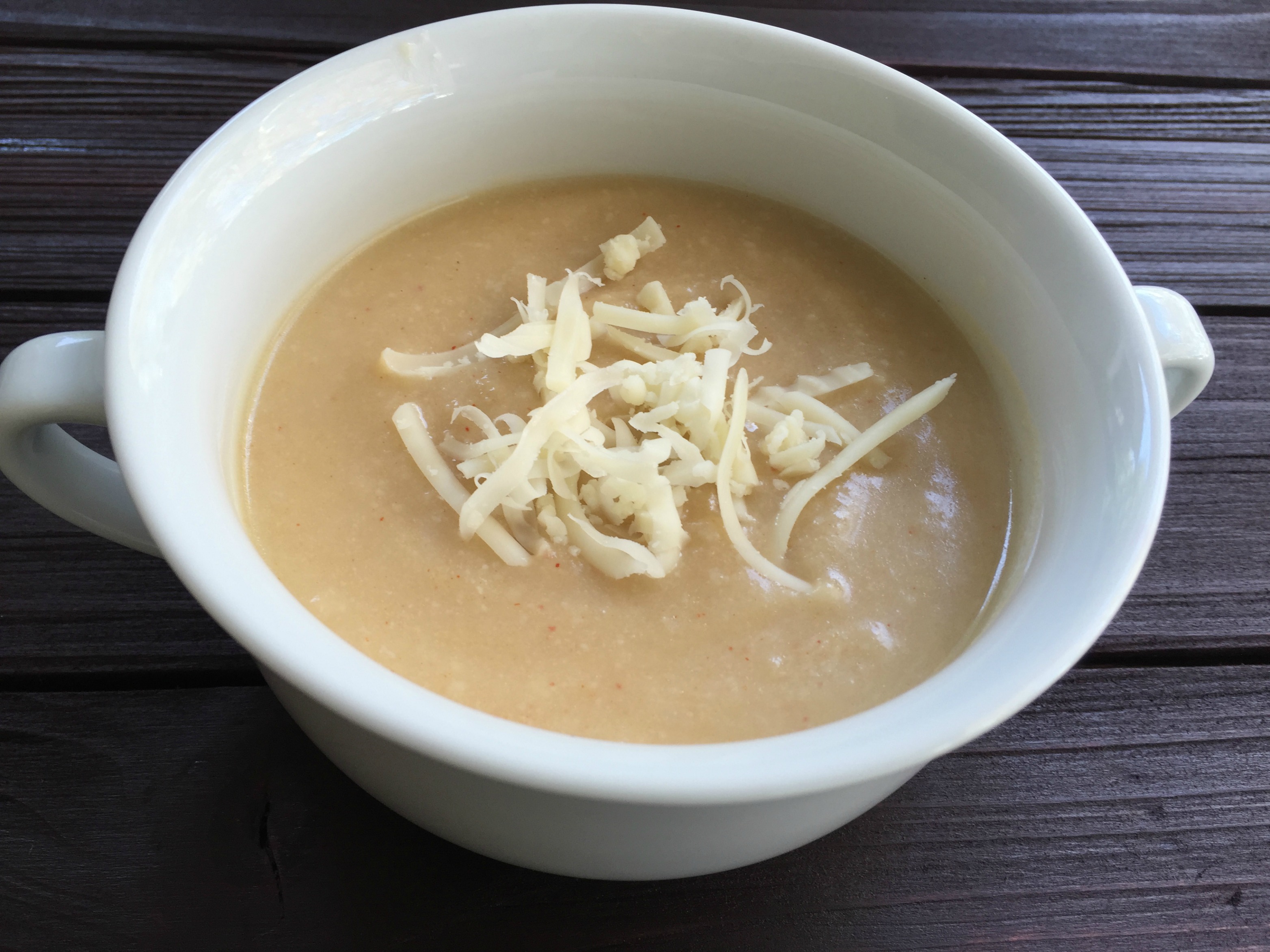 You start by cutting up a head of cauliflower into one-inch pieces.  Does anyone else ever feel like some vegetables are just too pretty to cut?  Not surprisingly, I sometimes do.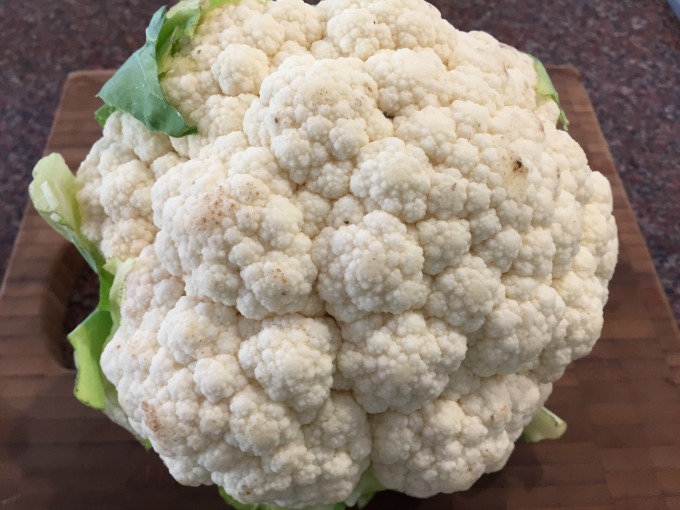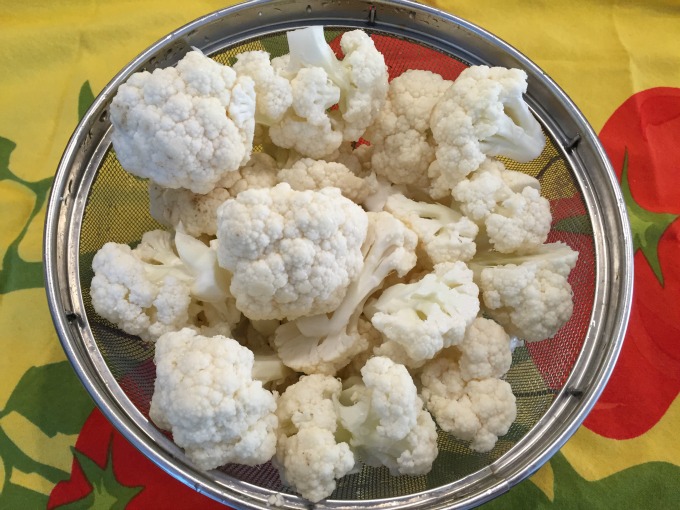 Next, in a Dutch oven you sauté some some diced onions in olive oil, add garlic and then the cauliflower.  You cook that until the vegetables are softened, about five minutes.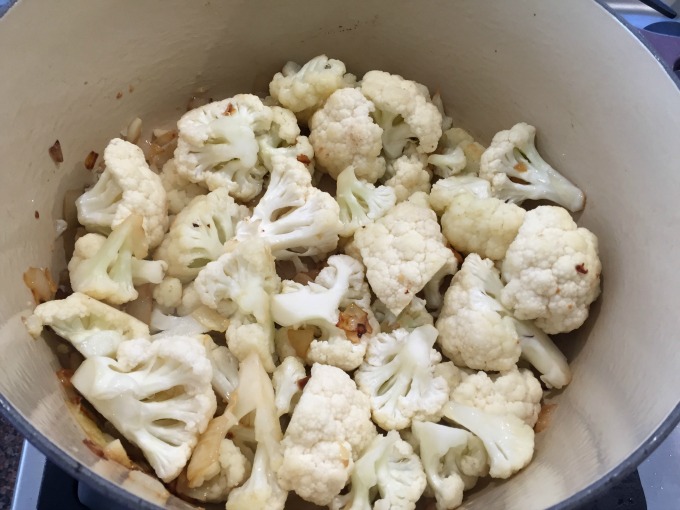 Next you add a combination of vegetable broth and water and let that cook for about twenty-five minutes covered.  You know it's ready for the next step when the cauliflower is very soft.  While that is cooking shred the cheese.  Yes, you can buy pre-shredded cheese in a bag, but why not go for a fresher taste by shredding your own.  I promise, the taste will be worth it.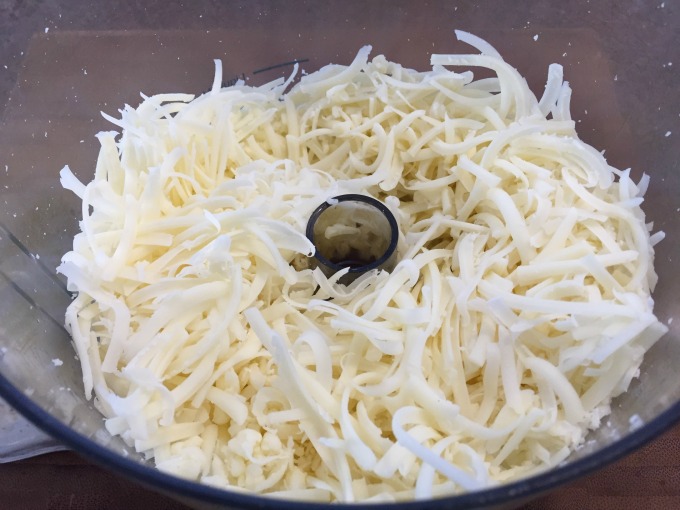 When the cauliflower is done cooking you get to use one of my favorite kitchen gadgets, the immersion blender.  You'll never burn yourself again transferring hot soup into the blender if you have one of these.
Once that is smooth return it to a low heat and add the cheese and smoked paprika.  I love recipes that have a secret ingredient, one that takes it to the next level and makes it hard to pinpoint why it tastes so good.  In this recipe, it's the smoked paprika.  A little goes a long way and it gives the soup that extra something.  Season it to taste with salt and pepper and you will have a delicious soup sure to warm you up on those chilly days and nights.
Are you interested in trying out Door to Door Organics?  They are kindly offering Vegging at the Shore readers $10 off their first order.  Just click here to get started!
Disclosure: This post was sponsored by Door to Door Organics.  All thoughts and opinions are my own.

Cauliflower Cheddar Soup
Ingredients
2 tablespoons extra virgin olive oil
1 small onion, diced
2 cloves of garlic, minced
1 head of cauliflower, florets cut into 1 inch pieces
4 cups vegetable broth
1 cup water
2 cups freshly shredded cheddar cheese
½ teaspoon smoked paprika
salt and pepper to taste
Instructions
Heat olive oil in a dutch oven or soup pot over medium heat. Add onion and cook until softened, about 5 minutes. Add garlic and cook for a minute, until fragrant. Add cauliflower florets and cook until beginning to soften, about 5 minutes. Add broth and water. Bring to a boil, reduce to a simmer and cover. Cook for about 20 minutes, until cauliflower very soft. Blend until smooth using an immersion blender. If you don't have an immersion blender, carefully transfer to a blender in batches and blend until smooth. Return to a low heat. Add cheese and smoked paprika. Stir until cheese melted. Taste and adjust seasonings.