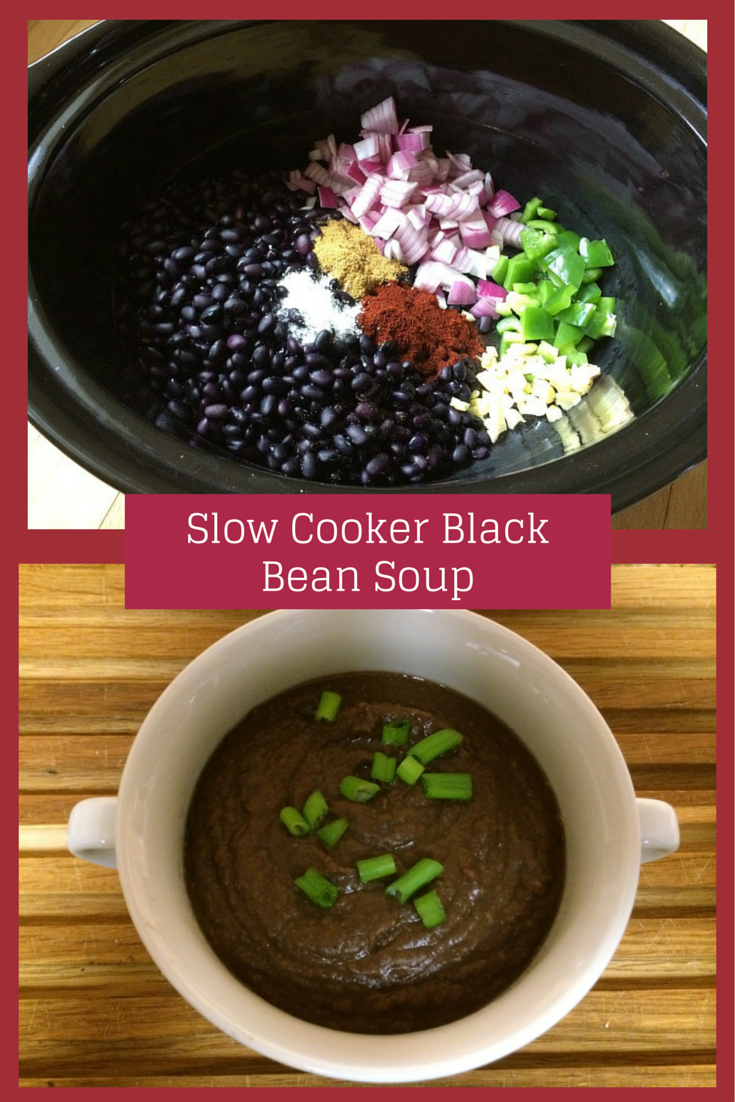 You didn't really think we would get through a winter without snow in the northeast, did you?  It's going to happen so you might as well embrace it.  I embrace the snow because my family skis.  But I also embrace it because I love cold weather food like soup.  This soup is seriously so easy because the slow cooker does all the work.  You really just put everything in it and leave it.  That's my kind of recipe!
I said this before in my rosemary white bean soup recipe, but I'll say it again…cooking from dried beans is so easy and so much healthier.  You start this recipe with a pound of dried black beans that soak overnight.  In the morning, rinse and drain them.
Add those to the slow cooker with onion, garlic, green pepper, chili powder, cumin, salt.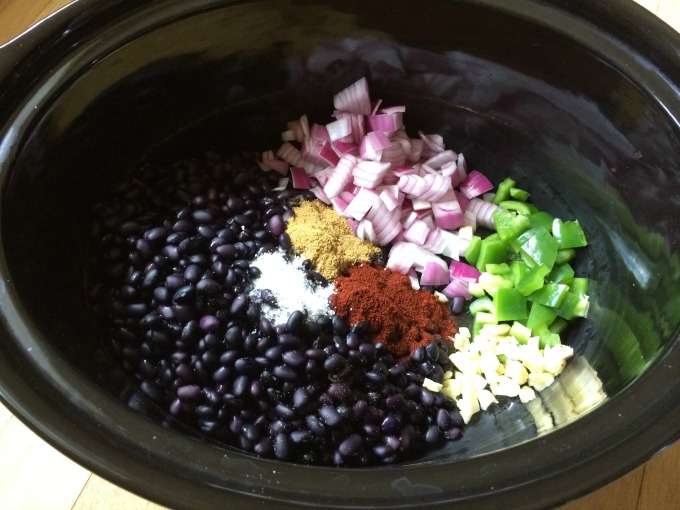 Next you want to add your liquid.  A general rule for making soup from dried beans is that you want about six cups of liquid for one pound of beans.  So I added four cups of low-sodium vegetable broth, one cup of water and one can of diced tomatoes.  For a little extra kick, I added one canned chipotle pepper.  If you have never cooked with chipotle peppers before, they add so much flavor to food.  A little goes a long way so make sure you only add one pepper, NOT one whole can.  A small can usually has about five to six peppers so I freeze the extra ones individually instead of wasting them.  They defrost very easily.
I let my soup cook for six hours on high.  Each slow cooker is different so you may want to check your beans after four hours.  Once your beans are very soft, turn off the crockpot and use your immersion blender to puree the soup.  You did get an immersion blender for the holidays, right?  This is the perfect opportunity to use it!  After it's creamy and smooth, add the lime juice, adjust the seasonings and garnish as you like.  This soup is so creamy without containing any dairy, in addition to being vegan and gluten-free.  If you are not a snow lover, this soup will make you one.  It will warm you up on those cold days to come.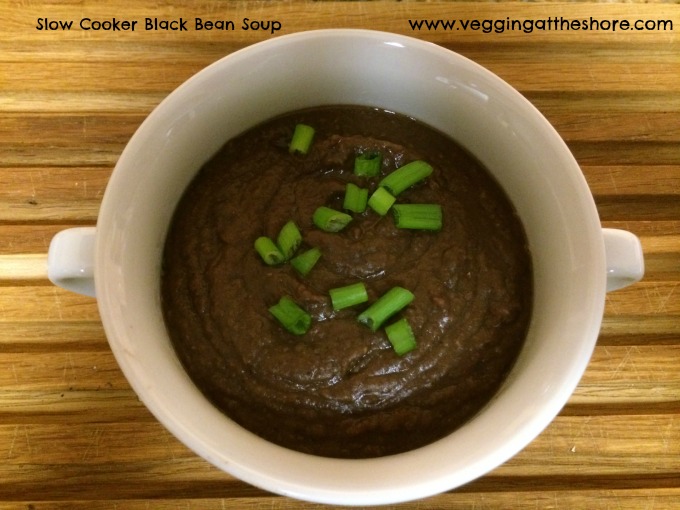 Slow Cooker Black Bean Soup
Ingredients
1 lb dried black beans, soaked overnight and drained
½ cup chopped red onion
½ cup chopped green pepper
2 garlic cloves, minced
1 tablespoon chili powder
½ tablespoon cumin
½ tablespoon salt plus more to taste
1 canned chipotle chili pepper, chopped
4 cups low sodium vegetable broth
1 12 oz can diced tomatoes
1 cup water
juice of ½ lime
optional garnish: chopped scallions and/or sour cream
Instructions
Combine all ingredients (except lime, scallion and sour cream) in slow cooker. Cook on high for about 6 hours or until beans are very soft. Turn off slow cooker and using an immersion blender, blend soup until creamy. Add lime juice. Adjust salt seasoning to taste. Add optional garnishes of scallions and/or sour cream.