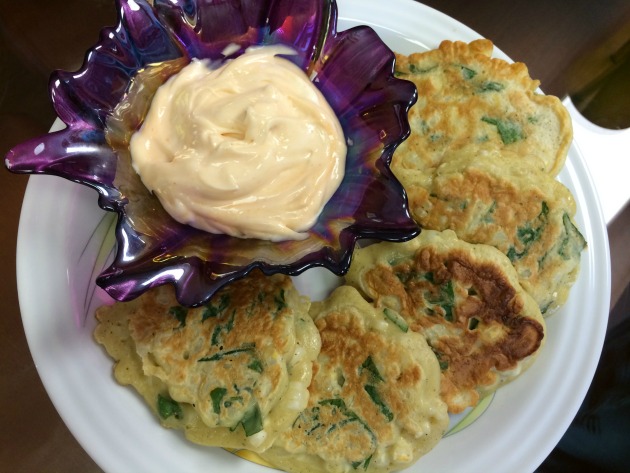 My CSA, Jah's, is the best for fresh, organic produce.  This is the first year that they grew corn and members were told it would be in our weekly delivery box for a week or two.  Last week was my first batch of Jah's corn and it did not disappoint.  It was some of the best corn I have ever tasted.  Since this was going to be such high quality but limited quantity corn, I felt like I really needed to make the best possible recipe.  I played around with a recipe for corn and basil fritters from Eating Well magazine that I clipped out years ago and it was fantastic.
My twins and their five first cousins range in age from three to eighteen.  My family all gathered recently at my parents' shore house to say goodbye to my two oldest nephews who are leaving to study abroad during the fall semester.  As my mom always does at her shore house, she prepared a wonderful dinner after a fun day at the beach.  I made these corn and basil fritters as an appetizer for everyone to enjoy while sitting out on the deck and they were gone in a matter of minutes.
The sweet and crunchy corn combined with fresh basil made for a fabulous fritter.  I have a serious obsession with sriracha mayo lately so I put that on the side and it was amazing.  If you are still getting corn from your famers market or CSA, try these and make sure not to skip the sriracha mayo.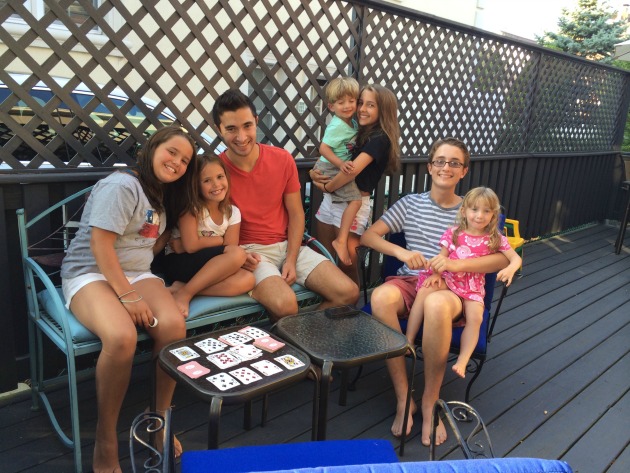 I wish my nephews safe travels and look forward to hearing about their experiences.  My children will miss their cousins!

Corn and Basil Fritters with Sriracha Mayo
Ingredients
1 cup all-purpose flour
1 cup milk (I used Dream Blends Rice and Quinoa Drink to keep this recipe Parve)
3 eggs
2 tablespoons canola oil
1 teaspoon baking powder
1 teaspoon salt
½ teaspoon pepper
about 3 cups of fresh corn kernels (I used 4 medium sized ears)
½ cup chopped fresh basil
½ cup low-fat mayonnaise
1 tablespoon sriracha
Instructions
Whisk flour, milk, eggs, 1 tablespoon oil, baking powder, salt and pepper in a medium bowl until smooth. Stir in corn and basil.
Heat a skillet over medium heat and add remaining one tablespoon of oil. Use about ¼ cup batter per fritter and cook four cakes at a time, about 3 inches wide. Cook about 2-3 minutes per side, until edges are dry enough to flip. Repeat with remaining batter to make about a dozen fritters total.
Combine mayonnaise and sriracha and serve alongside fritters.
Notes
Adapted from Eating Well magazine