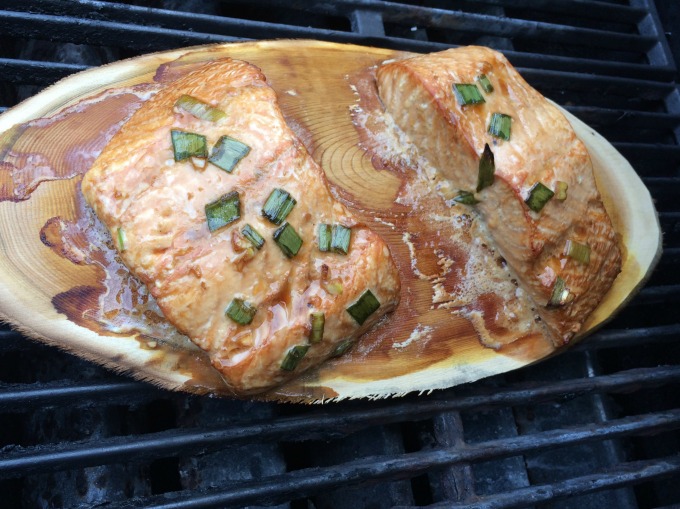 Now that I've made cedar plank salmon on the grill, I'm never going back to preparing it any other way again.  I'm not sure why it took me so long to try it.  The salmon was so full of flavor and juicy that even a fish skeptic would be a fan of this method.  There are a few things to know about cedar plank grilling before getting started.  First, you obviously need cedar planks.  They are easy to find in stores.  I picked some up at Williams Sonoma recently that were on sale, a set of 2 for $7.99.  The planks need to be soaked for at least 2 hours before grilling.  I chose to soak mine in cider vinegar which I thought would complement the marinade I made nicely.  You could also soak in water or white wine.  I used a big roasting pan for soaking.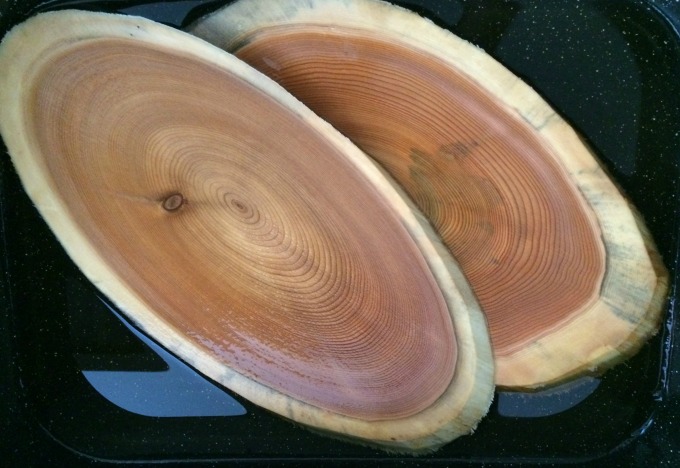 Prepare your fish however you like.  I made a basic, flavorful Asian marinade  and let the fish marinate for about an hour before grilling.  When I purchased the salmon at my local seafood store, Bob's Seafood Market, it was recommended that I grill the fish at 350 for  10-15 minutes.  I don't usually pay much attention to the temperature of the grill and had to really try and get the temperature that low.  I had previously grilled corn so it took me a little while to get the temperature low enough.  Once you get the temperature right, put the planks directly on the grates, lay the fish on top and lower the grill cover.  I checked the fish after about 12 minutes and could tell it still had some cooking to do so I turned the temperature up to about 425 and let it cook for another 5 minutes.  I used a fork to check and it was perfect.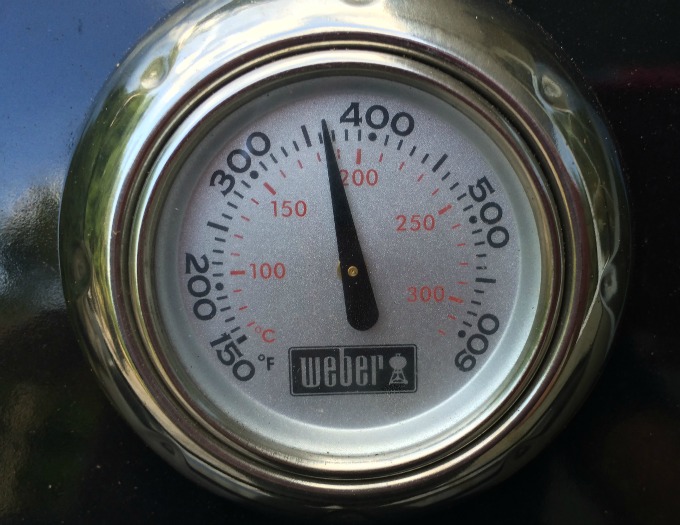 The fish will continue to cook a bit after you remove it from the grill because it is still on the planks.  If the planks aren't too charred, you can reuse them but they should be tossed after using a couple of times.  I had some leftover salmon which I added to a salad the next day and it was just as juicy and flavorful.  This is by far my new favorite method for cooking salmon and I'm definitely never going back to any other way again.

Cedar Plank Salmon
Ingredients
2 cedar planks
cider vinegar
⅓ cup vegetable oil
1.5 tablespoons rice vinegar
1 teaspoon sesame oil
⅓ cup soy sauce
¼ cup chopped green onions
1 tablespoon grated fresh ginger root
1 teaspoon minced garlic
4 salmon fillets, skin removed
Instructions
Soak planks in cider vinegar (or water or white wine) for at least 2 hours before grilling.
Prepare marinade by combining vegetable oil through garlic in a bowl and let fish marinate for an hour before grilling.
Preheat an outdoor grill to about 350. Put cedar planks on the grates. Lay salmon on top of grates and lower grill lid. After about 15 minutes check fish for doneness by using a fork. You want it to be flaky but not overdone. Remove planks from grill and serve.