I promise to stop writing about peaches soon.  I'm just not ready yet.  When I was menu planning for the week and looked at my counter, I saw huge, juicy peaches and tomatoes.  To me this combination shouts peach salsa so I grilled up some fish and made fish tacos with peach salsa.  It was a fantastic dish to have as summer winds down around here.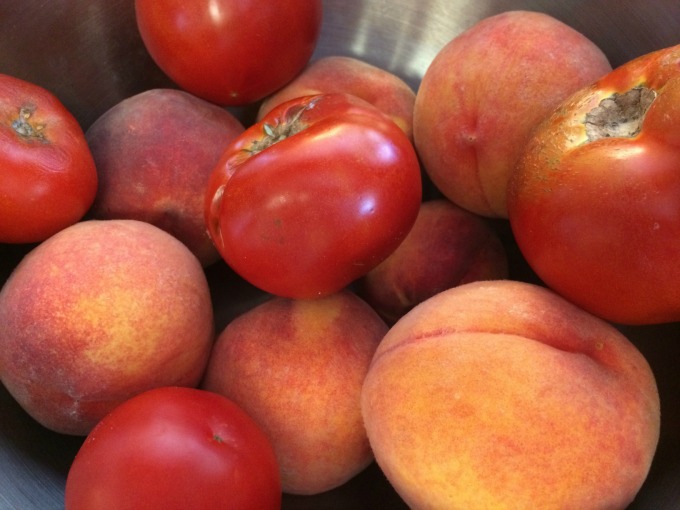 I made the peach salsa earlier in the day and let it sit in the fridge to marry the flavors.  I chopped up peaches, Jah's tomatoes, cilantro and onion.  I don't like food too spicy so I added a jalapeño, but made sure to remove the seeds and ribs.  I made the mistake once of touching my eyes after chopping a jalapeño.  That was unpleasant to say the least so now I always wear gloves when chopping jalapeños.  To this mixture I added salt, pepper and the juice of one lime.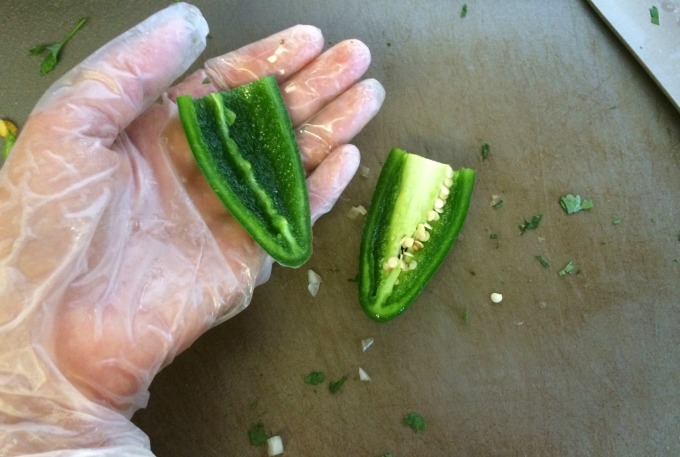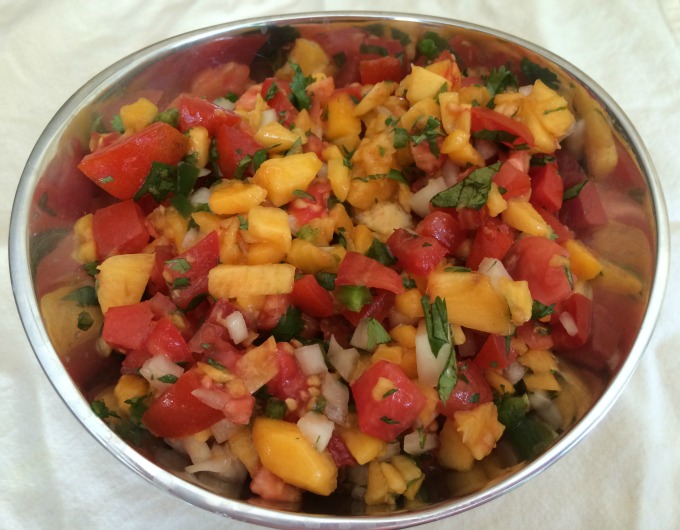 When you go to the fish counter do you engage the fishmonger in conversation?  I always do because they know so much and are a great resource (and I crave adult conversation when food shopping with three year old twins).  Today I told him that I was planning to make fish tacos and asked for a recommendation of what kind of fish to get.  He recommended wild caught mahi mahi which is what I went with.  About a half hour before grilling, my assistant helped me brush the fish with olive oil.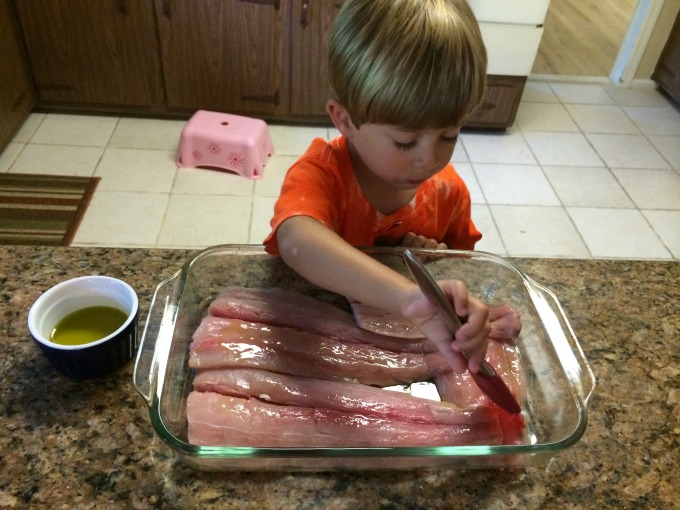 You could make a simple dry rub for the fish with cumin, chili powder and salt, but I had recently picked up this chili lime rub at Williams Sonoma that I wanted to try.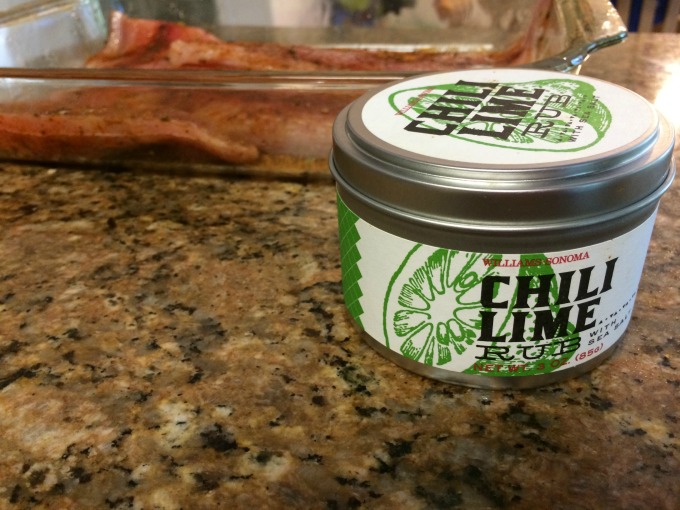 I placed the fish in a grill basket on the grill and cooked it for about three minutes per side and it was done to perfection.  The filets were thin so they only needed a short time on the grill.  I cut the fish up into chunks and served it alongside tortillas, peach salsa, avocado and queso fresco.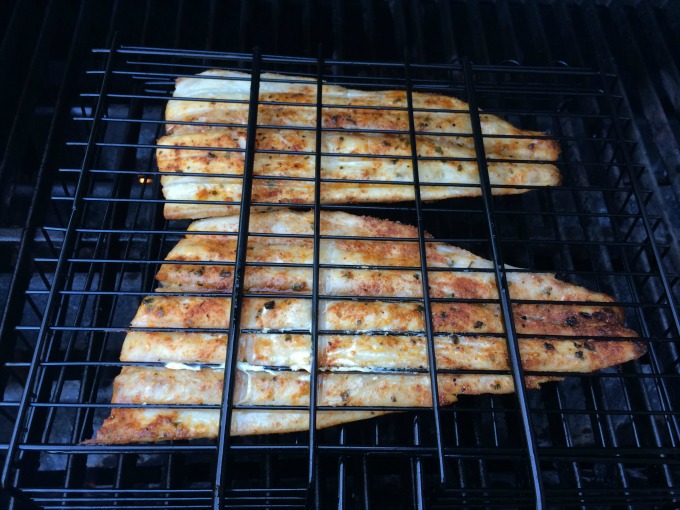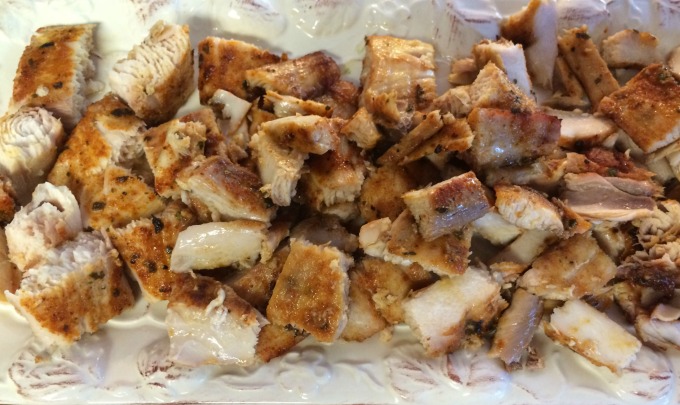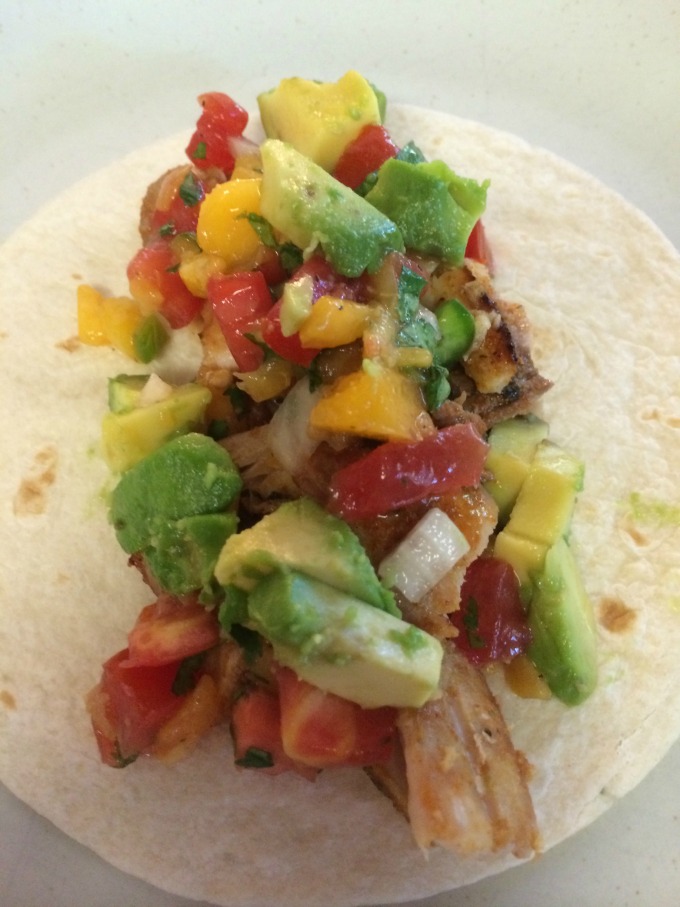 Summer is not over yet so pick up some peaches and make this before it's too late!

Grilled Fish Tacos with Peach Salsa
Ingredients
4 large peaches, skins removed, chopped
4 large tomatoes, chopped
1 small onion, diced
1 jalapeño,seeds and ribs removed, diced
¼ cup chopped cilantro
juice of one lime
salt and pepper to taste
1.5 lbs firm, white fish such as mahi mahi
olive oil for brushing
1-2 tablespoons of spice rub (store bought or make your own with cumin, chili powder and salt)
8 small flour tortillas
1 avocado, peeled and chopped
Instructions
For salsa combine all ingredients (peaches through pepper). Mix well and store in fridge until ready to use.
About half hour before grilling rub fish with olive oil and sprinkle with spice rub. If using a grill basket, spray with cooking spray and place fish in grill rack on grill at medium heat. Grill for about 3-4 minutes per side. Remove fish and cut into chunks. Serve with peach salsa, tortillas and chopped avocado.