Valentine's Day is coming soon.  To some people that means buying presents.  To me, it means making my husband's favorite dessert in the whole world-tiramisu.  I wanted a recipe that the whole family could enjoy.  My husband likes to eat healthy so I slimmed down the recipe by replacing mascarpone cheese with reduced-fat cream cheese.  I wanted the kids to be able to enjoy it as well so I replaced the espresso with decaffeinated coffee and omitted the alcohol.  I played around with it and it was delicious.  The kids had never had it before and asked for seconds!
You start by combing boiling water, instant coffee (I used decaffeinated) and sugar.  That gets set aside while you prepare the cream topping.
Next you combine cream cheese (I used 1/3 less fat) with sugar, milk and vanilla extract.  In a separate bowl you beat whipping cream until soft peaks form and then you combine those two mixtures.  I was excited to use my new spatula with a picture of a bike that the kids picked out for me.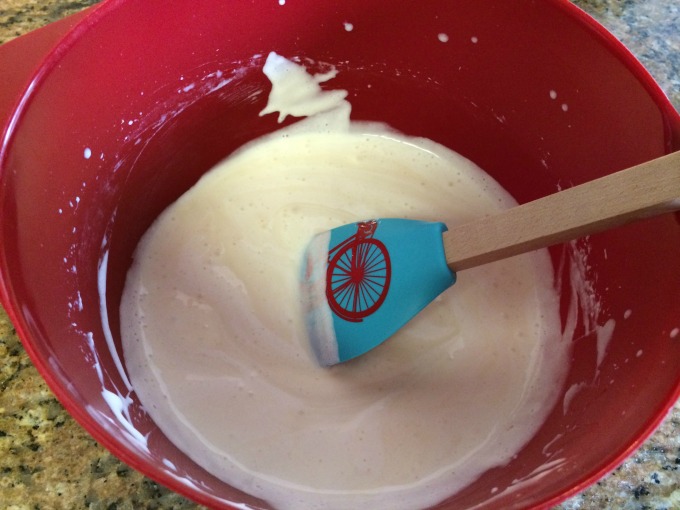 You dip the ladyfingers in the coffee mixture and then arrange them in a dish.  You want to dip them quickly and let the excess moisture drain off so your tiramisu doesn't have too much liquid.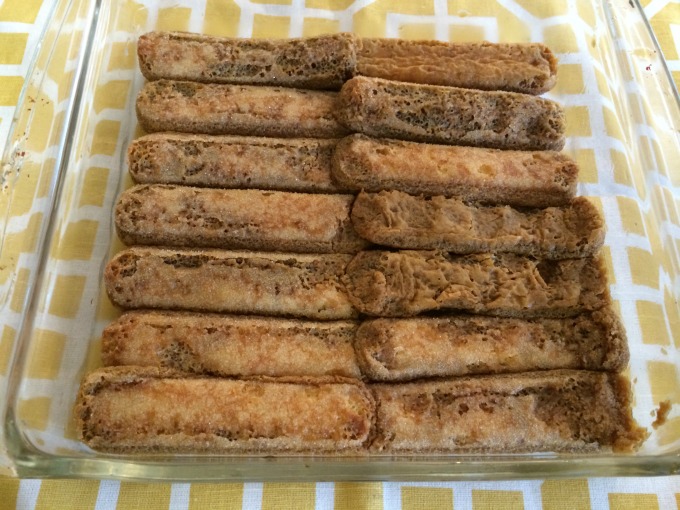 Next you spread half of the cream mixture over the ladyfingers and then repeat with another layer of cookies and cream.  You then sift cocoa powder on top and put it in the refrigerator for at least four hours.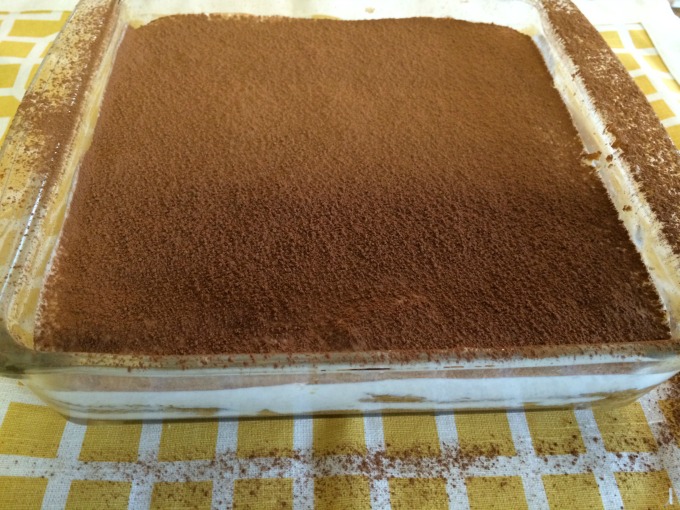 After a few hours you will have a delicious tiramisu that the whole family can enjoy.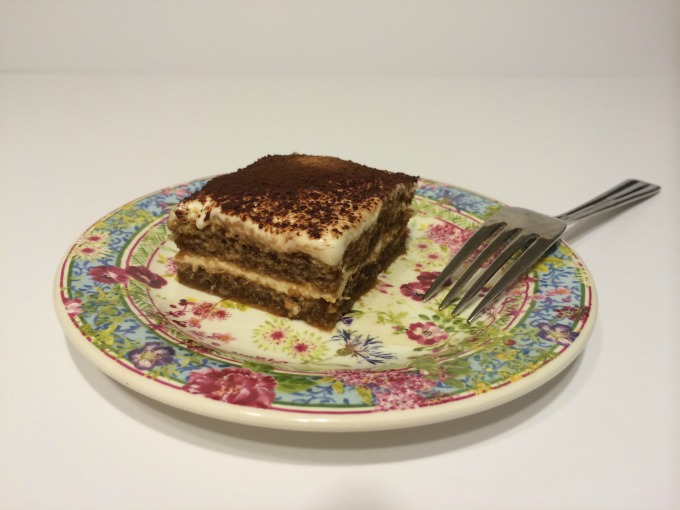 I hope you have a sweet and happy Valentine's Day filled with a lot of love and good food, of course!

Family-Friendly Tiramisu
Ingredients
2 cups boiling water
2 tablespoons instant coffee or espresso (I used decaffeinated)
2 tablespoons sugar
8 oz reduced-fat cream cheese
¼ cup sugar
¼ cup low-fat milk
1 teaspoon vanilla extract
¼ cup whipping cream
about 30 ladyfingers or how many will fit in your dish
¼ cup cocoa powder
Instructions
Combine hot water, coffee and 2 tablespoons sugar. Set aside. Using a hand mixer or stand mixer, combine cream cheese and ¼ cup sugar until fluffy. Add milk and vanilla extract until combined. Set aside. In a separate bowl, beat whipping cream until soft peaks form when beaters lifted. Fold whipping cream into cream cheese mixture. Dip ladyfingers in coffee mixture for a few seconds and then arrange in an 8x8 inch dish. Add half of cream mixture and spread across ladyfingers. Repeat with the remaining ladyfingers and remaining cream mixture. Sift cocoa on top and refrigerate for at least a few hours.