Disclosure: I received a sample of Blue Apron in exchange for a review.  All thoughts and opinions are my own.
When I talk food with people the one thing I hear over and over again is that it's challenging to make time for meal planning and food shopping.  I know so many people who enjoy cooking and eating well, but don't have the time to always make that happen.  When I heard about the service called Blue Apron which sends you recipes and ingredients, I was intrigued and wanted to try it out.  It exceeded my expectations and I couldn't wait to finish all three meals so I could tell you about it!
Here is the lowdown.  You can choose between two options: 2-Person Plan or Family Plan.  I tried out the 2-Person Plan and had three meals sent to me.  The box included three recipes cards detailing how to prepare each meal as well as all of the ingredients.  Each meal is intended to be prepared in thirty-five minutes or less and each serving is between 500 to 700 calories.  The ingredients are all fresh and seasonal.  You can set your dietary preferences so I chose the vegetarian option.  The box arrives packed on ice, so you don't have to stress if you are not home when it's delivered.  Each ingredient is clearly labeled.  Each recipe card has a picture of the finished product, an explanation about the dish, a list of ingredients and detailed step-by-step instructions for preparation.  I could not wait to get started.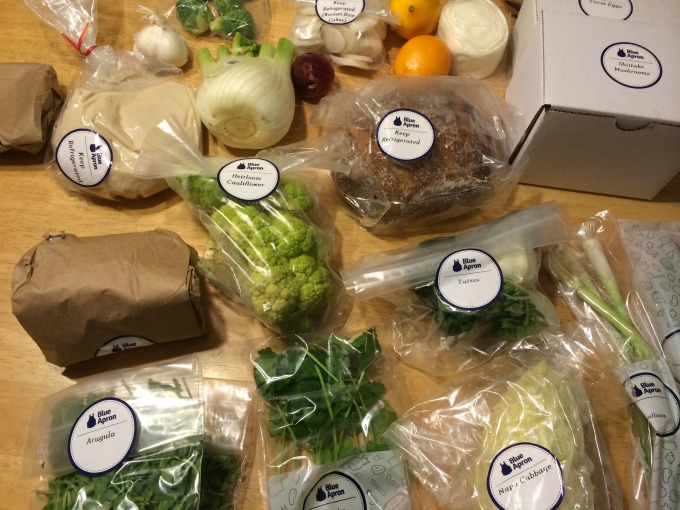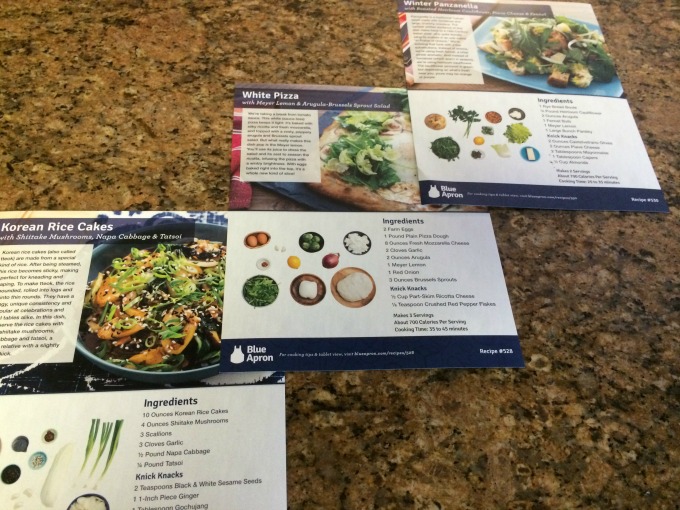 The first meal I tried was Korean Rice Cakes.  I had never tried rice cakes like this.  The recipe card explained that a special rice is steamed and, after becoming sticky, rolled into logs before being cut into rounds.  This dish was packed with vegetables I love like mushrooms, tatsoi (similar to bok choy) and cabbage.  The sauce was so flavorful.  The recipe card advised how to adjust the spiciness with an ingredient called gochujang so I kept it on the milder side of spicy.  This dish was fantastic and filling.  I don't typically make stir fry because I'm never thrilled with how it comes out so this was such a nice treat to make at home.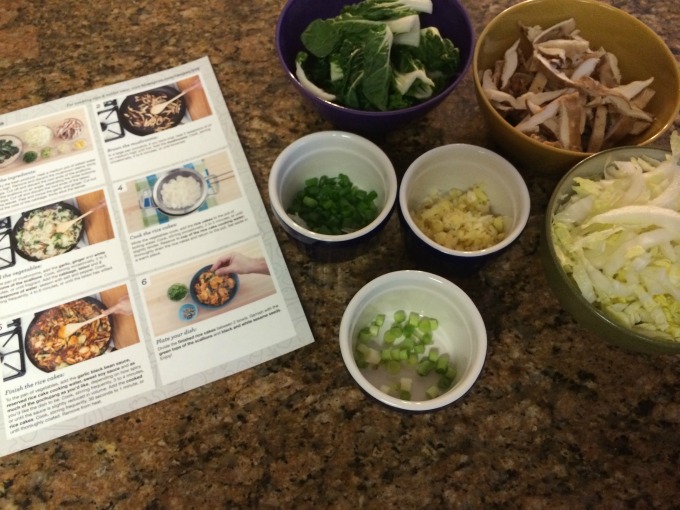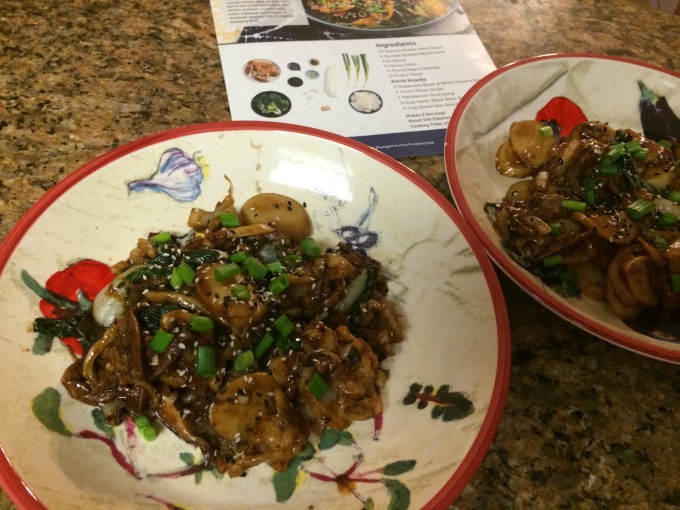 The next dish I prepared was Winter Panzanella, which is a traditional Tuscan salad made with bread and tomatoes.  Since tomatoes aren't in season they substituted cauliflower.  This is a dish that I have never made so I was looking forward to it.  You start by roasting cauliflower and then toasting bread cubes.  You make a fantastic and easy dressing out of mayonnaise, lemon juice and capers which then gets tossed with arugula, fennel, croutons, cauliflower, parsley, cheese and toasted almonds.  They included olives for this dish which I left out because it's one of the only foods I don't like.  This dish was amazing!  The dressing was so simple yet so flavorful.  I never cook with fennel and was reminded of how much I enjoy it.  I brought this as a mid-day ski lunch over the weekend and it was so filling and delicious!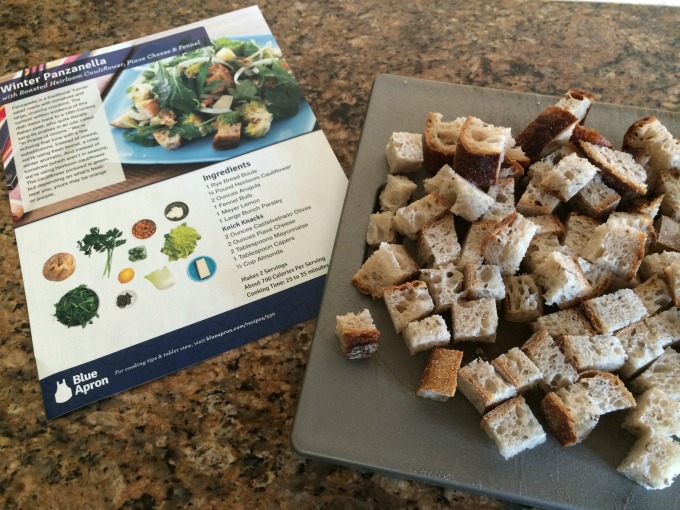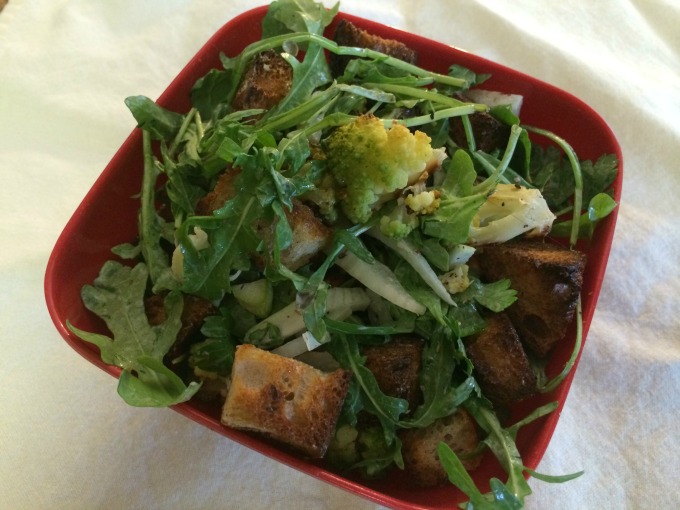 The last meal I prepared was White Pizza.  If you are a regular around here, you know that the bar is set pretty high for pizza because it's one of my favorite things to make.  For this recipe you top the dough with ricotta and mozzarella cheeses in addition to garlic and onion.  Once that cooks you remove it from the oven and add two eggs.  Yes, two eggs.  You let that cook for a little longer and then add some arugula and brussels sprouts dressed in a simple lemon and olive oil dressing.  It was a hit!  It was really good and every last crumb was devoured.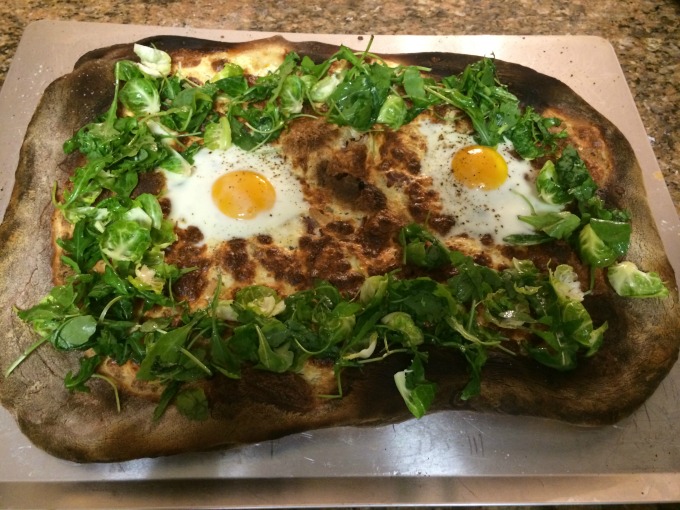 It's fairly obvious that I loved this service for a bunch of reasons:
It was so convenient having meal planning and food shopping done for me.
If you are counting calories and health conscious this is excellent since each portion is intended to be 500 to 700 calories.  I was pleasantly surprised by how filling the meals were.
It is priced right.  The 2-Person Plan is $59.94 which comes out to $9.99 per serving.  This is a great deal when you add up how much it would cost you to purchase all of the ingredients.
It took me a little longer than thirty-five minutes to prepare each meal but that was because I was cooking during the witching hour with two toddlers.  With that being said, it still took me less than an hour to prepare each meal which I thought was great.
I tried dishes I have never made before and was reminded of ingredients that I enjoy but rarely prepare, like fennel.
Overall, I think Blue Apron is a fantastic service that I would definitely use again.  Having someone else do the meal planning and food shopping is so valuable when you are short on time.   The kind people over at Blue Apron have extended a generous offer for Vegging at the Shore readers to try two free meals.  Who wouldn't want to try free meals?  To get started with the offer, click here.  I hope you enjoy the convenience and delicious meals as much as I did!