My daughter has become obsessed with soup.  I make a lot of vegetarian soups and she has it with dinner almost every night.  All winter long I keep it stocked in the freezer.  She was sick last week and ate even more soup than usual.  I realized the other day that I was out of homemade soup and when I tried to give her an organic, canned soup, she wasn't having any of it.  My soups almost all have beans so I'm thrilled for her to be getting protein every time she eats it.
In case you haven't heard, more snow is on the way to the northeast.  If that makes you want to cry, make a big pot of soup and try to enjoy it.  This soup is so simple and delicious.  I make a modified version of the original recipe using dried beans.  My mom makes a shortcut version using canned beans (directions in recipe) which cuts the cooking time down significantly.
To start, you sauté onion, garlic and some spices in olive oil for about ten minutes.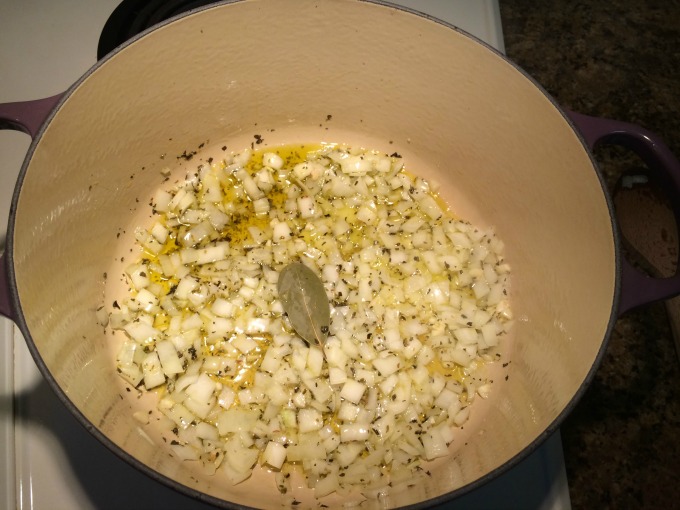 Next you add a can of pureed tomatoes and tomato paste.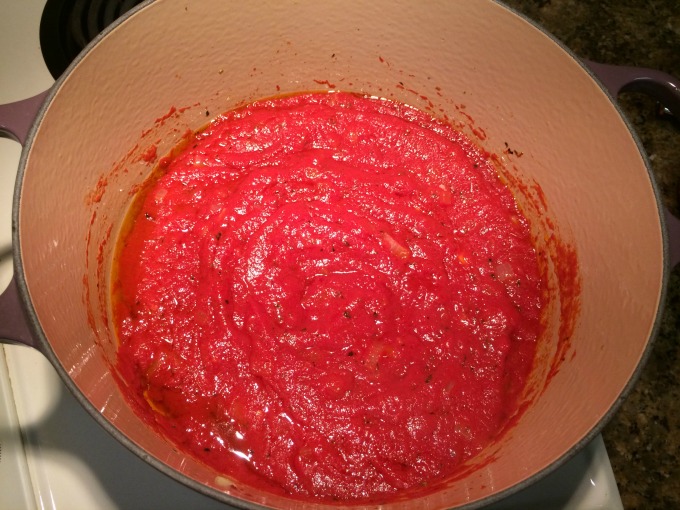 After that cooks for a few minutes you add ten cups of water and let that cook for twenty minutes.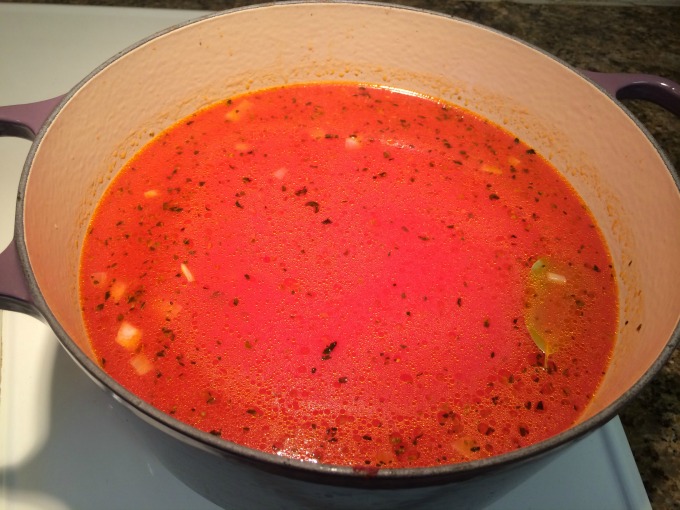 Next you add the beans along with salt and pepper.  You cover the pot and let it simmer for an hour and a half.  At the very end you add a cup of orzo and give that an additional ten minutes to cook.  Your results will be tender beans, flavorful tomato broth and a filling soup for your family to enjoy.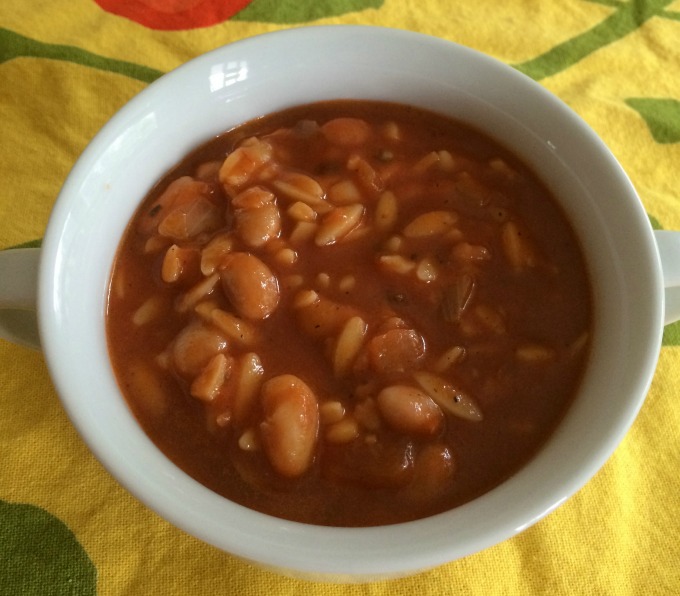 This soup freezes perfectly so stock your freezer and get ready for more snow!  For more soup recipes you can follow my soup board on Pinterest!
Follow Marci Lutsky's board Vegetarian Soups on Pinterest.

Pasta & Bean Soup
Ingredients
1 lb dried pinto beans, soaked overnight or for at least 6 hours, drained
¼ cup extra virgin olive oil
1.5 cups chopped onion
3 tablespoons minced garlic
1 teaspoon dried oregano
1 teaspoon dried basil
1 bay leaf
2 tablespoons tomato paste
1 28 oz can tomato puree
10 cups water
salt and freshly ground black pepper to taste
1 cup orzo or other small pasta
freshly grated parmesan cheese for garnish
Instructions
Heat olive oil in a Dutch oven or large soup pot over medium heat. Add onions, garlic, oregano, basil and bay leaf. Cook, stirring occasionally, until onion translucent, about 10 minutes.
Add tomato paste and tomato puree and cook another 5 minutes.
Stir in water, cover partially, and cook over medium heat for 20 minutes.
Add beans with salt and pepper to taste. Reduce heat, cover and simmer for 1.5 hours.
Add orzo and continue to simmer until pasta tender, about 10 minutes. Adjust salt and pepper. Ladle soup into bowls and garnish with parmesan cheese.
Notes
Recipe adapted from The New Basics Cookbook

If you prefer to use canned beans, use 2 cans of rinsed beans (pinto, garbanzo or cannellini beans). Reduce cooking time to 10 minutes and then add orzo.