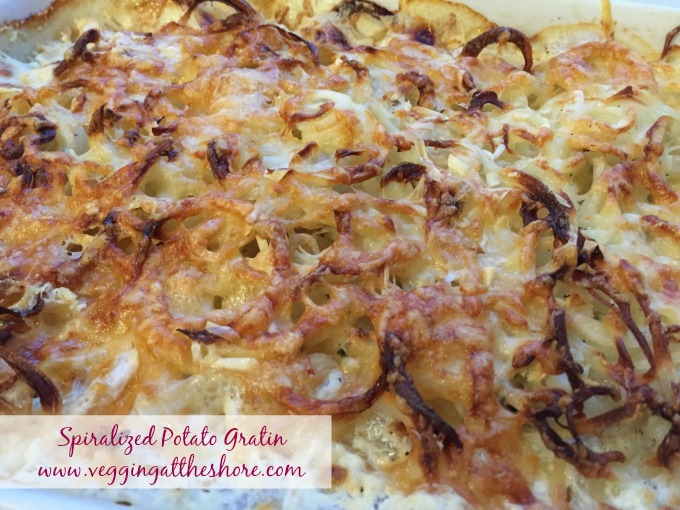 Of all the kitchen gadgets my kids love using, the spiralizer is by far their favorite.  The spiralizer makes noodles out of fruits and vegetables and it's so fun for kids to use.  We frequently make curly fries but decided to try something a little different with potatoes this time by making a spiralized potato gratin.  It was fun, easy and delicious!
The spiralizer comes with a couple different attachments so you can decide what size noodles you want.  We went with the bigger size for this dish.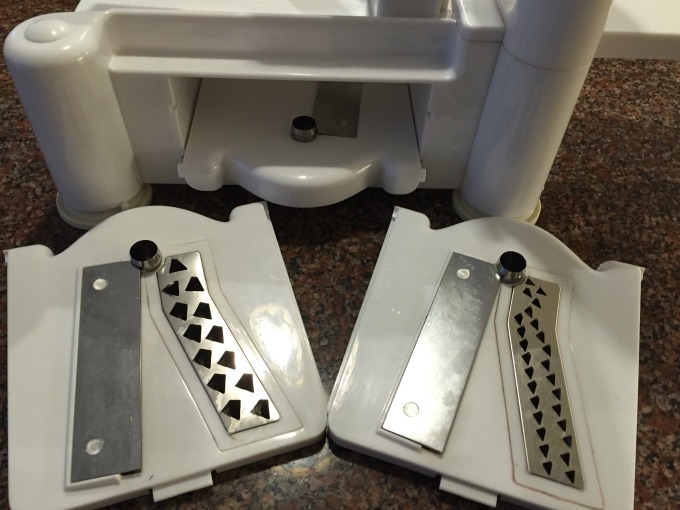 You start by peeling potatoes and cutting the ends off.  This is important as you need flat ends to attach the potatoes to the sprializer.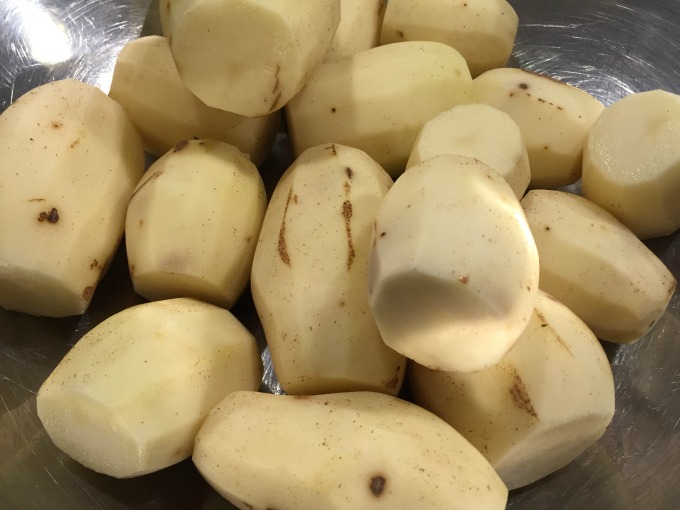 Then you are ready to start spiralizing.  When my kids do it, one turns the handle and the other holds it in place.  Want to see them in action? Check it out here.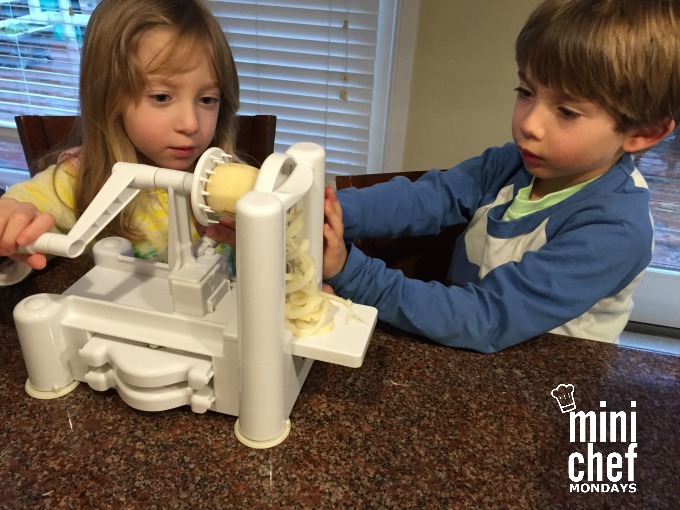 Once the potatoes are all spiralized place them in a baking dish coated in cooking spray.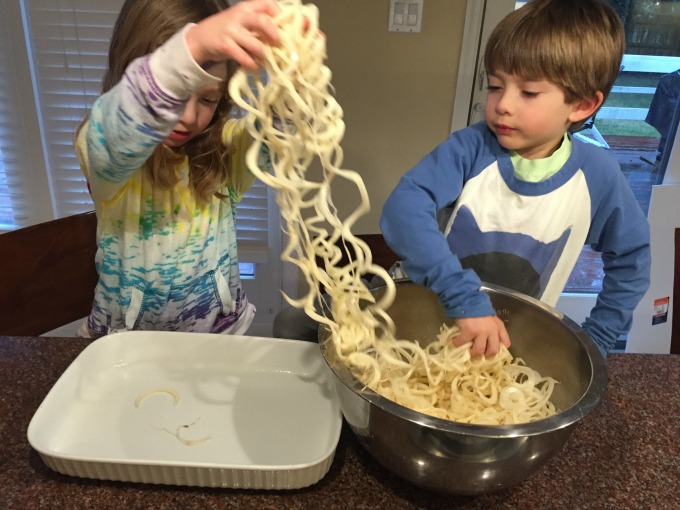 Meanwhile, you need to make the cream mixture.  This is a very easy and simple version.  If you want a creamier consistency, see the recipe notes below.  We simply heated up milk and added minced garlic, fresh chopped thyme, salt and pepper.  Pour that on top of your potatoes and top with freshly grated gruyere cheese.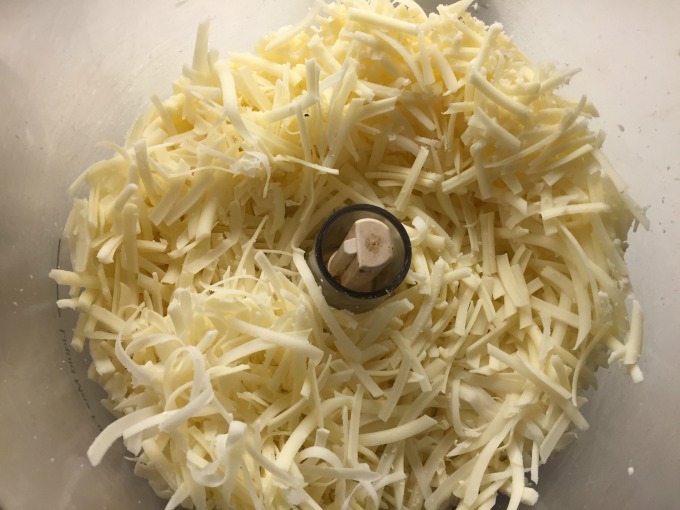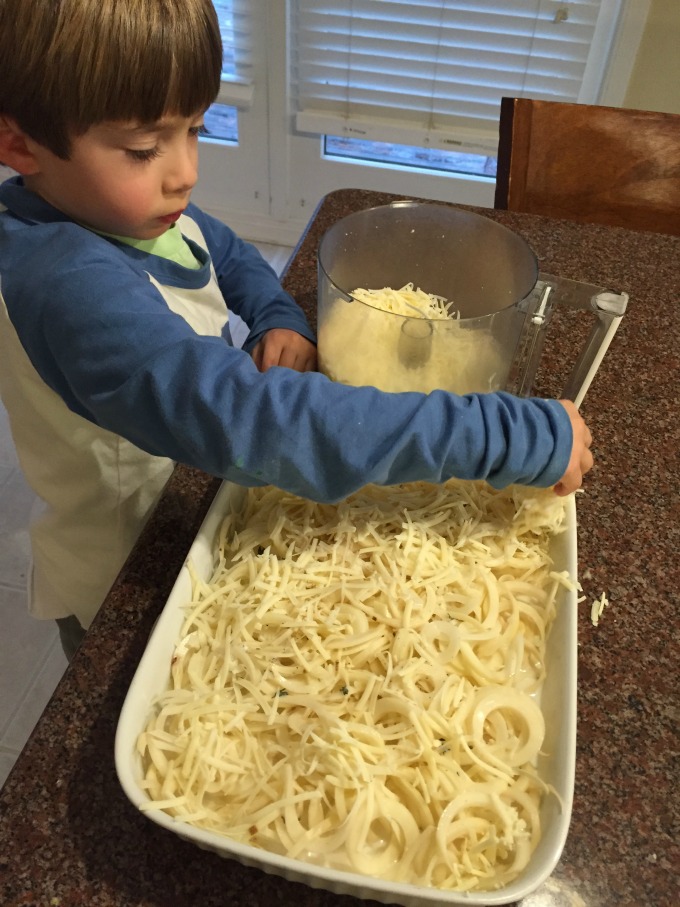 Bake that for about 45 minutes until the top is golden and the potatoes are tender.  The spiralizer I use is called the Paderno World Cuisine.  I swear by it and love it.
Spiralized Potato Gratin
Ingredients
3 lbs potatoes, peeled and ends cut off
3 cups milk (I used 2%)
2 cloves garlic, minced
1 teaspoon salt
½ teaspoon fresh ground pepper
1 teaspoon minced fresh thyme
1.5 cups freshly shredded gruyere cheese
Instructions
Preheat oven to 375. Spiralize potatoes and place in a greased 9x13 inch baking dish. In a small saucepan combine milk, garlic, salt, pepper and thyme. Heat just until warm but not bubbling. Pour milk mixture over top of spiralized potatoes. Sprinkle cheese on top and cook for about 45 minutes, until cheese is bubbling and potatoes are tender. Let cool slightly and serve.
Notes
If you want a creamier dish, melt 1 tablespoon of butter in saucepan over medium heat. Add ¼ cup of flour and when that is blended, add milk, garlic, salt, pepper and thyme. Stirring continuously, heat until bubbling and sauce thickens.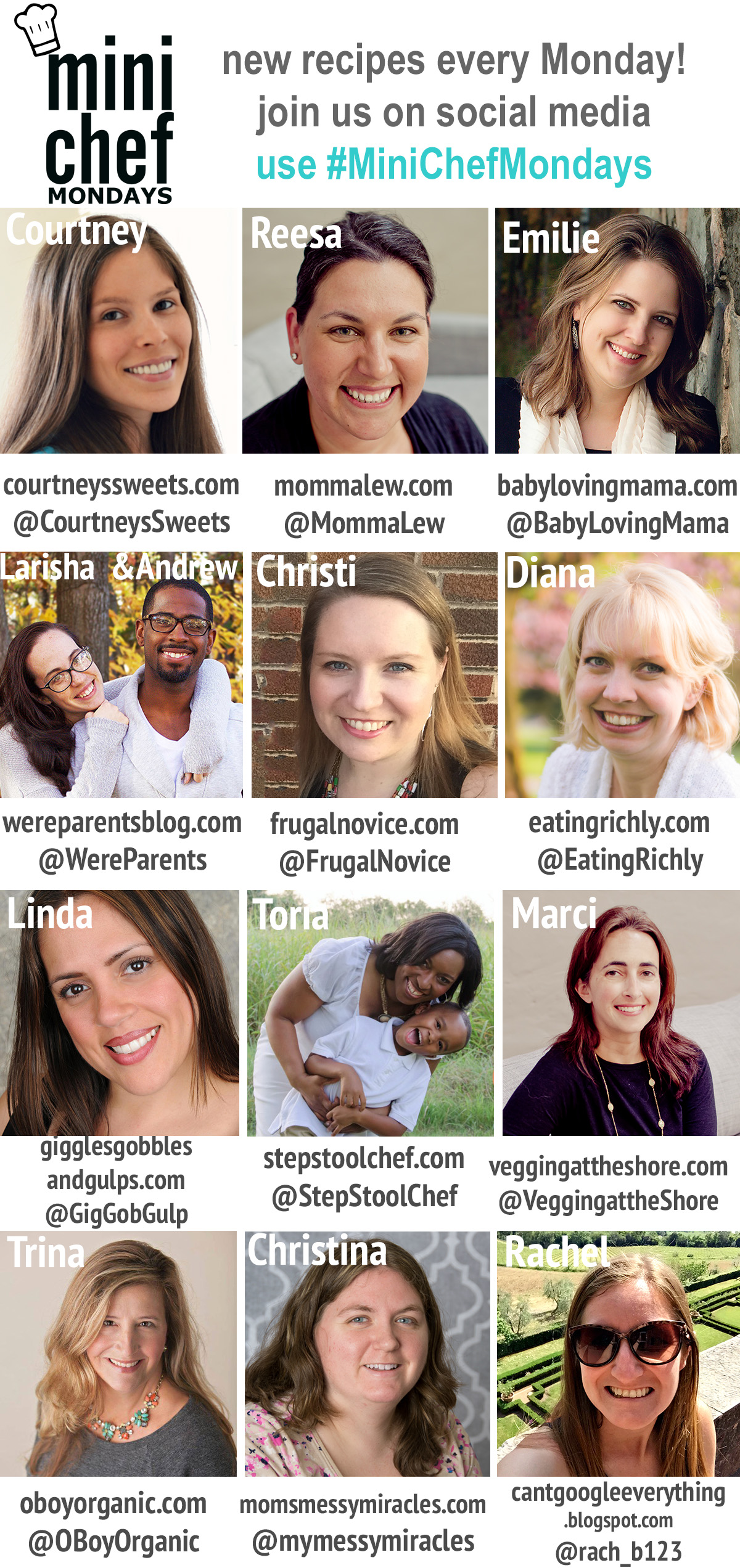 I am hosting Mini Chef Mondays along with 11 fabulous bloggers! Read how Mini Chef Mondays started and how to link up!

Be sure to check out each of their Mini Chef posts as well. We would love it if you would share your Mini Chef posts with us each week, too! Follow along socially and join in on the fun by using our hashtag #MiniChefMondays to share creations your mini chef created in the kitchen. Additionally, if you have a kid-friendly recipe that kids can easily recreate, link up! Don't have a blog? Share the URL of your instagram photo in our linky below.