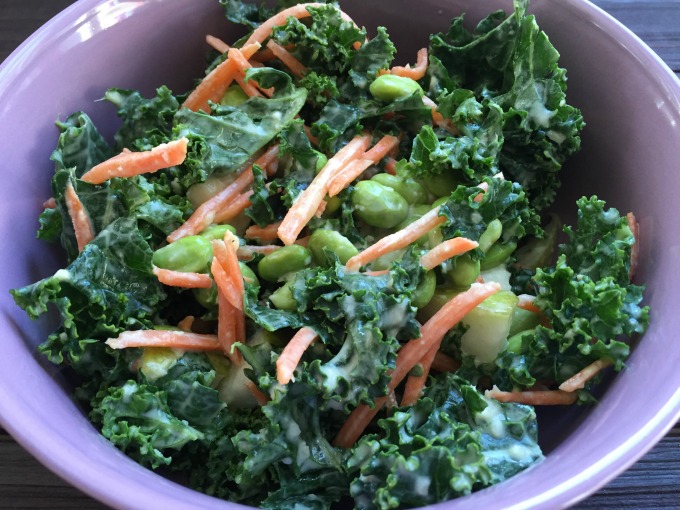 My twins are in their last year of preschool which is impossible to believe.  While I know they are ready for kindergarten next year, I'm savoring this last year of having them with me.  They go to preschool three days a week so we have two days to fill.  We often schedule playdates.  I love hosting playdates because it gives me an opportunity to make a yummy lunch for a mom friend.  For most stay at home moms, lunch consists of whatever they can quickly grab.  I love to treat my mom friends to a bit of a more special lunch.  I recently had my friend and her two kids over and made a delicious salad.  She texted me the next day for the recipe so I knew it was a winner.  It's really simple and quick to make, with tons of variations.
You start with a bunch of kale.  I seriously love kale.  Not just because it's trendy, but because it's a sturdy and filling green that holds up well to salad dressing without getting wilted.  If you are new to using kale in salads, there is one major thing to know.  You need to massage it.  Yup, give it a good massage for a couple minutes.  This softens and mellows it.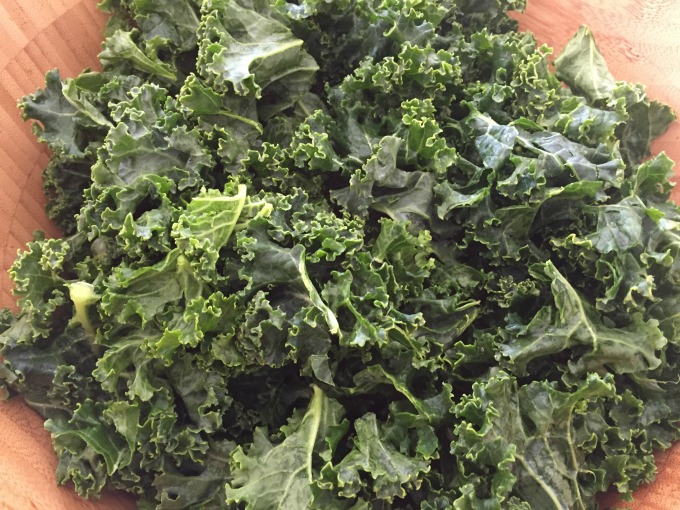 Next add some diced pears, shredded carrots and edamame.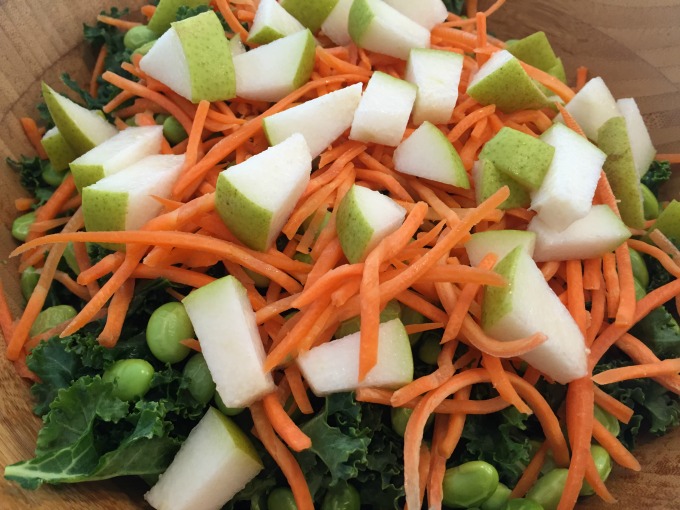 Next comes the part that makes this salad really special, the dressing.  I discovered this dressing a few years ago in the Smitten Kitchen Cookbook and it instantly became a favorite.  It's hands down my favorite homemade dressing.  So creamy and perfect.  I always use the bottom part of my Cusinart immersion blender for dressing.  So simple and easy to clean.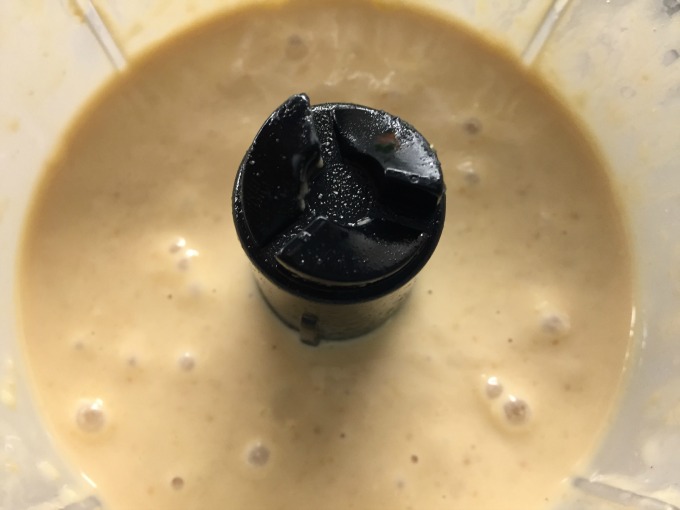 Add whatever you want to this salad, but I love the mix of pears, carrots and edamame.  Next time you are looking for a grownup lunch salad, give this a try.  The dressing is so good, kids will love it too!
Pear Kale Salad with Tahini Miso Dressing
Ingredients
1 bunch of kale
1 pear, diced
1 cup shredded carrots
1 cup edamame, thawed
1 tablespoon minced fresh ginger
1 garlic clove, minced
2 tablespoons white or yellow miso
2 tablespoons tahini
1 tablespoon honey
1/4 cup rice vinegar
2 tablespoons toasted sesame oil
2 tablespoons vegetable or olive oil
Instructions
Place kale in a salad bowl and massage it until it starts to darken and soften. Add pears, carrots and edamame.
In a blender or food processor combine ginger through oil. Add dressing to salad and toss.
Notes
Dressing recipe adapted from The Smitten Kitchen Cookbook
7.8.1.2
9
http://veggingonthemountain.com/2016/04/pear-kale-salad-tahini-miso-dressing/