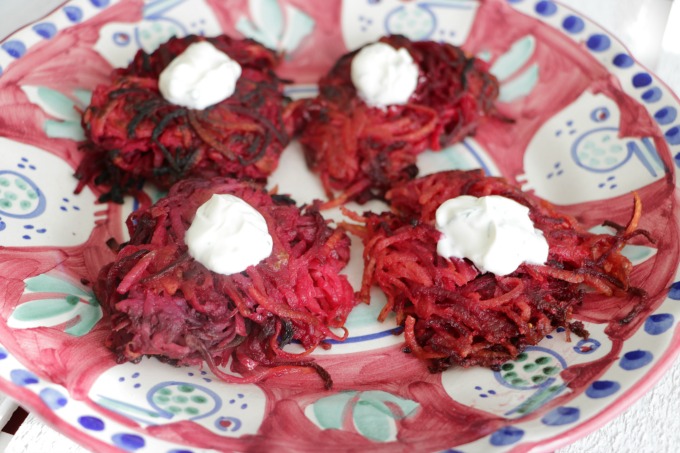 When I think of Chanukah food the first thing that comes to mind is latkes.  While I love traditional potato latkes (really who doesn't), we decided to change it up a bit this year.  Beets are very popular in my house so we added some to our tried and true recipe for beautiful and delicious beet latkes.  Top them with a simple dill sour cream sauce for a new spin on a Chanukah tradition.
You can grate the potatoes and beets by hand but if you have a food processor it will go much faster. My kids love to use the food processor and if supervised, it's perfectly safe for them to operate.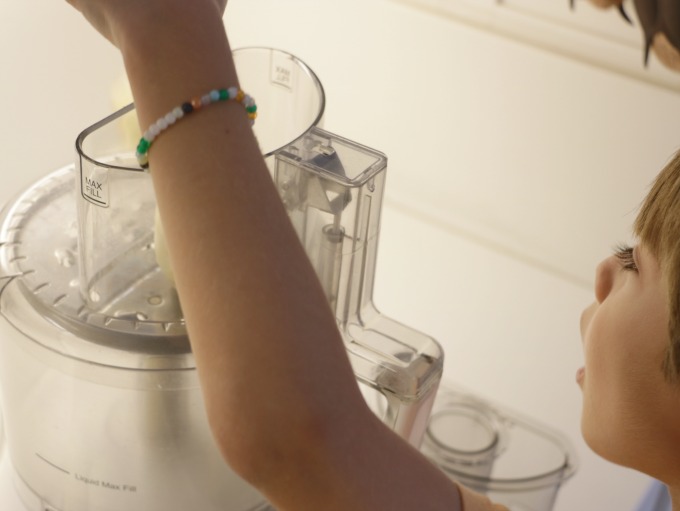 Once you have squeezed the excess liquid from the potatoes and beets, add them to a bowl along with matzoh meal (or flour), egg, salt and pepper.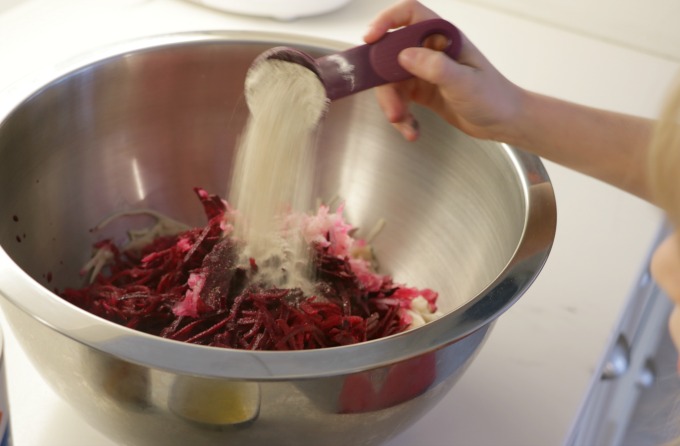 Next comes the fun part, frying!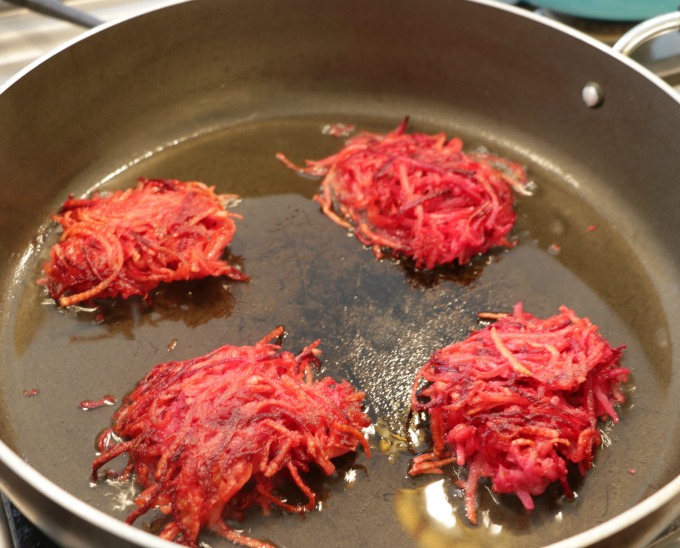 I like my latkes extra crisp so I put them in the oven for a few minutes after frying.  You could top these with traditional applesauce but we went with a sour cream, dill and lemon sauce that was just perfect.  If you want to try something a little different this year with your latkes, add some beets. Happy Chanukah!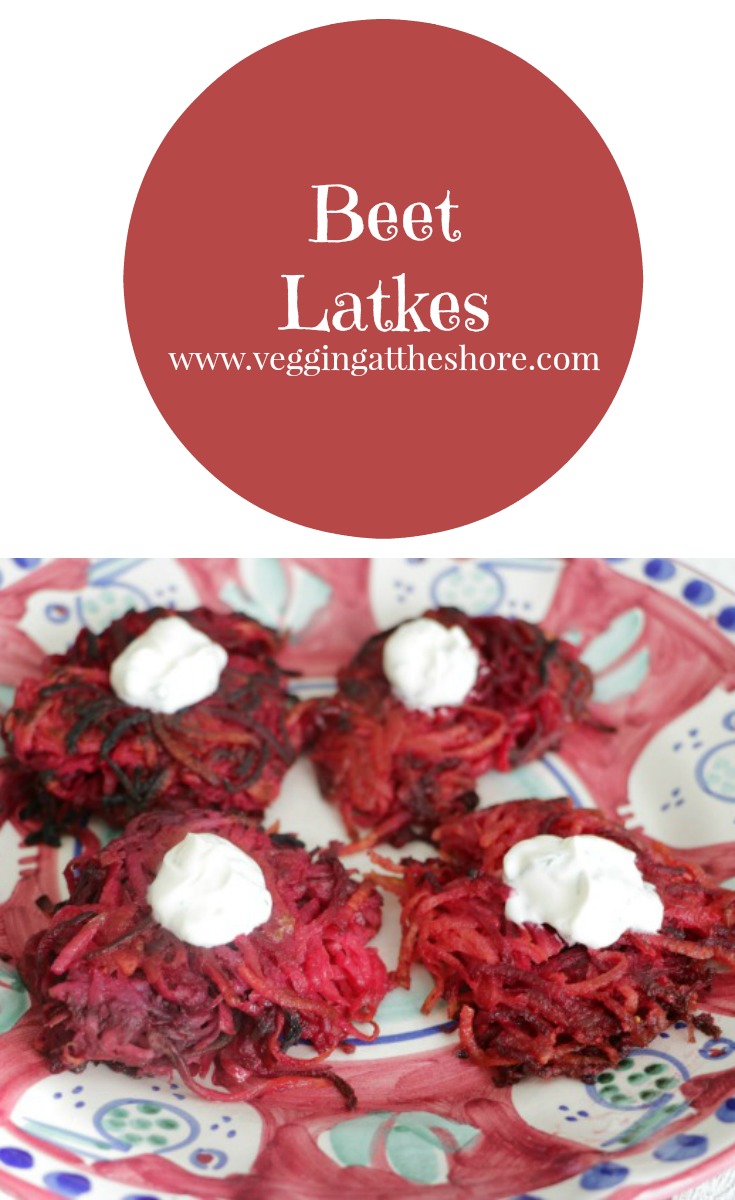 Ingredients
3 potatoes, peeled and cut into quarters
3 beets, peeled
1 yellow onion, peeled and cut into quarters
1 tablespoon matzoh meal or flour
1 egg beaten
1 teaspoon salt
1/2 teaspoon pepper
vegetable oil for frying
1 cup sour cream
juice of half a lemon
1 tablespoon chopped fresh dill
Instructions
Preheat oven to 300. Shred potatoes and beets. The easiest way is to use the shredding blade of a food processor. Place shredded potatoes and beets in a colander for 15 minutes and squeeze out any excess liquid. Place potatoes and beets in a bowl. Shred the onion and add to bowl along with matzoh meal, egg, salt and pepper. Stir together.
Heat a large skillet over medium heat. Add enough oil to coat the bottom of the pan. Form latkes with your hands, squeezing out extra liquid and then gently drop into hot oil. Continue with as many as will fit in the pan. Fry the latkes until they are brown and then flip, about 3 minutes per side. Remove latkes from pan and place on a paper towel to drain excess oil. When all latkes have been fried, place them on a parchment lined baking sheet and cook in the oven for 5 minutes to get them extra crispy.
In a small bowl combine sour cream, lemon juice and dilll. Serve alongside latkes.
7.8.1.2
76
http://veggingonthemountain.com/2016/12/beet-latkes/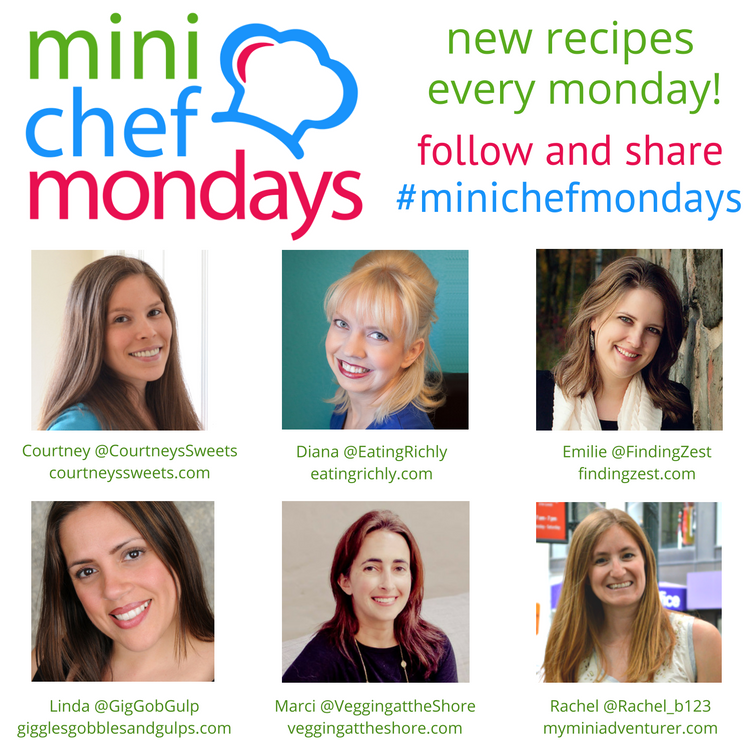 I am hosting Mini Chef Mondays along with 5 fabulous bloggers, find out more about the Mini Chef Mondays Team!
Join our facebook group to find even more recipes and share recipes too!
Get featured and follow us too!
Be sure to check out each of their Mini Chef posts as well!