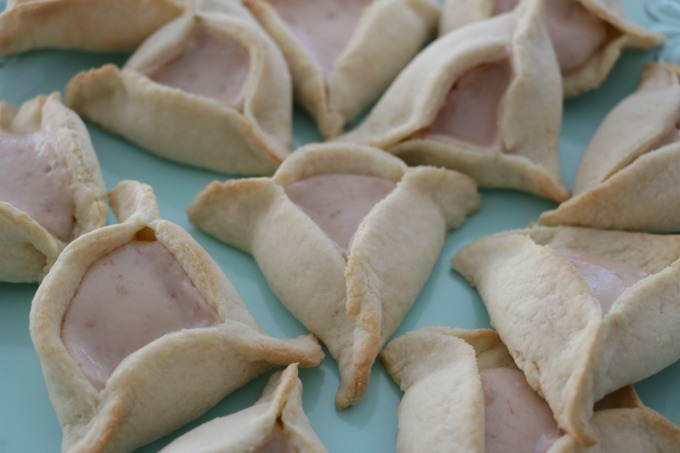 Last year we shared a recipe for Easy to Make Hamantaschen.  In that recipe we used traditional fillings with a non-traditional dough.  This year we went with a non-traditional filling and a traditional dough.  These raspberry cheesecake hamantaschen will make for a fun and festive Purim celebration!
Making hamantaschen dough is quick and simple with the use of a stand mixer.  We whisked together dry ingredients in a bowl and added them to our wet ingredients.  Once we were happy with the consistency of our dough, we wrapped it and chilled it for a few hours.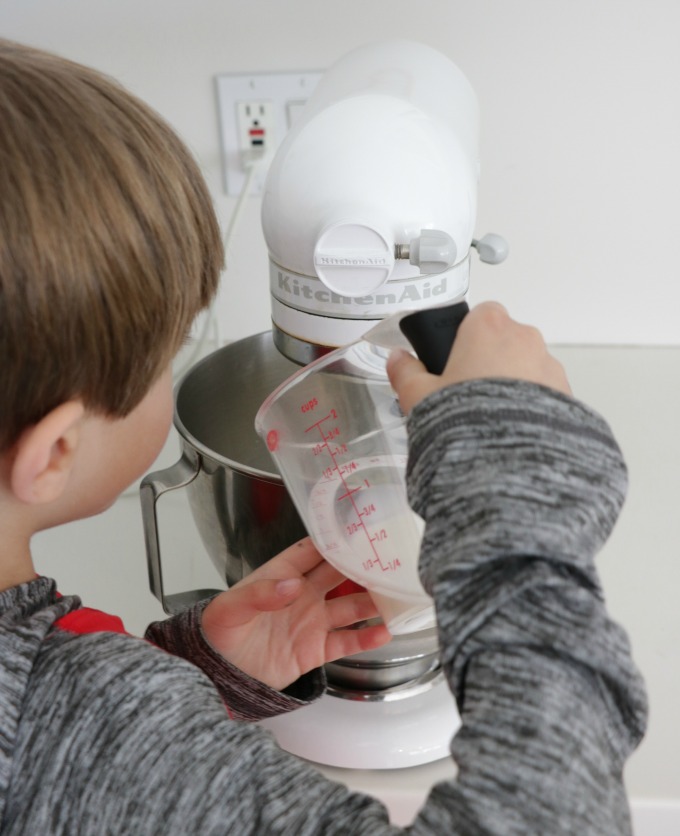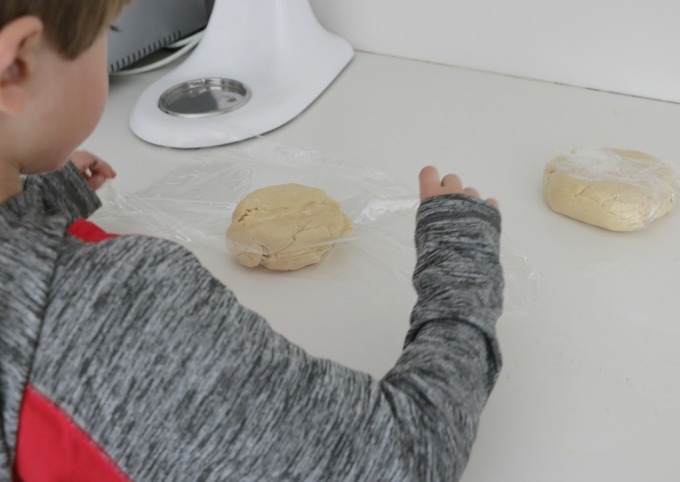 To make our filling we combined cream cheese, sugar, vanilla extract and raspberry preserves.  The filling is so good that you could just eat it with a spoon.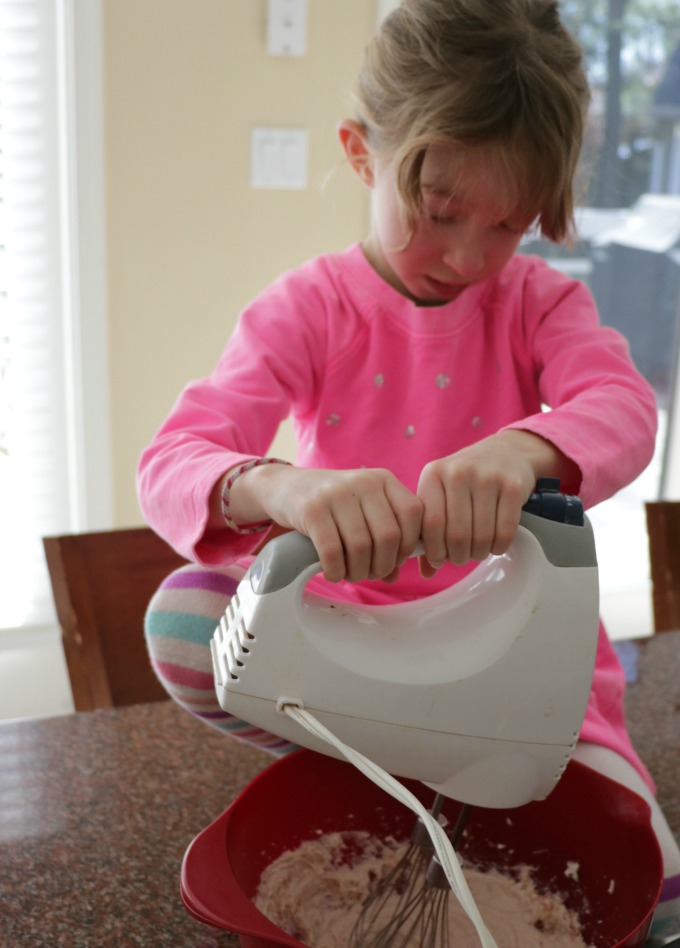 Now comes the fun part, rolling out the dough.  My kids each have their own mini rolling pin which gets a lot of use in my house.  You want the dough to be about 1/4″ thick.  Using a glass or round cookie cutter, make circles.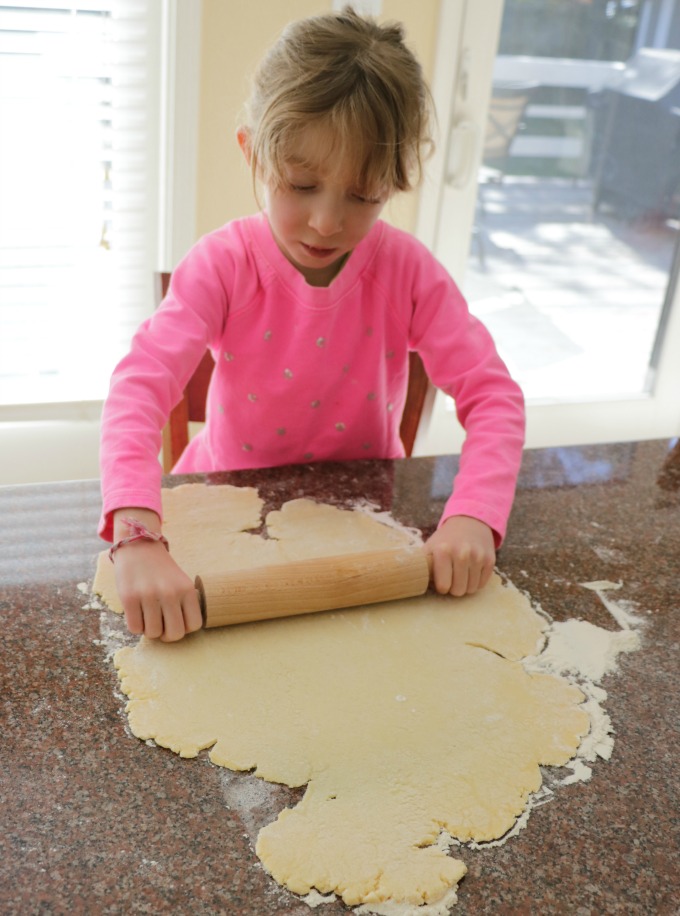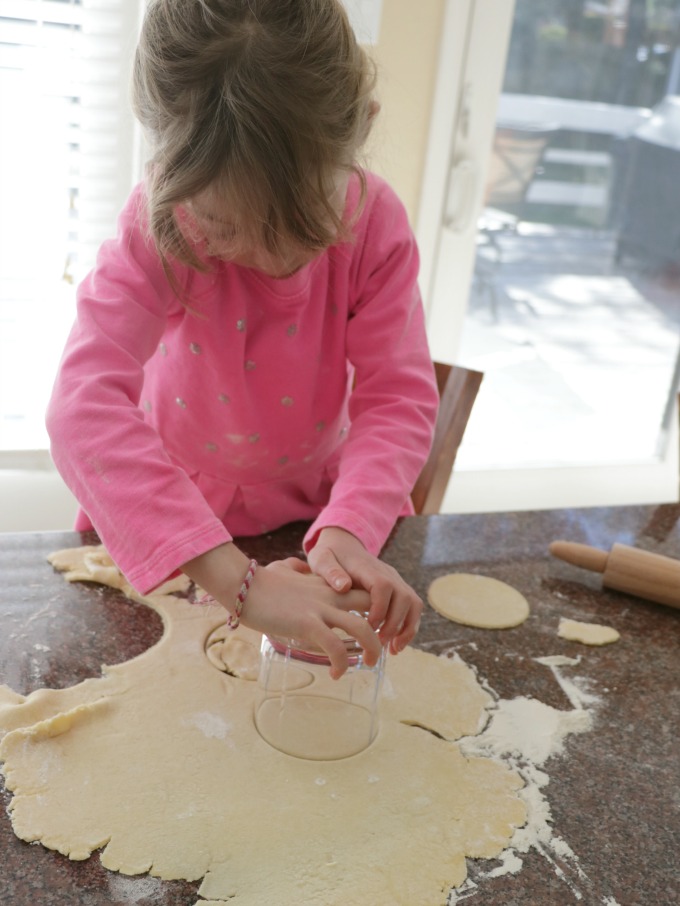 Add a spoonful of filling to each circle and then fold the sides up, pinching together three corners.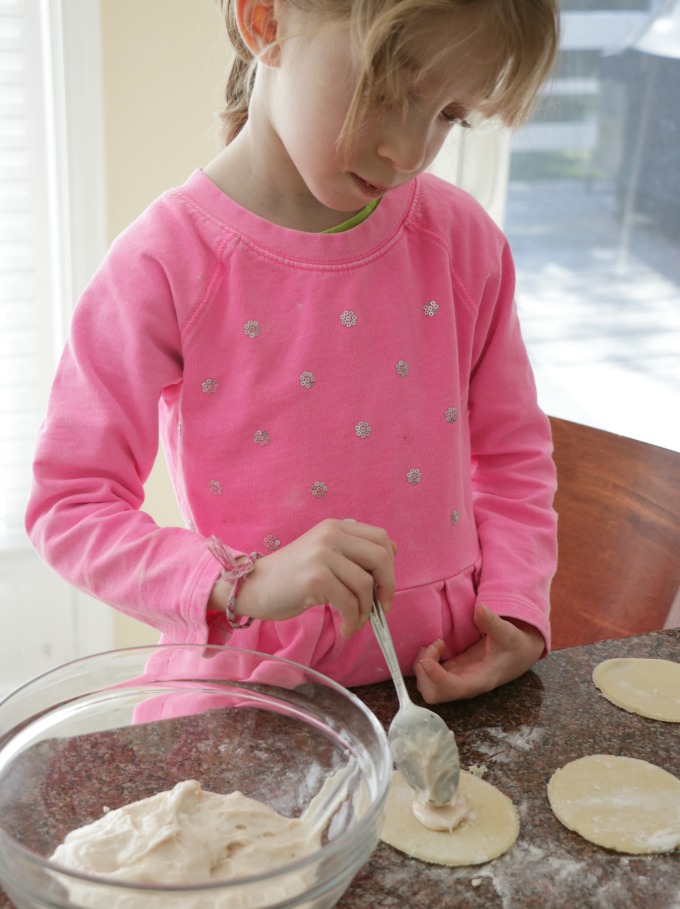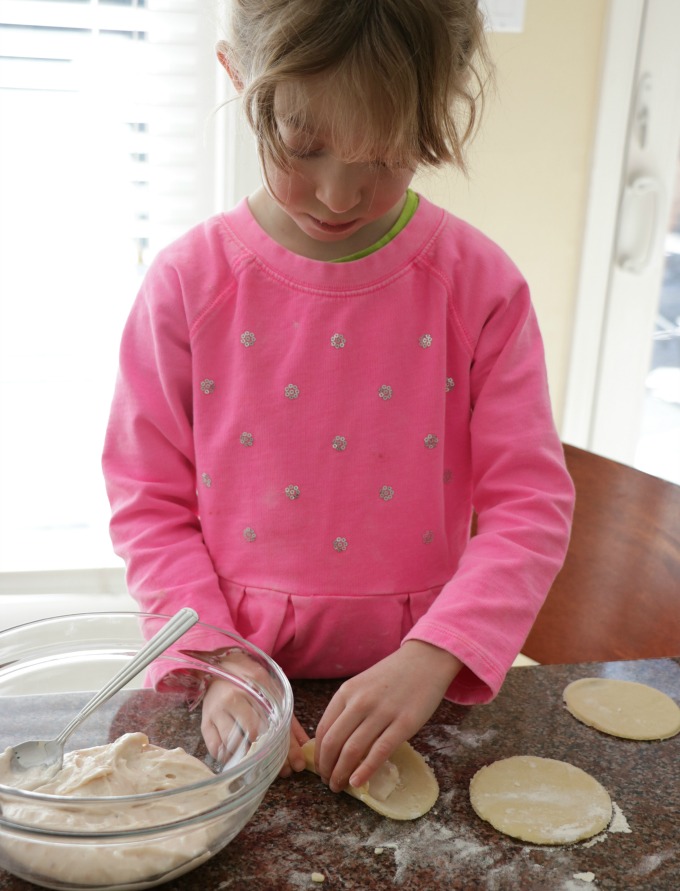 Bake those for about 10 minutes until they start to brown.  Let them cool and then watch them disappear.  They are such a fun variation on a traditional Purim treat!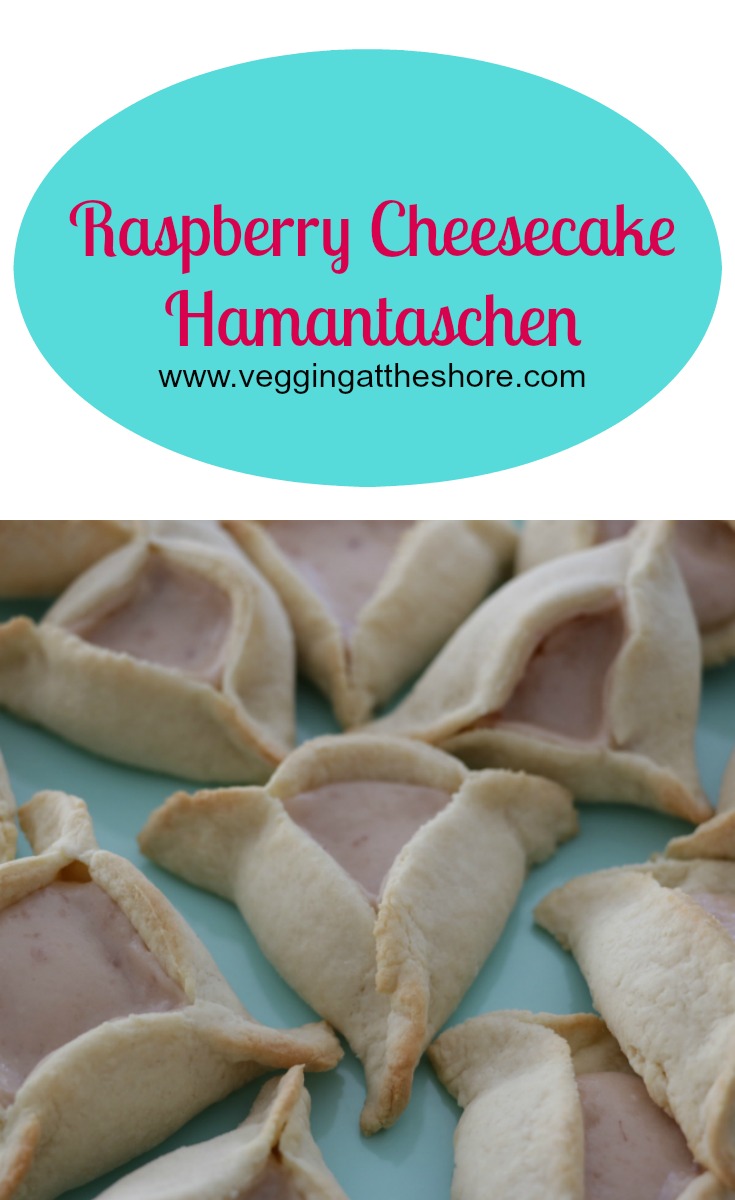 Raspberry Cheesecake Hamantaschen
Ingredients
3 cups all-purpose flour
2 teaspoon baking powder
1/4 teaspoon salt
1 stick unsalted butter, softened
1/2 cup granulated sugar
1 egg
1/4 cup milk
1 teaspoon vanilla extract
1 8 oz block cream cheese
1/4 cup granulated sugar
1 teaspoon vanilla extract
1/2 cup raspberry preserves
Instructions
In a mixing bowl whisk together flour, baking powder and salt. Set aside.
In the bowl of a stand mixer combine butter and 1/2 cup sugar until light and fluffy. Add the egg and mix for a minute. Mix in milk and 1 teaspoon vanilla extract. Slowly add in dry ingredients until ball of dough forms. Divide dough in half and wrap each ball in plastic wrap. Flatten to a disk and refrigerate for about an hour.
Preheat oven to 350. Let dough soften on counter for about 10 minutes. Combine cream cheese, 1/4 cup sugar, 1 teaspoon vanilla extract and raspberry preserves using an electric mixer or stand mixer. Set aside.
On a well-floured surface roll out 1 ball of dough to about 1/4" thick. Using a round cookie cutter or glass rim, cut out circles. Place one spoonful of cheesecake mixture in the middle of each circle. Pinch the edges to form three corners. Arrange hamantaschen on a parchment lined baking sheet and cook for about 10 minutes, until they start to brown.
7.8.1.2
88
http://veggingonthemountain.com/2017/03/raspberry-cheesecake-hamantaschen/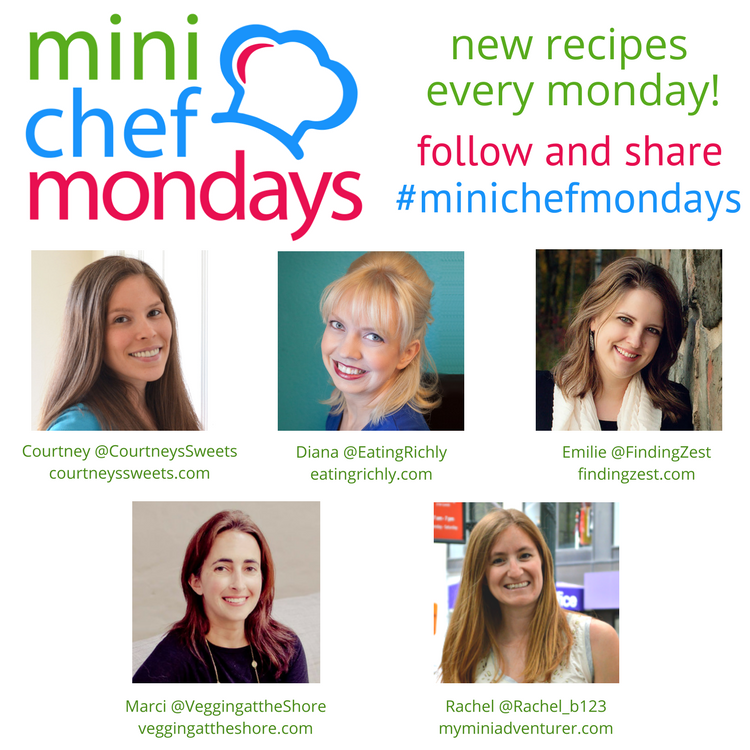 I am hosting Mini Chef Mondays along with 4 fabulous bloggers, find out more about the Mini Chef Mondays Team!
Join our facebook group to find even more recipes and share your own recipes!
Get featured and follow us too!
Be sure to check out each of their Mini Chef posts as well!