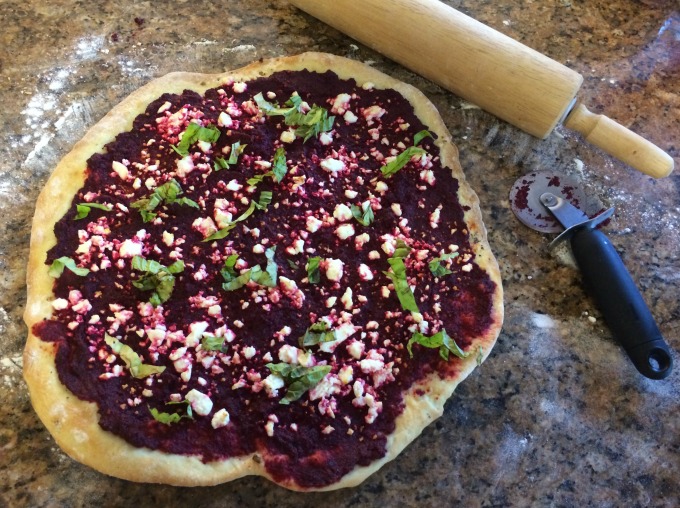 Every Sunday I plan my menu for the week and always ask my husband (and now kids) if they have any requests.  I don't know why I bother asking my husband because he always has the same answer, pizza!  The first time I made this beet pesto pizza I learned a quick lesson-one is not enough.  This pizza is so good, especially this time of year when I've been getting beautiful beets in my CSA box from Jah's.  There will be more pizza recipes coming on the blog, but this one is hands down the favorite in my house.
I adapted the recipe from one of my favorite blogs, Dishing up the Dirt.  The original recipe calls for boiling the beets but I think it's much easier to roast them, which also leaves you with one less pot to clean.  My kids helped wrap the beets in foil to prepare for roasting, make the pesto in the food processor and roll out the pizza dough.
You can certainly buy pizza dough in the store but making it is so easy.  My tried and true dough recipe comes from another of my favorite blogs, Smitten Kitchen.  I usually make a double batch and if I'm only making one pizza, freeze the leftover dough.
Besides being incredibly tasty and and colorful, the other remarkable thing about this pizza is that my three year old twins gobble it up.  This is particularly amazing if you know our story.  Our twins were born at 30 weeks and each weighed 3 lbs at birth.  Eating and gaining weight have been a challenge for our daughter.  There was a time when the only solid food she ate was pureed avocado with formula.  Fast forward three years and here she is eating beet pesto pizza, something I never imagined I would see (without the goat cheese and basil because she still is a picky three-year-old of course).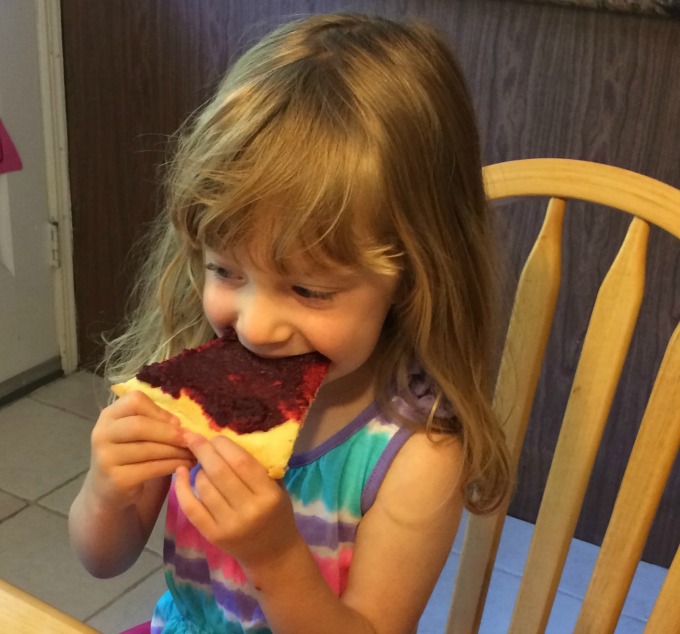 If you make this pizza for your friends or family, I highly recommend making more than just one. Enjoy!
Beet Pesto Pizza
Adapted from Dishing up the Dirt
Ingredients
1 ball of pizza dough
3.5 oz crumbled goat cheese
1 small bunch of fresh basil, finely chopped
For the pesto:
1 bunch of purple beets (I usually use 4 medium sized beets)
olive oil for brushing beets
3 cloves of garlic, minced
¼ cup of toasted walnuts
¼ cup of freshly grated parmesan cheese
2 tablespoons of fresh lemon juice
¼ cup of extra virgin olive oil
pinch of salt and pepper
Instructions
Preheat oven to 400. Brush beets with olive oil and wrap in aluminum foil. Roast in oven for one hour or until very soft. When cool enough to handle, cut the beets into one inch pieces.
Increase oven to 425 and let pizza stone heat for at least 30 minutes. To make pesto, in food processor combine beets and rest of pesto ingredients (garlic through pepper).
Roll out pizza dough. Remove pizza stone from oven and sprinkle with cornmeal (this helps the dough get crispy). Place dough on pizza stone. Spread a layer of beet pesto over the dough. Add crumbled goat cheese. Bake in oven for 13-15 minutes or until dough lightly browned and cheese melted. Remove from oven, sprinkle with chopped basil and enjoy!
Notes
I usually can make at least 2 pizzas from 1 batch of pesto. If you have leftover pesto, you can freeze it. I also sometimes make quesadillas with leftover pesto and goat cheese.