Homemade pizza is a staple in my house. It's probably on the menu once a week because pizza works well for a mostly vegetarian kitchen. When I'm out, I like a traditional pizza, but at home I try to come up with interesting combinations. This pizza has been on my mind for awhile and today I finally made it. It was everything I was hoping it would be and more.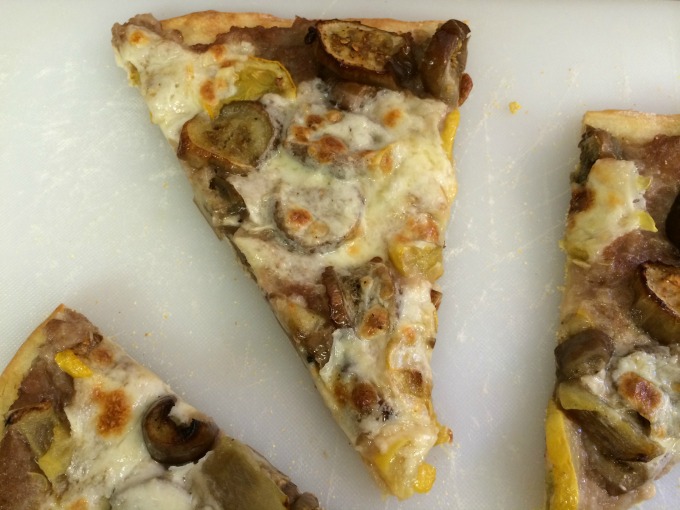 In my mind pizza basically has three components: the dough, the sauce or base layer and the toppings. I have a standard dough recipe that is committed to memory because I've made it so many times. Yes, you can easily buy dough in the grocery store, but making your own takes just a few minutes and always tastes better.
I went with a caramelized onion sauce as the base layer. I sliced six large sweet red onions. I heated up butter and olive oil and cooked the onions for about a half hour until the kitchen smelled incredible and the onions were starting to brown. I added some balsamic vinegar and a small bit of agave. Once they had cooled a bit, I put the onion mixture in the food processor with a dash of salt and blended until smooth. The result, sweet oniony perfection! Do mind the quality of oil that you use, because it can affect the overall taste in the end. You can consider getting it from a reputed brand like Gundry MD (see Gundry MD Olive Oil reviews).
While the onions were cooking I roasted some squash, eggplants and peppers from my CSA, Jah's.
When I was ready to assemble the pizza, I heated my pizza stone for about forty-five minutes. This helps the dough get crispy. I rolled out the dough, transferred it to the pizza stone with cornmeal, slathered on the onion spread, sprinkled the roasted vegetables and topped it with mozzarella cheese. Not just any mozzarella cheese of course. I had picked up some sea salt mozzarella at my local farmers market from Tony Boloney's. It was so tasty and flavorful for this pizza.
I always make two pizzas because one is just never enough. The caramelized onion spread is a standout in this recipe and could be used in so many other ways. I loved creating this pizza which will now go into the regular rotation.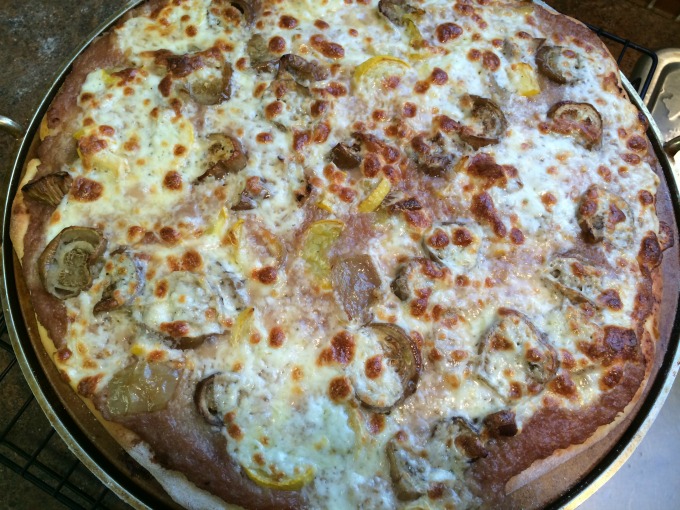 Roasted Vegetable Pizza with Caramelized Onion Sauce
Ingredients
6 large red onions, peeled and sliced
1 tablespoon unsalted butter
1 tablespoon extra virgin olive oil
1.5 tablespoons balsamic vinegar
1 teaspoon agave nectar
1 teaspoon salt
assorted vegetables for roasting (I used squash, eggplants and peppers)
1 tablespoon of extra virgin olive oil
1 teaspoon salt
1 teaspoon pepper
pizza dough
cornmeal for dusting
mozzarella cheese (fresh is best but shredded packaged can also be used)
Instructions
Heat butter and olive oil in a heavy skillet over medium high heat. Add onions and cook for about half hour, stirring frequently, until browned and caramelized. Stir in balsamic vinegar, agave and salt. Transfer onion mixture to a food processor and process until smooth.
Heat oven to 450. Slice vegetables and toss with olive oil, salt and pepper. Add vegetables to foil lined and sprayed baking sheet. Roast for about 30 minutes or until soft and starting to brown.
Preheat pizza stone for about 45 minutes at 450 before cooking pizza. Dust cornmeal on heated pizza stone. Roll out pizza dough and transfer to heated pizza stone. Spread onion mixture on dough and sprinkle with roasted vegetables. Top with mozzarella and cook for about 15 minutes until dough is crispy and cheese starting to brown and bubbling.
Notes
The onion mixture will make enough for two pizzas and leave some left over.