This recipe came to me on a whim one night when I opened the refrigerator to assess it's contents.  I saw some tofu, leftover capers from deviled eggs, lemon and parsley.  Back in the day before my husband became a vegetarian and I used to cook chicken, one of my go-to easy dishes was chicken piccata.  I figured why not swap out chicken for tofu.  It was fantastic, not to mention quick and inexpensive.  If you are going to be entertaining this holiday season, chances are that you will have at least one vegetarian at your table.  This dish would be perfect for company and might even turn meat-eaters into tofu-lovers!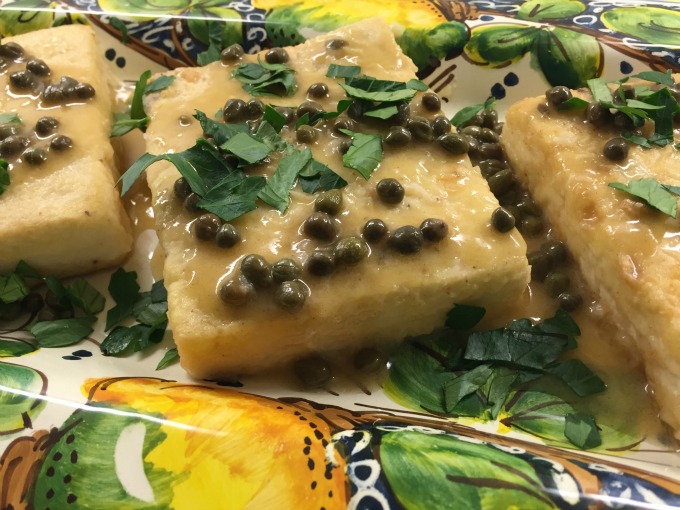 You start with two blocks of extra-firm tofu.  You want to drain as much moisture from the tofu as possible.  To do this I usually wrap the tofu blocks in paper towels and set them under a heavy book for about five minutes.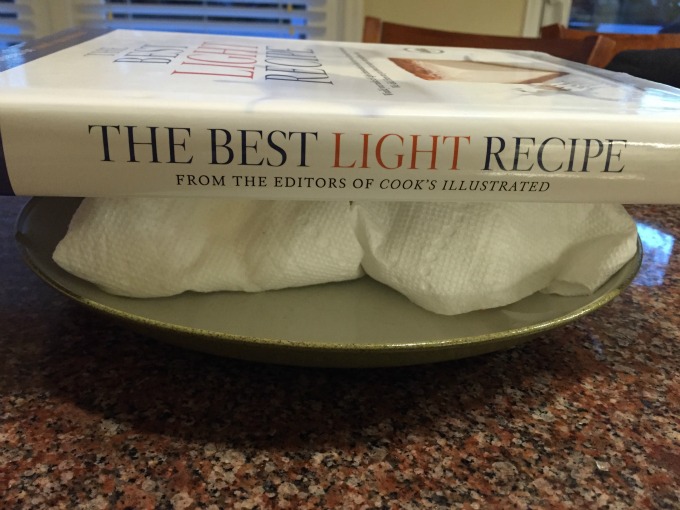 Next you heat some oil and butter in a skillet.  Cut the blocks in half crosswise and dredge them in flour.  Add them to the pan and cook on each side for about three minutes until the tofu starts to brown.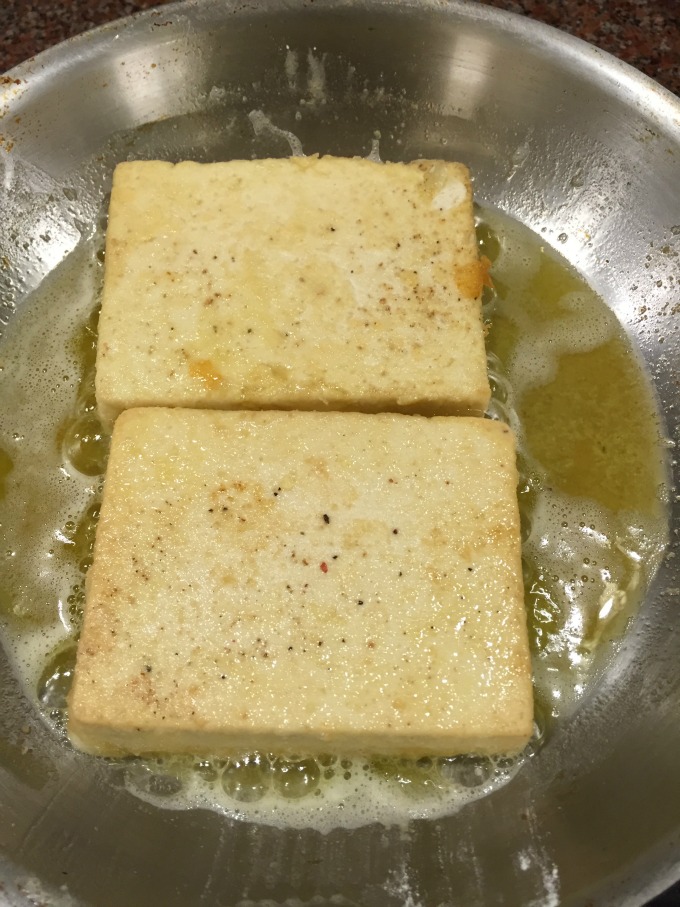 Remove the tofu to a plate and add capers, lemon juice and vegetable broth to the pan.  I love the taste and texture of capers.  They are salty goodness!  I had the perfect amount leftover from the deviled eggs recipe we made recently.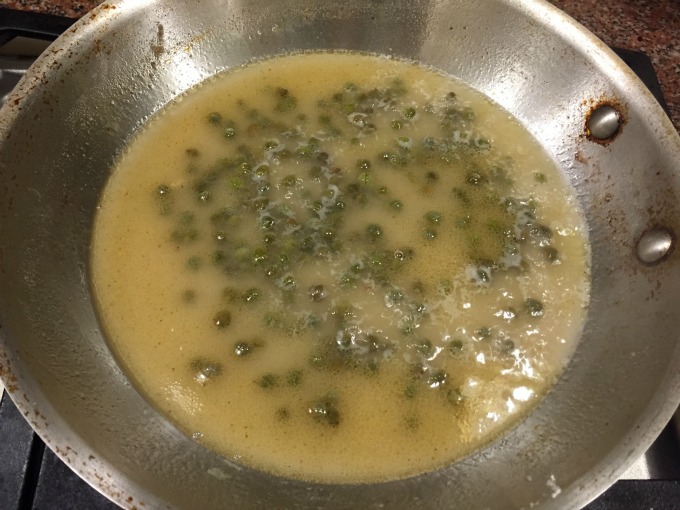 Add the tofu back to the skillet and let it cook in the broth mixture.  Carefully remove the tofu to a serving platter and top with the sauce and chopped parsley.  This is a seriously impressive dish for only taking about a half hour to prepare.  Next time you need a quick vegetarian meal or know you will have some vegetarian guests, put this on your menu.  It is so flavorful and delicious!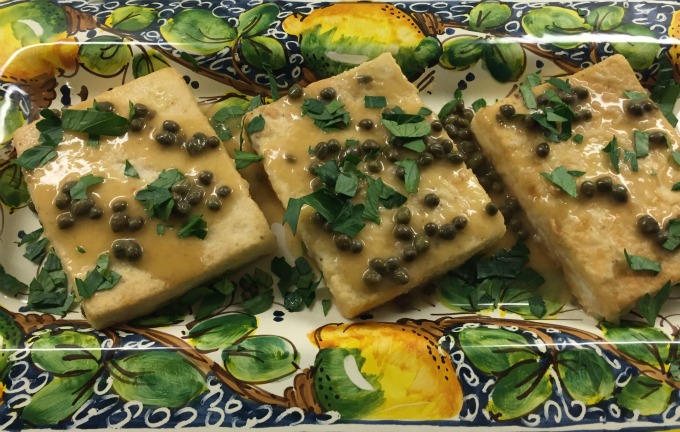 Tofu Piccata
Ingredients
2 blocks of extra firm tofu
1 cup all-purpose flour
½ teaspoon salt
½ teaspoon ground pepper
2 tablespoons unsalted butter
2 tablespoons extra virgin olive oil
¼ cup fresh lemon juice
½ cup vegetable broth
¼ cup capers, drained
¼ cup chopped parsley
Instructions
Drain tofu and wrap in paper towels. Place tofu on a plate with something heavy on top such as a cookbook. Let tofu drain for five minutes.
Place flour in a bowl and mix with salt and pepper. Cut each tofu block in half crosswise. Heat a skillet over medium heat. Add 1 tablespoon butter and oil to skillet. Dredge 1 tofu half in flour mixture and shake off excess. Add to pan and cook for about 3 minutes per side, until starting to brown. You should be able to fit 2 halves in the pan at a time. Remove tofu to a plate and repeat with remaining 2 halves. When second batch is cooked, remove to the plate.
To the pan add lemon juice, capers and broth. Bring to a simmer and add tofu to pan. Let cook for about 4 minutes to soak up flavor. Remove tofu to a serving platter. Add remaining tablespoon of butter to pan which will thicken the mixture. Pour that over the tofu. Top with parsley.
If you like this recipe, you may also like
Stir-Fried Tofu and Vegetables with Thai Peanut Sauce
.