Camping-love it or hate it? I love it. I love it even more with kids. We have so much equipment for every type of camping trip – from a leisure battery charger for our caravan to numerous tents for different seasons to pots and pans that let us cook amazing food no matter where we are! There are so many things I love about camping-unplugging from daily electronic distractions, falling asleep to the sounds of nature, spending quality time with my family, snuggling up when it gets chilly, etc. I could go on and on. If you're looking to connect with nature and get out into the wilderness more, you wide be wise to fully equip yourself first.
At Botanex, there are plenty of products to look at and articles to read pertaining to many areas of outdoor life. Camping gives you an experience that you won't find anywhere else. If anything, it teaches you how to survive on limited supplies. Where else would you learn this? So that's why I always try and make it a priority to look for the best survival knives that are on the market to ensure that we can make shelter, prepare food, and build a fire. These things are very important in making sure that our camping trip is successful, and one that can be thoroughly enjoyed by the whole family. If you have not been camping lately or ever, try it!
Even though Labor Day has come and gone, you can still go camping. September and October are perfect months for getting out there. When we go camping my husband is in charge of all things camping related – booking the campground, setting up the tent and getting the fire going. Having said that, he probably read up on tips on the campingfunzone.com site on how to start a campfire…of course I don't believe he just learned that from nowhere! Can you guess what I'm in charge of? You got it, food! Even though you are camping, you can still eat satisfying and delicious vegetarian food. On our most recent camping trip we had tofu burritos and they hit the spot after a long day of hiking.
The first thing I did was get water boiling on our camp stove. I had boil in a bag rice that needs to cook for ten minutes so I boiled up two of those.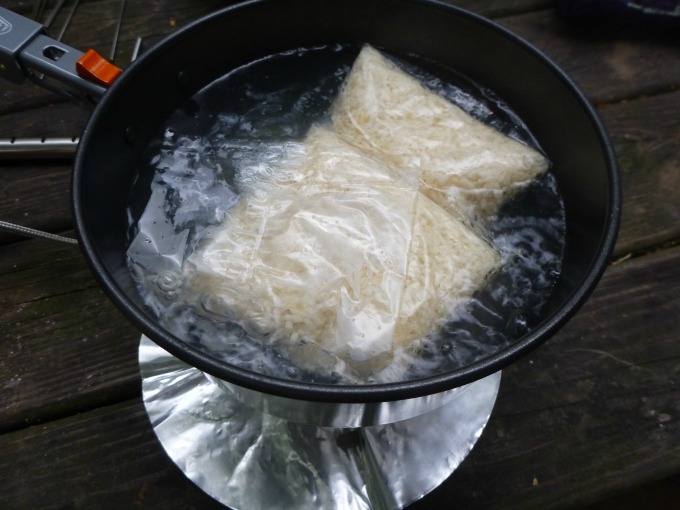 Before leaving the house I did some preparations. I threw some chili powder, cumin and salt in a plastic bag. I also cut up some peppers and onions from my CSA, Jah's. While the rice was cooking I cut up a block of extra-firm tofu into one inch cubes and sprinkled the spice mixture on top. I wrapped the tofu, peppers and onions up in foil packets and cooked them for about five minutes over the campfire.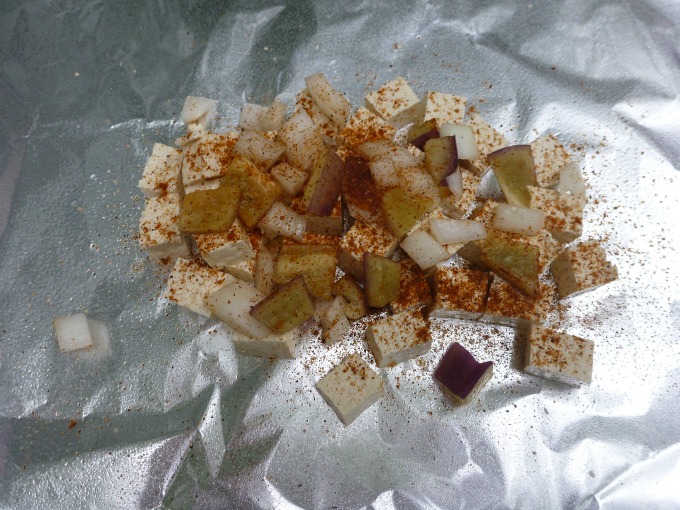 When that was done I assembled the burritos by placing rice, tofu, peppers, onions and cheese in each tortilla.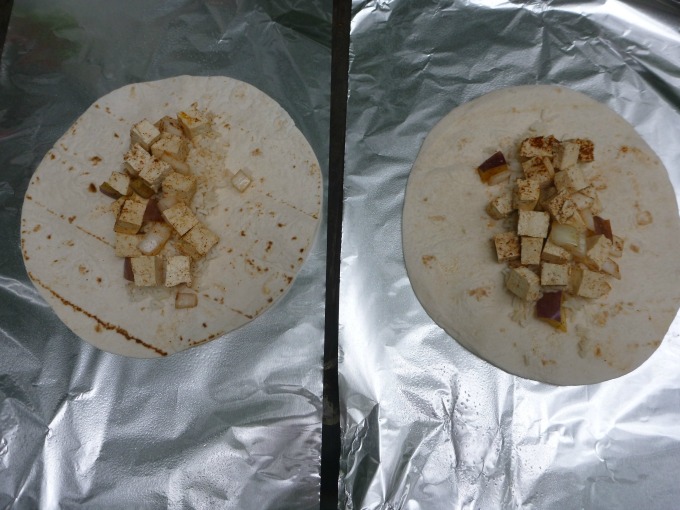 I wrapped up each foil packet and threw them on the campfire. You have to keep a close eye on the packets so they don't burn. I recommend three to four minutes per side on indirect heat. When they were done the cheese was melted, the outside of the tortillas was crispy and the burritos were perfectly delicious! Not a fan of tofu? You could easily substitute cooked chicken or steak. Don't forget the guacamole to give it that little extra something. Want some extra protein? Add some black beans.
We always leave room for s'mores. Our kids just like eating the marshmallows off of the sticks but I'm a chocolate, graham cracker, roasted marshmallow kind of girl.
Get out camping soon before it gets too cold and plan a yummy meal!

Camping Tofu Burritos
Ingredients
2 bags of boil in a bag rice
4 large flour tortillas
1 block of extra firm tofu
1 teaspoon each of chili powder, cumin and salt
1 onion, peeled and diced
1 bell pepper, diced
1-2 cups of shredded cheddar cheese
Instructions
Bring water to boil on a camp stove and boil rice for 10 minutes. When done, drain and set aside.
Start a campfire. Cut block of tofu up into one inch cubes and sprinkle with chili powder, cumin, salt mixture. Make 2 foil packets and fill with tofu, peppers and onions. Fold foil packets closed and cook on indirect campfire heat for about 5 minutes. Remove from campfire.
Lay out 4 large flour tortillas on pieces of aluminum foil sprayed with cooking spray. Down middle of each tortilla add rice, tofu, peppers, onions and sprinkle with cheese. Fold foil packets closed and cook on indirect campfire heat for 3-4 minutes per side, keeping a close eye on them. Check for doneness. Outside of tortillas should be crisp, but not charred. Open foil packets and enjoy!