Call them pinwheels or call them rugelach.  Whatever you call them, they are gorgeous and delicious.  I first made these many years ago before having kids when I didn't give any thought to how long a recipe would take.  These cookies are time-consuming, but so worth it.  I originally made this batch a few months ago and doubled the recipe so I could freeze half the dough.  I took it out this week when I needed something to bring to a friend's house.  I love having frozen homemade cookie dough for those occasions.
To start, you make the dough by combining butter, cream cheese, sugar, vanilla and flour.  Once it comes together the dough needs to chill for an hour or can be frozen to be used another time.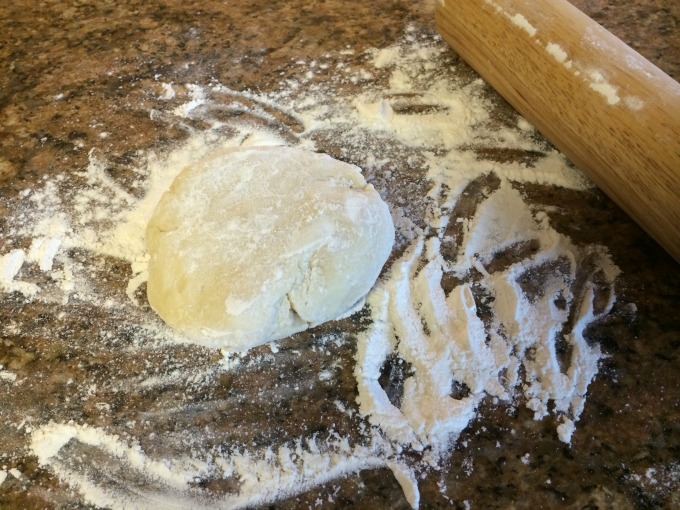 Next you want to roll it out to a rectangle and spread a very thin layer of jam over it.  You don't want to use too much or it will seep out the edges.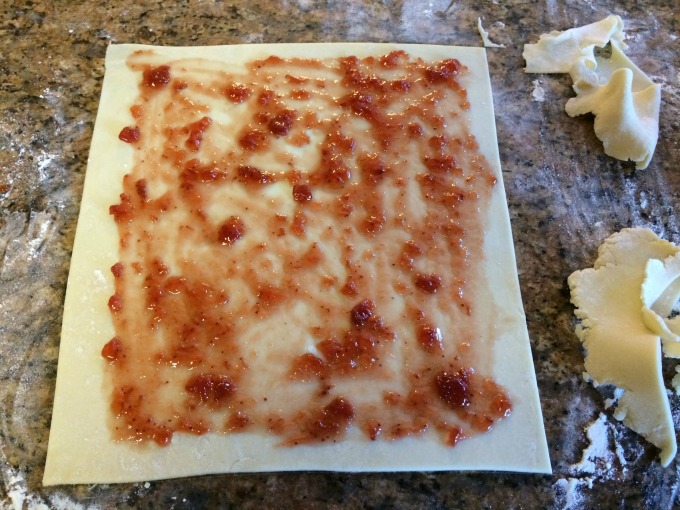 You then cut that into three pieces, roll each piece, wrap in plastic and chill in the refrigerator.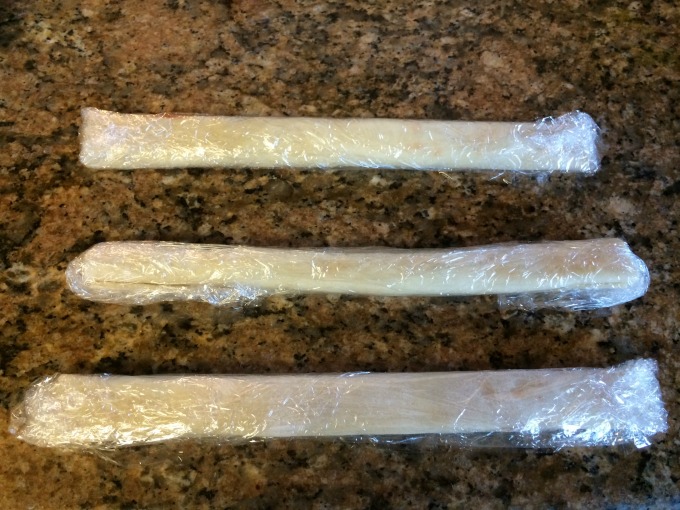 After they have chilled you cut each roll into little pieces.  I used a cookie scraper to cut them because it was even and sharp.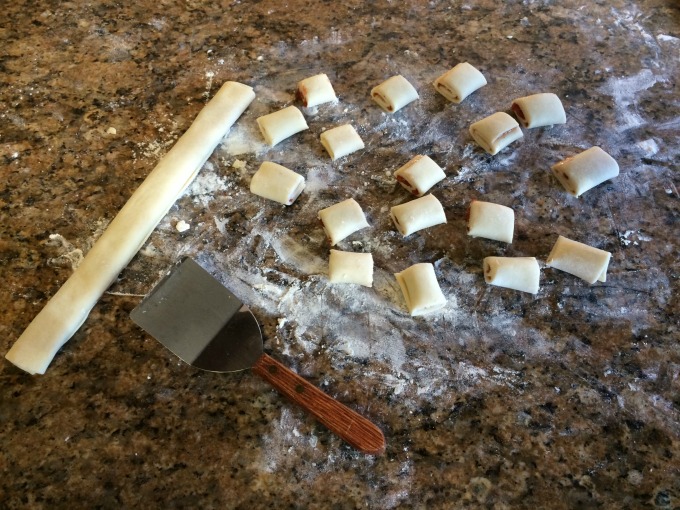 Lay those on a greased baking sheet, brush (paint if you are instructing a four year-old assistant) with egg wash and sprinkle with coarse sugar.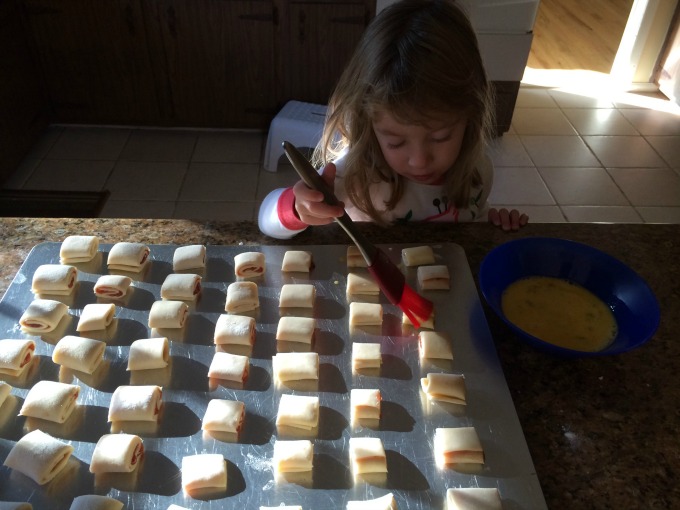 Before they go in the oven they will look this.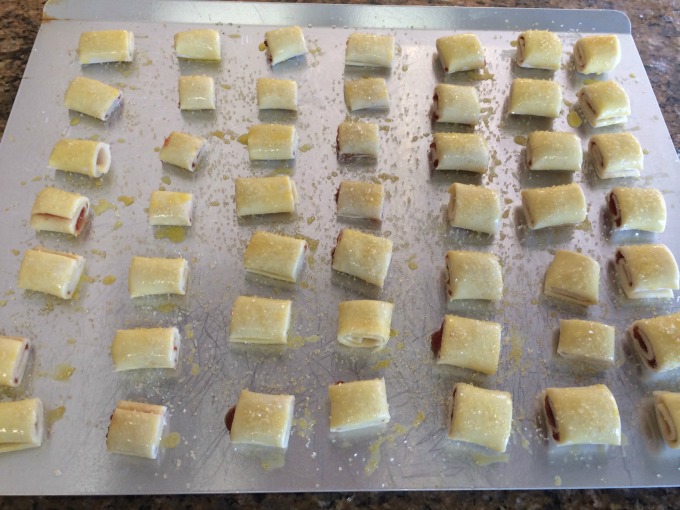 And when they come out they will look this…little pieces of heaven.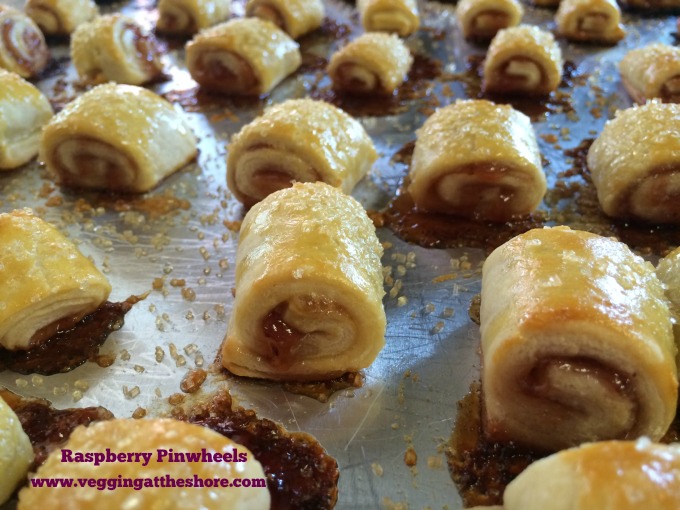 These are perfect for the holidays.  Put them in a pretty cookie tin and they would make a great gift to give people such as teachers or they would make great hostess gifts.  Happy holidays to you and your family!

Raspberry Pinwheels
Ingredients
¾ cup unsalted butter (1½ sticks), at room temperature
1 8-ounce bar cream cheese, at room temperature
½ cup granulated sugar
½ teaspoon vanilla extract
2 cups all-purpose flour, plus more for work surface
¼ cup seedless raspberry jam
1 egg, beaten
2 tablespoons coarse sugar
Instructions
With an electric mixer, beat the butter, cream cheese and granulated sugar until fluffy. Mix in the vanilla. Gradually add flour, mixing until just incorporated.
Turn the dough onto a floured work surface and gently knead 2 to 3 times, just to bring together. Form the dough into two disks, wrap in plastic wrap and refrigerate for one hour (or freeze to use later).
On a lightly floured surface roll one disk into a 9x12 inch rectangle. Spread a very thin layer of jam over the dough. You do not want to add too much jam or it will seep out the edges. Cut the dough crosswise into thirds, making three 9x4 inch rectangles. Starting from the long side of each rectangle, roll into logs. Wrap in plastic wrap and refrigerate until firm, about half hour. Repeat with remaining dough.
Heat oven to 350. Slice logs into 1-inch pieces and space on parchment-lined or greased baking sheet. Brush with egg and sprinkle with coarse sugar. Bake until golden, about 20 to 25 minutes.
Notes
Recipe adapted from Real Simple.

Makes about 54 cookies.
Momma Lew and her blogger buddies are having a Holiday Cookie Swap Party and you are all invited! Grab a cup of coffee and enjoy the cookies that each blogger has prepared for you!
–>
<–
When you are finished enjoying your cookies, we have a great giveaway for you to enter! One lucky reader will win a prize of $100 PayPal Cash to help with your holiday shopping!
This giveaway is open to U.S. Residents, 18+ and one entry per household. Giveaway will end on 12/15 at 11:59pm EST.
Momma Lew is responsible for prize fulfillment. This is a blogger sponsored giveaway.