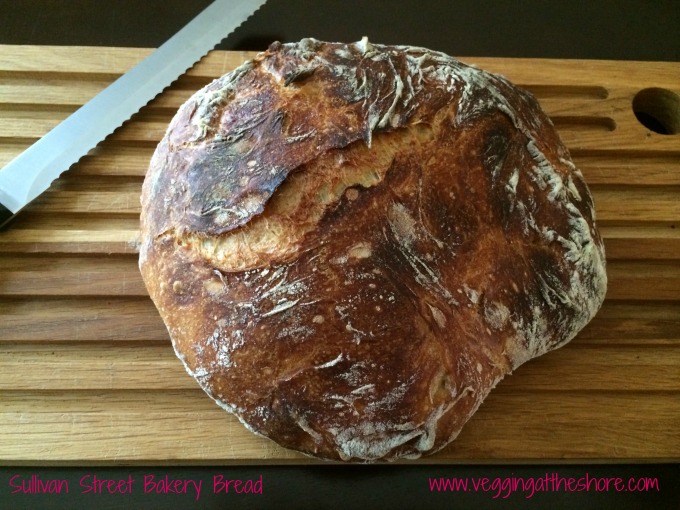 Here is something you may not know about me. In my former life I was a French teacher. It seems like another lifetime. My love of French began in high school during a foreign exchange program and grew during a semester I spent studying in Paris during my junior year of college. I have so many great memories of that semester and unsurprisingly, many of those memories involve food. I can still so clearly remember my apartment on rue Lafayette and all of the wonderful boulangeries I passed on the way home from the metro. Many dinners during that semester were comprised of a baguette, cheese and wine.
There are plenty of bakeries where I live now with wonderful cakes, cupcakes, and sweets, but a loaf of good fresh bread is hard to find. I did come across a few interesting facts where bakeries use mixing equipment to amp up their efficiency and improve the production line (you can check out the blog post here). The power of technology never fails to amaze, I guess! That said, to our story now, I stumbled upon this recipe a couple of years ago from the Sullivan Street Bakery in New York. I was a little intimidated to try it but figured it looked simple enough so why not give it a try. It is pure genius. It has four main ingredients and one of those ingredients is water. The result is fabulous and very much reminds me of the fresh breads I used to eat in France. The one thing I will say, it is very hard to get fresh bread to last, it typically is only at it's best on day one. You should have a look into how to store homemade bread to ensure it stays fresh as long as possible. Anyway, the recipe is perfect and I have not adapted it at all, just clarified a few things.
First you mix together your dry ingredients of flour, yeast and salt.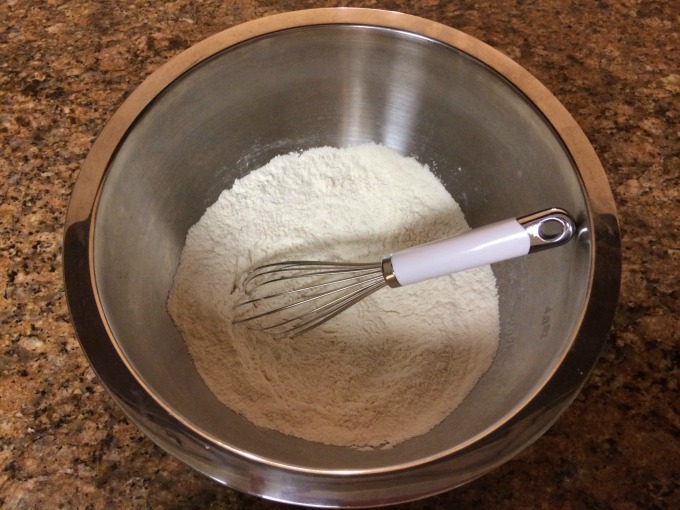 Then add water and stir together for thirty seconds to a minute.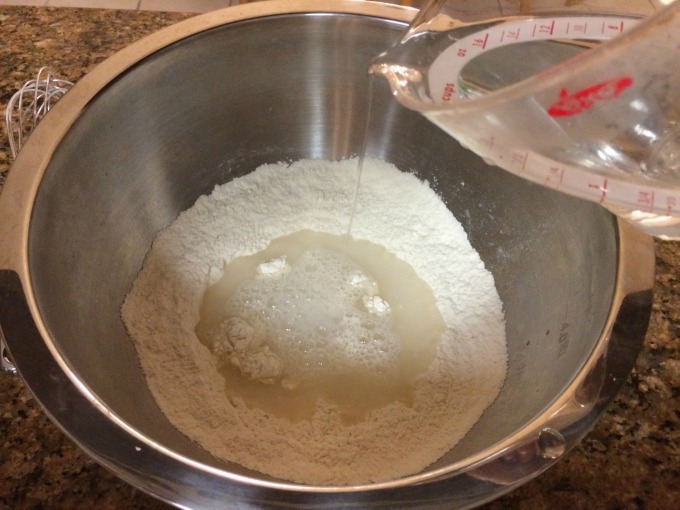 This will come together as a very sticky mixture.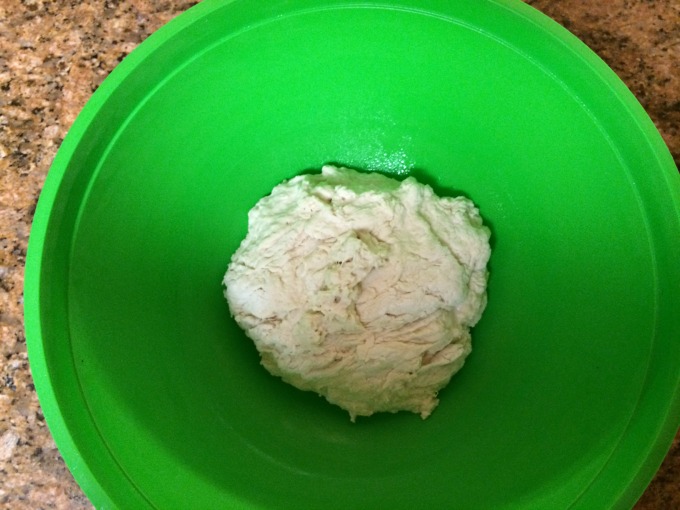 Add this to another bowl that is coated with olive oil. Cover with plastic wrap or Bee's Wrap and let it rise. The original recipe says to let it rise for twelve hours. I let mine rise for fourteen hours and it was fine. This is what it looked like after the overnight rise.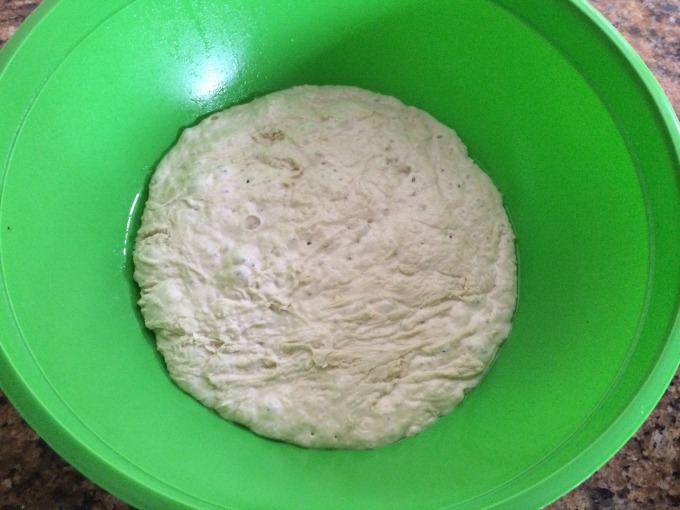 After letting it rise you take it out of the bowl and fold it a couple of times. I had to add flour at this point to get it to stick together. I added just enough to be able to touch it without having it stick to my fingers. You let it sit for another fifteen minutes and then put it on a dishtowel coated in flour and cover it for one to two hours, until it has doubled in size.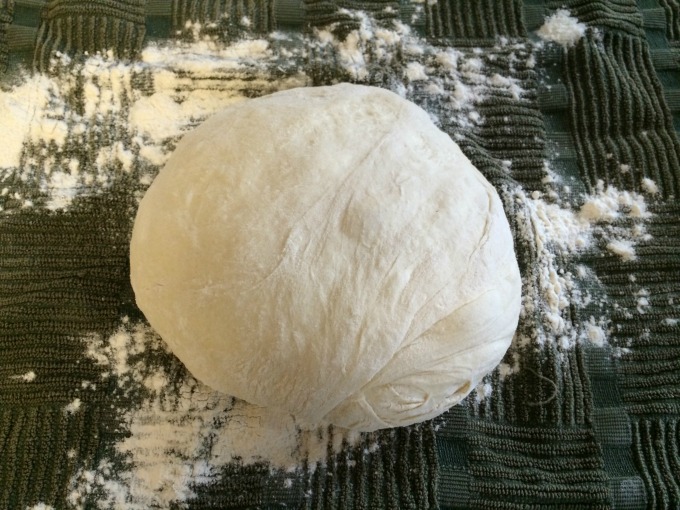 Put a pot in the oven and preheat the oven to a high temperature for at least thirty minutes. I used a cast iron dutch oven. Place the ball of dough in the preheated pot seam side up, cover and cook for thirty minutes.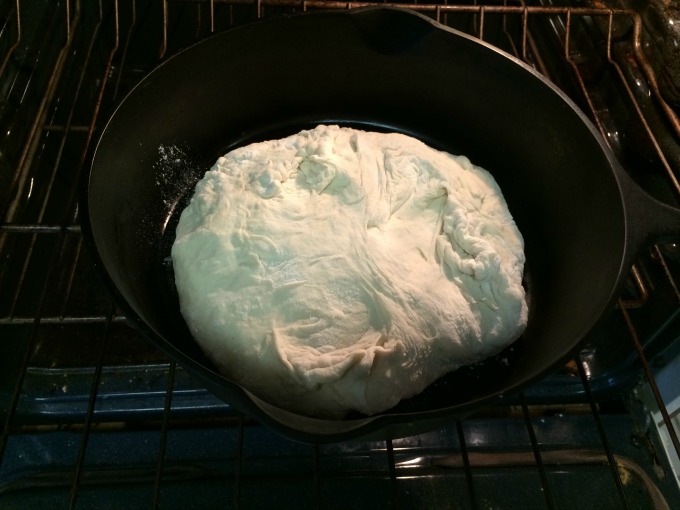 Remove the lid and bake for an additional fifteen to thirty minutes, until the loaf is browned.
The first time I made this bread I had to keep reminding myself that it didn't come from a bakery. It really tastes as good as something you would buy. This bread is perfectly crusty on the outside and soft on the inside.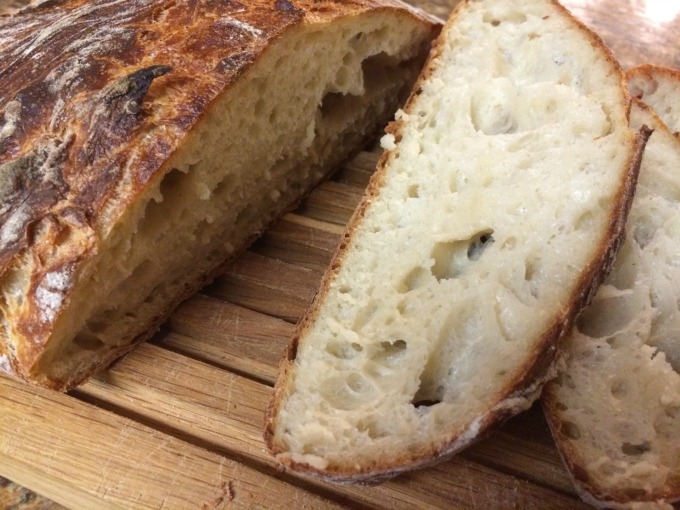 Go ahead and give it a try. With only four ingredients, how hard can it be!

Sullivan Street Bakery Bread
Ingredients
Ingredients
3 cups flour (I used all-purpose)
1½ cups water
¼ teaspoon yeast (I used rapid rise yeast)
1¼ teaspoon salt
olive oil for coating
extra flour, wheat bran or cornmeal for dusting
Equipment
two medium mixing bowls
6 to 8 quart pot with lid (glass, cast iron or ceramic)
wooden spoon or spatula
plastic wrap or Bee's Wrap
2 cotton dish towels
Instructions
Mix dry ingredients in a medium bowl. Add water and incorporate by hand or with a wooden spoon or spatula for 30 seconds to 1 minute. Lightly coat the inside of a second medium bowl with olive oil and place the dough in the bowl. Cover with plastic wrap or Bee's Wrap and let the dough rise for at least 12 hours at room temperature.
Remove the dough from the bowl and fold once or twice. You may need to add additional flour. Add just enough so the dough does not stick to your fingers. Let the dough rest 15 minutes in the bowl or on the work surface. Next, shape the dough into a ball. Generously coat a cotton towel with flour; place the dough seam side down on the towel and dust with flour. Cover the dough with a cotton towel and let rise 1-2 hours at room temperature, until more than doubled in size.
Preheat oven to 450-500. Place the pot in the oven at least 30 minutes prior to baking to preheat. Once the dough has more than doubled in volume, remove the pot from the oven and place the dough in the pot seam side up. Cover with the lid and bake 30 minutes. Then remove the lid and bake 15-30 minutes uncovered, until the loaf is nicely browned.
Notes
Recipe barely adapted from Sullivan Street Bakery