Disclosure: I was provided with a Green Kids Crafts discovery box in exchange for a review. All thoughts and opinions are my own.
Here at Vegging at the Shore we try to keep it green from what we eat to the products we choose, including toys. If you feel the same way, you will want to check out Green Kid Crafts. It's a fantastic company started by a mom who is an environmental scientist. Green Kid Crafts provides arts, crafts, and STEM (science, technology, engineering, and math) science activities that spark creativity, build confidence and cultivate respect and love for the environment.
Most parents would be thrilled to see their children immersed in arts and crafts, as it can have so many benefits to the development of a child's brain. Perhaps, if my kids pick up an interest in crafting, I can eventually get them equipment like a fabric cutter machine or similar ones to hone their talents, but it is too early to think about that. Moreover, if my kids retain the same enthusiasm and excitement for crafting, then I would probably upload the pictures of their crafts on Instagram for the world to see. I would probably do everything in my power to get them the deserved appreciation for their talent. For instance, buy IG followers just to get my kids' crafts more exposure on Instagram. But truth be told, all these are plans for the future.
As of now, I would let them enjoy the process of crafting. That said, Green Kid Crafts has kindly sent me an activity box for my four-year-old twins. We had so much fun playing with it. And by we I really mean the adults and kids in my house.
They sent us the Mad Scientist activity box which contained three activities. In the first activity we created a fizzing lava lamp by first adding water to oil and observing how they separated due to their different densities. Then we added sequins followed by a fizz tablet which changed the color of the mixture and created bubbles.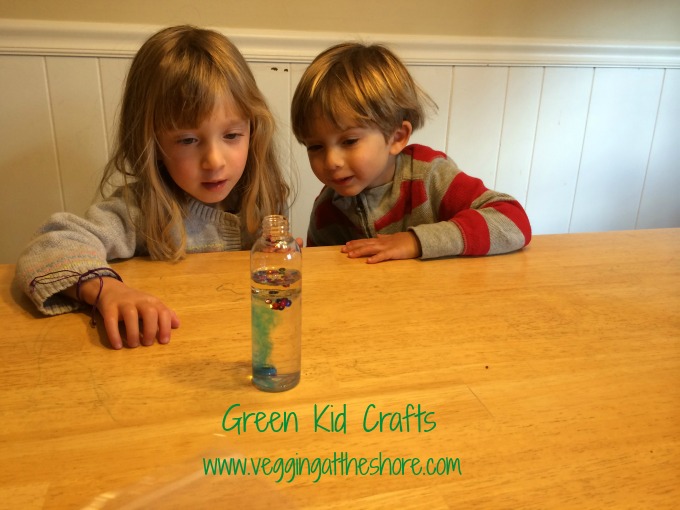 The kids took out their favorite flashlights to watch the action and loved it.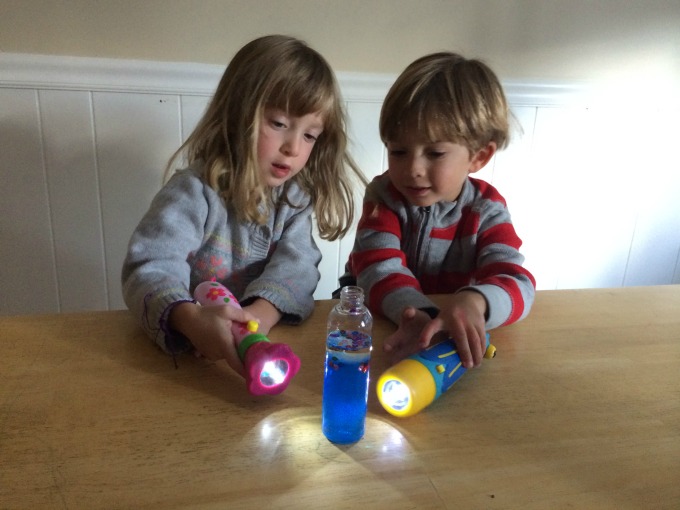 In the next activity we created slime monsters which was a huge hit. We combined borax with water in one cup. In another cup we combined glue with powdered paint. To that we added water followed by some of the borax mixture. What resulted was a brightly colored slime that any kid or grownup would instantly want to touch.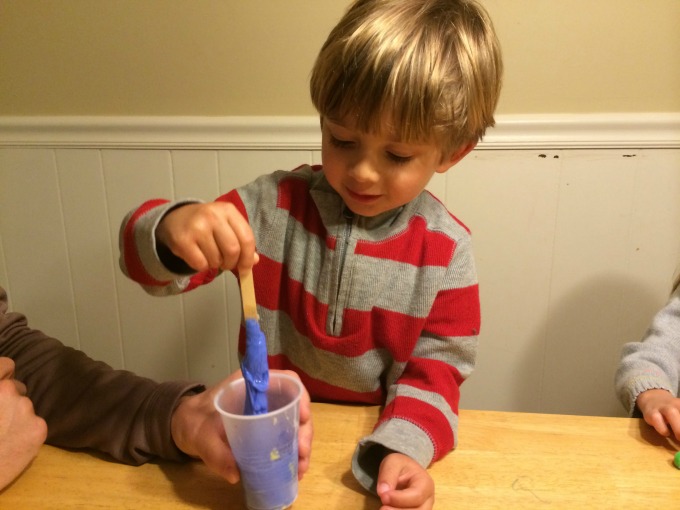 Then they put the slime mixture in a plastic up with a lid and decorated the outside with eyes and pompoms. I love that this one came with two of everything, making it ideal for multiple children to play with.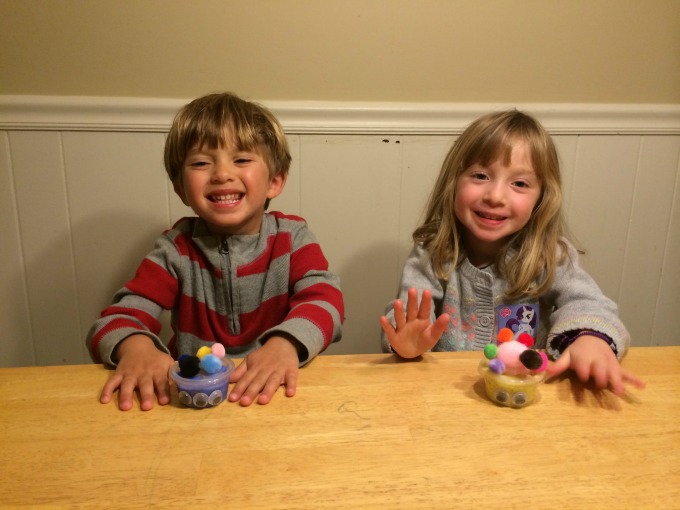 The last activity we created was a magnet friend. It came with a magnetic wand that the kids decorated with goggly eyes and a marker. Then they played around with pipe cleaners to create crazy hairstyles.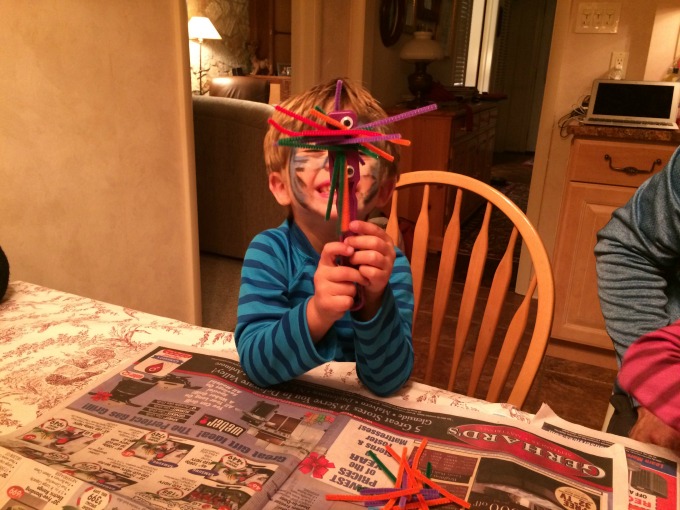 I asked which ones they liked best. My son loved the magnet friend best and couldn't stop playing with it. My daughter's favorite was the slime monster.
I was so pleased with this activity box. I loved how well organized it was when it arrived.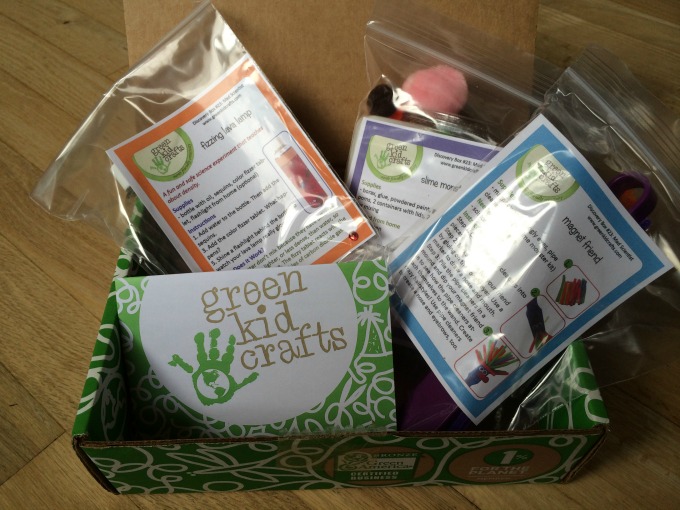 Each activity was in a separate bag with the appropriate components and detailed instructions on what to do.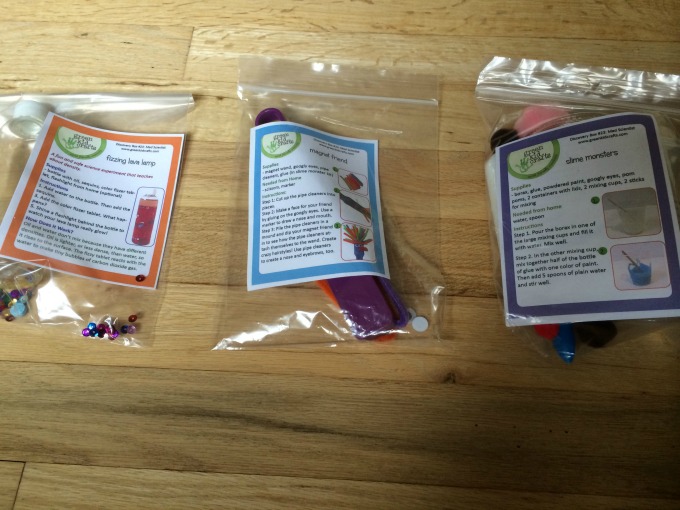 My children are four and needed to be guided in the activities but that was fine with us because my husband and I enjoyed them too. Overall I thought my first activity box from Green Kid Crafts was educational, engaging and fun. We spent about a half hour on each activity which is perfect for my kids.
There are different options to choose from with Green Kid Crafts. You can select a monthly subscription where they will send you a discovery box each month. You could also choose a single box, single kit or party favors. This is going to become my go to birthday present for kids within the age range of three to ten.
Green Kid Crafts is offering a fantastic free trial promotion. To take advantage of this, click below: