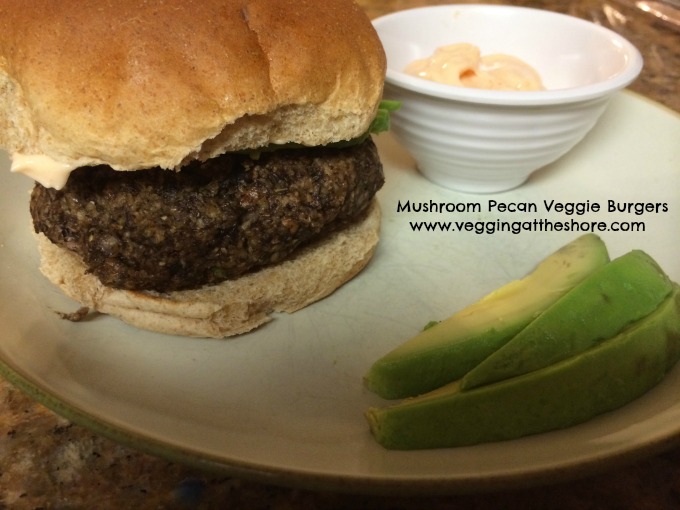 A good veggie burger is hard to find.  Not surprisingly, I'm very picky when it comes to veggie burgers.  If I'm out and see one on the menu that looks interesting, I always ask whether it is homemade or a frozen patty.  I can make a frozen patty at home so I'm not going to order one in a restaurant.  Making a good one at home is challenging for two reasons.  First, it's hard to find a good recipe that doesn't fall apart in the pan.  The second challenge is to find one that is filling and satisfying enough.  This veggie burger recipe, adapted from Mark Bittman's VB6 Cookbook, meets both of those requirements.
You start by grinding old-fashioned oats in a food processor.  You remove those and then pulse garlic and mushrooms in the food processor.  That gets added to the oats and then you make the binder.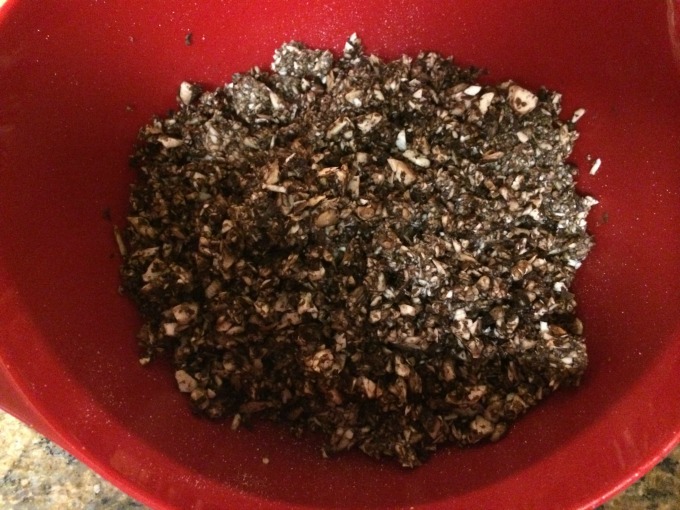 In most veggie burger recipes either eggs or oil are used to hold the patty together.  This recipe is unique in that you process pecans in a food processor to make a nut paste that serves to keep the mixture together.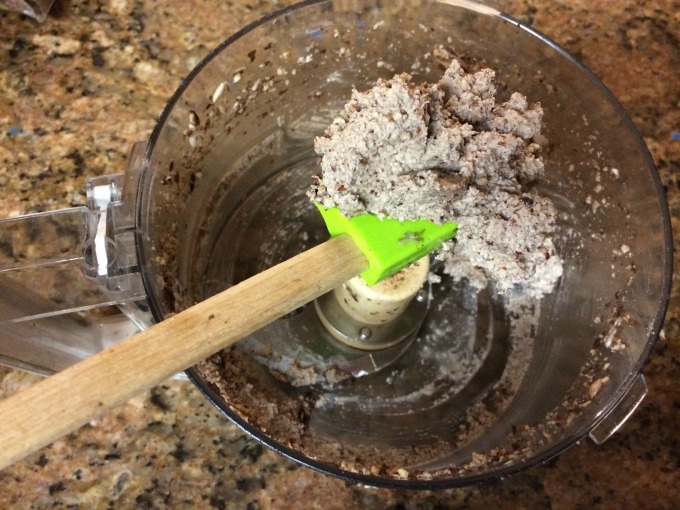 After refrigerating the mixture for about ten minutes, you fry up the patties in some oil and serve.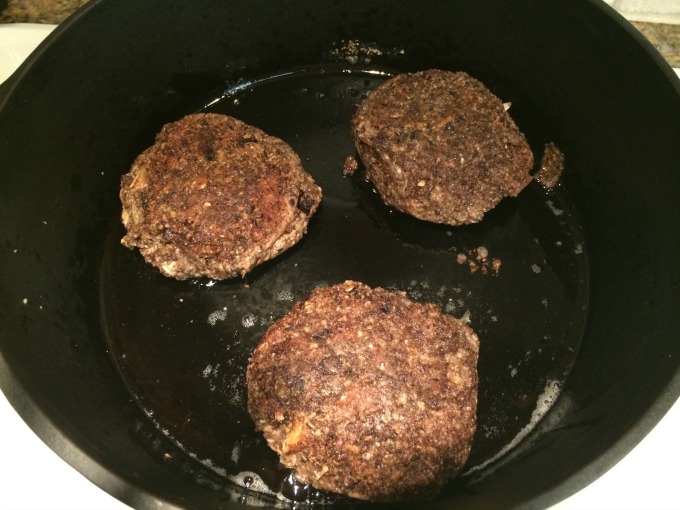 I chose to serve mine with sriracha mayonnaise and sliced avocado.  You may remember sriracha mayo from my corn and basil fritters.  Sriracha mayo is good on almost anything in my opinion.
These burgers held up perfectly in the pan.  The taste was deliciously earthy and nutty.  One of the best parts of these burgers is that they were ready in thirty minutes.  For real.  The recipe made six patties and I froze three.  I put them in the freezer next to my rosemary white bean soup because that would be a perfect combination.
If you are interested in learning more about Mark Bittman's VB6 diet (vegan before 6), this is a great cookbook that I recommend.
Mushroom Pecan Veggie Burger
Ingredients
1 cup old-fashioned oats
2 garlic cloves
1 lb mushrooms, trimmed and halved (I used cremini)
½ cup pecans
2 teaspoons chili powder
½ teaspoon salt
¼ teaspoon pepper
2 tablespoons vegetable oil
optional toppings: avocado, sriracha mayonnaise
Instructions
Put oats in food processor and let machine run until they're ground into coarse meal, about 1 minute. Transfer to large bowl.
Pulse garlic in food processor until broken up, then add mushrooms. Pulse until mixture finely chopped but not pureed. Add mushrooms and garlic to bowl with oats. Put nuts in food processor and let machine run until they are ground to thick paste, adding water a teaspoon at a time if necessary. Scrape paste into bowl with rubber spatula.
Add chili powder, salt and pepper and stir with spatula, pressing and folding until ingredients distributed evenly. Refrigerate for 10 minutes, then make four patties.
Put oil in large skillet over medium heat. When hot add burgers and cook, undisturbed, until browned on bottom and release easily from pan, 3 to 5 minutes. Turn burgers , lower heat and cook on other side until firm and browned, 3 to 5 minutes more.
Put burger on bun with your toppings of choice.
Notes
Recipe adapted from Mark Bittman's The VB6 Cookbook