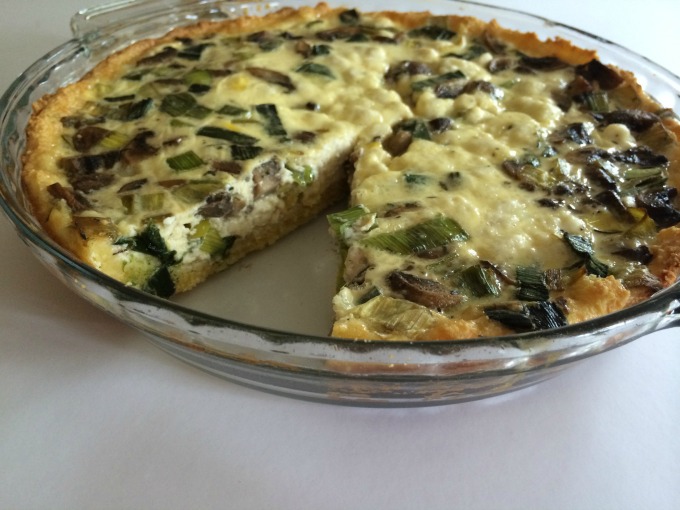 I receive a weekly delivery of organic produce from Door to Door Organics.  When I unpack the box I lay all of the items out on the counter.  I find inspiration in seeing certain vegetables next to each other and that's exactly how I got inspired to make this leek and mushroom tart.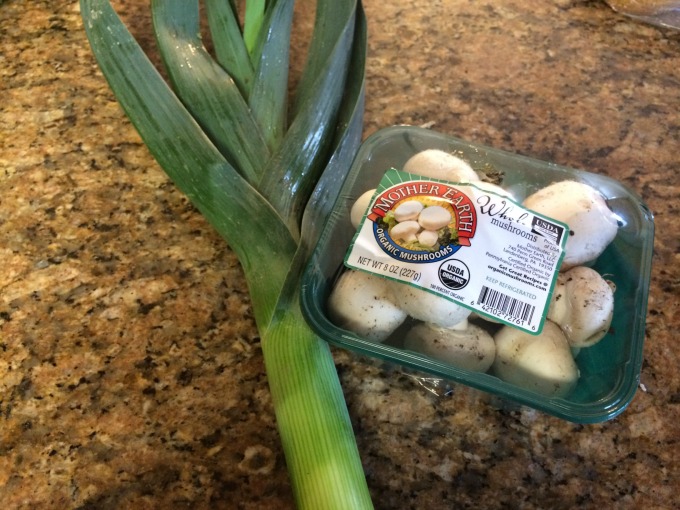 I used to love entertaining because unsurprisingly, I enjoy feeding people.  But now that I have four year-old twins, entertaining usually consists of kid-friendly food and inhaling food before the next meltdown.  One of my favorite meals to entertain is brunch.  On weekend mornings people are relaxed and it's a treat to have certain foods when normally you just eat cereal or a sandwich.
Quiche can be made many different ways, with a pie crust or crustless.  This recipe is unique in that it has a cornmeal crust that is quite simple to make.  You start by combining butter, sugar, salt, egg, flour and cornmeal.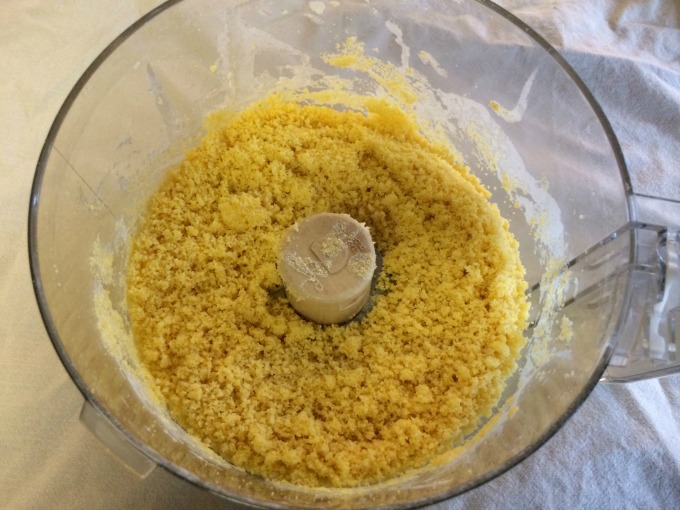 Once that is crumbly, you pat it into a pie dish, cover it with aluminum foil and dried beans (so it doesn't bubble) and let it cook for ten minutes.  After ten minutes you remove the foil and give it another five minutes to cook.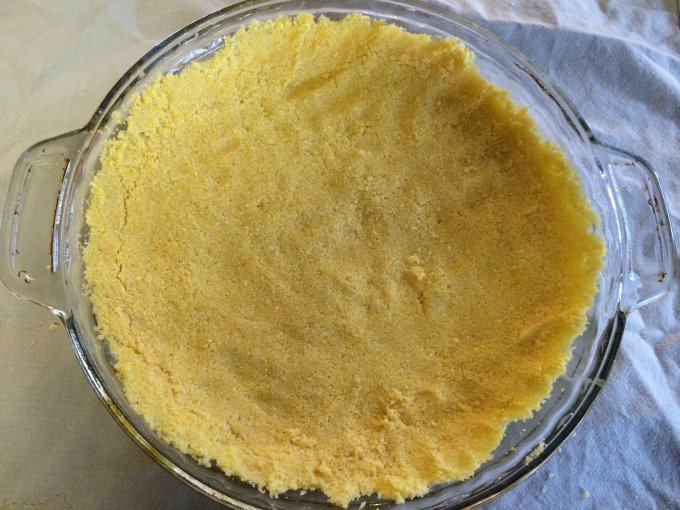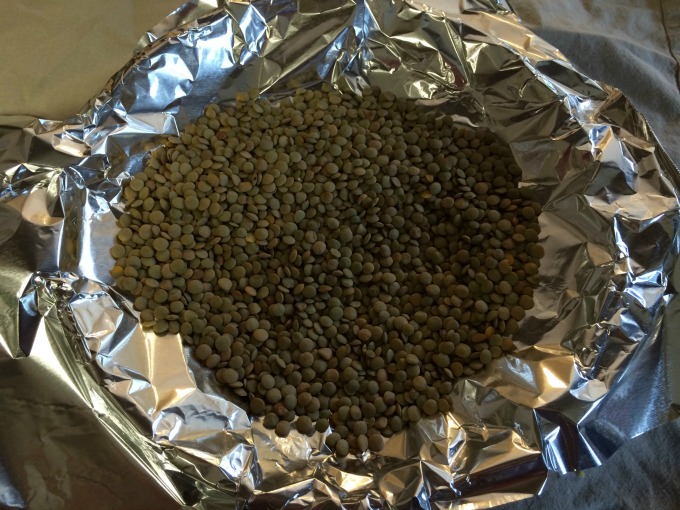 While that cools you make the vegetable mixture by cooking the leeks and mushrooms.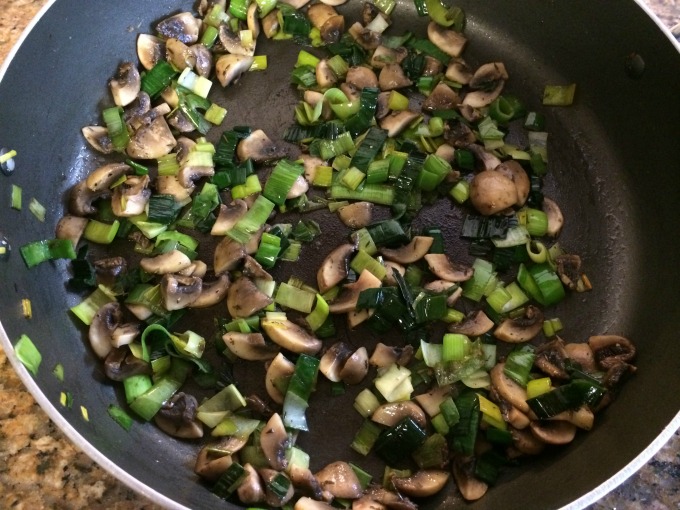 For the custard mixture you combine eggs and milk.  I used 1 % milk because you want some fat in the mixture.  Once that is whisked together you add some goat cheese.  Spoon the vegetables into your pie crust followed by the custard mixture and let that cook for about forty minutes.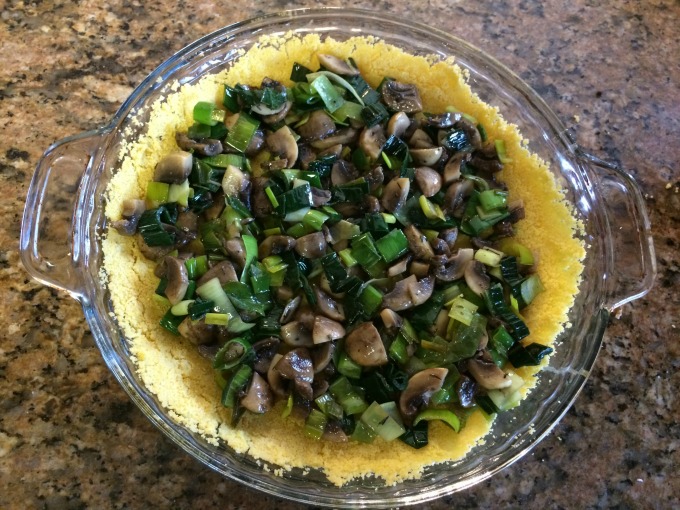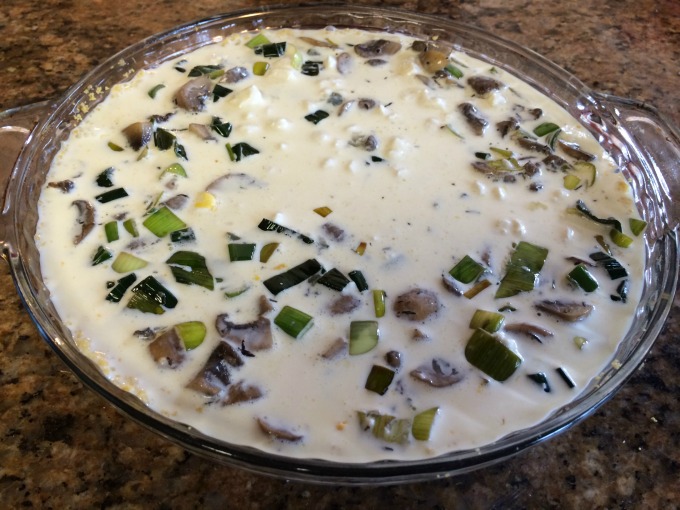 When it comes out of the oven it will smell and look heavenly.  It's like cornbread meets quiche.  The star of this recipe is the cornmeal crust.  If you don't like leeks or mushrooms (not sure how that would be possible), substitute whatever vegetables you like.  The same is true for goat cheese.  The next time you have brunch, put this on your menu.  It is both beautiful and delicious!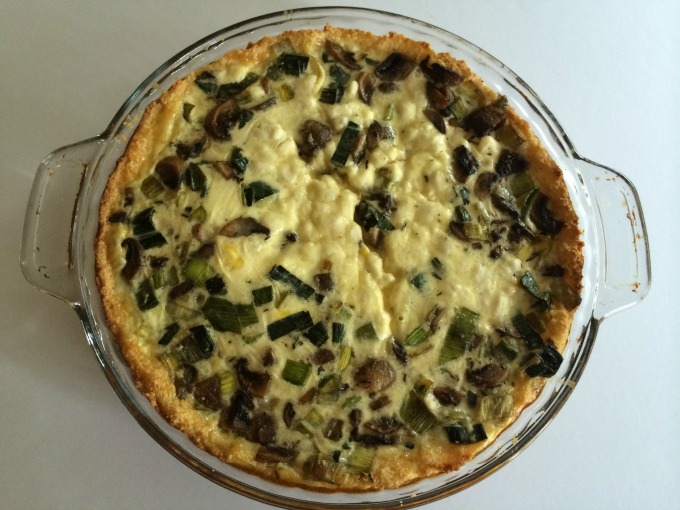 Leek, Mushroom and Goat Cheese Tart with Cornmeal Crust
Ingredients
4 tablespoons unsalted butter, softened
1 tablespoon granulated sugar
½ teaspoon salt
1 egg
⅔ cup all-purpose flour
⅔ cup yellow cornmeal
1 tablespoon extra virgin olive oil
1 stalk of leeks, cleaned and sliced thinly
8 oz mushrooms, stems removed and sliced thinly (white or cremini)
1 teaspoon salt
1 teaspoon dried thyme
½ teaspoon pepper
3 eggs
1.5 cups milk (I used 1%)
3.5 oz goat cheese
Instructions
Preheat oven to 350. Combine softened butter, sugar and ½ teaspoon salt in food processor. Add egg and combine, scraping down sides. Add flour and cornmeal and pulse until coarse meal forms, scraping down sides again. Press into 9 inch pie dish or tart pan that has been greased. Place a piece of foil and on top with dried beans to prevent bubbling. Cook for 10 minutes. Remove foil and beans. Cook an additional 5 minutes. Remove from oven and let cool while you prepare filling.
Heat oil in nonstick skillet over medium heat. Add leeks and mushroom, stirring occasionally. Season with 1 teaspoon salt, thyme and pepper. Cook until softened, about 7 minutes. Set aside.
In a medium bowl whisk together eggs and milk. Add goat cheese and combine. Spoon vegetables into cornmeal pie crust followed by custard mixture. Cook 40 minutes or until set. Let cool for 10 minutes before serving.