I went to college at the University of Maryland and had the best roommates.  College food isn't the best so we treated ourselves to meals out more frequently than we probably should have.  One of our favorite restaurants was Houston's.  Whenever we went there we always ordered the hot spinach artichoke dip.  I still think about that dip because it was so good.  I am always looking for new pizza creations and that dip was the inspiration for this easy and delicious pizza.
I had a bunch of leeks from my Door to Door Organics box so I first sliced them and sautéed them in some olive oil.  If you have leeks, great and if you don't feel free to skip this step.  Then you start making the spinach and artichoke mixture by combining mozzarella cheese, sour cream, parmesan cheese, pepper, garlic, artichoke hearts, cream cheese, spinach and leeks, if you are using them.  Once that is mixed together well, you spread it on top of your pizza dough which has been placed on a pre-heated pizza stone.
I always cook my pizza for thirteen minutes at 450 and it comes out perfectly.  One bite of this pizza and I was instantly taken right back to those College Park days at Houston's.  It's just as good as I remember.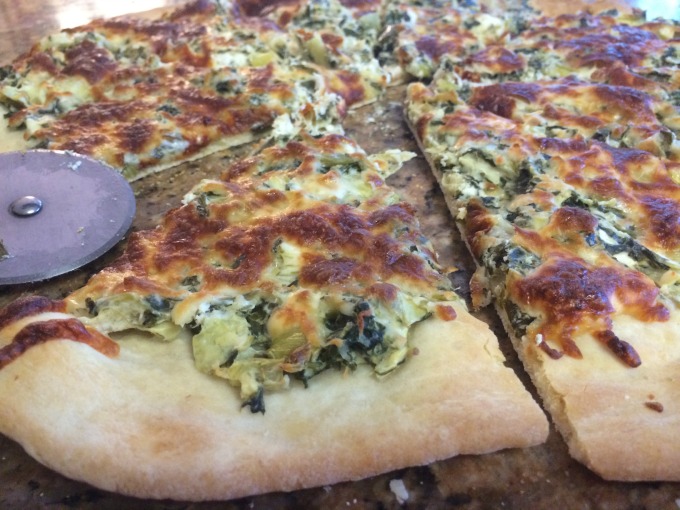 If you like this recipe check out the other pizza recipes on my Pinterest Pizza board
Follow Marci Lutsky's board Vegetarian Pizza on Pinterest.



Spinach Artichoke Pizza
Ingredients
2 balls of your favorite pizza dough (homemade or store-bought)
1 bunch of leeks, sliced and rinsed and dried
1 tablespoon olive oil
2 cups part-skim shredded mozzarella cheese
½ cup low-fat sour cream
¼ cup grated parmesan cheese
¼ teaspoon ground black pepper
2 garlic cloves, minced
1 14-ounce can artichoke hearts, drained and chopped
1 8-ounce block low-fat cream cheese, softened
1 10-ounce package frozen spinach, thawed, drained and squeezed dry
Instructions
Preheat oven to 450 with pizza stone inside.
Heat olive oil in non-stick skillet over medium heat. Add leeks. Saute for about 5 minutes or until softened. Remove from heat and cool slightly.
Mix together 1 cup mozzarella cheese, leeks and rest of ingredients in a bowl. Roll out 1 ball of pizza dough. Carefully transfer dough to pizza stone. Spread half of mixture on dough. Top with ½ cup mozzarella cheese. Bake for 13 minutes. Repeat with 2nd ball of dough.
Notes
This recipe makes 2 pizzas.