Have you heard the term "eat the rainbow"? It basically means that eating a variety of colors ensures that you get a variety of vitamins and minerals in your diet. So if you are not able to reach your vitamin quota then you may need a vitamin d supplement and others like them, especially if you cut out foods that may be rich in them. Green vegetables such as kale and spinach provide potassium, fiber, vitamin A, vitamin E and vitamin C. Orange vegetables such as carrots and sweet potatoes contain beta-carotene which helps bone growth and vision. Purple fruits like grapes and berries contain flavonoids which help with brain function and blood flow. (source: www.foodinsight.org) So the more colors on your plate, the better!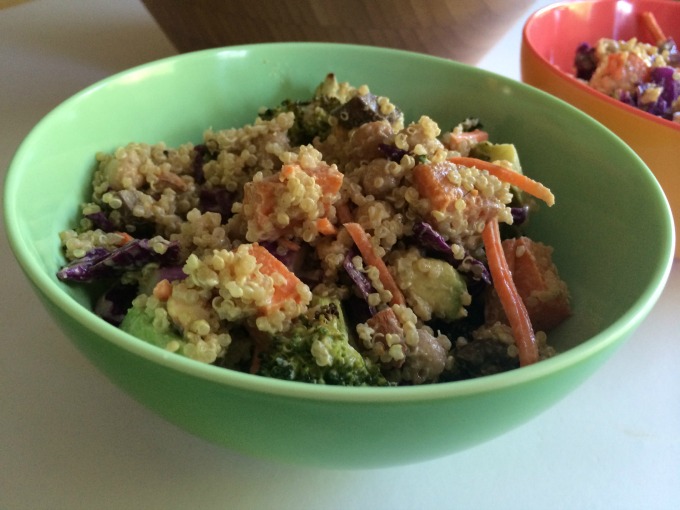 These veggie bowls are so healthy and delicious, not to mention colorful! You start by roasting a bunch of vegetables. I roasted sweet potato, broccoli, chickpeas and mushrooms.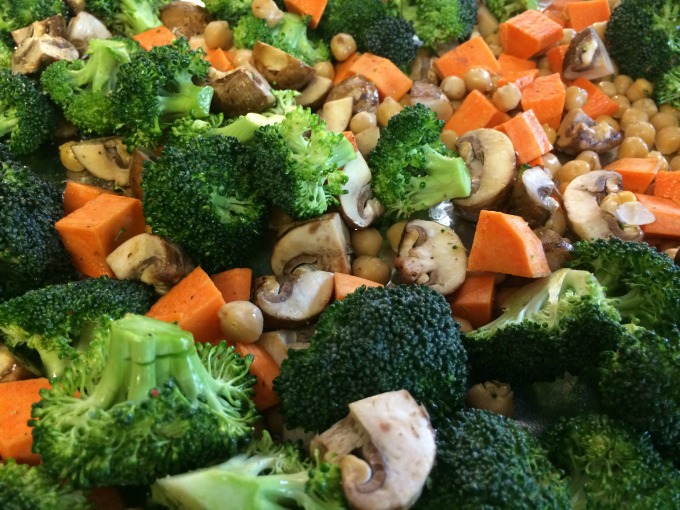 While those are roasting you cook quinoa and make your creamy dressing. The dressing contains tahini, water, white wine vinegar, mustard, honey, sriracha and nutritional yeast. Not familiar with nutritional yeast? In my supermarket it is sold in the baking aisle. It comes in the form of flakes and can be used in place of cheese to give a creamy, cheesy texture to foods. It also has a nutty flavor.
Start to build your veggie bowls by combining the cooked quinoa with the roasted vegetables.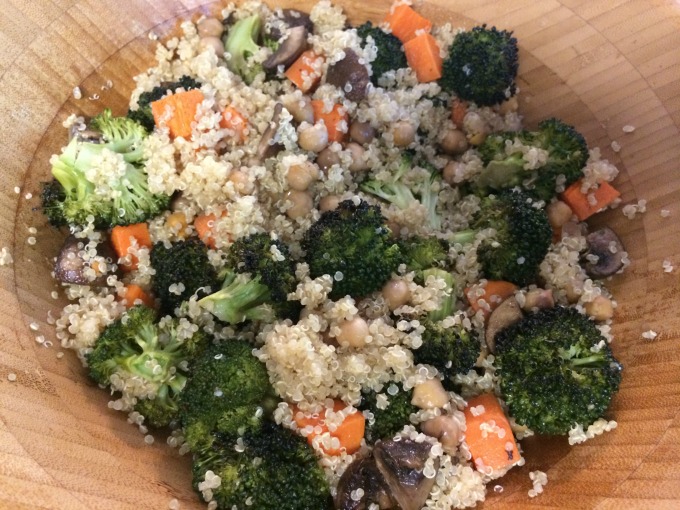 Next add your raw vegetables and almonds. I used the vegetables that I love but feel free to change it up for what you like.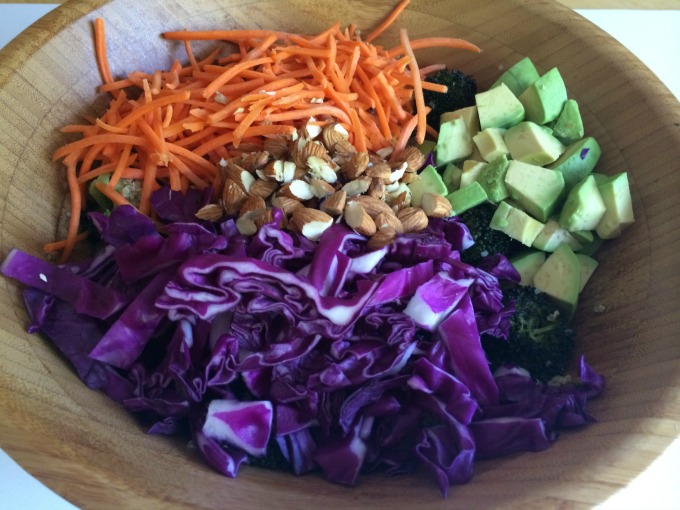 Pour your dressing on top and toss it together.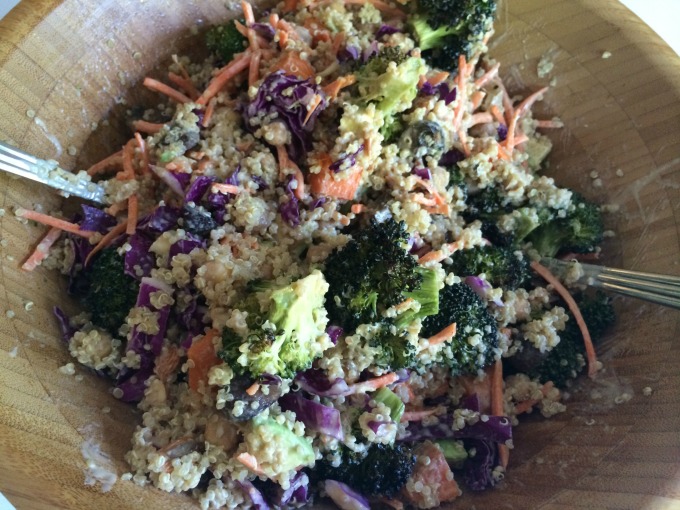 This recipe has it all. It combines great textures from the quinoa, raw and cooked and vegetables. The dressing is out of this world and it is packed with vitamins and nutrients. Anyone who is skeptical about eating a vegetarian diet needs to try these rainbow bowls. They are filling and delicious!

Tahini Veggie Bowls
Ingredients
1 cup dry quinoa
1 small sweet potato
1 small head of broccoli, cut into small florets
1 can chickpeas, rinsed and drained
8 oz cremini mushrooms, stems removed and quartered
2 tablespoons olive oil
1 teaspoons kosher salt
½ teaspoon freshly ground pepper
2 cups shredded purple cabbage
2 cups shredded carrots
1 avocado, diced
¼ cup chopped almonds
½ cup tahini
¾ cup water
2 tablespoons white wine vinegar
3 teaspoons dijon mustard
3 teaspoons honey
2-3 teaspoons sriracha (depending on how spicy you like it)
3 tablespoons nutritional yeast
Instructions
Preheat oven to 425. In a large bowl combine sweet potato, broccoli, chickpeas and mushrooms. Toss with olive oil, salt and pepper. Place on a prepared baking sheet and roast in oven until lightly browned, about 20 minutes. Toss halfway through.
While vegetables cook, cook the quinoa. Combine quinoa with 2 cups of water. Bring to a boil. Reduce heat to low, cover and cook until liquid absorbed, about 15 minutes.
Prepare sauce by combining tahini through nutritional yeast in a blender. Add more water if necessary to get creamy texture.
In a large serving bowl combine cooked quinoa with roasted vegetables. Add cabbage, carrots, avocado and almonds. Drizzle with creamy sauce and serve.
Notes
Recipe adapted from Dishing up the Dirt