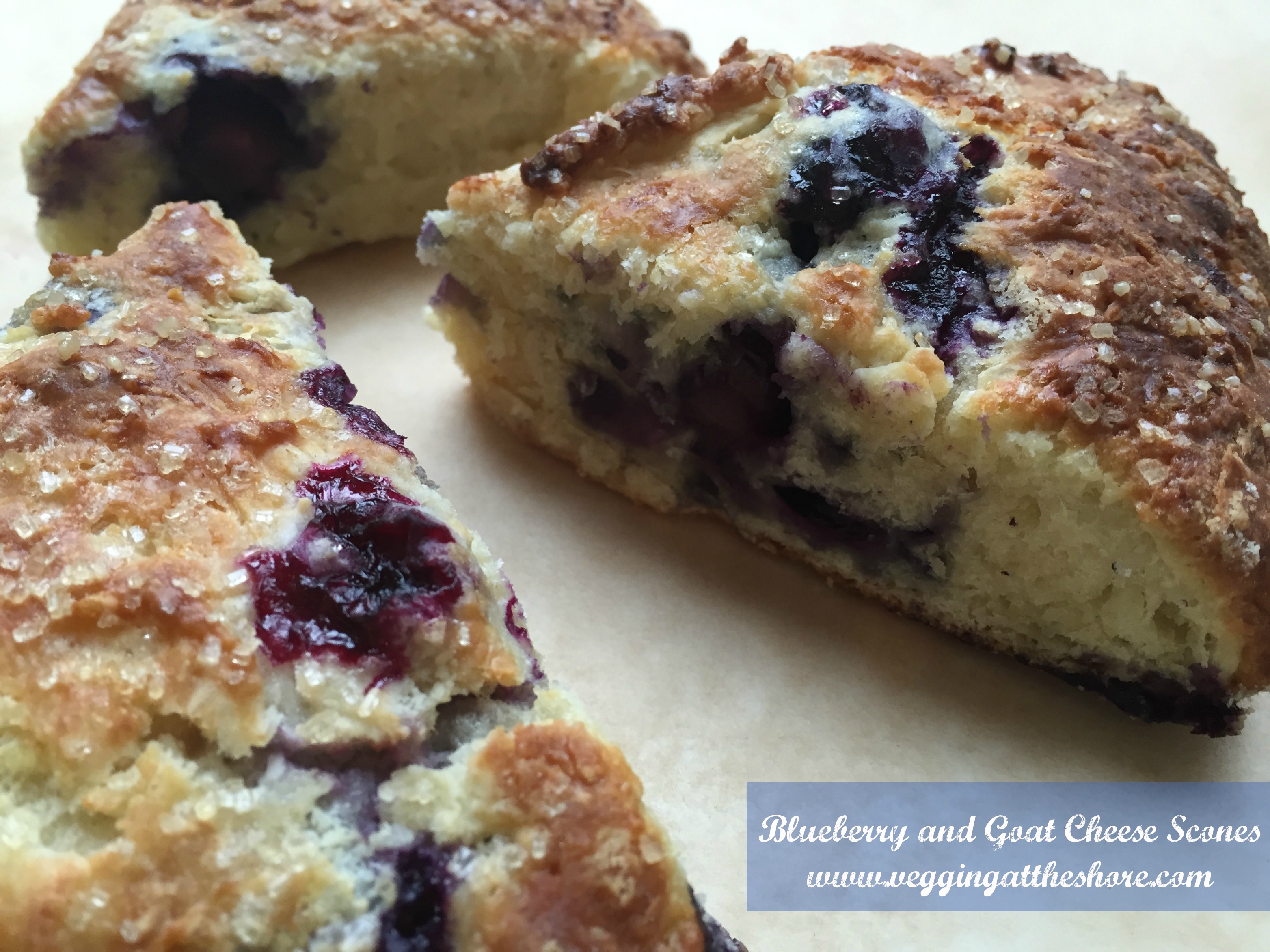 A couple weeks ago I overheard someone working at a bakery tell a customer that their blueberry and goat cheese scones sell out instantly everyday.  My ears instantly perked up.  How was it possible that this bakery was selling out of something early every day that I had never tried?  I couldn't get this flavor combination out of my head so I suggested to the kids that we try to create these scones for Mini Chef Mondays despite the fact that we had never made scones before.  How hard could it be?  The answer…not hard at all and we knocked it out of the park on our first try.
I'm always on the lookout for kitchen gadgets that are geared towards kids.  We were lucky to be sent a baking set from Handstand Kids and we used the measuring cups for our dry ingredients of flour, sugar, salt and baking powder that got mixed in the food processor.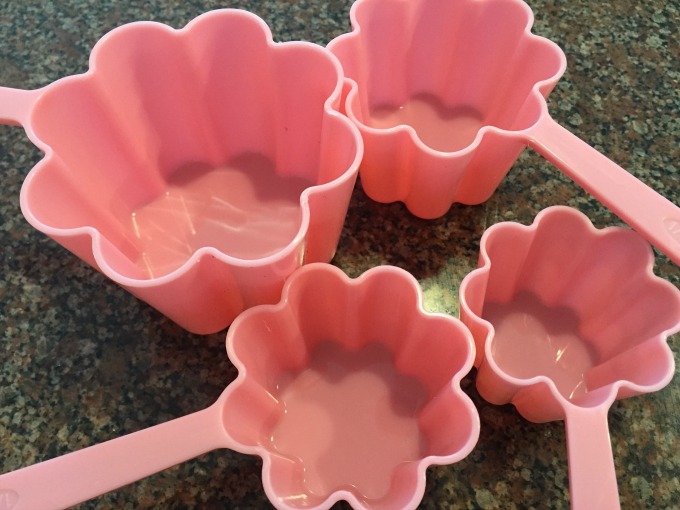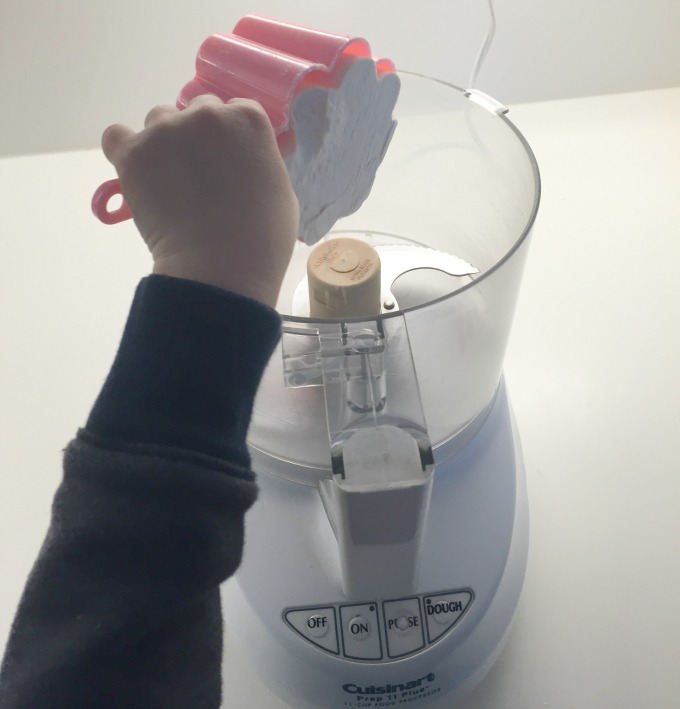 Next we cut in the butter.  You can do this using a fork or food processor.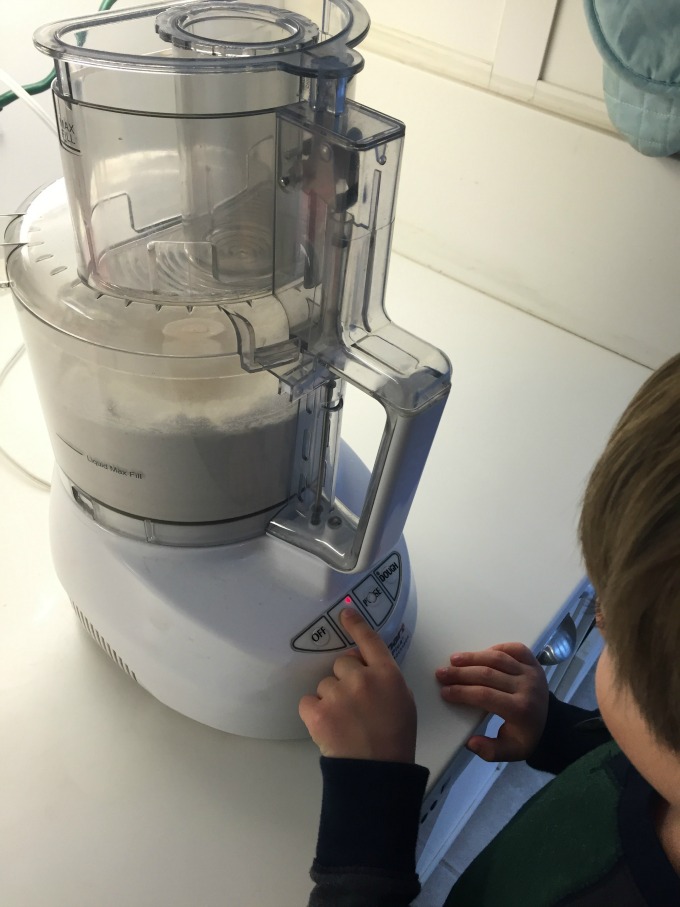 In a small bowl we combined lemon juice with 1 cup of blueberries.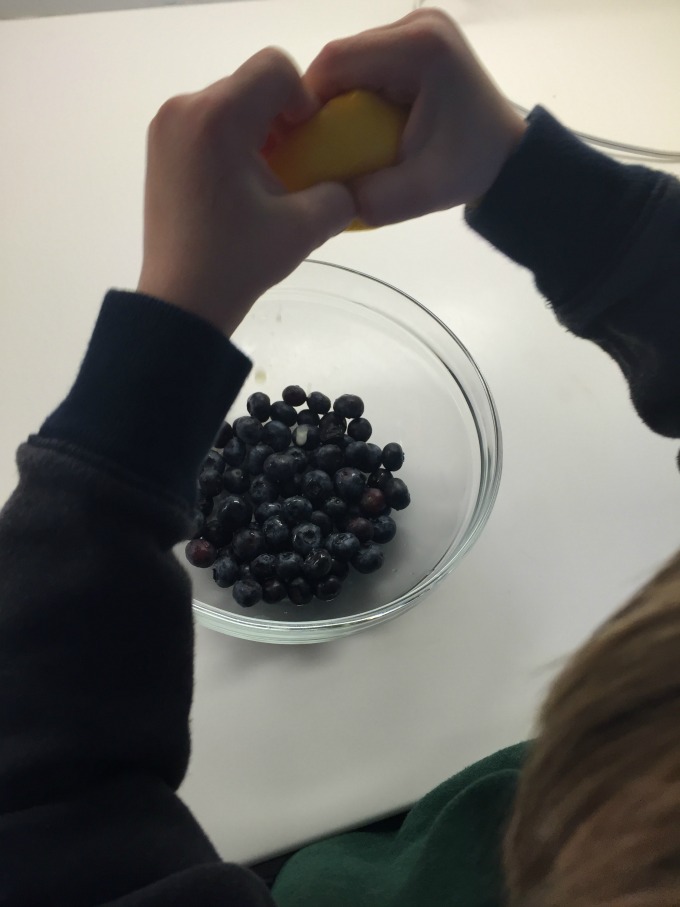 In another bowl we combined milk, eggs and vanilla extract.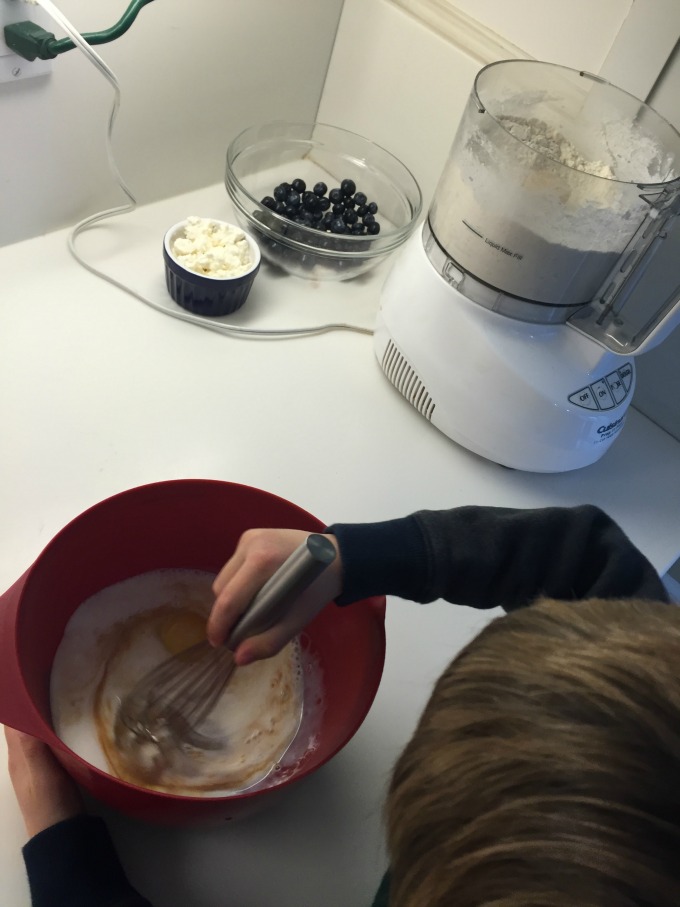 We added the goat cheese and blueberries to the flour mixture, giving it a gentle stir.  Then we added the wet ingredients and stirred until combined.  This was sticky.  On 2 pieces of parchment paper sprinkled with flour, we formed the dough into flattened circles and then brushed each circle with milk and coarse sugar.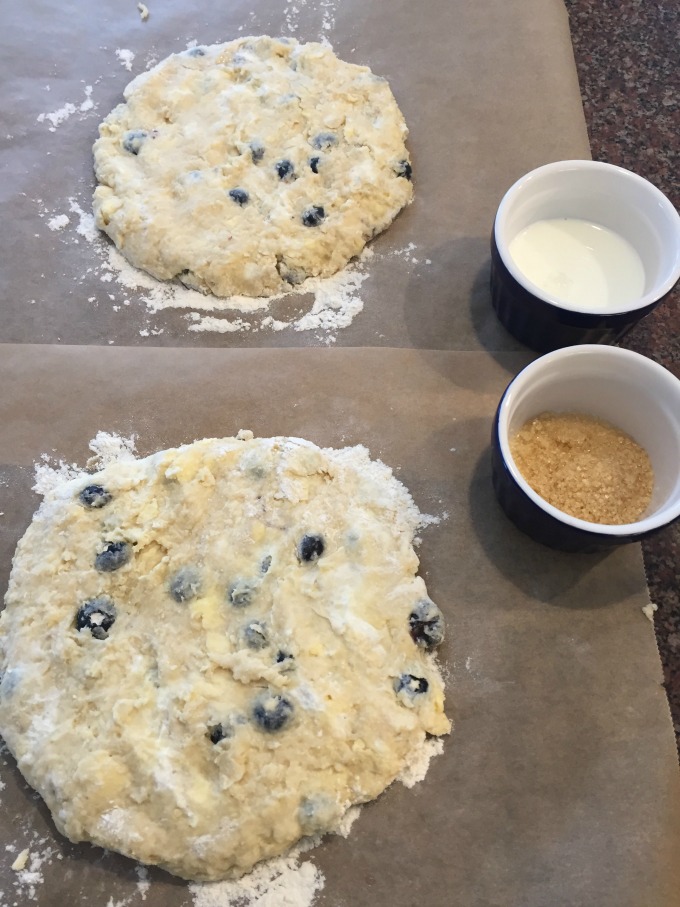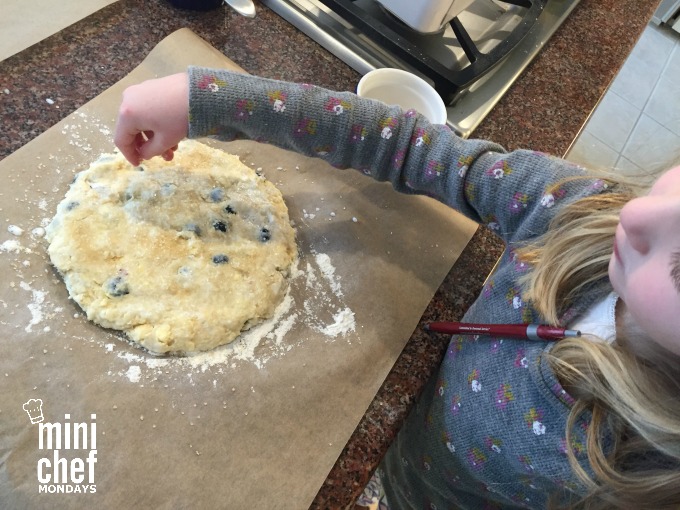 We cut the dough into 6 sections, gently separating them out and placed them in the freezer for a half hour.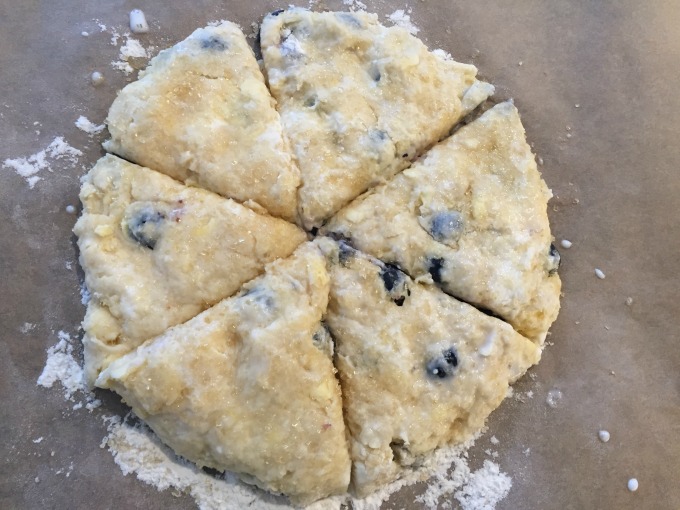 The hardest part of this recipe was waiting for the scones to cool.  They were such a perfect mix of sweet and savory.  These did not last long in my house.  I passed a few along to friends and they all agreed, these are out of this world good!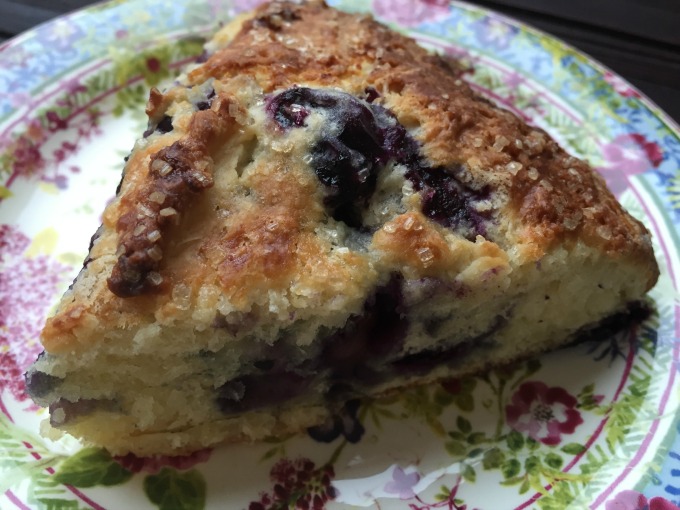 We always look forward to picking blueberries at DiMeo Farms in Hammonton, where you can buy blueberry plants that can grow better tasting blueberries, just like the berries we pick fresh from their family farm: www.DiMeoFarms.com

Blueberry and Goat Cheese Scones
Ingredients
2¾ cup all-purpose flour
⅓ cup granulated sugar
¾ teaspoon salt
1 tablespoon baking powder
1 stick unsalted cold butter (8 tablespoons), cut into small pieces
1 cup blueberries
4 oz crumbled goat cheese
1 juice of half a lemon
2 eggs
⅔ cup milk plus more for brushing on top
1 teaspoon vanilla extract
2 tablespoons coarse sugar for topping
Instructions
Combine flour, granulated sugar, salt and baking powder in a bowl or food processor. Cut in butter using a fork or pulsing in food processor until crumbly. In a separate bowl combine blueberries and lemon juice. Add blueberries and goat cheese to flour mixture. Mix until blueberries coated. In a separate bowl whisk together eggs, ⅔ cup milk and vanilla extract. Add milk mixture to bowl with flour and blueberries. Stir until mixture comes together, will be sticky.
Lay out two pieces of parchment paper and sprinkle some flour on each. Scrape half of the dough onto a piece of parchment. Form the dough into a 6 inch circle. Repeat with other dough on second piece of parchment. Brush each circle with milk and sprinkle with coarse sugar. Using a knife, cut each circle into 6 wedges. Separate the wedges from each other just a bit. Place each piece of parchment in the freezer for 30 minutes uncovered.
While dough is in the freezer preheat oven to 425. Place each piece of parchment on a baking sheet and cook for 20 minutes until golden brown. Allow scones to cool and then separate and serve.
Notes
Makes a total of 12 scones
I am hosting Mini Chef Mondays along with 11 fabulous bloggers! Read how Mini Chef Mondays started and how to link up!
Be sure to check out each of their Mini Chef posts as well. We would love it if you would share your Mini Chef posts with us each week, too! Follow along socially and join in on the fun by using our hashtag #MiniChefMondays to share creations your mini chef created in the kitchen. Additionally, if you have a kid-friendly recipe that kids can easily recreate, link up! Don't have a blog? Share the URL of your instagram photo in our linky below.