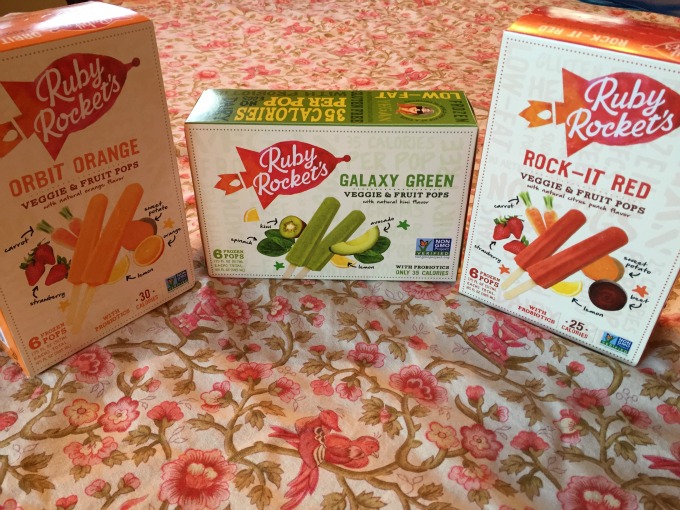 Once in a blue moon I go to the supermarket by myself and peruse the aisles looking for new products that my family would enjoy.  This is rare as I'm usually rushing to get through with two five year-olds in tow.  A few months ago when I was alone I took some extra time in the frozen dessert aisle and came across a product I had never seen before called Ruby Rockets.  I picked up a box of what was described as healthy ice pops to try.  They had me at beets and strawberries.
My kids frequently want something sweet after dinner or for an afternoon snack.  I try to keep healthy snacks in the house for these requests.  We first tried the Rock-It Red ice pops and loved them.  I reached out to the company to tell them how much we enjoyed the Rock it Red and since I'm a blogger, they sent us a couple other varieties to try including Orbit Orange and Galaxy Green.  My kids and I agreed, all of the flavors are delicious.
Every since discovering Ruby Rockets ice pops I've been keeping them stocked in my freezer.  Next time you are at the supermarket pick up a box and give them a try.  I bought them at Shoprite and have also seen them at Wegmans.  Ruby Rockets also ships within the US.  I think you and your little ones will love these healthy and delicious ice pops!
The kind people over at Ruby Rockets are offering a variety pack of flavors to a lucky Vegging at the Shore reader, which includes three different flavors of ice pops. Enter below and good luck!
Disclosure: I was provided with a variety pack of ice pops in exchange for a review.  All thoughts and opinions are my own.