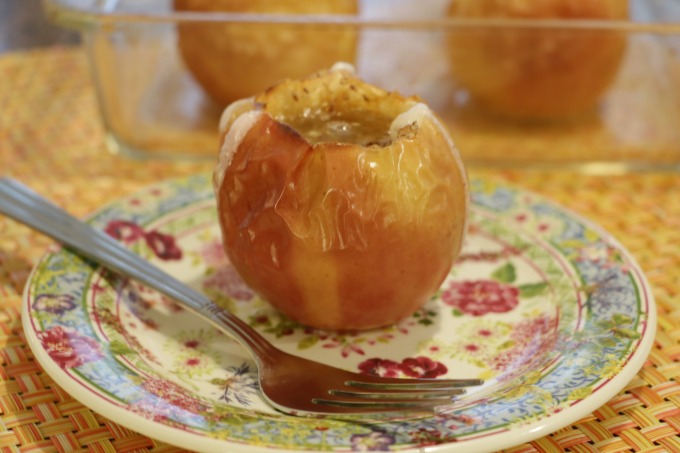 I am lucky to have grown up with a mother who is a fabulous cook.  She was making everything from scratch long before it was trendy.  We never ate soup out of a can and dinnertime always involved the whole family eating together.  One thing I remember from family dinners was a complete meal including salad or melon to start, dinner with a meat, vegetable and starch and dessert at the end. When I tried to think back to what we had for dessert, baked apples are something I remember having. Now that I have children I understand why.  They are so quick to make and the main ingredient is a fruit.  Who wouldn't want to serve that to their family for dessert?  I credit my mom with inspiration for this week's Mini Chef Mondays recipe.
You start with four apples.  Any variety will do.  I always have apples in my house and for this recipe we used Gala.  First you scoop out the tops and seeds.  Then you mix together brown sugar and chopped pecans.  Fill the apple centers with the mixture and then top with a bit of coconut oil.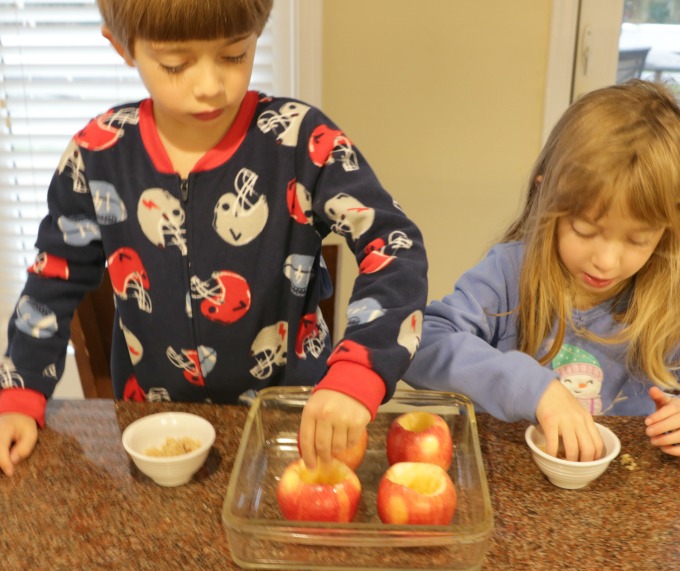 Add some hot water to the dish and bake uncovered for about 45 minutes.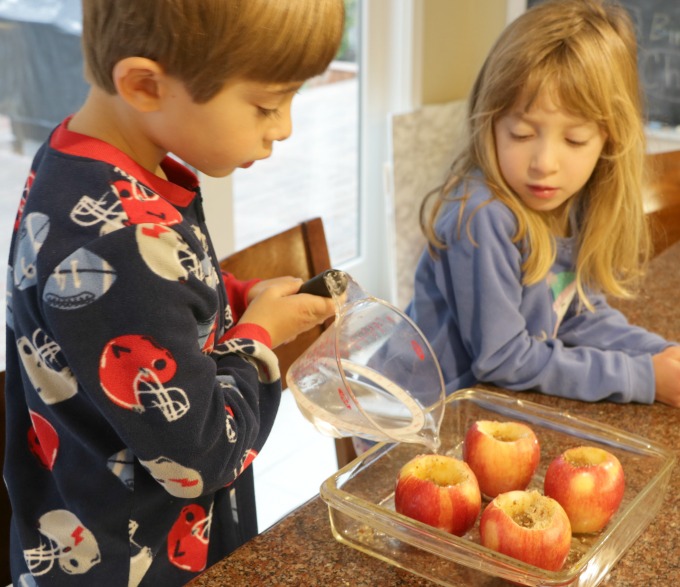 When they come out of the oven the apples will be soft and they will have absorbed the delicious flavors of the coconut oil, brown sugar and chopped pecans.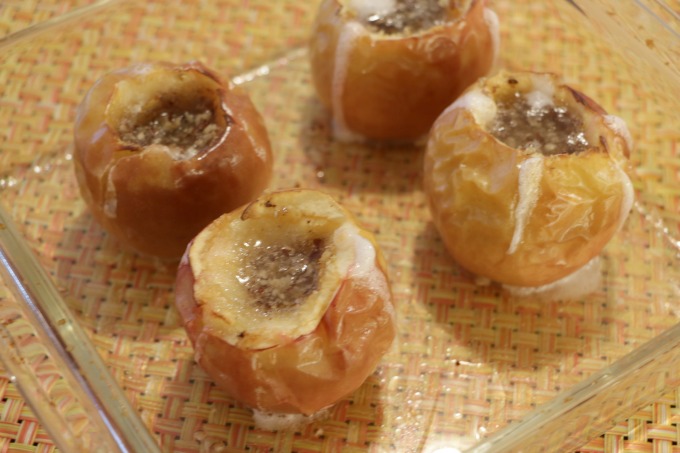 Still at a loss for what to serve for dessert over the holidays?  Baked apples are delicious, simple and elegant.  You will love how quick they are to prepare and your guests will enjoy eating them!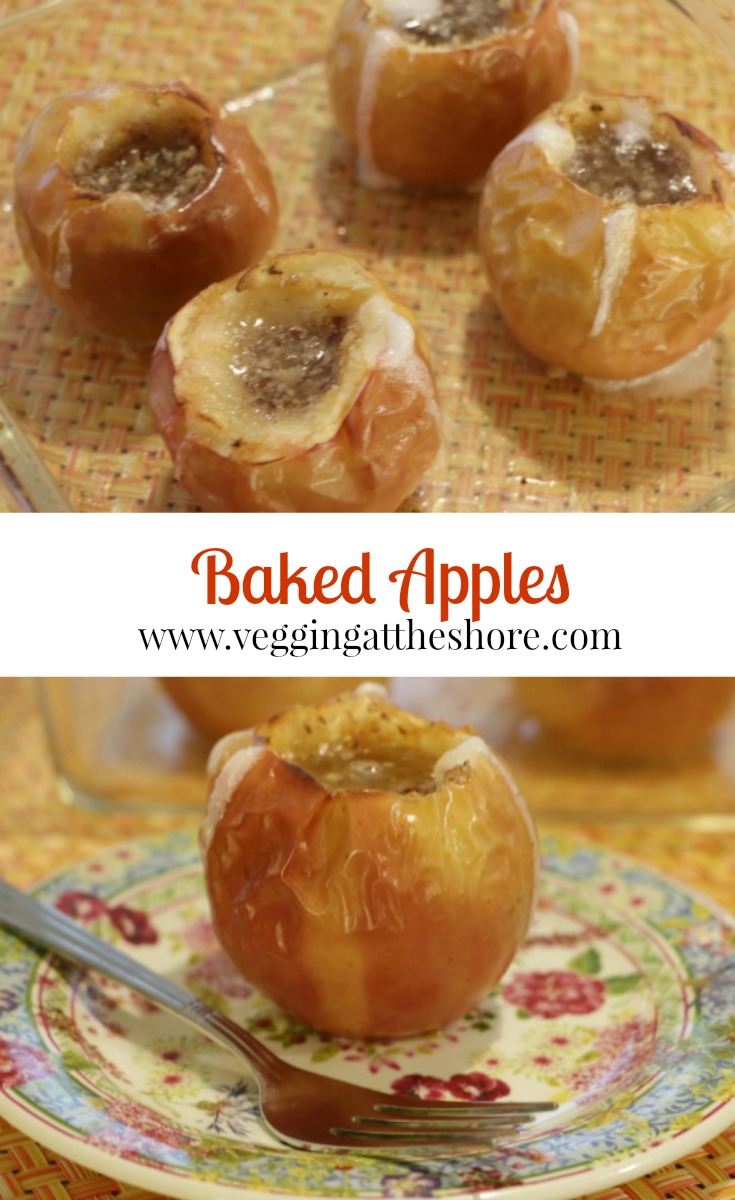 Four Ingredient Baked Apples
Ingredients
4 apples of any variety
1 teaspoon light brown sugar
1 tablespoon chopped pecans
1 teaspoon coconut oil
Instructions
Preheat oven to 350. Scoop out tops and insides of apples. Place in a baking dish. Combine sugar and pecans and divide evenly among the apples. Pour coconut oil on top of pecan mixture of each apple. Pour 1/2 cup of hot water into bottom of dish. Bake uncovered for 45 minutes.
7.8.1.2
78
https://veggingonthemountain.com/2016/12/four-ingredient-baked-apples/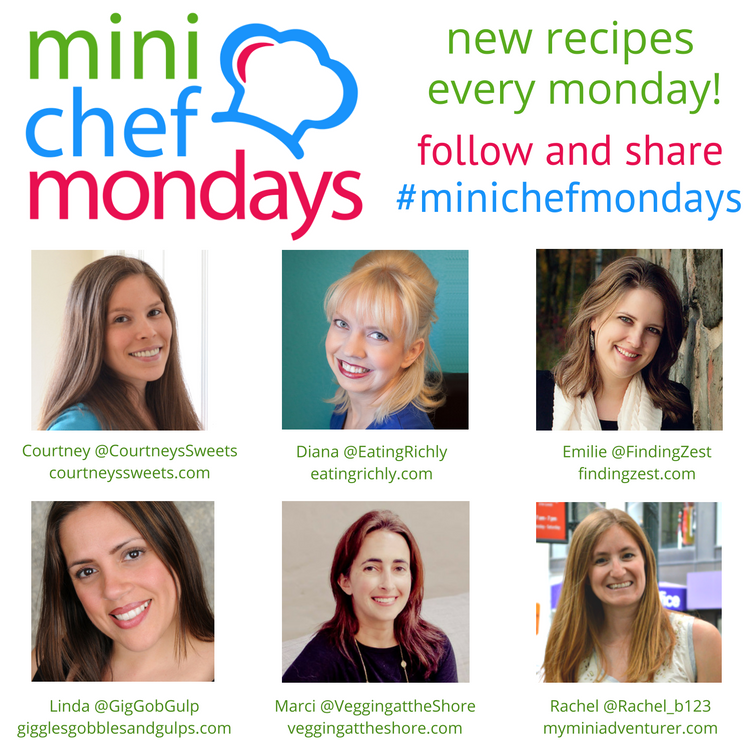 I am hosting Mini Chef Mondays along with 5 fabulous bloggers, find out more about the Mini Chef Mondays Team!
Join our facebook group to find even more recipes and share recipes too!
Get featured and follow us too!
Be sure to check out each of their Mini Chef posts as well!