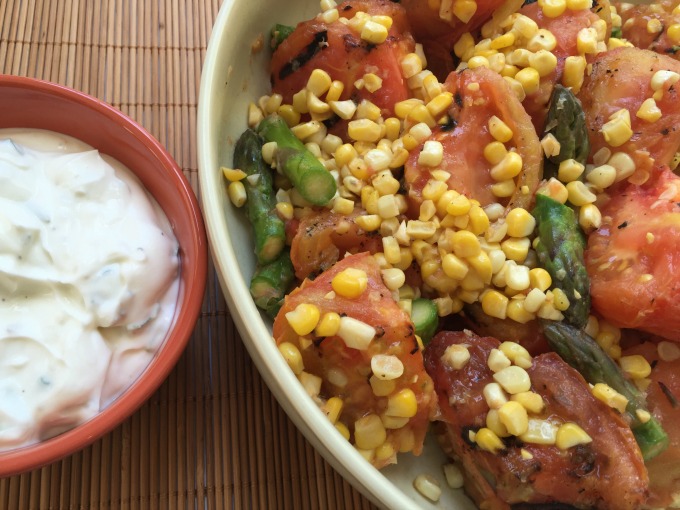 Memorial Day is approaching and for many people that means the start of beach season, or if you are from the Philadelphia area, the start of going "down the shore".  The Jersey shore is not only filled with great beaches, it has some of the best restaurants in the state.  I was thrilled to be asked to review The Jersey Shore Cookbook, a collection of recipes from restaurants along the shore.  Many of my local favorites are in there including Jon and Patty's Coffee Bar and Bistro, the Iron Room Restaurant and Knife and Fork Inn.  The cookbook is filled with fabulous recipes and gorgeous mouth-watering pictures.
It was so hard to choose which recipe to start with but I finally decided on one from the Iron Room Restaurant in Atlantic City for Charred Jersey Tomato Salad with Sweet Corn, Asparagus Tips and Herb Yogurt.  You start by cooking up some corn and asparagus in a skillet.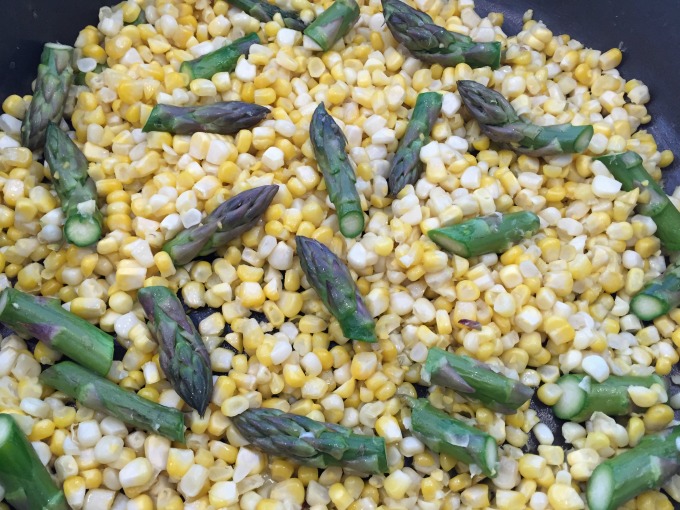 Next fire up the grill and add some quartered tomatoes.  I have never grilled tomatoes and let me describe them in one word, amazing!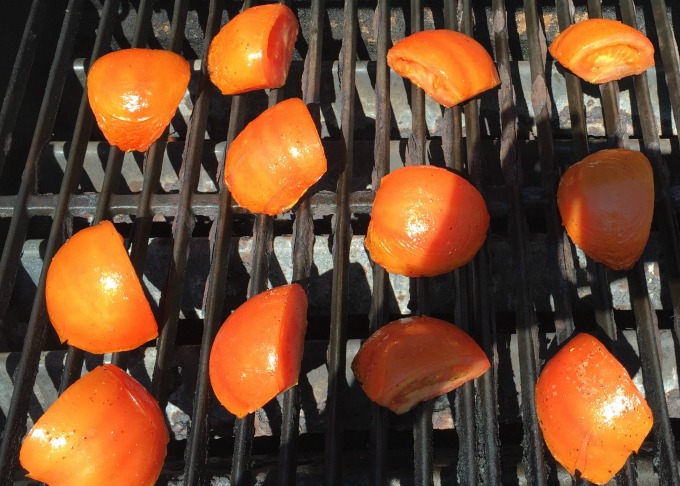 When the tomatoes come off the grill add them to the asparagus and corn.  Then make a super simple yogurt sauce.  I loved everything about this salad.  The charred tomatoes are bursting with flavor and the yogurt sauce is just perfect.  This will definitely be going into my regular summer rotation.
The Jersey Shore Cookbook was just released and is on sale on Amazon. When I visit people from out of town I like to bring something representative of the Jersey shore.  I usually bring salt water taffy but this cookbook is going to be my new gift.  It's fantastic!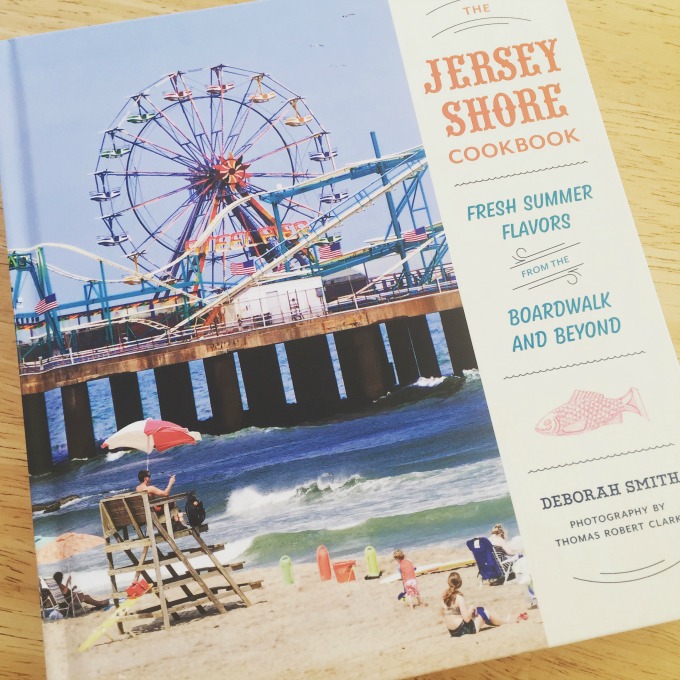 Charred Jersey Tomato Salad
This recipe is from the Iron Room Restaurant in Atlantic City, NJ and adapted from The Jersey Shore Cookbook.
Ingredients
3 ears Jersey sweet corn
1 bunch Jersey asparagus
3 to 4 tablespoons extra-virgin olive oil, divided
5 to 6 large Jersey beefsteak tomatoes, quartered
Salt and pepper, to taste
1 pint good-quality Greek yogurt
1 bunch scallions, roughly chopped
1/2 bunch oregano, roughly chopped
Juice of 2 lemons
Instructions
With a sharp knife, cut corn kernels off cobs. Chop off the top third of each asparagus stalk; you want only the tips. Reserve remaining asparagus for another use.
In a medium saucepan over medium to high heat, warm 1 tablespoon of the olive oil. Saute corn and asparagus for about 3 to 5 minutes, or until cooked but still crisp. Do not overcook. Let cool. (This can be done an hour or so before serving.)
Preheat an outdoor grill. Toss tomatoes with salt, pepper, and 2 to 3 tablespoons of the olive oil (just enough to coat them). Place tomatoes on the hottest part of the grill and heat until one side is charred. Immediately toss tomatoes with corn mixture.
In a mixing bowl, stir together yogurt, scallions, oregano, lemon juice and salt and pepper to taste.
Serve this salad family-style, with the yogurt sauce alongside, so that guests can dress their salads. Or plate individual portions, with a dollop of yogurt sauce on each.
7.8.1.2
12
http://veggingonthemountain.com/2016/04/charred-jersey-tomato-salad/
Disclosure: I received a copy of The Jersey Shore Cookbook for review purposes.  All thoughts and opinions are my own.