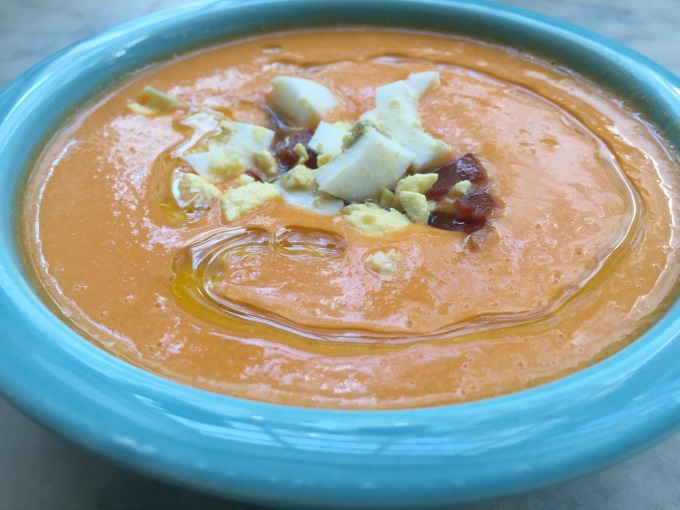 I usually avoid cold soups because I'm not a gazpacho fan.  To me, gazpacho tastes like salsa.  And while I love salsa, I don't love eating it by the spoonful.  If you feel the same way, this chilled Spanish tomato soup, also known as Salmorejo, will change your life.  Or at least the way you view soup.  My old friend Jen (who is not old, just a dear friend for 30 years) was visiting the shore recently as she does every summer.  She told me about this soup she fell in love with in Spain and I asked if I could watch her make it.  She gave me a cooking lesson and I've been so excited to share the recipe with you.  It originally comes from one of her favorite blogs, Spanish Sabores.  If you have an abundance of tomatoes growing in your garden, this is what you need to make with them!
Start with a bunch of big juicy tomatoes.  If you live in New Jersey, grab those gorgeous Jersey tomatoes!  Make an X in the bottom of the tomatoes and add them to a pot of boiling water for a minute, followed by submerging them in an ice bath until they are cooled enough to handle.  The skin will peel right off.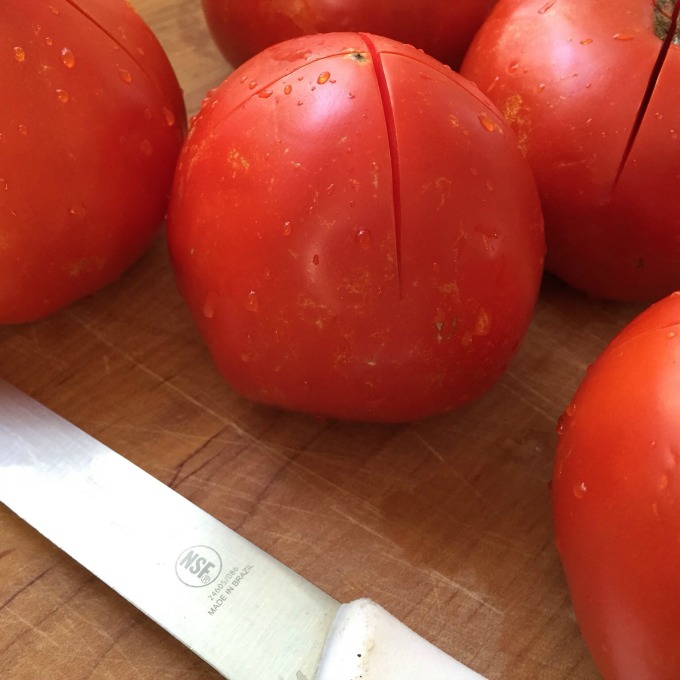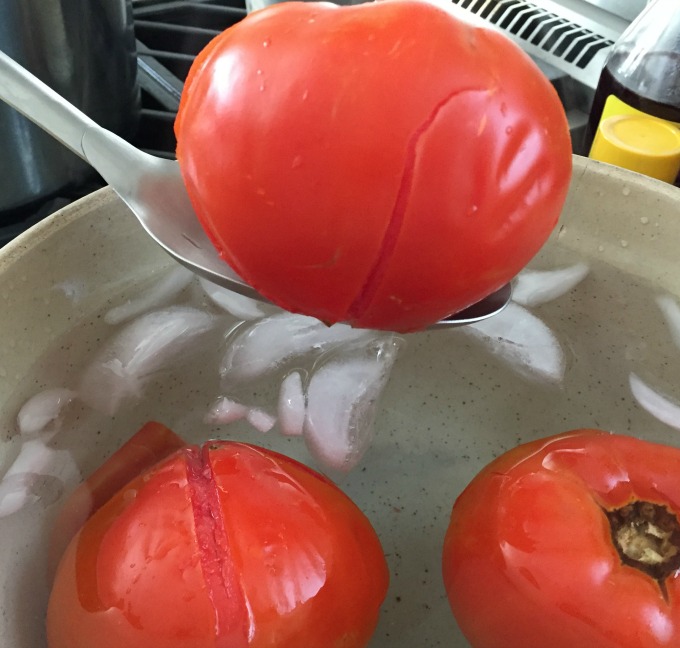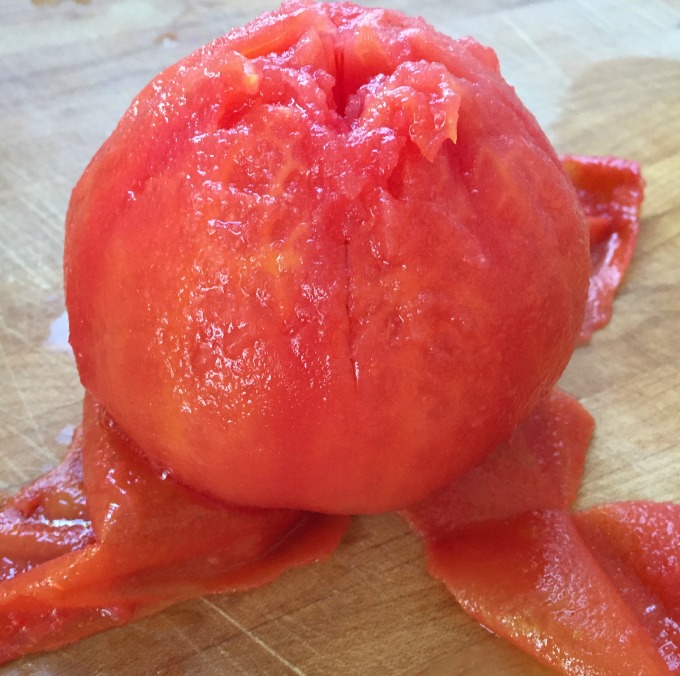 Add the tomatoes to a blender and give them a good blend for a minute.  Now you want to add 2 cups of bread, the insides of a baguette. Jen put my kids to work pulling out the insides of the bread.  They loved this job, especially eating the crust that we wouldn't be using.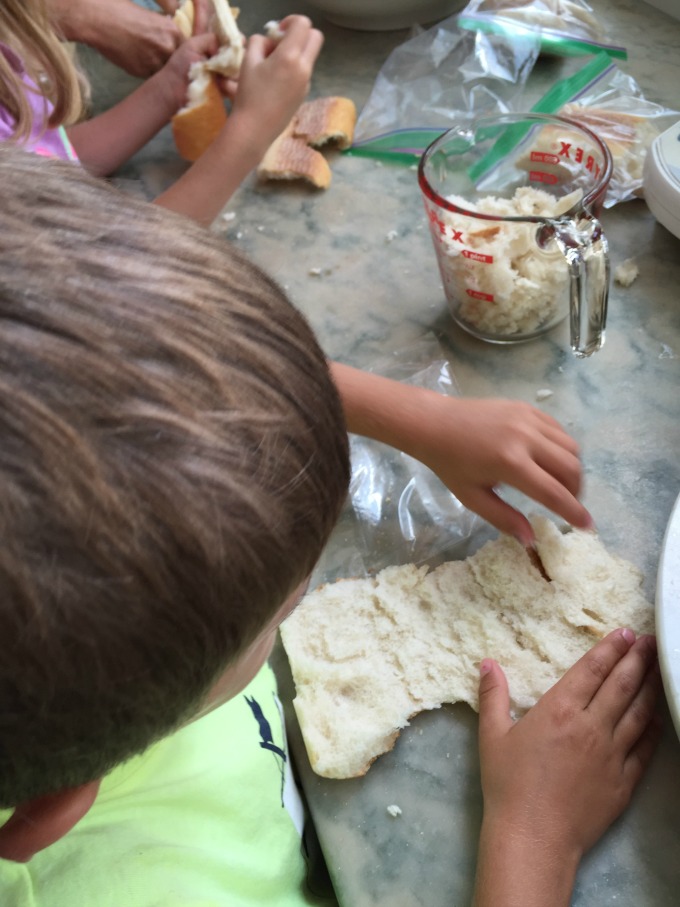 Add the bread to the blender and let it soak for a few minutes before blending it, followed by adding olive oil, sherry vinegar, salt, garlic, and a hard boiled egg.  The bread and egg give the soup such a perfect creamy texture while keeping it dairy-free.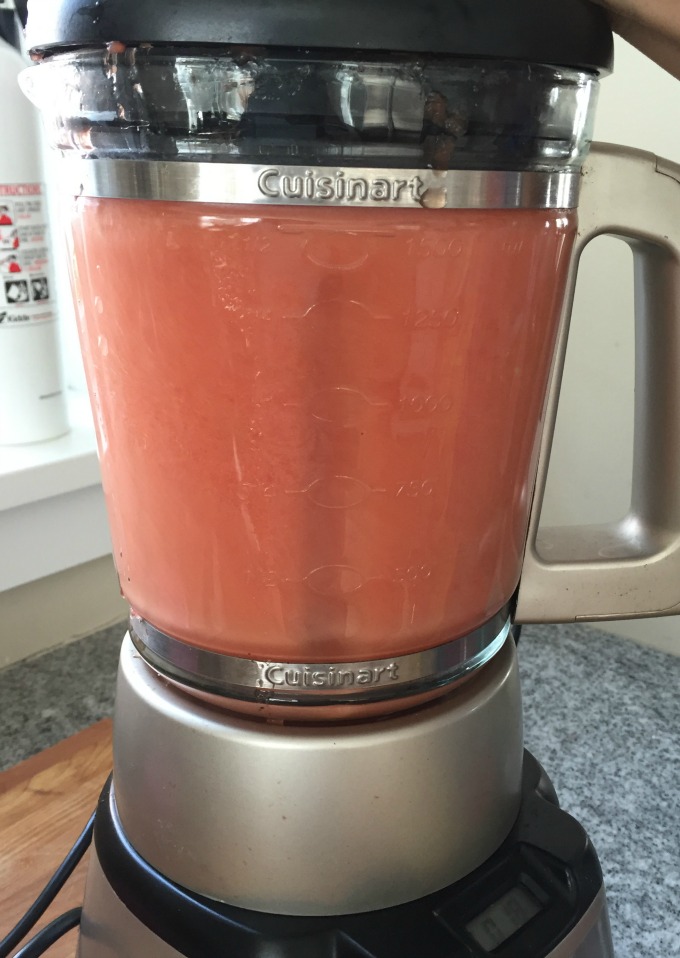 Typically this soup is topped with ham and egg in Spain, but in the interest of keeping it vegetarian we cooked up some vegetarian bacon to add on top.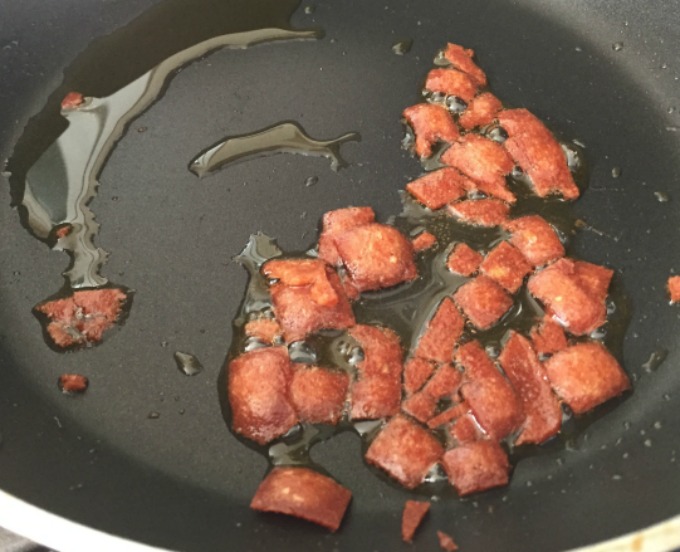 Chill the soup for a couple hours and enjoy.  This soup screams summer and will make you fall in love with chilled soup.  Thanks Jen for the cooking lesson.  Can't wait to see what we cook up together next summer when you visit the shore!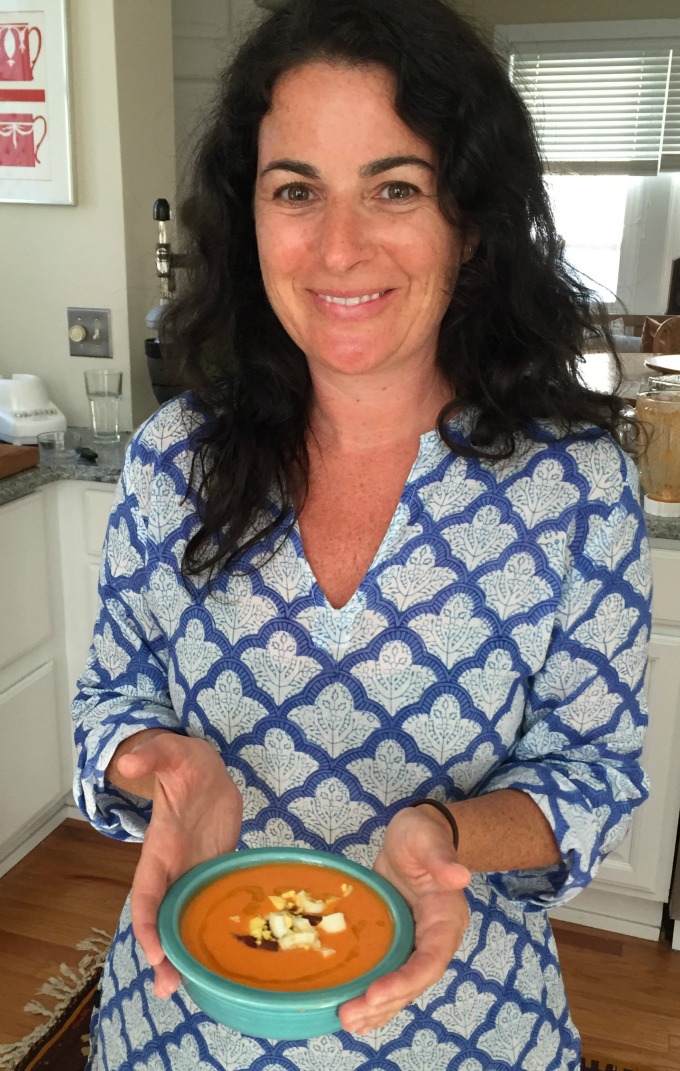 Chilled Spanish Tomato Soup
Ingredients
6-8 large tomatoes
1 baguette
1 cup extra virgin olive oil
1 garlic clove, peeled
splash of sherry vinegar
pinch of salt
2 hard boiled eggs, 1 cut into small pieces and 1 whole
a couple slices of vegetarian bacon, cooked and cut into small pieces
Instructions
Bring a large pot of salted water to a boil. Cut an X in the bottom of each tomato. Add tomatoes to boiling water for a minute. Remove to an ice bath (bowl filled with ice water). When cool enough to handle, remove skin and place tomatoes on a cutting board.
Remove cores from the tomatoes and add to a blender. Blend at high speed for about 30 seconds until tomatoes have broken down.
Prepare bread by removing inside of baguette and breaking into small pieces. You should have 2-3 cups of the "guts" of the bread. Add the bread to the blender and let it soak in the tomato mixture for about 5 minutes.
Add the splash of vinegar, salt and garlic and blend until well combined and bread has broken down. Add olive oil slowly either through the spout of the blender or in small batches. Blend well. Add 1 hard boiled egg and blend until egg incorporated. Taste and adjust seasoning.
Serve topped with hard boiled egg pieces and vegetarian bacon pieces.
Notes
Recipe barely adapted from www.spanishsabores.com
7.8.1.2
44
http://veggingonthemountain.com/2016/08/chilled-spanish-tomato-soup/