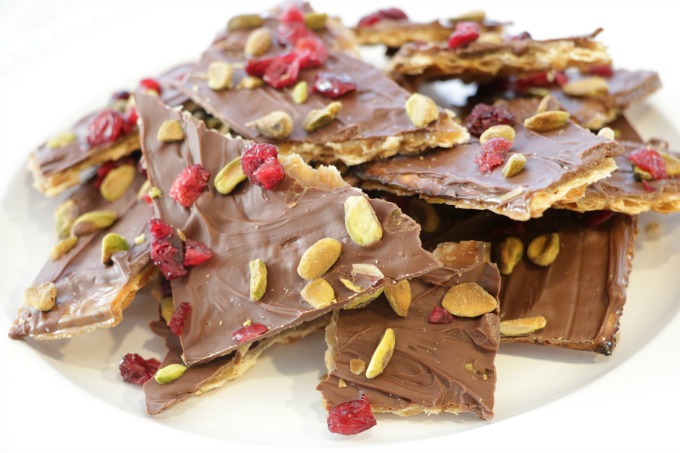 Passover is coming in a few weeks which means time to get creative with matzo.  If you are not familiar with matzo, it is unleavened flatbread that is eaten during the Jewish holiday of Passover.  Everyone has their favorite way of eating matzo.  For some it's matzo ball soup and for others it's matzo brei.  Well here is another way for you enjoy it, covered in chocolate with pistachios and cranberries scattered on top.  If you are hosting a seder or going to someone's house, you need to make this.  Not only is it delicious, but it's so colorful and pretty!
You start by laying out four sheets of matzo on a baking sheet.  Combine brown sugar and butter to make a toffee.  Once the toffee is thickened, spread it over the matzo and bake it for ten minutes.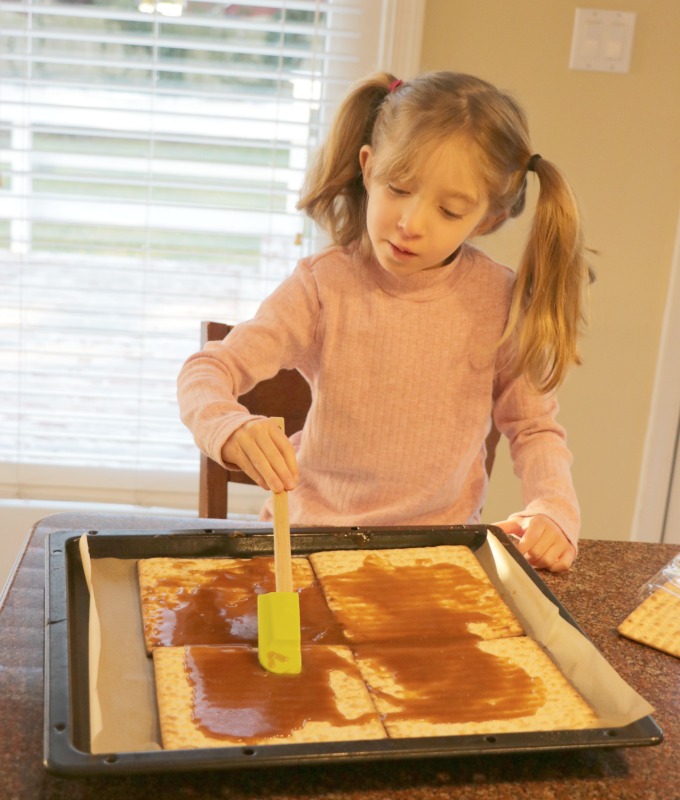 After it comes out of the oven, spread chocolate chips on top and let them sit for a few minutes to soften.  Then spread the chocolate over the matzo and top with chopped pistachios and chopped cranberries.  Give that a quick sprinkle of salt to balance out the sweet taste and pop the tray in the refrigerator for about an hour.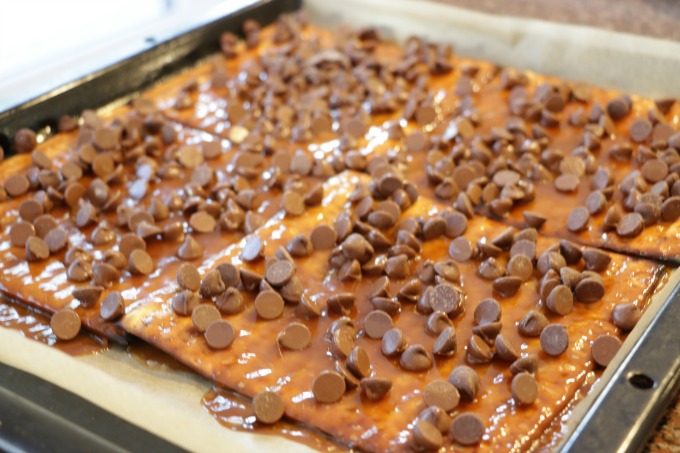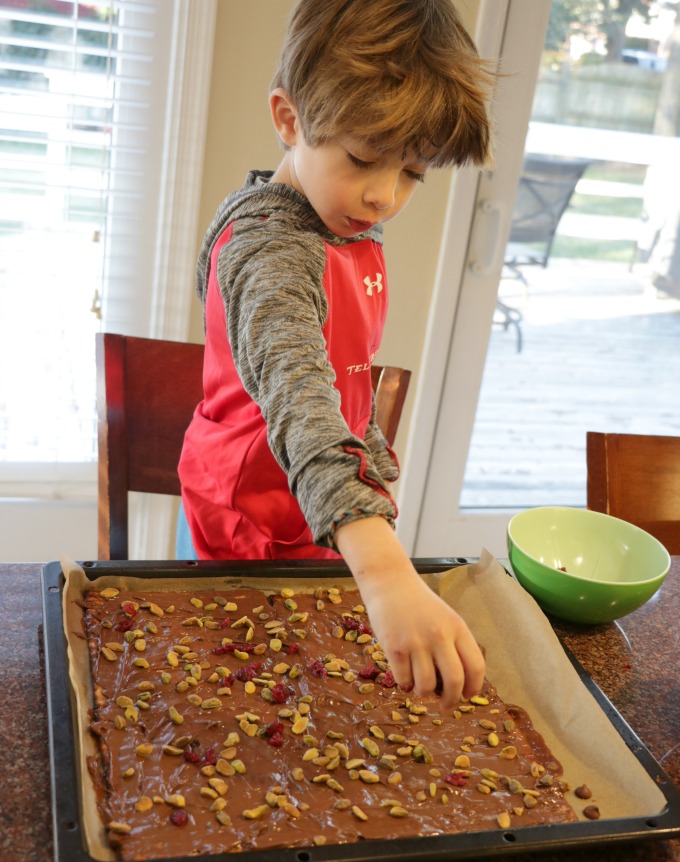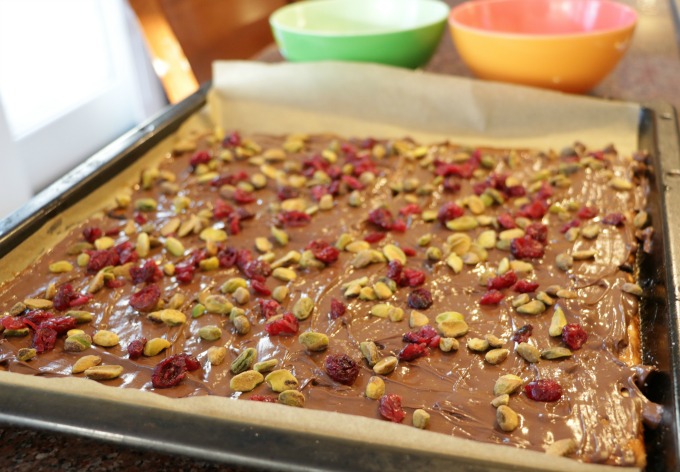 Chocolate covered matzo with cranberries and pistachios is a sweet treat that kids and adults will love. Make a batch and watch it disappear!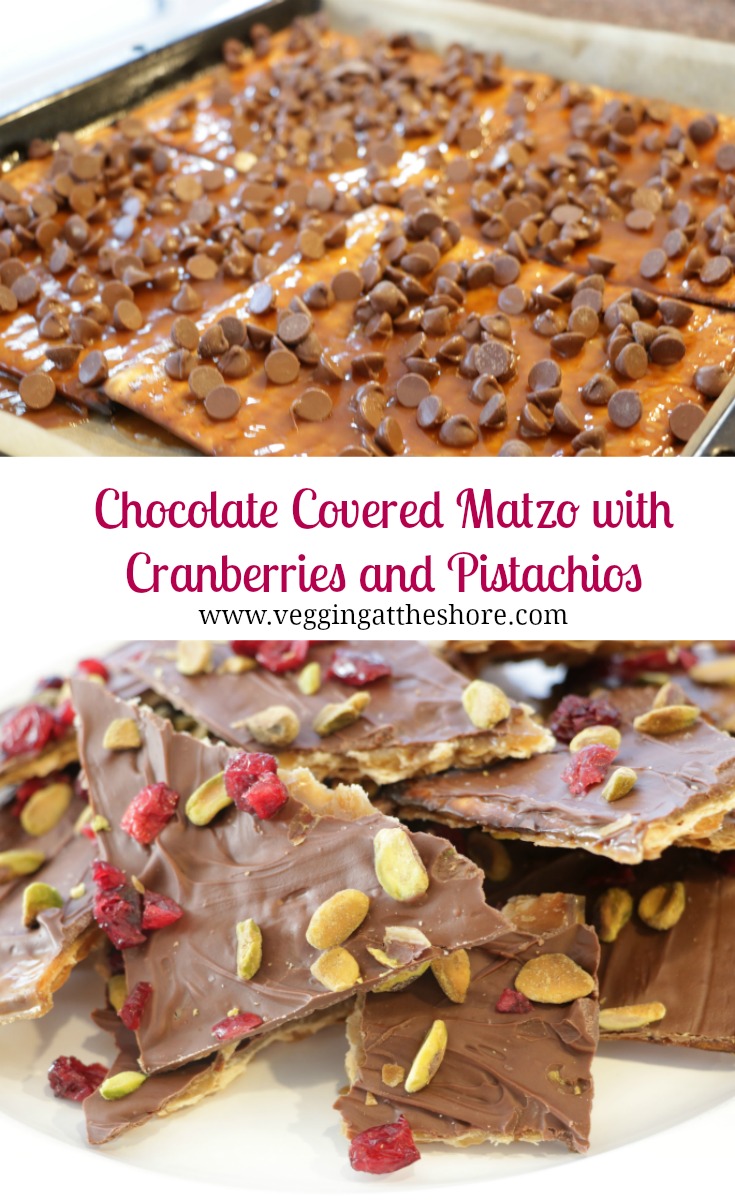 Chocolate Covered Matzo with Cranberries and Pistachios
Ingredients
4 sheets of matzo
2 sticks unsalted butter
1 cup dark brown sugar
1.5 cups chocolate chips
1/2 cup chopped pistachios
1/2 cup chopped cranberries
1/2 teaspoon sea salt
Instructions
Preheat oven to 350. Lay matzo on a parchment lined baking sheet. Combine butter and brown sugar over medium heat. Once butter is melted, stir constantly. Bring to a boil and cook for an additional 3 minutes until mixture is thickened. Pour over matzo and cook for 10 minutes.
Remove from oven and sprinkle chocolate chips on top. Let chips sit for a few minutes to soften and then using a spatula, spread chocolate. Top with pistachios, cranberries and salt. Refrigerate for an hour and then break apart. Refrigerate until ready to serve.
Notes
Recipe adapted from Once Upon a Chef
7.8.1.2
90
http://veggingonthemountain.com/2017/03/chocolate-covered-matzo-with-cranberries-and-pistachios/
I am hosting Mini Chef Mondays along with 4 fabulous bloggers, find out more about the Mini Chef Mondays Team!
Join our facebook group to find even more recipes and share your own recipes!
Get featured and follow us too!
Be sure to check out each of their Mini Chef posts as well!