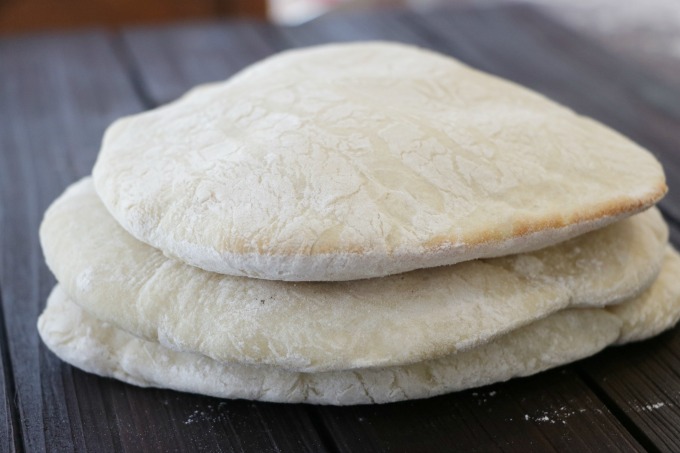 If you follow me on social media, you know that I have a slight obsession with Michael Solomonov's restaurants in Philadelphia.  I could stand in line at Dizengoff for hours watching the pita being made behind the counter.  I've been wanting to try his pita recipe for awhile and finally got around to it.  It couldn't have been easier and the result was pretty close to what you get in his restaurants.
I was recently given the opportunity to try out the new EatSmart Precision Digital Kitchen Scale. Every well-stocked kitchen should have a good kitchen scale and this is the one to get.  My favorite part is that it's so small.  It's thin enough to fit into tight spaces when it's not being used and when it is on the counter, it takes up very little space.  The other thing I love about it is how precise it is (hence the name).  It also switches so easily between different units.  If you have ever passed over a recipe because you don't have a kitchen scale, order one of these.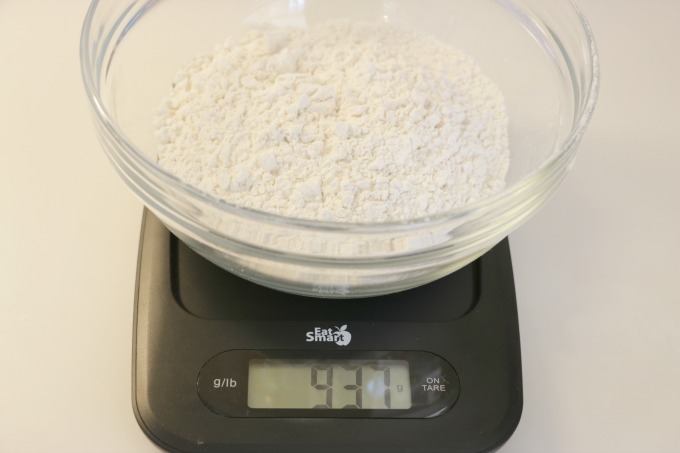 The pita dough for this recipe is so simple to make.  You combine water, yeast and sugar in a small bowl and let that sit for about 5 minutes..  In a stand mixer combine the flours and salt.  Then add the wet ingredients to the dry ingredients, along with additional water, until you get a dough consistency that feels right.  It should feel tacky, but not stick to your hands.  Let the dough rise for about an hour.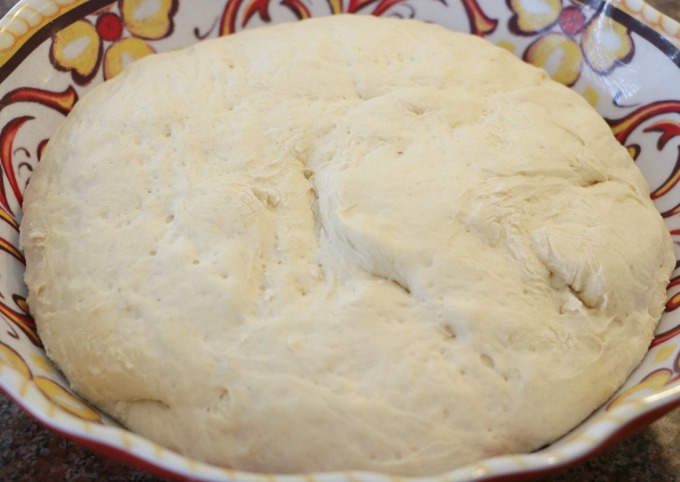 Preheat your oven to a high temperature with a pizza stone or inverted baking sheet inside.  A pizza stone is another kitchen staple that you should have.  Roll the dough into 8 balls the size of baseballs, cover and let them rise for another half hour or so.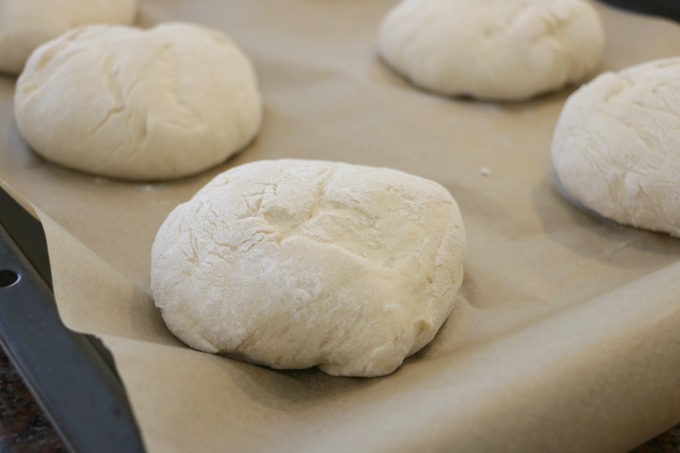 When you are ready to cook them, roll a ball of dough to a 1/4 inch thickness with a floured rolling pin.
Place the rolled out dough on the pizza stone and let it cook for 3-5 minutes, until it is puffed and cooked through. Depending on the size of your pizza stone, you may be able to cook 2 at a time.  It's fun to watch the dough puff up in the oven.  It's kind of magical.  My kids loved watching it.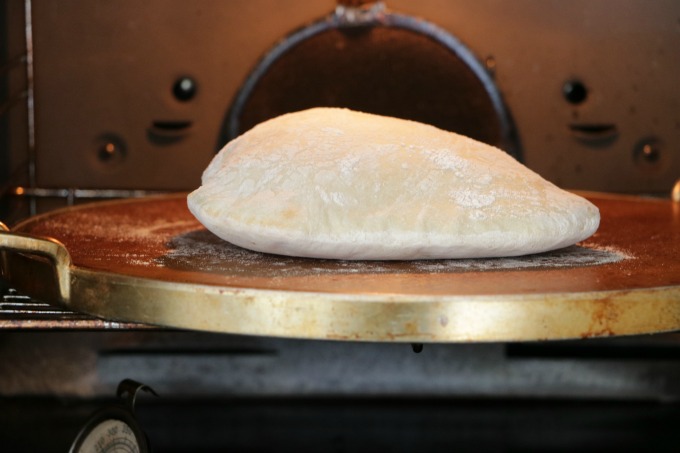 So the next question is, how to enjoy the pita?  I highly recommend just eating it warm, straight out of the oven.  When you slice the pitas, you will get a perfect opening so I made egg salad sandwiches out of some.  We also enjoyed ours with roasted red pepper hummus (recipe coming to the blog soon).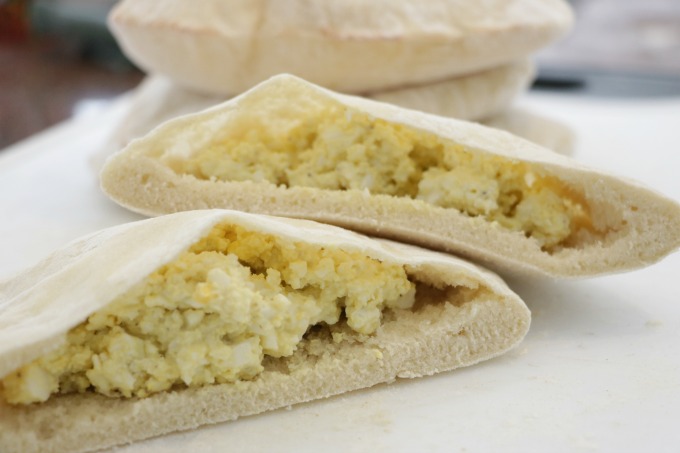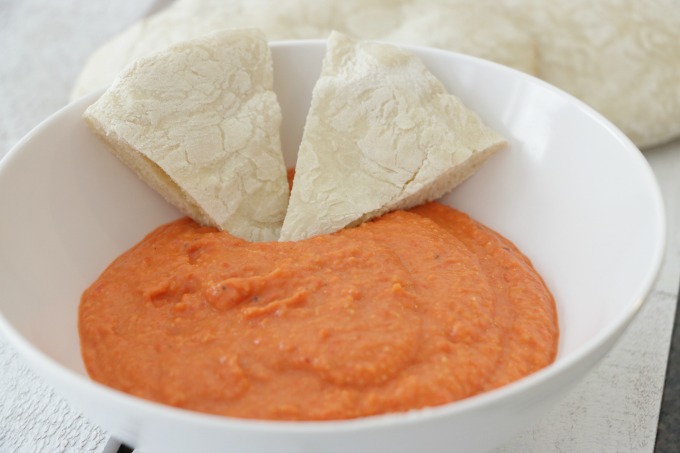 These pitas didn't even last a day in my house.  Next time you are craving delicious pita, pass on the store-bought kind and make your own.  It's very simple, especially with the help of a kitchen scale!
Ingredients
2.5 teaspoons (12.5 grams) active dry yeast
2 teaspoons (10 grams) sugar
2 cups (256 grams) all-purpose flour
2 cups (272 grams) bread flour
1.5 teaspoons (7.5 grams) kosher salt
2 tablespoons (30 grams) olive oil
Instructions
Mix together 1/2 cup warm water, yeast and sugar in a small bowl and let stand until foamy, about 5 minutes.
Combine flours and salt in the bowl of a stand mixer fitted with the dough hook. Mix on low until blended. Add the yeast mixture, another 1/2 cup water and the oil and mix on low until the dough forms a ball that pulls clear of the sides and bottom of the bowl. (If after a minute the mixture doesn't form a ball, add a tablespoon of water.) As soon as the dough starts to pull clear of the bottom of the bowl, add 1/2 cup water and continue mixing until incorporated. The dough should feel tacky when you touch with a clean hand, but it should not stick. Add more flour, a tablespoon at a time, if it's too sticky.
Cover the dough with plastic wrap and let rise at room temperature until doubled in size, about an hour.
Preheat oven to 500 with a rack in the upper third. Place a pizza stone or inverted baking sheet in the oven to preheat.
Roll the dough into 8 balls the size of baseballs. Cover with a cloth and let rise until they are the size of softballs.
Roll each dough ball to about 1/4-inch thickness with a floured rolling pin on a floured work surface. Place one or two at a time on the baking stone or baking sheet and bake until puffed and cooked through, about 3-5 minutes. Serve immediately or let cool.
Notes
Recipe barely adapted from Zahav: A World of Israeli Cooking
7.8.1.2
92
http://veggingonthemountain.com/2017/04/restaurant-style-pita/
Disclosure: This post was sponsored by EatSmart Products.  All thoughts and opinions are my own.