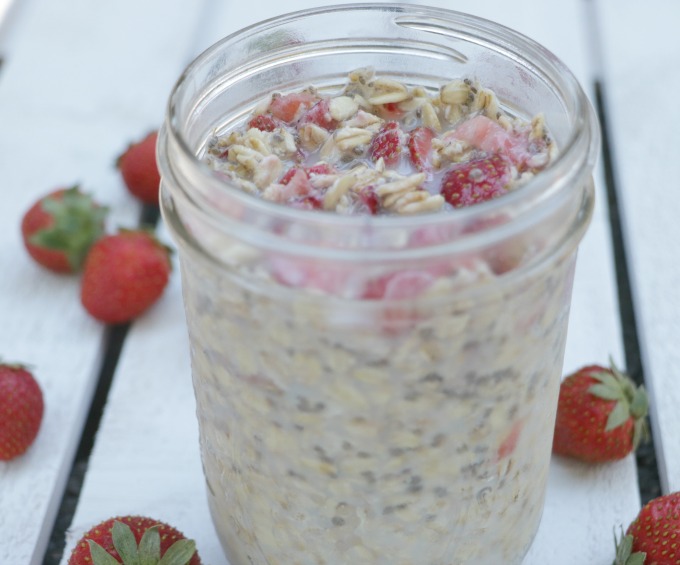 Do you ever have something new for breakfast and think, I can't wait to have that again tomorrow. And the next day and the next day.  This recipe for strawberry honey overnight oats will have you thinking that.  Breakfast should be filling, healthy and quick.  I don't know about you, but we don't have a lot of time in the morning.  I want to feed my kids something that I know will give them enough energy to get them through the morning until snack time.  Not only will overnight oats make your morning routine smoother, but it is filling and healthy!
I can't get enough strawberries this time of year.  Nothing beats fresh, local strawberries.  We picked these up at our famers market over the weekend and couldn't wait to create a recipe with them.   Strawberry rhubarb pie is usually our go to recipe for fresh strawberries, but we wanted something more simple.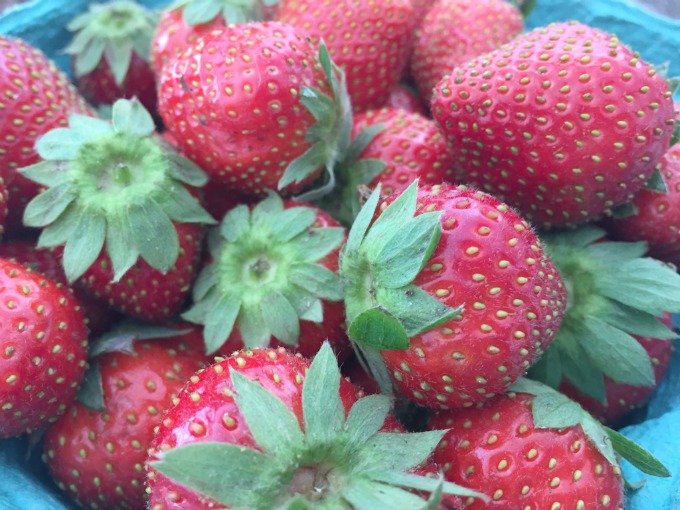 Start by having kids chop fresh strawberries using a safe kids knife.  My kids ate about half of them but luckily left enough for our recipe.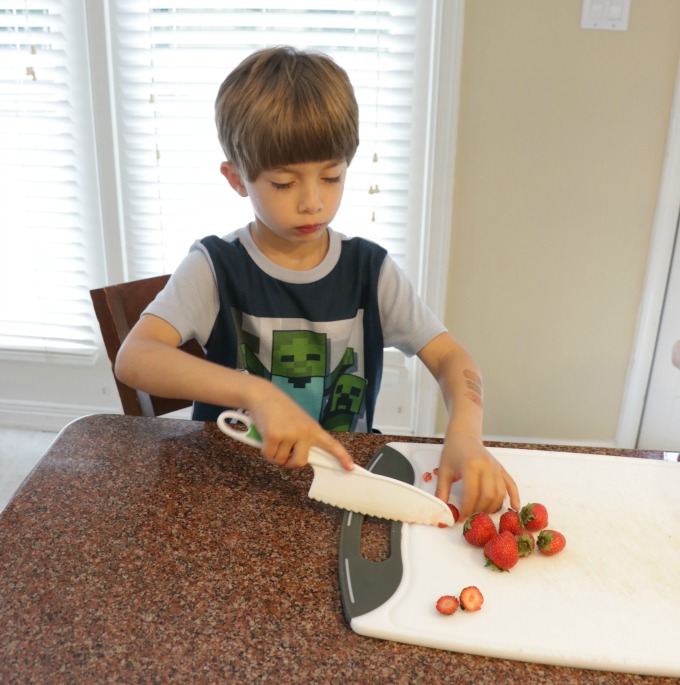 To a mason jar add oats, milk, honey, chia seeds and the strawberries.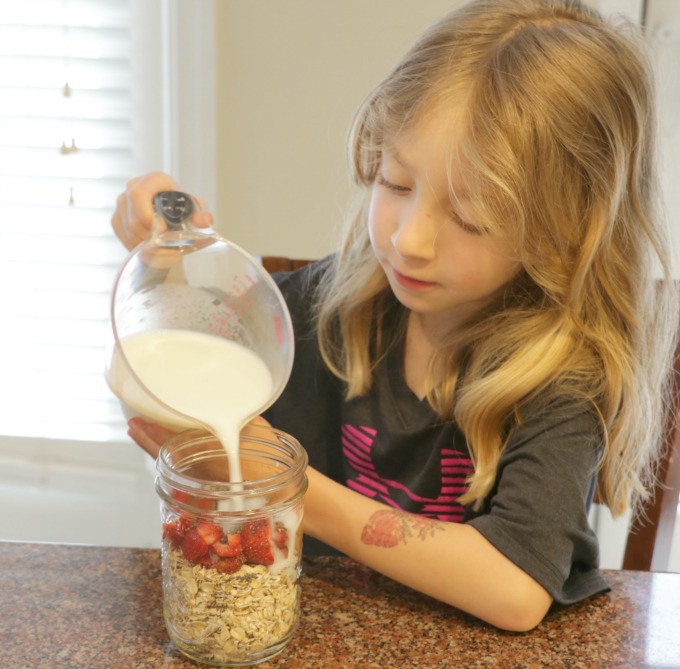 Give that a good stir and then shake with the lid on and refrigerate it overnight.  What you end up with in the morning will be delicious.  The oats will be soft and the flavors will have all blended together. Start your morning off right with a healthy breakfast!  Want more recipe for overnight oats? Check out these recipes for Applesauce Overnight Oats and Banana Almond Overnight Oats.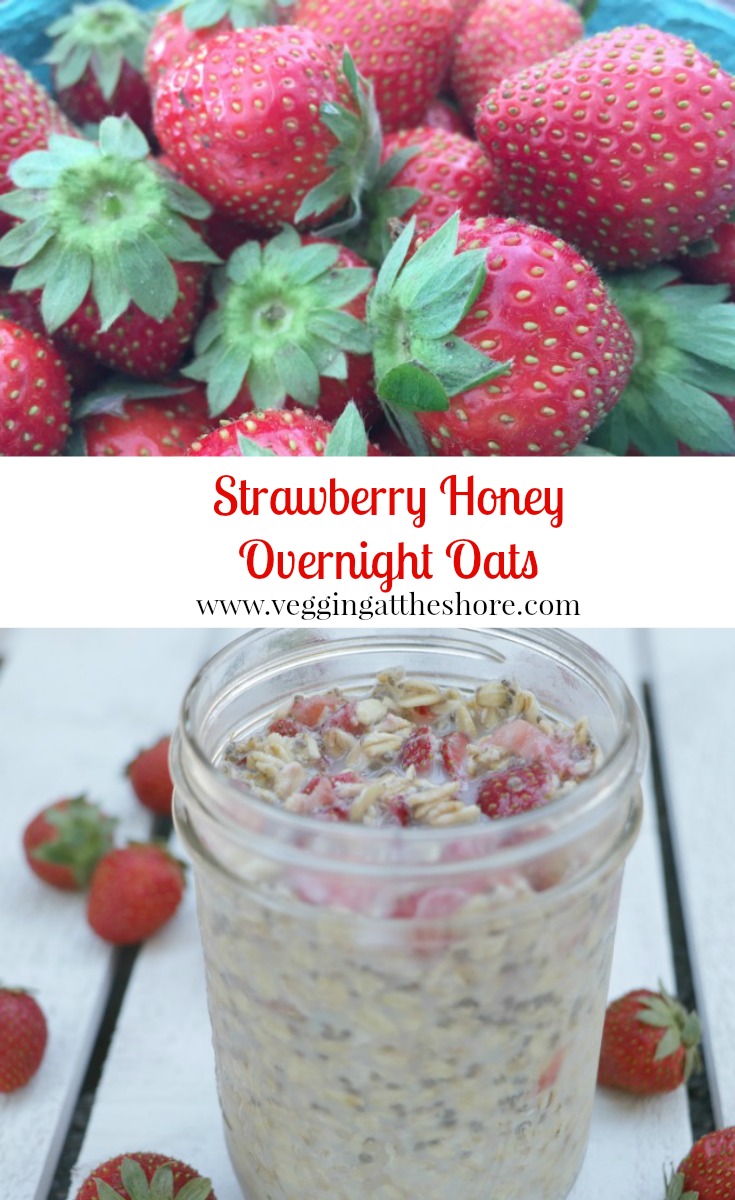 Strawberry Honey Overnight Oats
Ingredients
1/2 cup old fashioned oats
1 cup milk (any kind will work)
1 teaspoon chia seeds
1 teaspoon honey
1/4 cup chopped strawberries.
Instructions
Combine all ingredients in a mason jar. Mix together with a spoon. Cover with a lid and shake well. Place in refrigerator overnight and enjoy.
7.8.1.2
103
http://veggingonthemountain.com/2017/06/strawberry-honey-overnight-oats/
I am hosting Mini Chef Mondays along with 4 fabulous bloggers, find out more about the Mini Chef Mondays Team!
Join our facebook group to find even more recipes and share your own recipes!
Get featured and follow us too!
Be sure to check out each of their Mini Chef posts as well!