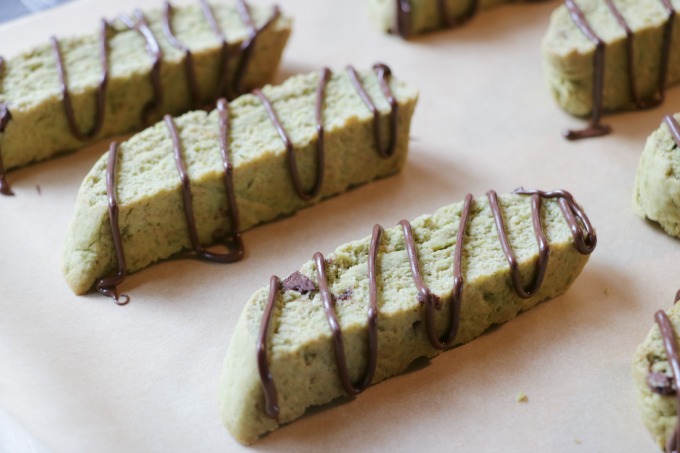 Hi, remember me? I know that it's been awhile since I've posted a new recipe. I took a brief pause from the blog to soak in the last days of summer with my family. I've also been busy working on other projects. I started teaching cooking classes over the summer which have been a huge success! The fall season of the farmers market that I co-manage started last weekend and I've also been writing two columns for a local newspaper. Have no fear though, I'm back and ready to inspire you in the kitchen. This biscotti recipe uses an ingredient called matcha that you may not be familiar with. If making your own biscotti sounds intimidating, this a great recipe that will build your confidence.
So what is matcha? It's green tea powder. You may be asking, why would I want to cook with green tea powder? Here is the answer. It's full of antioxidants and other beneficial elements. The Japanese have often included matcha in their cooking for the health benefits, similar to how someone over here would use a few drops of Vibes CBD oils in their cookies. Both are known to promote calmness and focus as well as provide energy. Add that to a biscuit and you essentially have a little bit of wellness on the go (once you've checked out is CBD oil legal where you are to make sure that you are definitely able to purchase and consume it).
When I include matcha in my diet I tend to gravitate towards matcha lattes on coffee shop menus. I was excited to cook with matcha for the first time. I was sent two different kinds of it to try, culinary matcha and ceremonial matcha from Matcha Wellness.
These biscotti are simple to make. You start by combining dry ingredients of flour, baking powder, salt and matcha.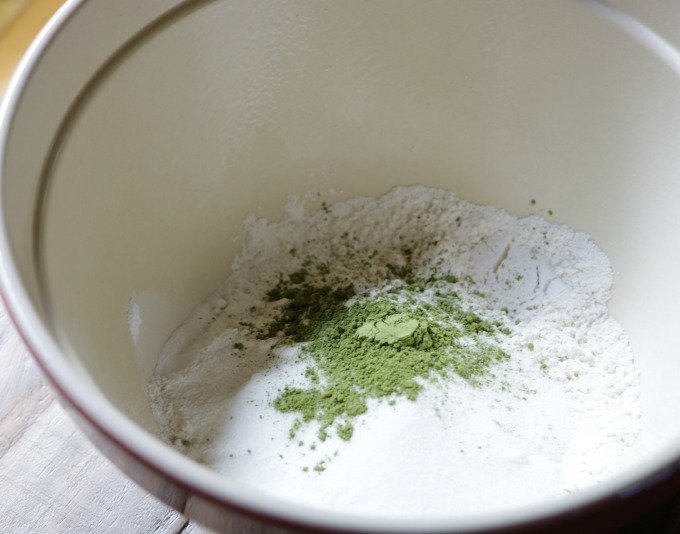 Next combine eggs, syrup and coconut oil and add that to the dry ingredients. Gently fold in chocolate chips and form the dough into two logs on a baking sheet.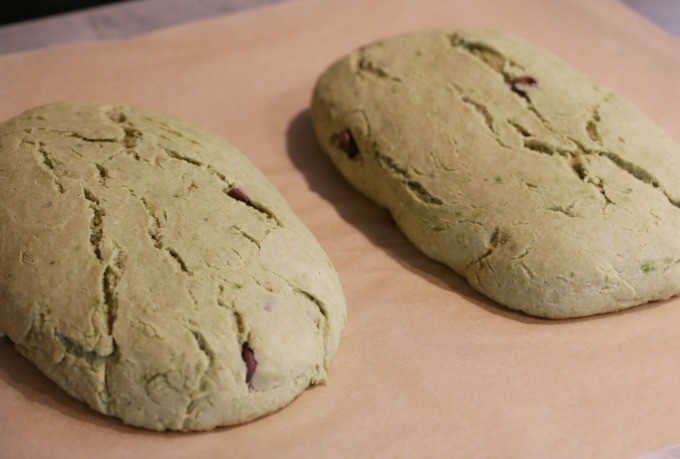 Pull them out of the oven after 25 minutes and let them cool slightly. Using a serrated knife, slice them and cook for for another 10 minutes. You can leave them the way they are or take them up a notch by drizzling with melted chocolate. Enjoy chocolate chip matcha biscotti with a cup of coffee or tea any time of day!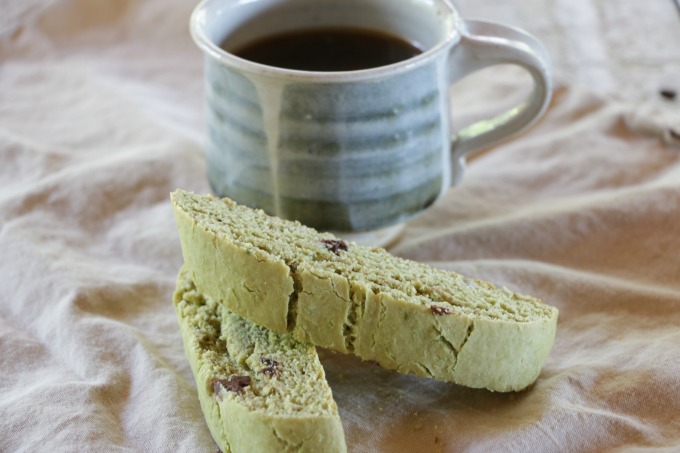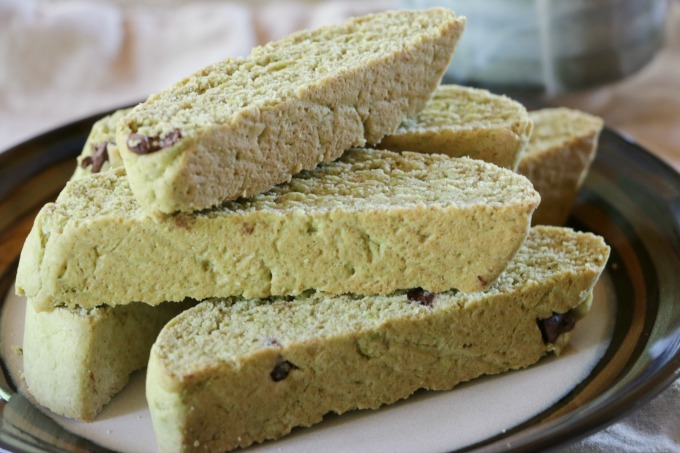 I have partnered up with Matcha Wellness and they would like to offer one Vegging at the Shore reader ceremonial matcha as well as culinary matcha to try. You can enter below, good luck!
a Rafflecopter giveaway

Chocolate Chip Matcha Biscotti
Ingredients
2 1/4 cup all-purpose flour
1 1/2 teaspoons baking powder
1/2 teaspoon salt
1 1/2 teaspoons Culinary Matcha Powder
2 eggs
1/4 cup coconut oil
1/4 cup maple syrup
1/2 cup chocolate chips
Instructions
Preheat oven to 350. Line a baking sheet with parchment paper. In a medium bowl combine flour, baking powder, salt and matcha. In a separate bowl whisk together eggs, coconut oil and syrup. Add dry ingredients to wet ingredients. Stir until ball of dough forms. Stir in chocolate chips. Divide dough in half. Form two logs of dough, about 3 inches wide and 10 inches long. Place the logs on a baking sheet and cook for 25 minutes. Remove from oven and let cool for 10 minutes. Using a serrated knife, cut on a diagonal, about 2 inches thick. Place cut side down back on baking sheet and bake for another 10 minutes. Flip and finish cooking for a final 10 minutes.
7.8.1.2
109
http://veggingonthemountain.com/2017/09/chocolate-chip-matcha-biscotti/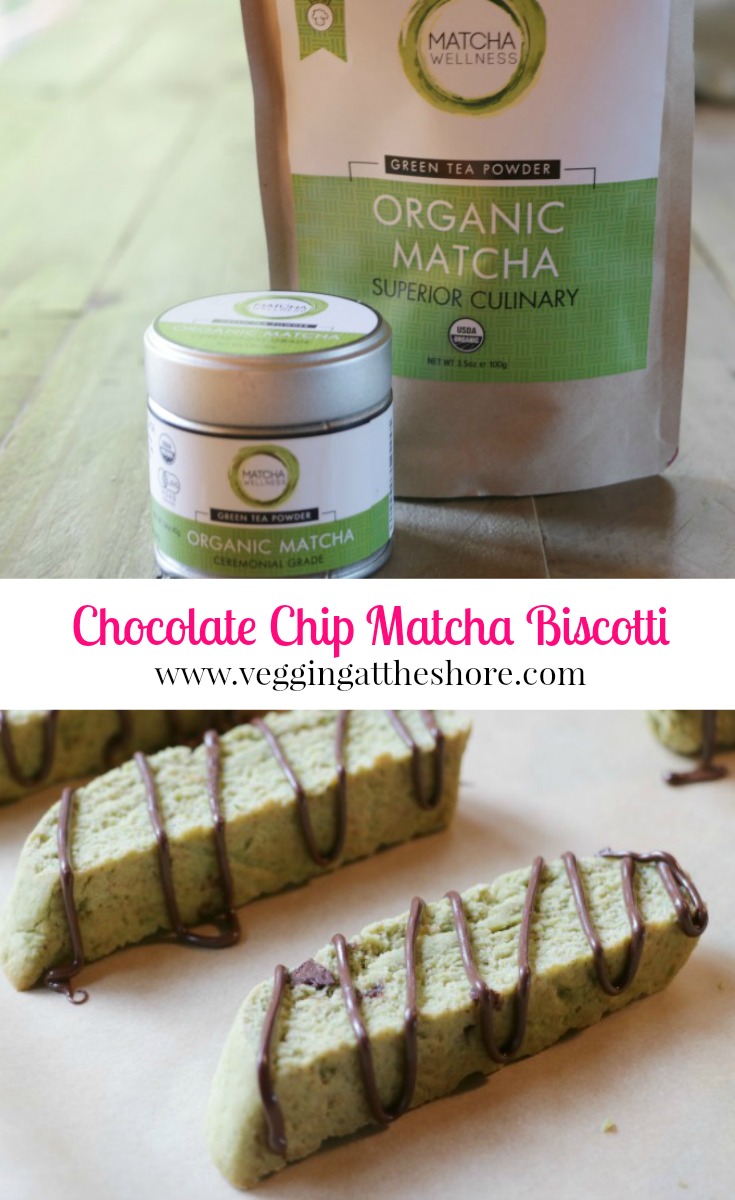 Disclosure: This post has been sponsored by Wellness Matcha. All thoughts and opinions are my own.