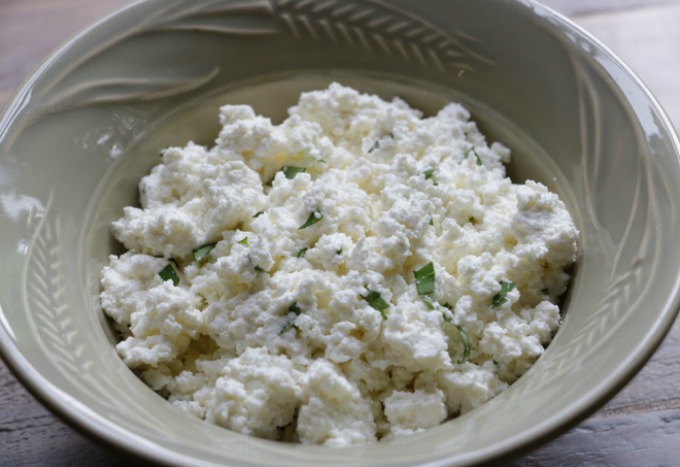 There are certain recipes that once I mastered, I could never go back to buying from a store or making from a mix.  Pizza dough, challah and pancakes are just a few that my family has come to expect will be made from scratch.  Now I can add ricotta cheese to that list.  Cheese making has always seemed intimidating to me.  That all changed once I got my hands on good cheesecloth and was able to see how simple the process is.  You will be amazed at how easy this ricotta cheese is to make.
This list of what you will need is short and sweet.  I mean it.  Here it goes:
cheesecloth
instant read thermometer (I tried my first batch without one and had to start over)
milk (whole milk works best and try to avoid ultra-pasteurized milk)
white vinegar
salt
I told you the list was short.  Let's talk about cheesecloth.  I used cheesecloth from cheesecloth.com which was fantastic.  Cheesecloth comes in different grades so if you are going to be using it for cooking purposes, you should pay close attention to what grade you are using.  The higher the grade, the tighter the weave so the higher grades allow less to go through the cloth.  Grade 60 and 90 are best for cooking.  I used grade 90 which worked really well.
To start this simple process I heated a half gallon of whole milk over a medium-high heat.  You want to keep a close eye on the milk to make sure it doesn't scorch.  Insert the thermometer into the milk and wait for it to reach 200 degrees Fahrenheit, stirring it occasionally.  Once it reaches 200 degrees, remove the pot from the heat and add the vinegar and salt, giving it a gentle stir.  Immediately you will see the curds and whey start to separate from each other.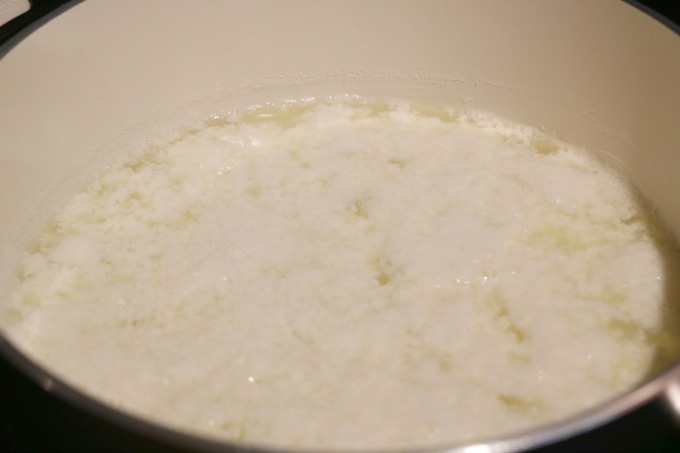 Wait about 10 minutes and using a slotted spoon, transfer the curds to a strainer set over a bowl covered in cheesecloth.  Once you have gotten most of the curds transferred, you can pour the remaining mixture through the strainer.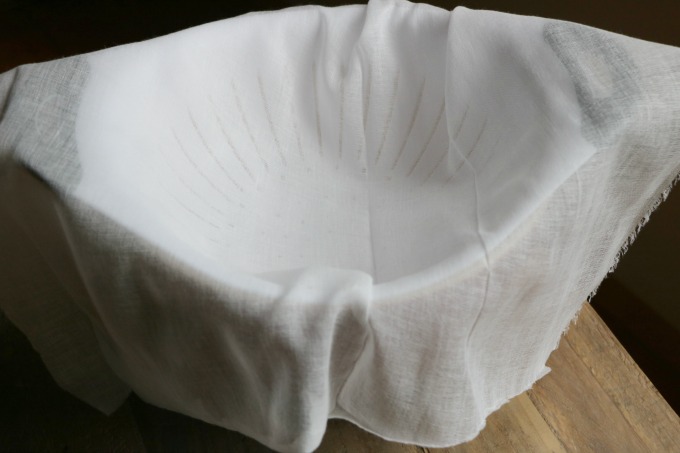 By doing it this way, you will prevent splatter.  Then let the cheese drain for anywhere from ten minutes to an hour, depending on how dry you want the cheese.  I let mine strain for about an hour and then mixed it with chopped basil and salt.
You could stop right there and serve the cheese with crackers (your guests would be so impressed to hear that you made your own cheese) or you could use it in your favorite recipe calling for ricotta cheese.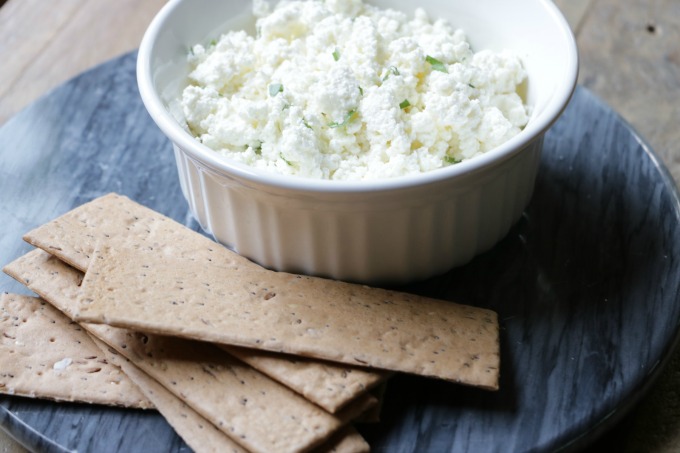 I used my homemade ricotta in a simple one-pot summer vegetable ziti that was so fresh tasting and delicious.  Stay tuned for that recipe!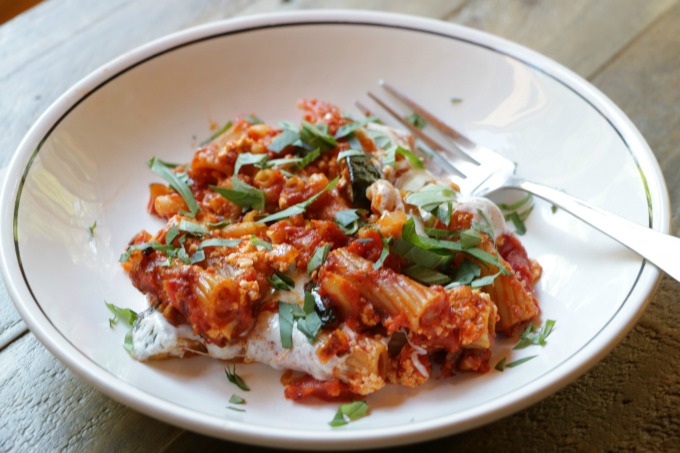 Cheesecloth can be used for so many more things than just cheesemaking. If you are making soup and want to flavor your liquid with herbs, simply wrap your herbs in a packet and remove them when you are done.  It can also be used for crafts and wrapping babies.  When my twins were born I received as gifts some very beautiful blankets that were simply cheesecloth with a fancy name.  It's nice to use it to swaddle babies especially in warmer weather since it is breathable.  My twins are seven now so I'm going to stick to using cheesecloth in cooking.  Go to cheesecloth.com to learn more about all the versatile uses for cheesecloth.
Ingredients
1/2 gallon whole milk (avoid ultra-pasteurized)
1/3 cup distilled white vinegar
1 teaspoon salt
optional: chopped fresh basil
Instructions
Place cheesecloth on top of strainer over a large bowl. Set aside. Heat milk over medium heat. Insert instant read thermometer and stir often until temperature reaches 200 degree Fahrenheit. Remove pot from heat and gently stir in vinegar and salt. After 10 minutes using a slotted spoon transfer curds to cheesecloth lined strainer. When you have gotten most of curds transferred, pour remaining liquid through strainer. Let strain for about 10 minutes to an hour, depending on how dry you want your ricotta. Season to taste with additional salt and add chopped basil if desired.
7.8.1.2
122
http://veggingonthemountain.com/2018/07/homemade-ricotta-cheese/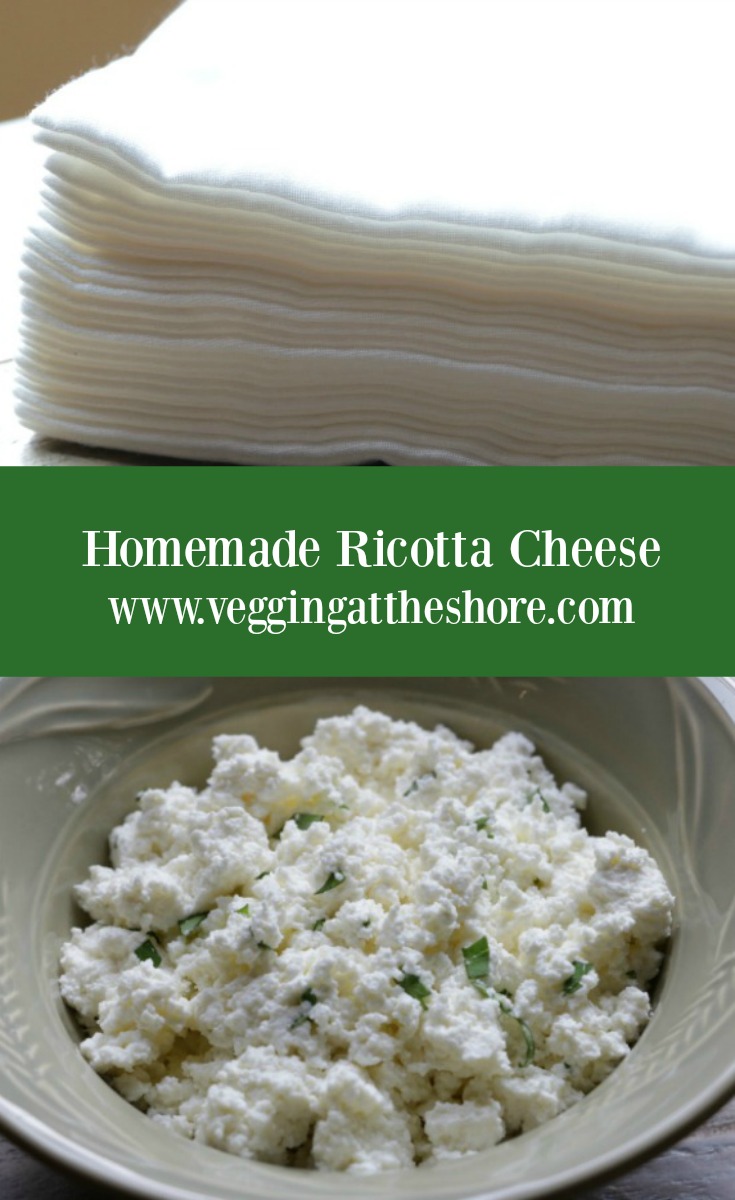 Disclosure: This post was sponsored by cheesecloth.com.  All thoughts and opinions are my own.