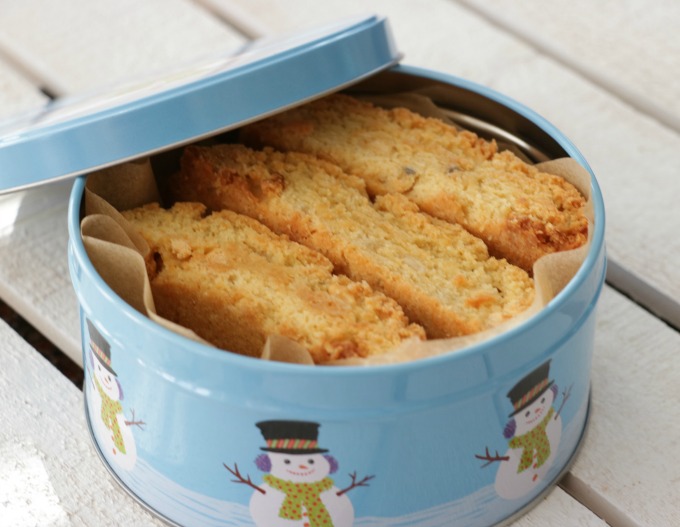 Want to bring a smile to someone's face this holiday season?  Make them cookies.  But not just any cookies.  You need to make them these cookies because they are seriously the best thing you will taste all season.  I considered titling this post Best Biscotti Recipe Ever but I'll leave that determination up to you.  Here is what I can tell you about this recipe, anyone who has tasted them has raved about them.  Once you see how easy and delicious they are, you will be making them on repeat this holiday season and all year round!
If biscotti are intimidating to you, take a deep breath.  You've got this.  Start by combining your dry ingredients in a bowl.  Sifting together the flour, sugars, salt and baking powder may seem like a pain, but try doing it.  It will thin out the flour and sugars, making them fluffy and easier to blend.  If you don't have a sieve, you can just whisk them together.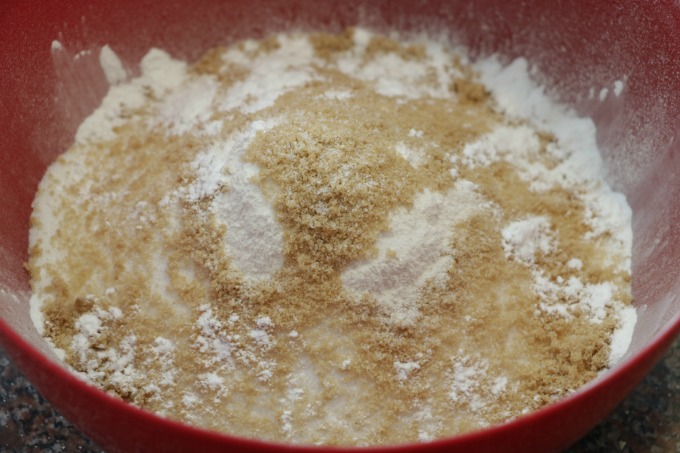 Using a spoon, add in the white chocolate chips and dried lavender.  Let's talk about lavender.  We use lavender oil in my house for everything from soothing bug bites to rubbing on pillows as a natural sleep aid.  If you aren't familiar with the taste of lavender, let me tell you that it is delicious in so many ways like in tea or baking.  The combination of lavender and white chocolate is one of my favorites.  You can grow lavender and then dry it out or buy some.  I bought mine locally from the Spice Cellar of Cape May.  If you can't find it locally, you can simply order it online.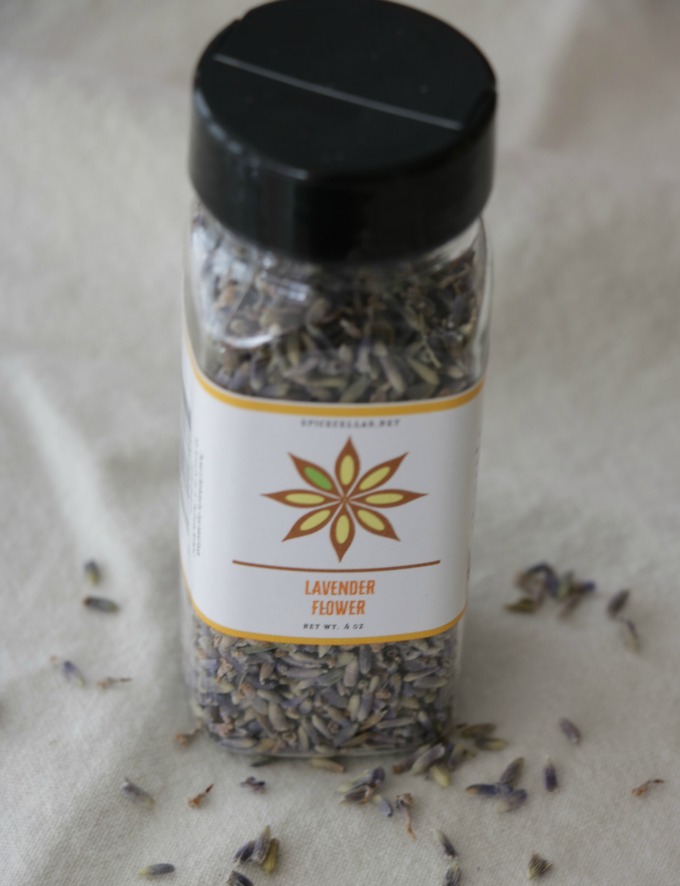 In a separate bowl combine the oil, eggs and vanilla.  Add the wet ingredients to the dry ingredients and mix them until they are just combined.  You will divide the dough into two pieces and form them into logs about 10 inches long and 3 inches wide.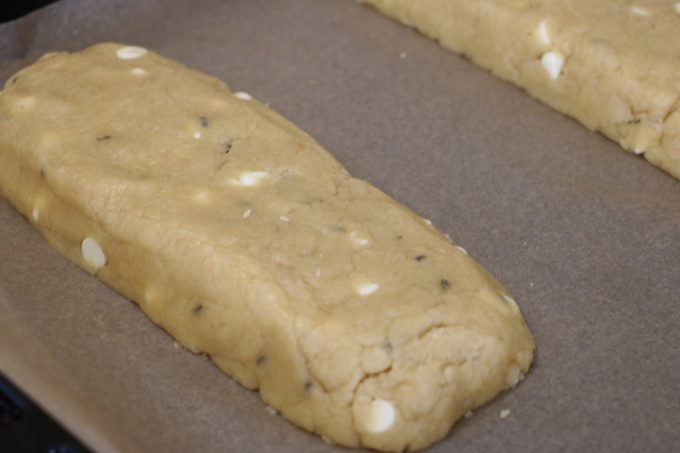 Place the logs on a parchment lined baking sheet and cook the logs for about 30 minutes or until they start to brown around the edges.  Remove the pan from the oven and let the logs sit for 15 minutes.  Using a serrated knife, cut them on a diagonal about an inch thick and place them back on the baking sheet, cut side down.  Cook them for an additional 10 minutes.  Let them cool completely.
There are two things that make these biscotti dreamy.  First, the flavor combination is so special.  Lavender is subtle but with each bite, you will get a taste of it.  Second, the texture is perfect.  They are crunchy but not too crunchy like some biscotti make you feel that you might break a tooth.  No teeth will be chipped in the eating of these biscotti.
I did find myself asking several times in the past couple of weeks, how many biscotti are too many biscotti to eat in one day.  The answer is, you can never eat too many biscotti.  I hope you all have a sweet and wonderful holiday season!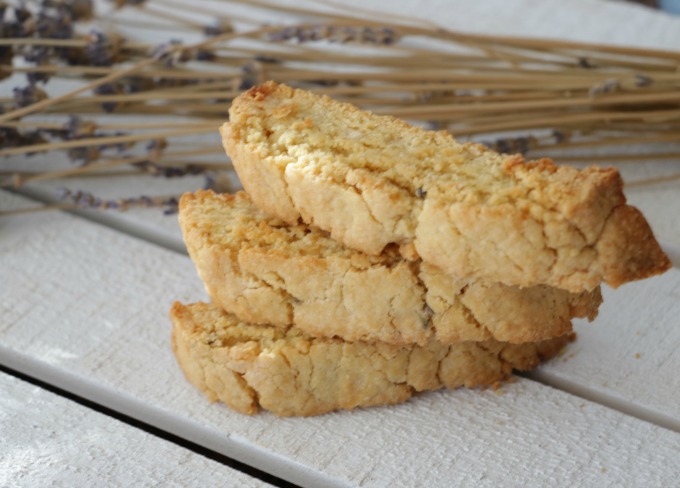 Lavender White Chocolate Biscotti
Ingredients
3 cups all-purpose flour
¾ cup granulated sugar
¼ cup light brown sugar
¼ teaspoon salt
2 teaspoons baking powder
½ cup white chocolate chips
1 teaspoon dried lavender
½ cup vegetable or canola oil
3 eggs
2 teaspoons vanilla extract
Instructions
Preheat oven to 350 and line a baking sheet with parchment paper.
Sift the flour, sugars, salt and baking powder together into a large bowl. If you don't have a sieve, you can whisk them together. Stir in the white chocolate chips and lavender. Set aside.
In a separate small bowl, whisk together the oil, eggs and vanilla extract. Add the wet ingredients to the dry ingredients. Stir until combined. Knead the dough a few times using your hands until it comes together. Shape half the dough into a log about 10 inches long and 3 inches wide. Place the log on the baking sheet and repeat with the second half of the dough. Bake the dough for about 30 minutes. Allow the logs to cool for 15 minutes and reduce the oven temperature to 300. Slice the logs diagonally about ½ inch thick. Place the pieces back on the baking sheet, cut side down, for 10 minutes. Flip halfway through. The biscotti should feel slightly crisp and will crisp up more as they cool. Store in an airtight container for up to 3 weeks.
7.8.1.2
127
http://veggingonthemountain.com/2018/12/lavender-white-chocolate-biscotti/