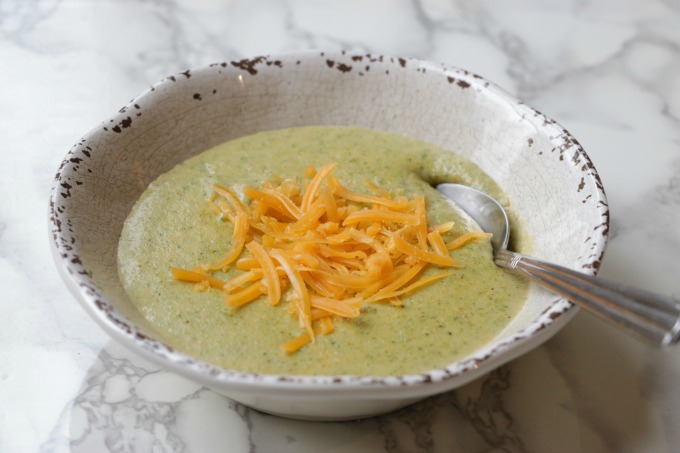 When is the last time that you stepped outside of your comfort zone and tried something new?  For me the answer is in December when my family and I tried ice climbing for the first time.  About four years ago we started rock climbing outdoors after falling in love with it at indoor climbing gyms.  Since we are a year-round outdoors family, we decided to give ice climbing a try and we we were hooked immediately.  As you can imagine, spending hours outside requires plenty of warm food and drinks so I packed us with the most delicious healthy broccoli cheddar soup.  Not only did it keep us warm during our adventure, but it gave us the fuel we needed to climb ice.  You don't need to go on crazy adventures to enjoy this soup.  It is equally delicious from the comfort of your kitchen!
Most broccoli cheddar soup recipes are loaded with fat and calories.  I was very mindful of that when creating this recipe.  You start with the basics for many good soups-onions, carrots and celery.  Saute the vegetables in olive oil for a few minutes before removing them to a bowl.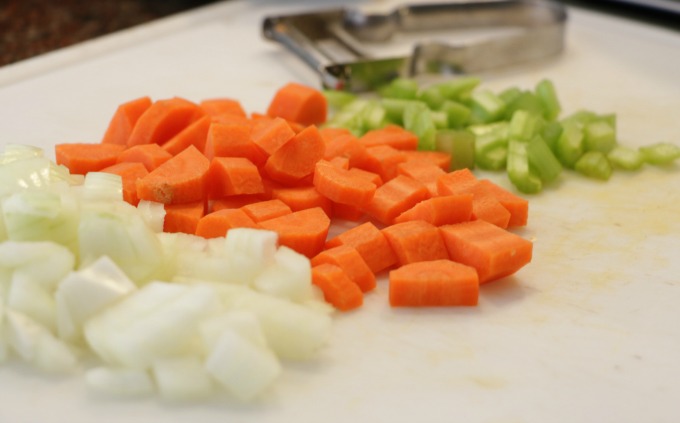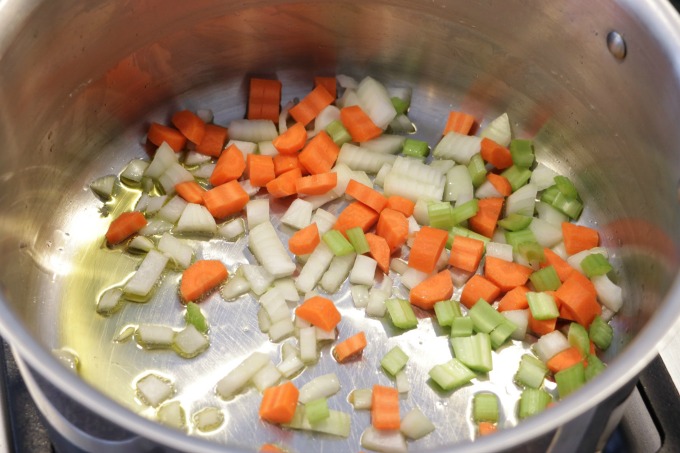 Next stir flour into olive oil and then add low-fait milk to the pot.  When that starts to thicken, add the broth, broccoli and vegetables to the pot.  After that cooks for a bit, use an immersion blender to blend the ingredients, followed by adding cheddar cheese.  You can buy shredded cheddar cheese at the supermarket, but I recommend shredding your own.  The taste is much fresher and you will taste a difference in your soup.  I shredded a low-fat cheddar cheese that was perfect.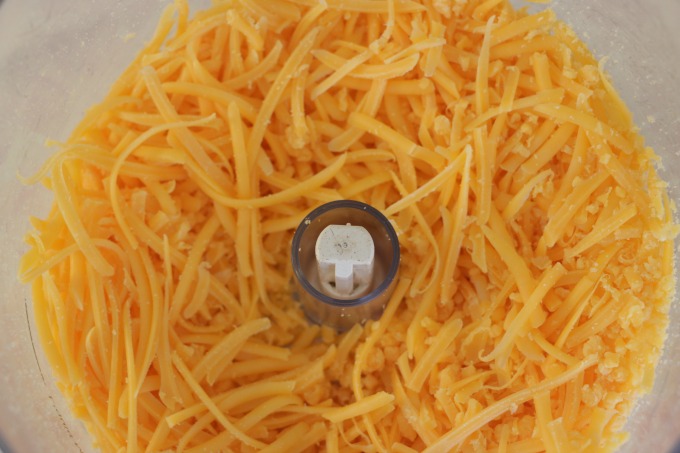 So now let's talk about ice climbing.  Everyone who I told we were going either told me we are crazy (which I sometimes agree with) or had a ton of questions. If you have ever gone rock climbing at a gym, it's very similar in that you wear a harness and are tied into a rope.  I found ice climbing to actually be much easier than regular rock climbing because instead of looking for hand and foot holds, you are creating them by kicking your crampons (spikes that go on the bottom of your boots) and ice axes into the ice.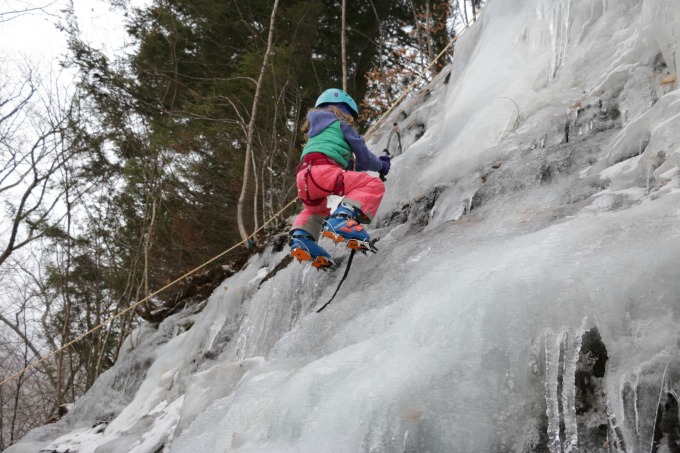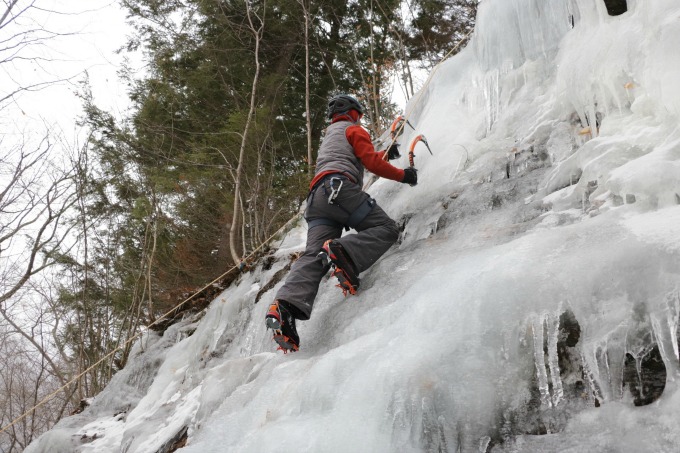 For our first time out, we went with a guide through Petra Cliffs.  We now are ready to head out on our own and have been on the lookout for good ice ever since!  Our kids loved the experience as much as we did.  When we took a break, we were all grateful for a hearty, warm, delicious soup.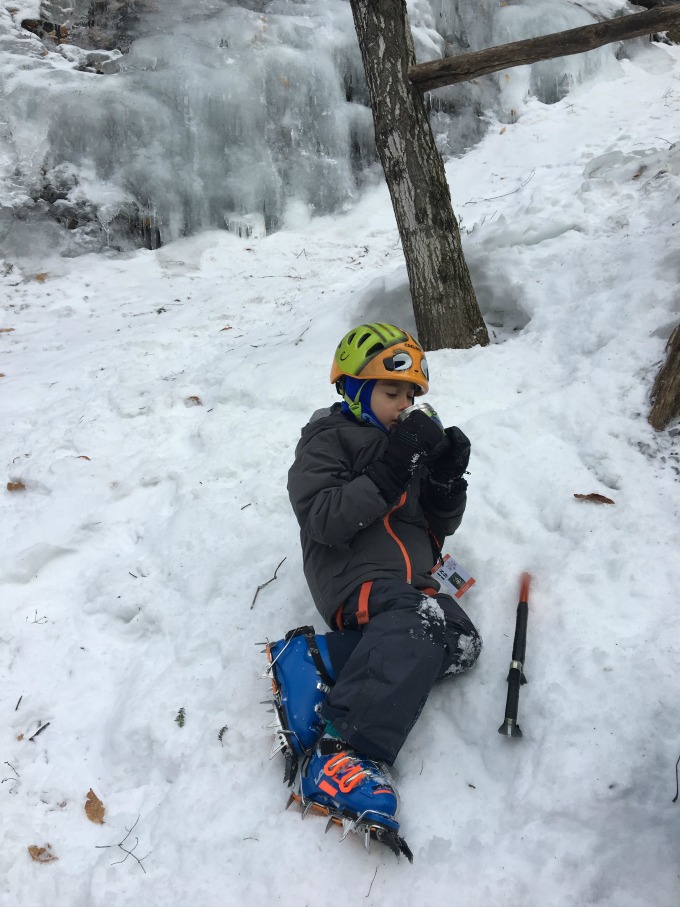 If you find yourself heading out on a cold weather adventure, make sure to pack this soup in a thermos.  Even if you are just trying to stay warm during these polar-vortex temperatures, this soup will be just perfect!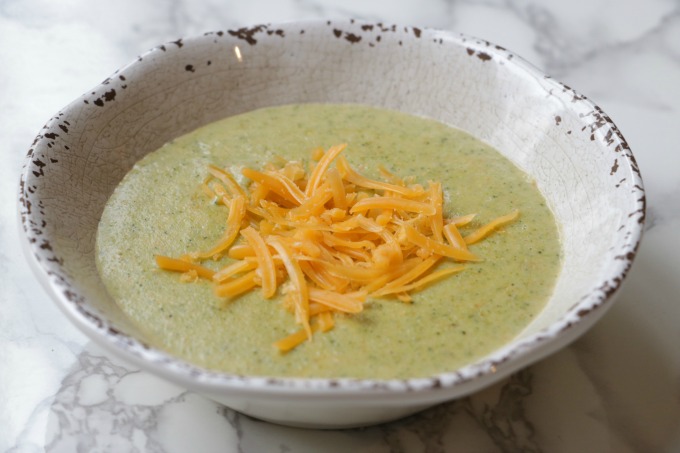 Healthy Broccoli Cheddar Soup
Ingredients
5 tablespoons extra virgin olive oil, divided
1/2 onion, chopped
1/4 cup flour
2 cups 2% milk
2 cups vegetable broth
1.5 cups coarsely chopped broccoli florets
2 carrots, peeled and chopped
1 stalk celery, chopped
2 cups freshly shredded light Cheddar Cheese
salt and pepper to taste
Instructions
Heat 2 tablespoons of olive oil in a soup pot over medium heat. Saute onions, carrots and celery for about 5 minutes, until softened. Remove to a bowl.
Return pot to low heat and add 3 tablespoons of olive oil and flour, whisking until flour is absorbed, about 3 minutes. Slowly add milk to flour mixture, whisking constantly and then add the vegetable broth. Bring to a simmer and cook until thickened, about 10 minutes. Add broccoli and simmer until broccoli is tender, about 20 minutes. Remove from heat and using an immersion blender, blend until smooth and no chunks remain. Return pot to a low heat and add cheddar cheese. Stir until cheese is melted and season to taste with salt and pepper.
7.8.1.2
128
http://veggingonthemountain.com/2019/02/healthy-broccoli-cheddar-soup/