There are certain things that make me feel like I've won the lottery, like cutting into an avocado and finding it has ripened to perfection or using every last bit of produce from my CSA share before the next pickup.  Another one of these small victories is when I make a new dish and everyone in the family not just eats it, but loves it.  I've pretty much transitioned away from making two meals, one for the kids and one for the adults.  Our kids mostly eat a vegetarian diet and enjoy it.  This recipe for tater tot veggie chili casserole was a major crowd pleaser.  My kids and husband loved the tater tot topping, my daughter loves anything with soup and I loved the opportunity to use a variety of vegetables from my most recent Misfits Produce box.
You start by making a basic veggie chili.  You want to saute a bunch of vegetables in an ovenproof pot like this one from Le Creuset.  I used carrots, squash, peppers and onions because that's what I had on hand.  Feel free to swap out whatever fresh veggies you want to use.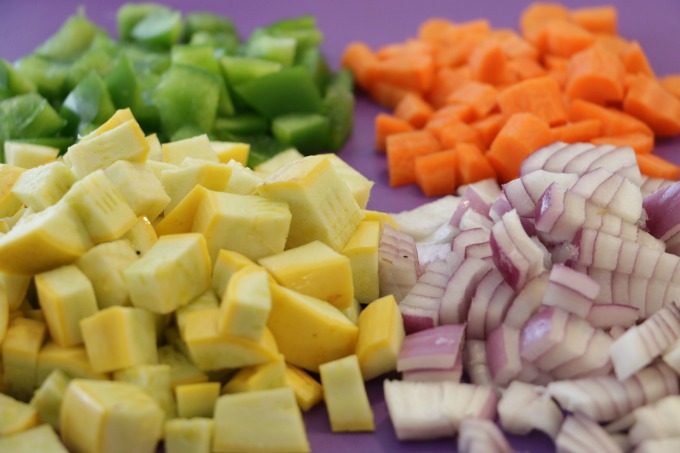 Cook those in oil for a few minutes until they are softened and then add garlic and spices.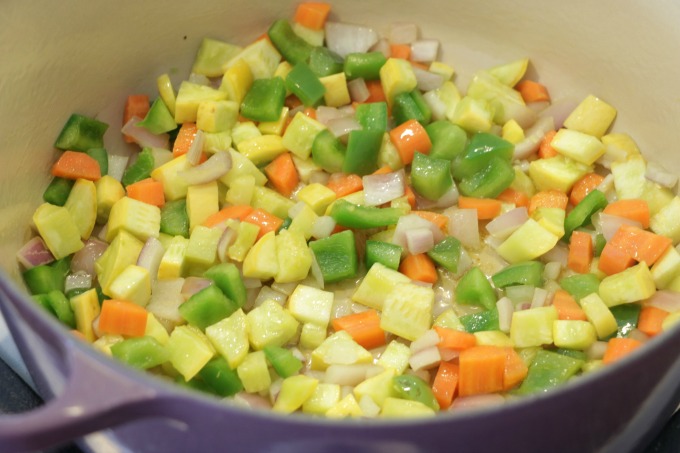 Next comes the beans, corn, diced tomatoes and broth.  Again, you can customize this chili to your bean preferences.  Use two cans of your favorite beans rinsed, for me this was pinto and black beans. Let that simmer for about 30 minutes and remove it from the heat.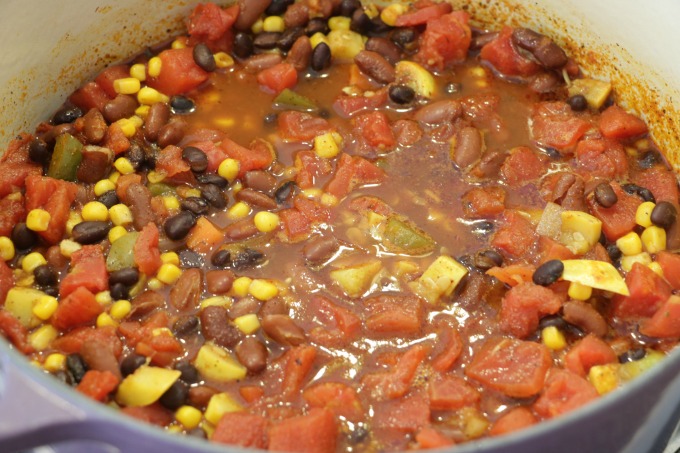 Sprinkle shredded cheddar cheese on top of the chili and then, making an inward circular pattern, top the chili with frozen tater tots.  Carefully transfer the pot to an oven and cook for about 25 minutes.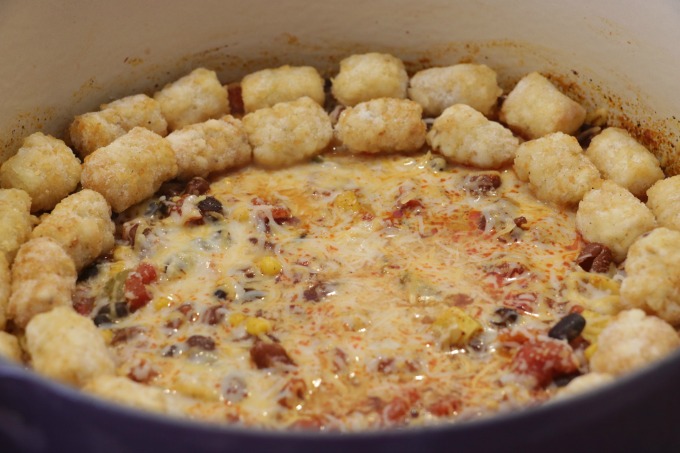 When you remove the pot from the oven you will catch glimpses of bubbling chili and cheese underneath the tater tots.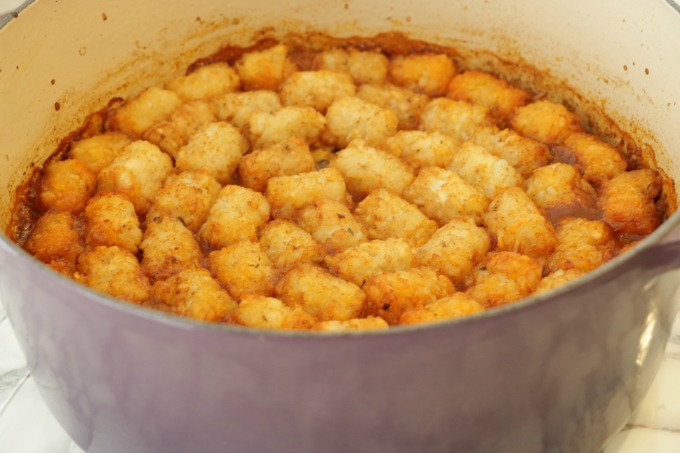 Top with either scallions or cilantro and serve.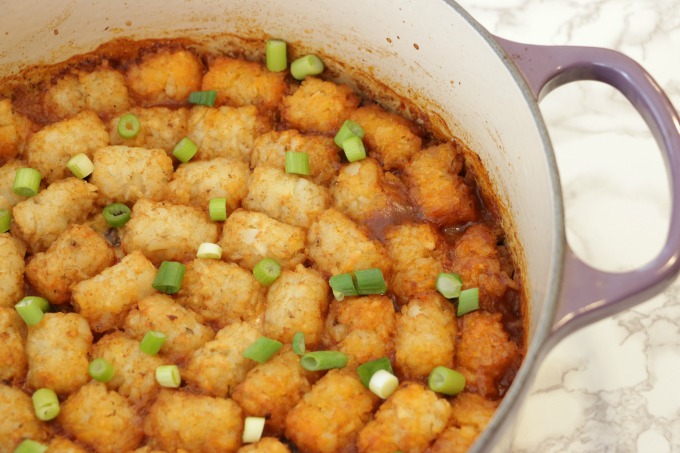 Spring still has many cool nights ahead and this casserole is perfect for those nights.  If you have a busy day on the schedule, make the chili ahead and top with with the tater tots a half hour before you want to serve it.  This is sure to be a winner all around for you too!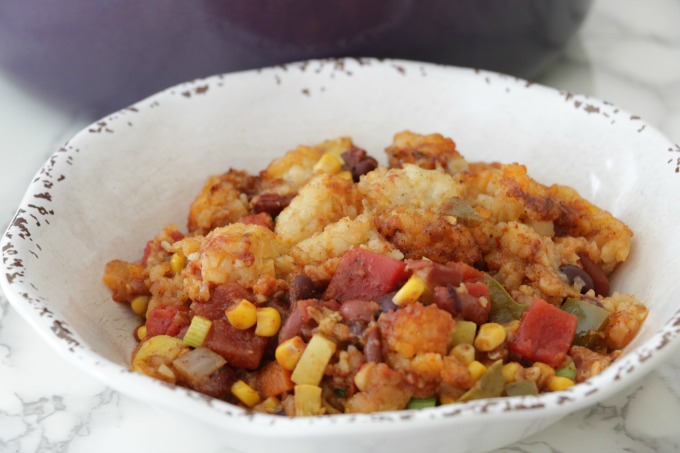 Tater Tot Veggie Chili Casserole
Ingredients
2 tablespoons extra virgin olive oil
1 onion, peeled and chopped
1 bell pepper, seeded and chopped
1 squash or zucchini, chopped
2 carrots, peeled and chopped
1 teaspoon salt
3 cloves garlic, minced
1 tablespoon chili powder
1 tablespoon ground cumin
1 teaspoon smoked paprika
1 teaspoon dried oregano
2 15 oz cans diced tomatoes, undrained
2 15 oz cans rinsed and drained beans, black or pinto
1 15 oz can corn, rinsed and drained
2 cup vegetable broth
1 cup shredded cheddar cheese
1 bag frozen tater tots
chopped scallions or cilantro
Instructions
In a large Dutch oven or ovenproof soup pot, heat olive oil on medium heat until hot. Add onions, peppers, squash, carrots and salt. Cook for about 5-7 minutes, until softened. Add garlic through oregano and cook for another minute. Add tomatoes, beans, corn and broth. Simmer for 30 minutes, stirring occasionally.
Preheat oven to 425. When chili has thickened, turn off heat. Top with shredded cheese and starting from the outside, top with tater tots in circular pattern, working from outside in, until surface of chili is covered with tater tots. Carefully transfer pot to oven and cook for 25 minutes, until tater tots start to brown. Top with scallions or cilantro if desired and serve.
7.8.1.2
130
http://veggingonthemountain.com/2019/04/tater-tot-veggie-chili-casserole/