If there is one thing I will never say no to, it's when a friend offers me vegetables from their garden.  I often find bags of kale or tomatoes left at my front door.  A friend recently gave me a bunch of zucchini from her garden because she couldn't make one more batch of zoodles.  While zucchini fries are my go-to dinner side dish, I decided to take a little more time and make the most delicious three cheese zucchini roll-ups.  This recipe is based on my easy spinach manicotti which essentially swaps zucchini for noodles.  This is great as a main dish or side dish and if you are following a low-carb diet, this recipe will fit the bill!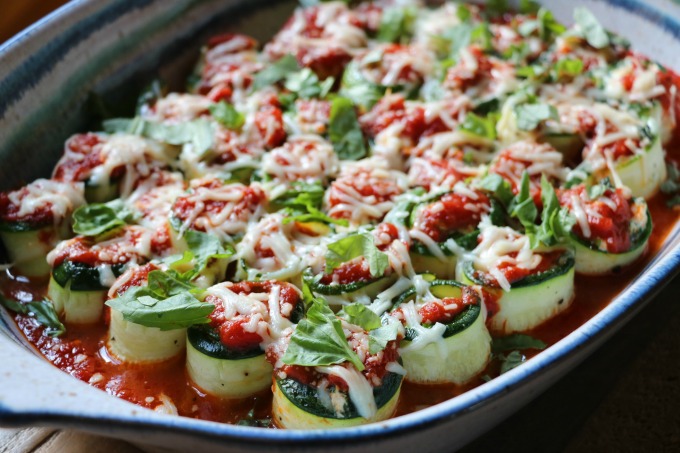 Start with a bunch of medium to large zucchini.  Slice them lengthwise so that each ribbon is about 1/4-inch thick.  You could use a mandoline but I chose to use a good old fashioned knife for this because my fingers are still recovering from my last mandoline experience.  Brush the ribbons with olive oil and season with salt and pepper.  Cook the zucchini for about 10 minutes with the goal to essentially make them soft and easy to roll.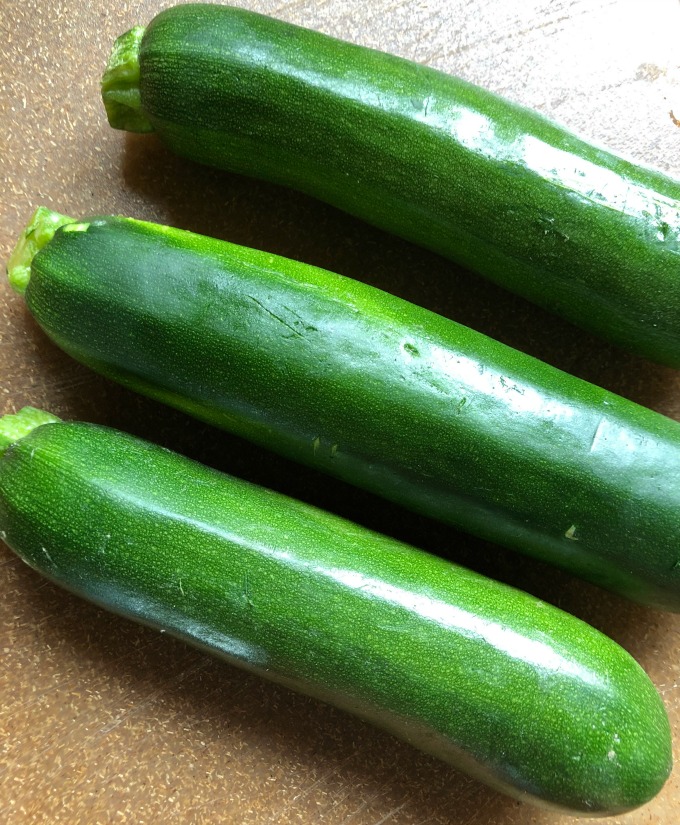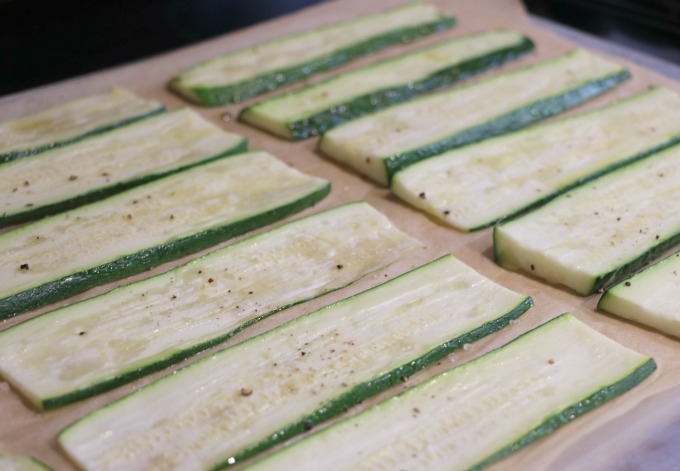 While the zucchini are cooking, make the three-cheese mixture with parmesan, mozzarella and ricotta cheeses.  If you wanted to get really crazy you could make your own ricotta cheese.  My daughter claims that she doesn't like spinach but she never complains when I add it to a cheese mixture.  I used frozen spinach but if you have fresh spinach, you could definitely use that after giving it a quick saute to wilt it.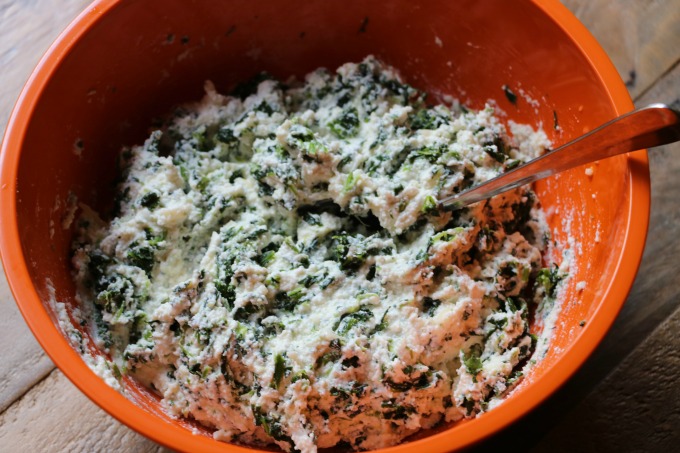 Once the zucchini are cooled enough to handle, spoon about 1 tablespoon of the cheese mixture onto one end and then roll it up.  Place each zucchini roll in a baking dish with a coating of marinara sauce.  Continue rolling until you run out of zucchini or the cheese mixture, filling your baking dish.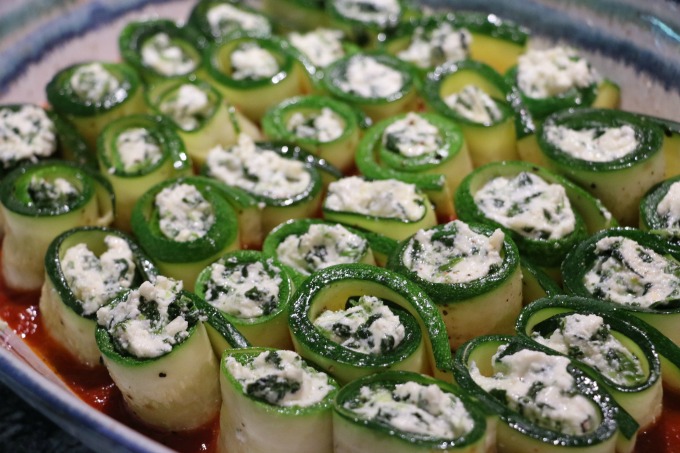 Top the zucchini with marinara sauce and mozzarella cheese.  Cook it for about 20 minutes and when it comes out of the oven, top the zucchini with fresh basil.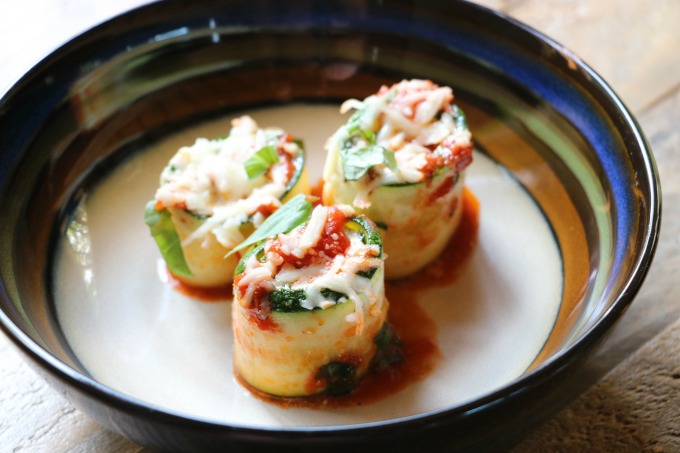 Everything about this dish screams fresh summer taste from the zucchini to the basil.  This would be a great dish to make ahead for company. You could prepare it up until the baking step, and pop it in the oven for 20 minutes right before serving.  If you are tired of grilling zucchini, making zucchini fries or spiralizing zucchini, this is the recipe you need to try.  Your low-carb friends will thank you!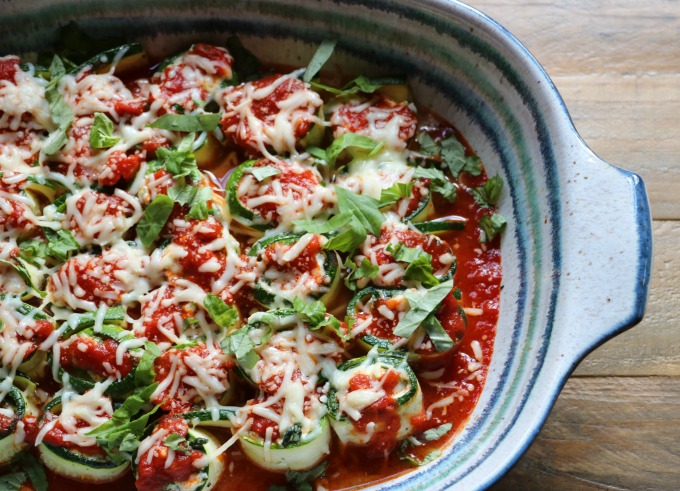 Three Cheese Zucchini Roll-Ups
Ingredients
5 large zucchini sliced lengthwise into thin ribbons about 1/4-inch thick
olive oil for brushing
salt and pepper
2 cups part-skim ricotta, drained
3/4 cup shredded mozzarella cheese
2 tablespoons freshly grated parmesan cheese
10 oz frozen spinach, defrosted and drained
1/2 teaspoon salt
1/4 teaspoon black pepper
1/2 teaspoon Italian seasoning (or combination of basil, oregano, parsley)
1 egg, lightly beaten
1 24 oz jar good marinara sauce (or homemade better)
2 tablespoons fresh basil, shredded
Instructions
Preheat oven to 400 degrees. Lay zucchini slices on 2 parchment lined baking sheets. Brush with olive on both sides and sprinkle with salt and pepper on both sides. Cook for 10 minutes, rotating sheets halfway through. Let cool and set aside.
In a medium bowl combine ricotta, 1/2 cup mozzarella, parmesan, salt, pepper, Italian seasoning and egg. Coat a baking dish with cooking spray and pour half of marinara in bottom of dish. Working with 1 zucchini ribbon at a time, place a spoonful of cheese mixture at bottom and roll up. Place roll in baking dish and continue until you run out of zucchini and dish is filled. Cover zucchini rolls with remaining sauce and top with remaining mozzarella. Cook for 20 minutes. Let cool slightly and top with fresh basil.
7.8.1.2
194
http://veggingonthemountain.com/2019/08/three-cheese-zucchini-roll-ups/