Soup season is coming.  One of my favorite parts of winter is warming up with a hearty bowl of soup. While I try to have my freeze stocked all winter with homemade soup, I also like having store-bought options for when I need a quick meal.  I am very particular about packaged soups because I want them to contain real ingredients and finding a good vegetarian or vegan option can be challenging.  I was recently given the opportunity to try Good Natured Soups from Progresso and not only did I love that they contain real veggies, they taste delicious!
I made a batch of polenta croutons to go on top of the soup to give it a homemade feel.  I had a tube of polenta in my pantry that was so easy and quick to make.  I simply cut the polenta into slices, brushed it with olive oil, salt, pepper and parmesan cheese and cooked for 15 minutes.  I could hear the croutons sizzling while they were cooking and when they came out they were crispy and delicious!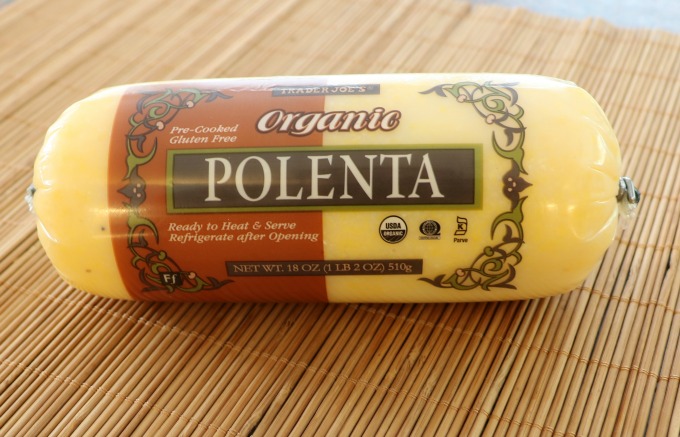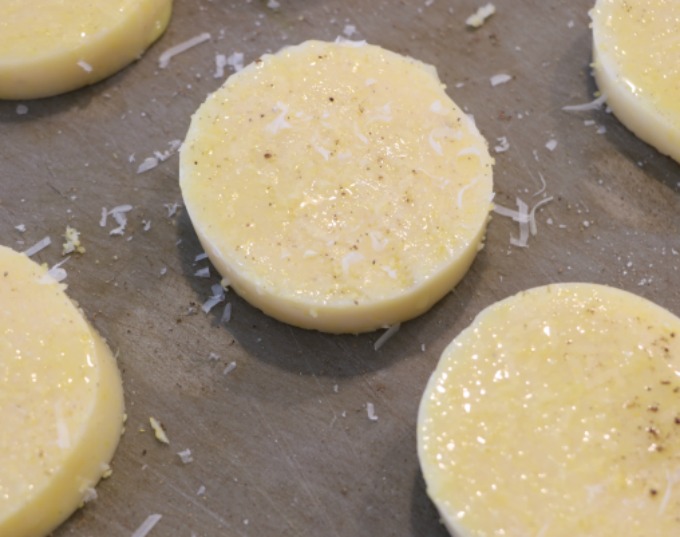 Good Natured Soups come in three varieties: Hearty Tomato with Spinach and Roasted Garlic, Hearty Corn and Chipotle Chowder and Hearty Lentil with Garden Vegetables.  These soups offer 3/4 cups of vegetables per serving, are vegan, contain no genetically-modified ingredients, preservatives and colors from artificial sources, or artificial colors.  To give the soups a creamy texture without using dairy they instead use bean powder and vegetable puree.  So which was my favorite? The Hearty Corn and Chipotle Chowder is delicious.  It has a little bit of kick, just the perfect amount for me.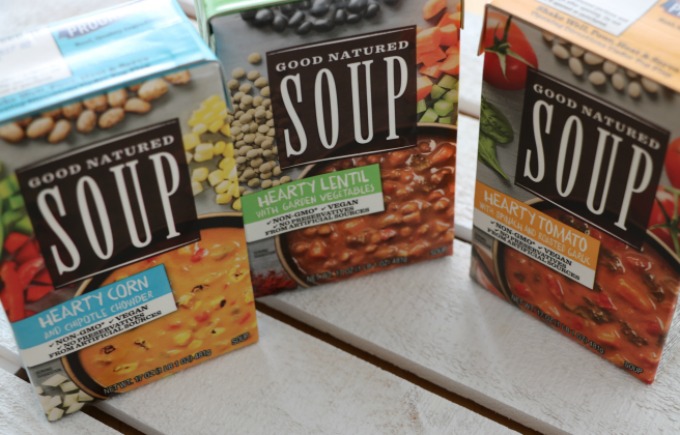 Want to try these new soups?  You can get a $1 off coupon by clicking here.  You can also enter to win a $25 gift basket with all of these delicious soups.  Simply comment below about what you like to eat with soup or what your favorite meatless dish is. Good luck! Winner will be chosen on November 4th, 2016.
Vegan Soups with Polenta Croutons
Ingredients
roll of polenta
olive oil
salt
pepper
parmesan cheese
Instructions
Preheat oven to 400. Remove polenta from package. Cut into 1-inch slices. Brush each slice with olive oil and sprinkle with salt and pepper. Grate parmesan cheese on top of polenta slices. Turn slices and repeat on other side with oil, salt, pepper and cheese. Cut each slice into bite-sized pieces. Transfer to a parchment lined baking sheet. Cook for about 15 minutes or until crisp.
7.8.1.2
62
https://veggingonthemountain.com/2016/10/vegan-soups-polenta-croutons/