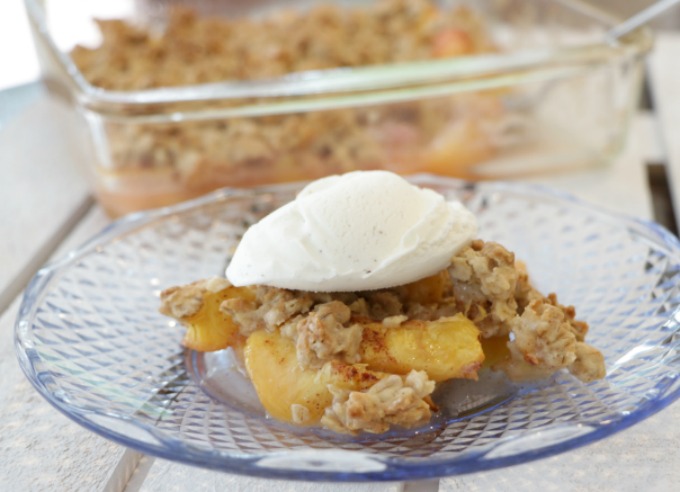 I wait all year for peach season.  I'm not being dramatic, I really do!  Then I spend almost two months creating recipes with peaches before taking a break until the next summer.  Jersey peaches are here and they are so good!  I have an award-winning recipe for peach pie that is highly requested whenever I go to a summer gathering.  As much as I love that recipe, it can be time-consuming to make the dough from scratch (I'm not good at shortcuts) and to cut the lattice.  This peach crisp recipe is perfect because not only is it delicious, but it takes less than a half hour to get in the oven.
You start with about ten peaches.  They should be peeled and sliced.  My kids helped with this part using their Curious Chef knives.  Some of the peaches always end up getting eaten during this step so plan accordingly.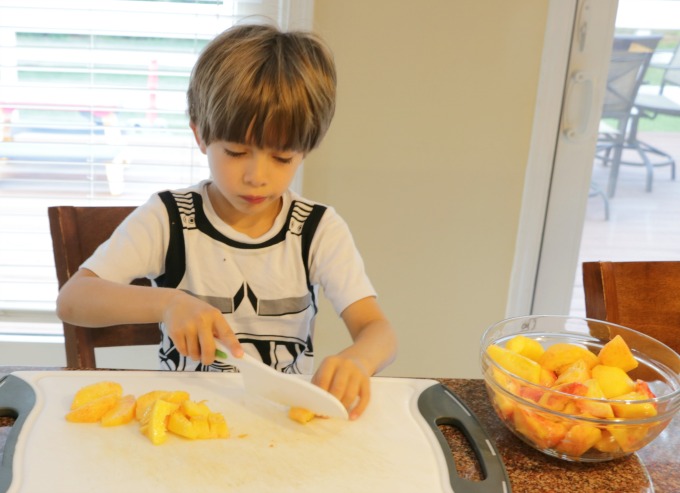 The next step is to make the topping.  Most crisp recipes call for butter and brown sugar.  In this recipe we used pure maple syrup in place of brown sugar and coconut oil in place of butter.  These substitutions give the recipe a cleaner, healthier taste.  My daughter helped mix the topping ingredients together.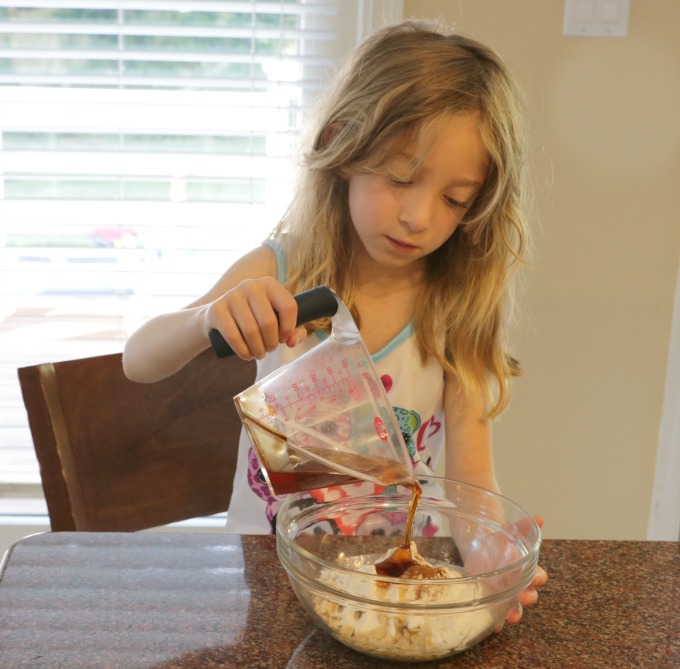 Sprinkle clumps of the topping over the peaches.  I find it's easiest to use your fingers for this step.  My kids love using their hands while cooking and so long as we aren't handling raw eggs, I'm perfectly fine with that.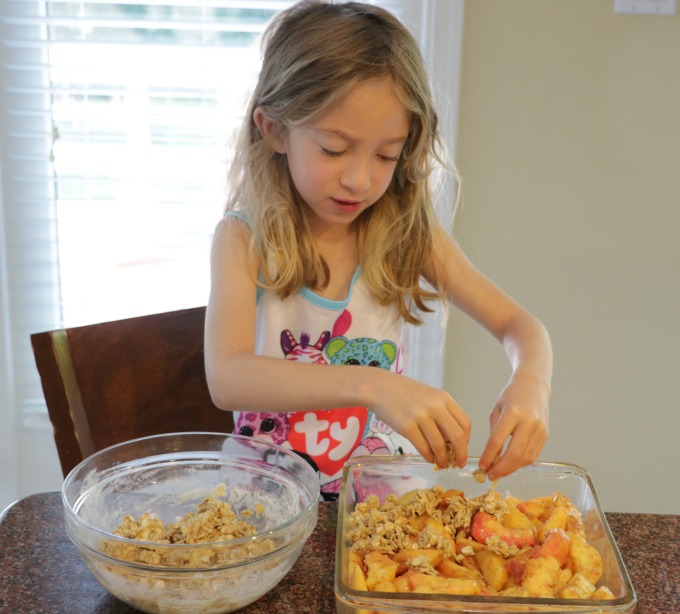 Bake that for about a half hour, until the top starts to brown.  Let it cool and then top it with a scoop of vanilla ice cream.  We originally tried this recipe with strawberries and blueberries.  Those fruits work great as would apples.  This is an easy weeknight dessert that you can feel good about making for your family!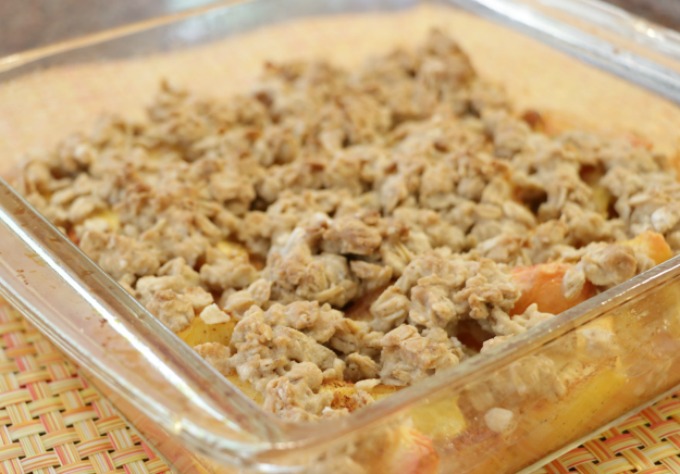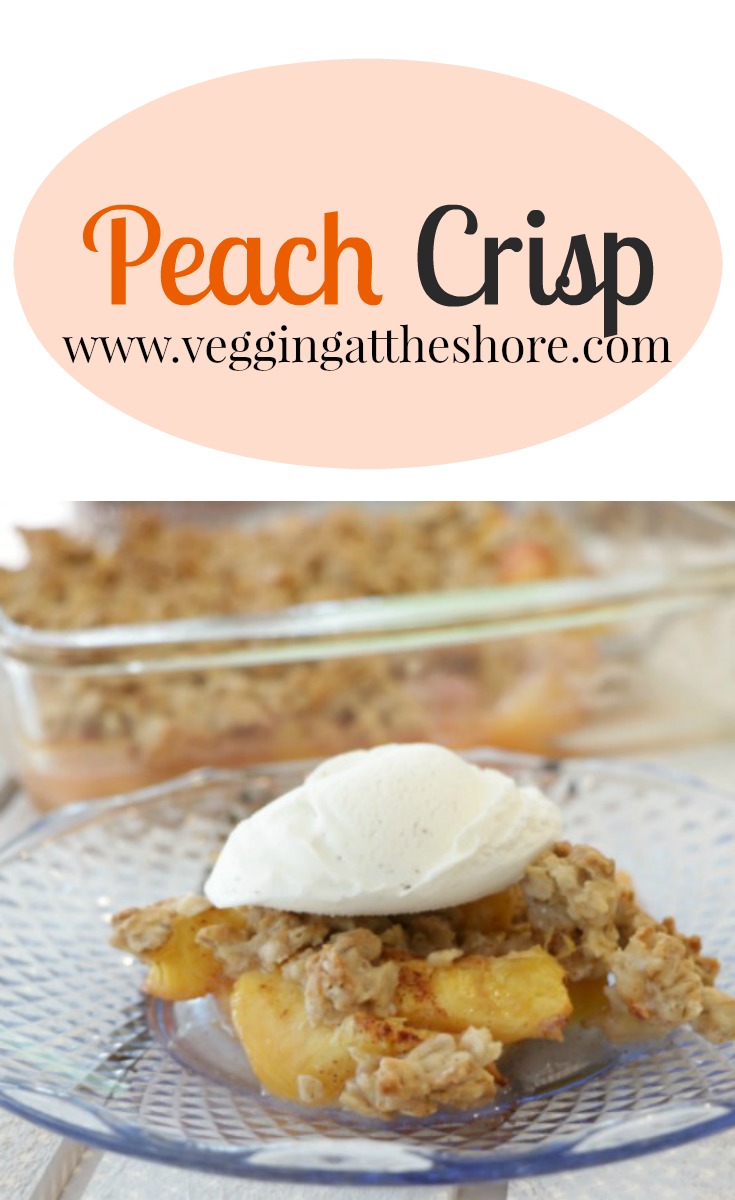 Ingredients
6 cups peaches, peeled and sliced
1 teaspoon cornstarch
1/2 teaspoon cinnamon
1 cup old fashioned oats
1/2 cup flour
1/4 cup maple syrup
3 tablespoons coconut oil
1/2 teaspoon cinnamon
1/2 teaspoon salt
optional: vanilla ice cream
Instructions
Preheat oven to 350. Combine peaches, cornstarch and 1/2 teaspoon cinnamon. Pour into a greased 8x8 inch baking dish. In a bowl combine oats through salt. Stir together, will be clumpy. Using a spoon or your fingers, drop spoonfuls on top of peach mixture until most of peaches covered. Cook for 30 minutes or until top starts to brown. Serve warm or at room temperature with vanilla ice cream if desired.
7.8.1.2
106
https://veggingonthemountain.com/2017/07/peach-crisp/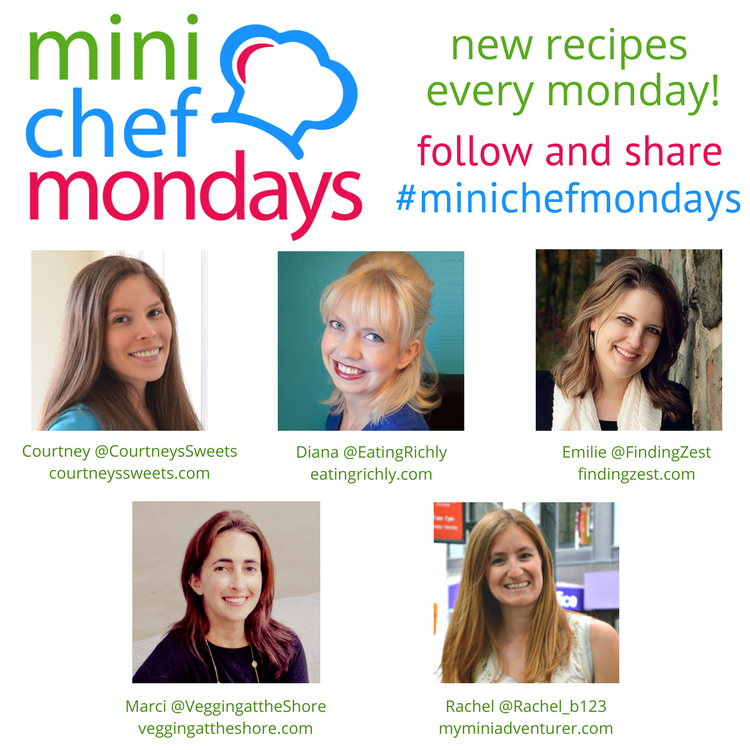 I am hosting Mini Chef Mondays along with 4 fabulous bloggers, find out more about the Mini Chef Mondays Team!
Join our facebook group to find even more recipes and share your own recipes!
Get featured and follow us too!
Be sure to check out each of their Mini Chef posts as well!