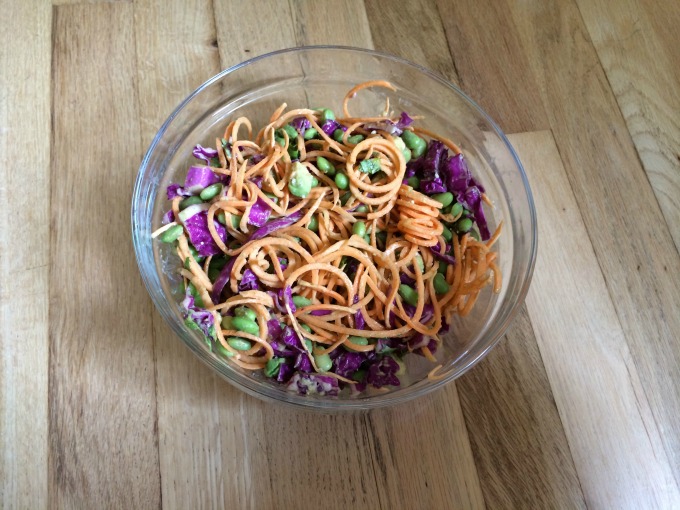 Have you heard of a spiralizer?  It is one of the coolest kitchen gadgets I have bought in a long time.  How often I use a kitchen gadget determines if it gets permanent counter space.  The spiralizer gets used at least once a week so it has earned a permanent place on my kitchen counter.  That's saying a lot.  It makes noodles out of vegetables which you can eat raw or cook.  I love the spiralizer because it's fun to use with the kids, it gets them to eat more vegetables and it's easy to clean.  We recently made cucumber noodles with the last of our homegrown cucumbers and the kids were gobbling them up.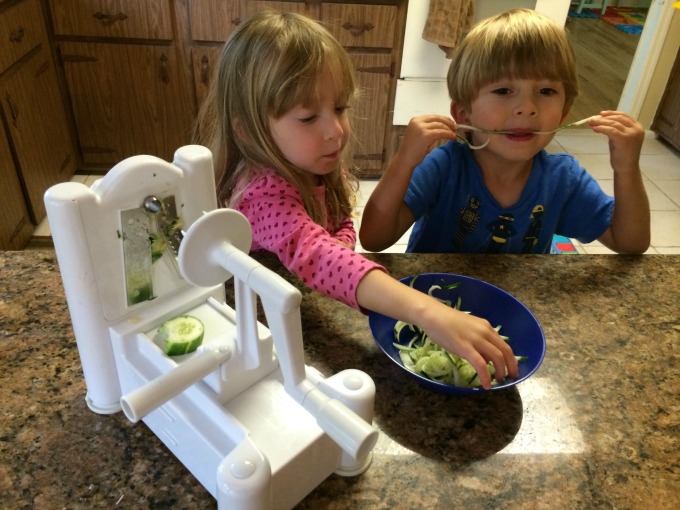 Lately I've been making Sweet Potato Noodles with Almond Miso Sauce that I adapted from Dishing up the Dirt.  Once you make the sweet potato noodles you toss them with some vegetables and make the most insanely delicious dressing.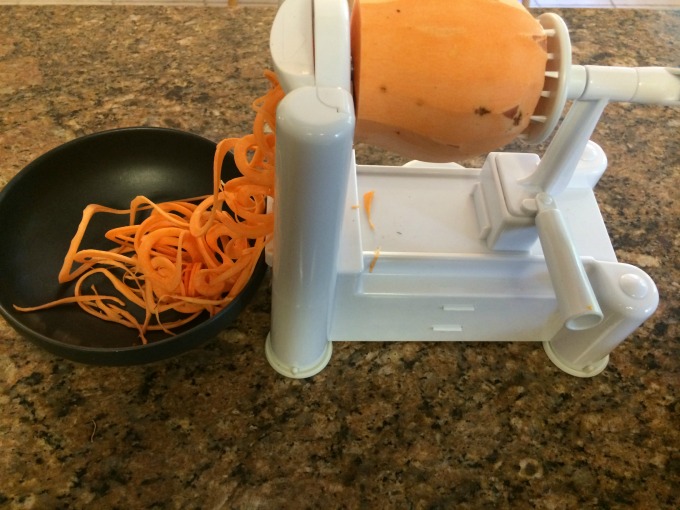 The texture of the sweet potato noodles contrasts beautifully with the cabbage, avocado and edamame.  The dressing is to die for.  I double the dressing because whenever I turn around, I find my husband pouring it on everything.  This is great as a side dish or could definitely make for a nice main dish, with some tofu or other protein.  Enjoy and get spiralizing!

Sweet Potato Noodles with Almond Miso Sauce
Ingredients
1 large sweet potato, peeled and spiralized
¼ of a large cabbage, shredded
1 cup cooked edamame
2 scallions, thinly sliced
½ of a large avocado, diced
½ cup chopped cilantro
Dressing:
¼ cup almond butter
¼ cup white miso
¼-1/2 cup water (or more to thin as needed)
1 tablespoon maple syrup
1 tablespoon fresh lime juice
2 teaspoons soy sauce
1 garlic clove, minced
⅛ teaspoon cayenne pepper
Instructions
Toss the sweet potato noodles, cabbage, edamame, scallions, avocado and cilantro. Combine dressing ingredients (almond butter through cayenne pepper) with immersion blender or in blender until smooth. Add more water if necessary to get it smooth and creamy. Pour dressing over salad and mix.
Notes
Adapted from Dishing up the Dirt blog