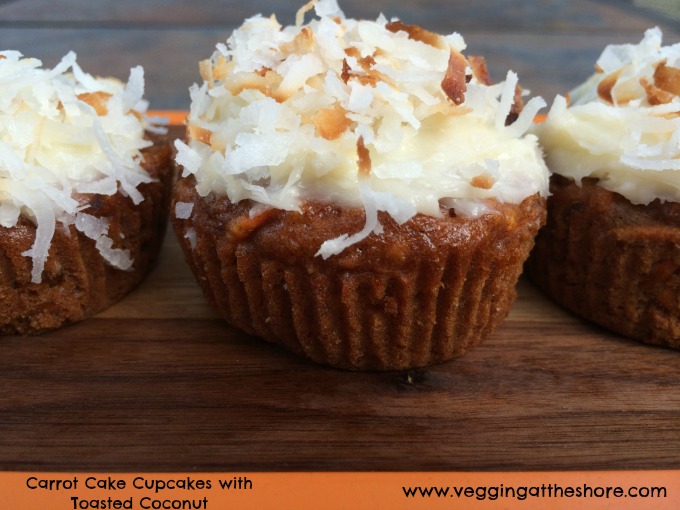 This not going to come as a surprise, but my favorite part of celebrating other people's birthdays is cooking for them.  I always try to remember what sweets people like best.  Everyone has a favorite dessert and if they don't, they should.  Today we celebrated my mother-in-law's birthday so the kids and I prepared her favorite sweet treat-carrot cake.  I usually make this recipe as a cake, but adapted it into cupcakes which I think are more festive and popular with the under four crowd.
I love this recipe because it's delicious, but also because it's full of good ingredients like oats and carrots.  You start off by combining your dry ingredients in a food processor.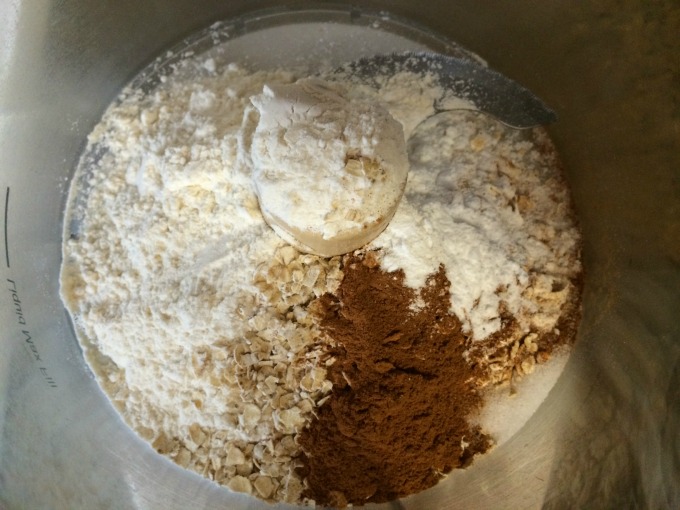 Next you combine your wet ingredients.  The original recipe calls for one cup of sugar.  I wanted to substitute agave nectar for the sugar so instead of one cup of sugar, I used 1/2 cup of agave nectar.  Once you have your wet ingredients combined, you add in grated carrots and golden raisins.  To save time you can buy pre-shredded carrots, but if you are already using your food processor, you might as well grate the carrots yourself.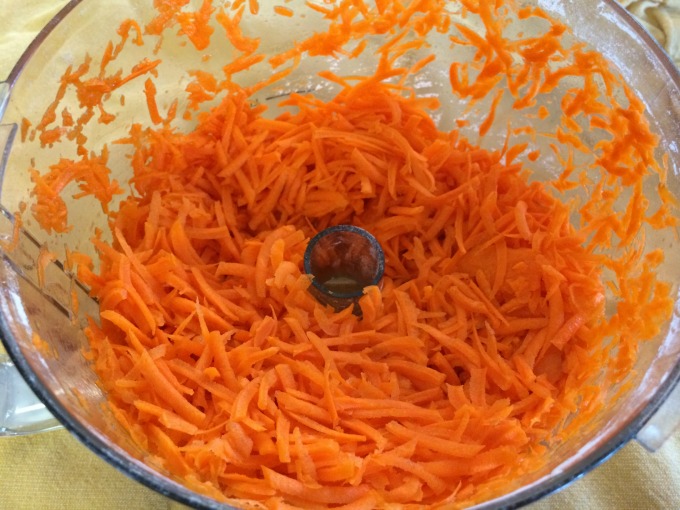 I lined my muffin pan with liners and sprayed them with cooking spray.  I filled each cup about 2/3 of the way.  Before going in the oven they looked like this.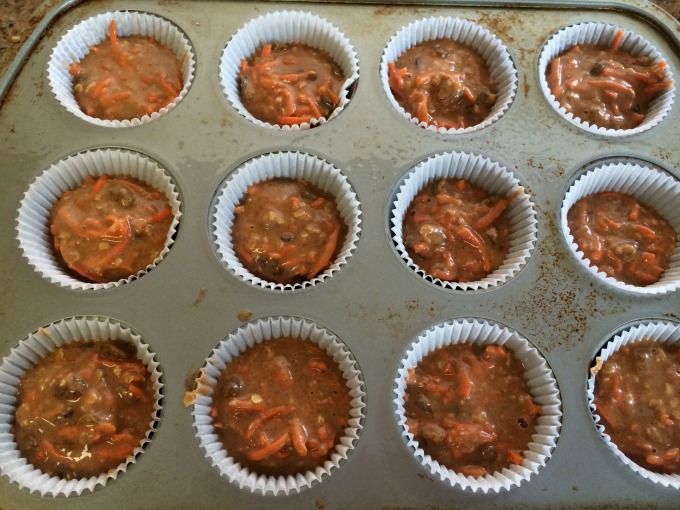 After twenty-five minutes in the oven and filling my house with a delicious smell, they came out looking like this.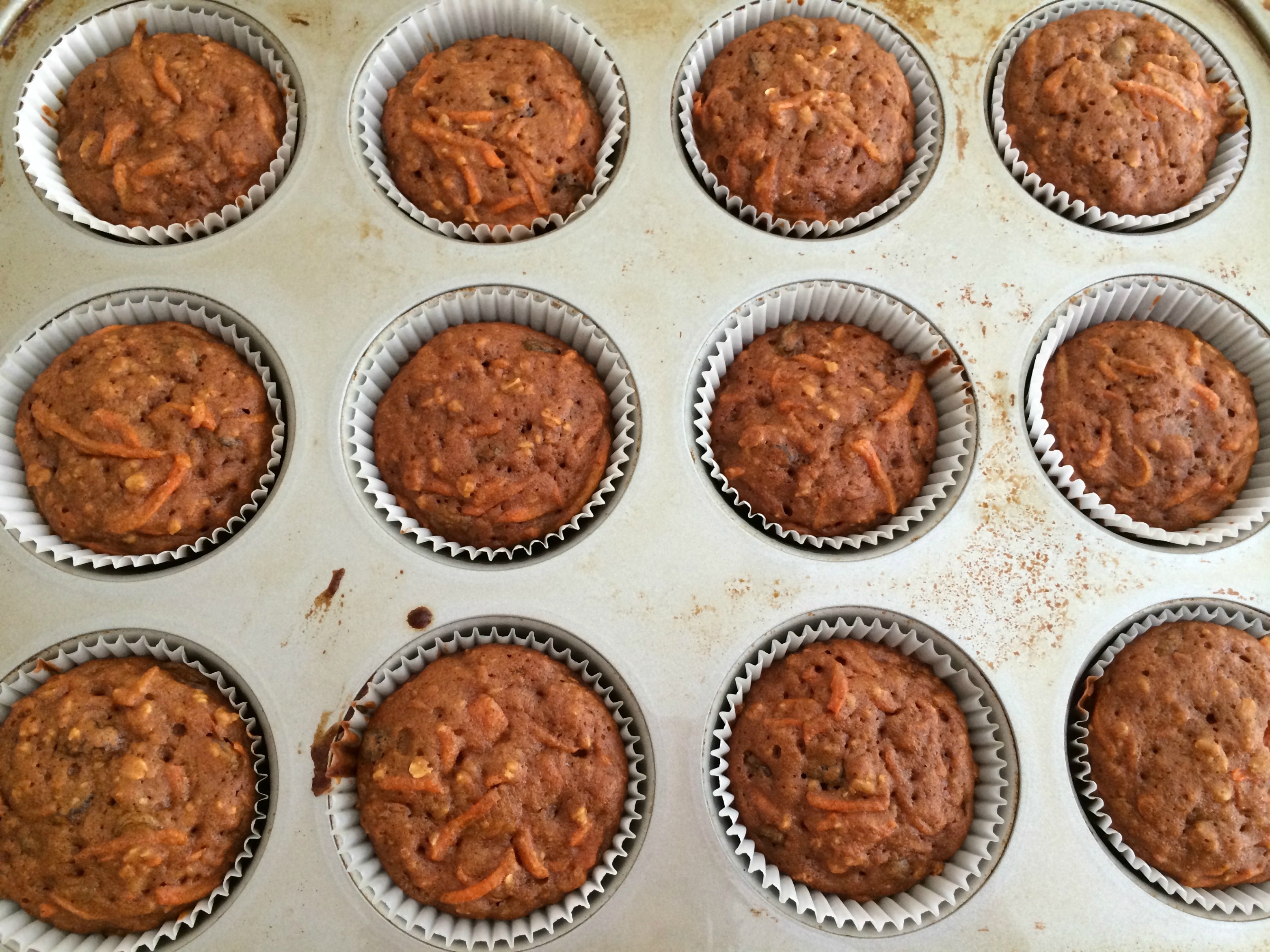 While those cool, you make the frosting out of cream cheese, butter, powdered sugar and vanilla extract.  You delicately add the cream cheese to each cupcake with a knife and top with toasted coconut.  The result is visually appealing and amazing.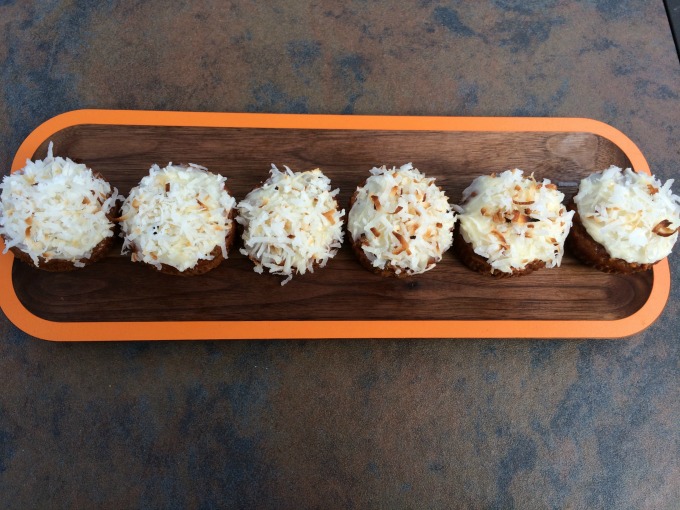 I made a double batch of these to take to a moms club meeting tomorrow night.  I think I'm going to make some mamas very happy!

Carrot Cake Cupcakes with Toasted Coconut
Ingredients
Cupcakes
¾ cup all-purpose flour
¼ cup quick cooking oats
1.5 teaspoon ground cinnamon
1 teaspoon baking powder
½ teaspoon baking soda
¼ teaspoon salt
½ cup agave nectar
¼ cup canola oil
2 oz carrot baby food
2 large eggs, lightly beaten
1¼ cup grated carrot
½ cup golden raisins
Frosting
⅓ cup (3 oz) cream cheese, softened (I used ⅓ less fat)
1 tablespoon butter, softened
1 cup powdered sugar
½ teaspoon vanilla extract
¼ cup flaked sweetened coconut, toasted
Instructions
Preheat oven to 325. Line muffin pan with liners and spray liners with cooking spray.
To prepare cupcakes, lightly spoon flour into dry measuring cups, level with a knife. Combine flour, oats, cinnamon, baking powder, baking soda and salt in a food processor. Pulse six times, until well blended. Place flour mixture in a large bowl. Combine agave nectar, canola oil, baby food and eggs. Stir with a whisk. Add to flour mixture; stir just until moist. Stir in grated carrot and raisins. Spoon batter into liners, filling each one about ⅔ of the way full.
Bake at 325 for 25 minutes or until wooden pick inserted in center comes out clean. Cool in pan or on wire rack.
To prepare frosting combine cream cheese and butter in a bowl and beat with mixer (or in stand mixer). Beat at high speed until creamy. Gradually add powdered sugar and vanilla, beating at low speed until smooth. Spread over cupcakes and sprinkle with toasted coconut. Cover and chill.
Notes
Recipe adapted from Cooking Light.

This recipe keeps for up to three days in the refrigerator.